Smart Connected Washing Machine Market Overview:
The Global Smart Connected Washing Machine Market was valued at $3,712 million in 2016, and is projected to reach $13,631 million by 2023, growing at a CAGR of 22.60% from 2017 to 2023. Washing machines are home appliances used for washing laundry, as they save time and energy. A smart connected washing machine operates by connecting to the internet using the household Wi-Fi, thereby enabling the user to get real-time information about the washing along with remote access & control. Numerous technological advancements have been carried out in these washing machines during the last decade, leading to their higher efficiency, in terms of saving water and electricity. This in turn makes the smart connected washing machines more lucrative to consumer, as they help in cutting down the cost and effort of doing laundry.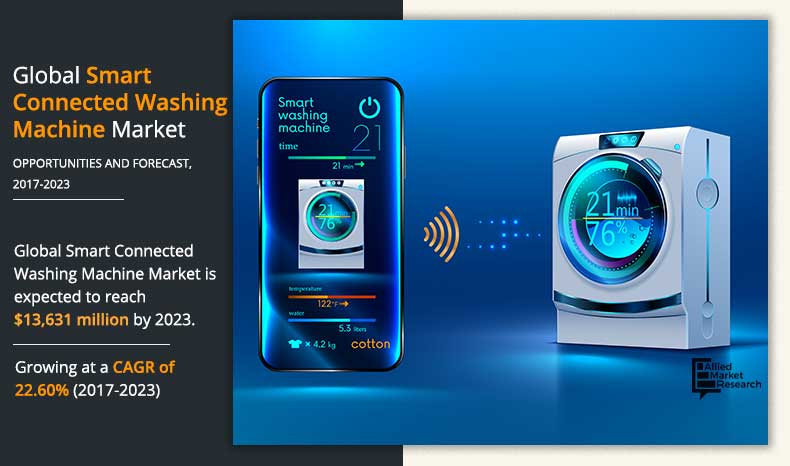 Increase in use of Internet of things (IoT) and rapid urbanization drive the growth of the global smart connected washing machine industry. Moreover, rise in disposable income of people and increase in efficiency of smart connected washing machines such as use of less electricity and water are expected to boost the market growth. However, the availability of laundry shops and growth in online laundry services hinder the growth of the market. On the contrary, technological and innovative advancements related to smart connected washing machines is anticipated to provide lucrative opportunity for the manufactures operating in this market.
Global smart connected washing machine market is segmented on the basis of product, end user, and geography. By product, the market is categorized into top load and front load. Based on end user, it is bifurcated into commercial and residential. Geographically, it is analyzed across North America, Europe, Asia-Pacific, and LAMEA.
Major players analyzed in this report are Samsung Group (South Korea), LG Electronics Inc. (South Korea), Siemens AG (Germany), Haier Group Corporation (China), AB Electrolux (Sweden), Whirlpool Corporation (U.S.), Robert Bosch GmbH (Germany), Techtronic Industries (U.S.), Panasonic Corporation (Japan), and GE Appliances (U.S.).
Smart Connected Washing Machine Market Share, by Geography
The Asia-Pacific smart connected washing machine market witnessed a rapid growth, as smart connected washing machines have gained popularity owing to their compatibility and user-friendliness features. In addition rapid urbanization and an expanding middle-class population drive the market growth. Moreover, less availability of time for laundry due to hectic lifestyle fuels the demand for smart connected washing machines.
Global Smart Connected Washing Machine Market, by Product Type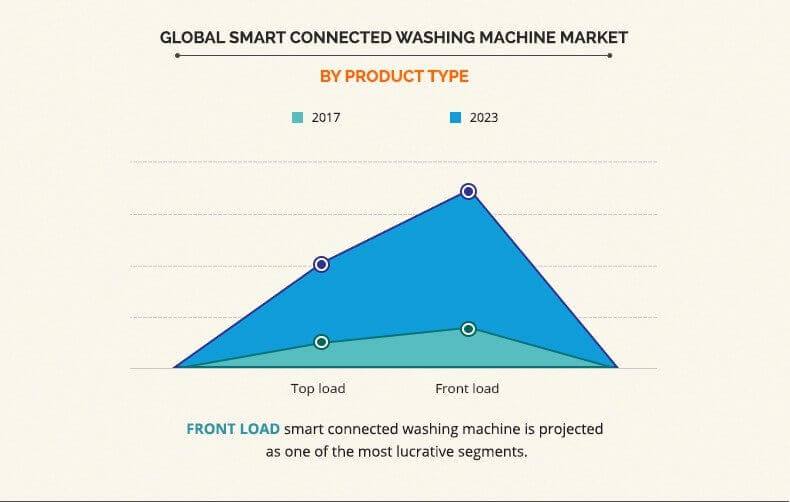 Front loading smart connected washing machine holds a large market share as compared to top loading smart connected washing machines, and is estimated to be the most lucrative segment during the forecast period, due to high consumer preference, lesser human intervention requirement to operate it, higher energy & water efficiency, and improved stain removal ability.
Global Smart Connected Washing Machine Market, by End User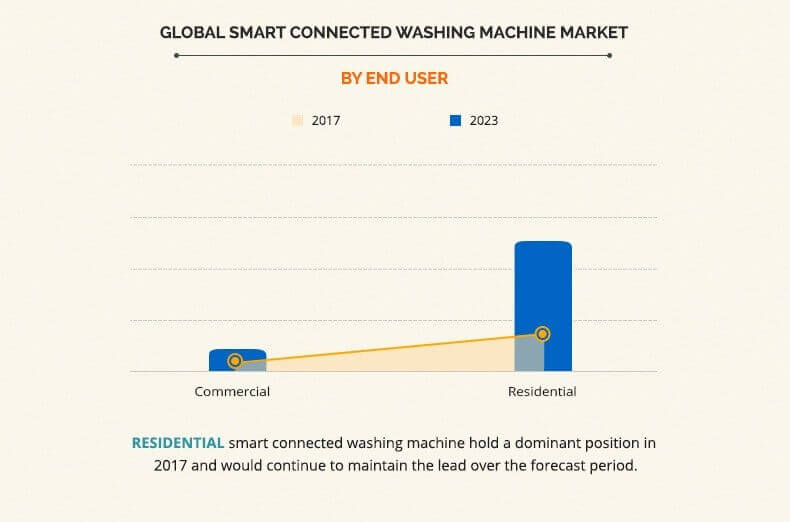 The residential segment is expected to dominate the smart connected washing machine market throughout the forecast period, as these smart connected machines have gained high preference among residential consumers, as they have prefect laundry washing capabilities for most residential users globally. In addition, the machines significantly save electricity as compared to other washing machines.
Key Benefits for Stakeholders
The study provides an in-depth analysis of the smart connected washing machine market with current trends and future estimations to elucidate the investment pockets.
Comprehensive analysis of factors that drive and restrict the growth of the market is provided.
The report provides a quantitative analysis to help the stakeholders to capitalize on prevailing market opportunities.
Extensive analysis of different segments facilitates to understand various products of the market.
Key players are profiled and their strategies are analyzed thoroughly to predict the competitive outlook of the market.
 Smart Connected Washing Machine Market Report Highlights
Aspects
Details
BY PRODUCT
BY END USER
BY GEOGRAPHY

North America
Europe

UK
Germany
France
Spain
Italy
Rest of Europe

Asia Pacific

India
China
Japan
South Korea
Australia
Rest of Asia-Pacific

LAMEA

Brazil
Argentina
UAE
South Africa
Rest of LAMEA

Key Market Players
AB Electrolux, Haier Group Corporation, LG Corporation, Miele & Cie. KG, Panasonic Corporation, Robert Bosch GmbH, Samsung Electronics Co. Ltd, Siemens AG, Techtronic Industries Co. Ltd, Whirlpool Corporation