Smart Home Security Market Research, 2032
The global smart home security market was valued at $25.8 billion in 2022, and is projected to reach $112.6 billion by 2032, growing at a CAGR of 16.2% from 2023 to 2032.
A smart home security system refers to an automated system using which individuals can secure their homes through a system of interworking components and devices. In addition, the users can control the security and safety of their homes with the touch of a button. It means the individual's house has a smart home system that connects with the control appliances to automate certain tasks and can be remotely controlled.  Smart home security systems integrate advanced technology to improve the security of homes and businesses against intruders.
Smart home security solutions are increasingly becoming popular, owing to numerous factors that are driving the market adoption. The significant factor driving the market demand is the increase in concern regarding home safety and security among end users. In addition, individuals are switching to smart home security systems as an affordable choice due to increased crime rates and the need for enhanced security. Moreover, these systems can provide enhanced convenience and a better user experience for consumers. In addition, the rise in usage of internet devices can help to integrate and control through a central device or smartphone app, providing convenience and ease of use. Such enhanced smart home security market trends are expected to provide lucrative growth opportunities during the forecast period.
The growth in digitalization, rise in need for intelligent security systems, and increase in adoption of advanced technologies are positively impacting the growth of the smart home security industry. In addition, increasing affordability and accessibility of smart home security solutions and growing demand for automation are expected to fuel the smart home security market forecast. Furthermore, expansion of smart home security applications among numerous end users is expected to provide lucrative growth opportunities for the market in the upcoming years. Moreover, desire for energy efficiency and sustainability to enable scalability, flexibility, and cost-effectiveness of security systems are also anticipated to create lucrative opportunities for smart home security market growth.
Surge in advancements in Internet of Things (IoT) and connected technologies are the factors positively impacting the growth of the market in the future. In addition, rise in integration of home automation system has fueled the global market growth.  However, high installation and maintenance costs, and data security and privacy concerns are expected to hamper market growth. Moreover, growing usage of mobile applications, which enable easy control over the security systems supports the deployment of smart home security solutions at global scale and are expected to offer remunerative opportunities for the expansion of the global market during the forecast period.
The outbreak of COVID-19 is projected to provide a range of new avenues for the market to grow over the forthcoming period. These opportunities include a surge in implementation of IoT, AI, and other advanced technologies which are integrated with cloud computing solutions in security operations. Further, security companies often deploy technologies like process automation and sensors to continuously and rapidly provide improved efficiency and reduce expenses post the outburst of the COVID-19 crisis.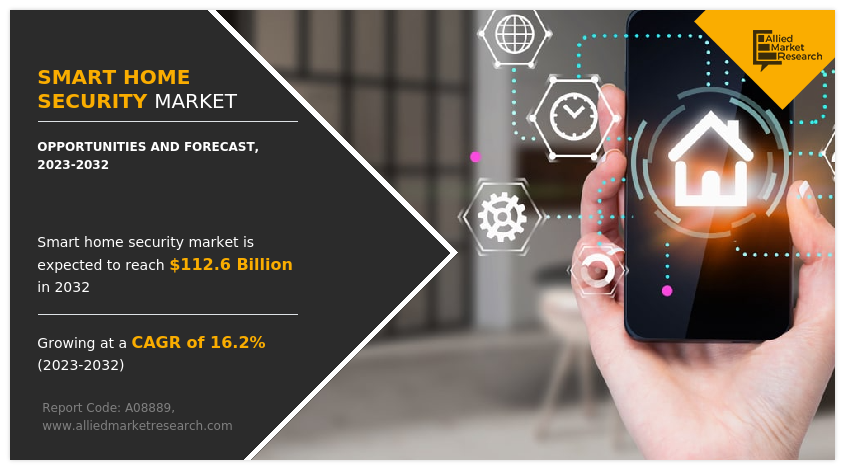 The smart home security market is segmented into component, device type and application.
Segment Review
The smart home security market is segmented into component, device type, application, and region. By component, it is categorized into hardware, software, and service. As per device type, it is divided into smart alarms, smart locks, smart sensors and detectors, smart camera and monitoring system, and other. According to application, the market is classified into independent homes and condominiums/apartments. Region wise, it is analyzed across North America, Europe, Asia-Pacific, and LAMEA.
On the basis of device type, the global smart home security market share was dominated by the smart camera and monitoring system segment in 2022 and is expected to maintain its dominance in the upcoming years, owing to advances in technologies enabling smart cameras to provide a visual representation of the home and allow remote monitoring from any place. However, the smart sensors and detectors segment is expected to witness the highest growth, The smart sensors and detectors devices are utilized in a wide range of scenarios, such as smart grids, combat reconnaissance, exploration, and many scientific applications, as monitoring and control mechanisms.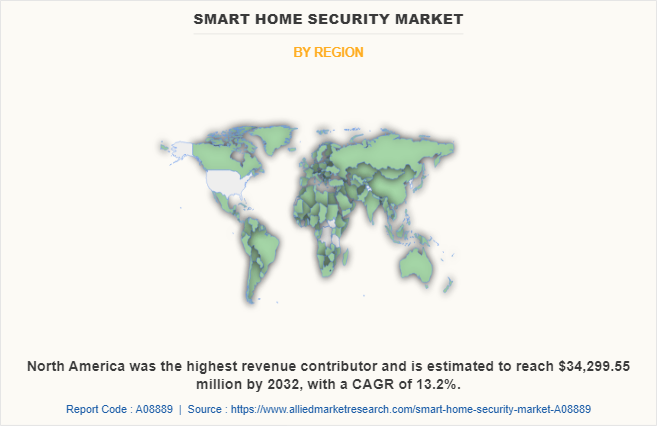 By region, North America dominated the market share in 2022 for the smart home security market. The increasing investment in advanced technologies such as cloud-based services, AI, ML, business analytics solutions, and IoT to improve businesses and customer experience are anticipated to propel the growth of the smart home security market. However, Asia-Pacific is expected to exhibit the highest growth during the forecast period. This is attributed to the increase in penetration of digitalization and higher adoption of advanced autonomous technology which are expected to provide lucrative growth opportunities for the market in this region.
Top Impacting Factors    
Increase in awareness and concern about home security
The rise in awareness and concerns regarding home security and increase in investment by public and private authorities to expand smart infrastructure are impacting the market growth. The increasing rate of crimes and attack threats and thefts related news are further enabling individuals to safeguard their homes and their personal space. Consequently, several regional governments are making strategic investments in expanding smart secure home infrastructure and maintenance operations. This is attributed to the rising number of countries committing to reduce stress added to home infrastructure caused by increasing crime frequencies. Further, government policies are undertaking increased initiatives to embrace advanced technology, with plans for integrating a new digital security solution to modernize traditional systems. For instance, ADT partnered with Google, to create the next generation of smart home security offerings. Therefore, the smart home security system gained wider traction among end-users, taking advantage of digital security services globally.  
Moreover, the increase in usage of social media and online news portals among individuals, as it provides shared information about users' experience related to the security issues is further enabling homeowners to adopt the smart security services. Private and public companies have been critical to the development of secure home infrastructure to ensure the efficient management of security operations with a specific focus on signaling errors. For instance, in October 2022, EZVIZ unveiled its all-star lineup of battery-powered smart products for the Canadian market, highlighting the DB2 battery doorbell kit and CP4 battery door viewer (peephole camera). Such innovation and advancements in security services is expected to eventually contribute to the growth of the global smart home security market.
The surge in advancements in IoT and connected technologies
The rise in trend of IoT and connected technologies in smart home security to improve optimization is directly influencing the growth of the global smart home security market. In addition, radical advancements in the smart environment, enabled through communication technologies, require revising present business models and security strategies. Consequently, smart home security systems are gaining significant adoption to increase the use of IT and control systems among security operators, particularly IoT and other connected technologies. Meanwhile, increased use of IoT and connected solutions helps smart security operators to improve network availability and empower technical staff to efficiently make security operations. These factors are expected to contribute to the increased installation of smart home security market, globally. 
Furthermore, the integration of IoT and connected solutions allows early detection of critical situations, prioritizing of theft analysis, and the ability to plan for inspection tasks. In addition, the integration of automated systems in home security has reduced the rate of errors, such as interoperability issues, as well as operating costs. Hence, these multiple benefits offered by IoT use in security operations will boost the demand for smart home security market. Moreover, public and private businesses are continuously involved in promoting digitalization in security operations. For instance, in March 2023, U-tec launched smart home products, including intelligent lightbulb brand, "Bright," and a smart home security camera brand named Ulticam, as well as the power series products, including smart switches and plugs. Such innovations pooling in the digitalizing of the security infrastructure will fuel the demand for smart home security services, which in turn, augment the smart home security industry growth on a global scale.
Key Benefits for Stakeholders
The study provides an in-depth smart home security market analysis along with the current trends and future estimations to elucidate the imminent investment pockets.

Information about key drivers, restraints, and opportunities and their impact analysis on the smart home security market size is provided in the report.

The Porter's five forces analysis illustrates the potency of buyers and suppliers operating in the smart home security industry.

The quantitative analysis of the global smart home security market for the period 2022–2032 is provided to determine the smart home security market potential.
 Smart Home Security Market Report Highlights
Aspects
Details
Market Size By 2032
USD 112.6 billion
Growth Rate
CAGR of 16.2%
Forecast period
2022 - 2032
Report Pages
216
By Component

Hardware
Software
Service

By Device Type

Smart Alarms
Smart Locks
Smart Sensors and Detectors
Smart Camera and Monitoring System
Other

By Application

Independent Homes
Condominiums/Apartments

By Region

North America (U.S., Canada)
Europe (UK, Germany, France, Italy, Spain, Rest of Europe)
Asia-Pacific (China, Japan, India, Australia, South Korea, Rest of Asia-Pacific)
LAMEA (Latin America, Middle East, Africa)

Key Market Players
Abode Systems Inc., Robert Bosch, Frontpoint Security Solutions LLC, Hangzhou Hikvision Digital Technology Co. Ltd., Assa Abloy, Vivint Smart Home Inc., Johnson Controls International plc, Ingersoll Rand, Honeywell International Inc., ADT Inc.
Analyst Review
As the smart home security industry continues to evolve, CXOs are evaluating the opportunities and challenges regarding this emerging technology. The smart home security industry has grown rapidly in response to the increase in demand for effective security solutions, and the need for advanced technological enhancements in home security. CXOs are considering the benefits that smart home security can offer and enable organizations to identify opportunities to expand the product or service offerings, enter new markets, or establish strategic partnerships. In addition, smart home security solutions can help individuals to optimize their security operations, reduce costs, and improve customer experience by automating security tasks and providing personalized services. Such factors are expected to provide lucrative opportunities for market growth during the forecast period.
Furthermore, another most crucial perspective is innovation and technology, as organizations must adopt the latest technological developments in the smart home security services and identify loopholes to leverage these technologies in the offerings. However, CXOs also recognize the challenges associated with smart home security solutions. One of the significant challenges is the regulatory and legal landscape surrounding smart home security, which can make it challenging for IT organizations to provide an efficient security platform by considering the privacy issues. In addition, smart home security requires significant investment in infrastructure, sensors, and high-quality systems which can be a barrier to entry for small and medium-sized enterprises (SMEs).
Furthermore, ethical and regulatory concerns related to data privacy and security must be addressed, as well as the need for a strong ecosystem of partners and developers to build and integrate applications and services. CXOs must ensure compliance with relevant regulations to maintain consumer trust, by implementing robust security measures, data encryption, and transparent data handling practices. By addressing these challenges, CXOs can unlock the full potential of smart home security solutions to transform their operations, create value, and gain a competitive advantage in their industry. For instance, in August 2022, ADT collaborated with Google, to combine Nest's hardware and services, powered by Google's machine learning technology, with ADT's installation, service, and professional monitoring network to provide customers across the U.S. with a more useful smart home and integrated experience.