The global smart parking market size was valued at $6.8 billion in 2022, and is projected to reach $33.5 billion by 2032, growing at a CAGR of 17.4% from 2023 to 2032.
Report Key Highlighters:
The smart parking market study covers more than 16 countries. The research includes segment analysis of each country in terms of value ($million) for the projected period 2022-2032.

The study integrates high-quality data, professional opinions and analysis, and critical independent perspectives. The research approach is intended to provide a balanced view of global markets and to assist stakeholders in making educated decisions in order to achieve their most ambitious growth objectives.

Over 3,700 product literature, annual reports, industry statements, and other comparable materials from major industry participants were reviewed to gain a better understanding of the market.

The smart parking market is fragmented, with several players including Amano McGann, Inc., Continental AG, Dongyang Menics Co., Ltd, IEM SA, IPS Group Inc., Klaus Multiparking Systems, Robert Bosch GmbH, Smart Parking Limited, Swarco AG, and Urbiotica. Key strategies such as acquisitions, product launches, partnerships, and expansion of the players operating in the market are tracked and monitored.
Smart parking is an intelligent parking system that assists drivers in safe parking. Available space in parking slots is indicated by signs or symbols with the help of embedded software and sensors. The vacant space is notified to the driver correctly due to the proper management of the vehicle. This technology uses different types of sensors as a hardware component in the parking slot to detect the presence or absence of the vehicles. Smart parking system provides real-time data information regarding the availability of nearby parking spaces and allows drivers to accommodate that slot without any interference from other vehicles. In addition, this technology is built to solve the permanent problem associated with parking that affects the ecosystem. The technology includes components that consist of low-cost sensors, real-time data interference, and smart mobile applications that allow users to monitor available & unavailable parking spots.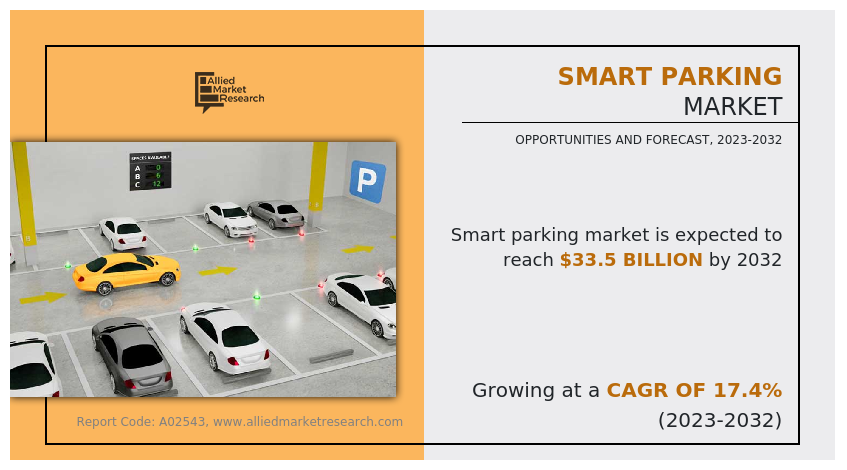 A user is notified about an empty parking space through a smartphone application or a satellite navigation device with the help of IoT. Prior notification of free parking space is provided to a user through a smartphone when the vehicle enters particular shopping places and some streets in a city. This way IoT helps reduce the time required for finding the parking lot and searching for the parking space, which in turn drives the market growth. For instance, in May 2020, the University of California and NTT Corporation announced a connected campus pilot project that leverages IoT technology to transform the UC Berkeley Parking and Transportation Department by analyzing patterns, easing traffic congestion, and increase in pedestrian safety in the Bancroft Way area of campus. Such developments conducted across the globe support the concept of smart parking; thus, leading to the growth of the smart parking market during the forecast period.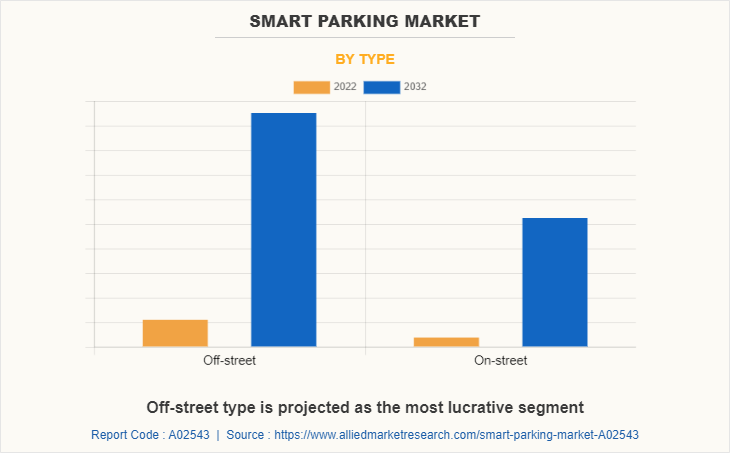 In smart parking, ultrasonic sensors are used to detect the presence of a car by connecting wirelessly. In the parking guidance system (PGS), ultrasonic sensors used in indoor car parking are used to determine vacant space and indicate user using LED signaling. Ultrasonics uses the basic principle of sound propagation and reflection by material in the ultrasonic frequency range. Ultrasonic sensors may function well in conditions where the intensity of light is low or dark. By applying this principle. In addition, the ultrasonic sensor has several advantages over camera systems such as smaller size, relatively cheaper price, easier to be implemented, and lower power consumption. Moreover, ultrasonic sensors have been widely used for various purposes such as determining surface structure, measuring the position, and calculating the speed of an object. Thus, such multipurpose advantages of ultrasonic used for smart parking systems anticipate the growth of the smart parking market.
Off-street parking facilitates lesser spaces for parking and the problem of parking near crowded areas is resolved by providing roof & underground parking solutions. In addition, off-street smart parking is primarily propelling due to the surging demand for better parking management solutions, which include proper enforcement methods, payment methods, and smart parking guidance systems. In addition, increased traffic congestion globally and optimization of time & travel convenience further boost the global market. For instance, in June 2019, a parking hardware and software solutions provider company, TIBA Parking Systems, launched an X60 line of smart parking equipment for off-street parking operations. This system includes lane & payment equipment, cloud solutions for PARCS management, a mobile-based platform for digital operators, and a cross-brand parking intelligence service.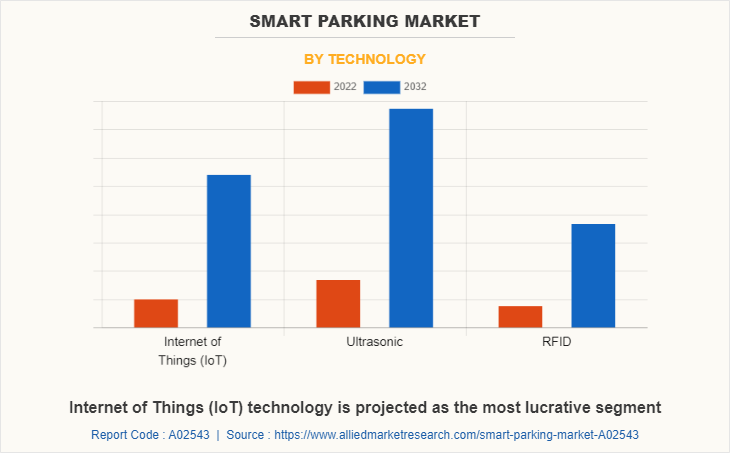 Consumers in North American countries have increasingly adopted smartphones and devices that support mobile applications which aid in reserving, paying, and checking the availability of parking slots. In addition, the rise in use of analytics for developing applications that provide parking solutions is expected to boost the smart parking market growth in the region. In February 2023, Eleven-x, a Canadian-based IoT company, has recently been selected for one of the largest municipal smart parking installations in North America. The project, located in Arlington County, Virginia, aims to bring a new level of efficiency and convenience to parking for both residents and visitors. The smart parking system is expected to utilize wireless technology of eleven-x to monitor parking spots and provide real-time data on availability. This is expected to enable drivers to quickly find available spots and reduce the amount of time spent circling the block in search of parking. The data is anticipated to be used to optimize parking enforcement and reduce congestion in the area.
Increased parking concerns across the globe, growth in demand for Internet of Things (IoT)-based technology and increase in the number of vehicles are the major factors that propel the smart parking market growth. However, high implementation cost & configuration complexity and low rate of internet penetration in developing regions are the major factors that hamper the growth of the smart parking market. Furthermore, the rise in investment in building driverless vehicles, and government initiatives in building smart cities across the globe are the factors that are expected to offer growth opportunities for the market during the forecast period.
The market segmentation is based on the type, technology, application, end user, and region. On the basis of type, it is bifurcated into off-street and on-street. On the basis of technology, it is classified into IoT, Ultrasonic, and RFID. On the basis of application, it is categorized into security & surveillance, smart payment system, e-parking, and license plate recognition. On the basis of end user, it is bifurcated into commercial and government. On the basis of region, the market is analyzed across North America, Europe, Asia-Pacific, and LAMEA.
Some leading companies profiled in the smart parking market report comprises Amano McGann, Inc., Continental AG, Dongyang Menics Co., Ltd, IEM SA, IPS Group Inc., Klaus Multiparking Systems, Robert Bosch GmbH, Smart Parking Limited, Swarco AG, and Urbiotica.
The leading companies adopt strategies such as acquisition, product launch, partnership, expansion, agreement, and product development to strengthen their market position. In July 2022, Amano McGann, Inc. launched Amano ONE, the most simplified, powerful, and reliable parking access and revenue control system that efficiently optimizes parking operations.  Amano ONE is a cloud-based platform designed to be easy to install and manage with lower maintenance costs, seamless updates, and intuitive onboarding.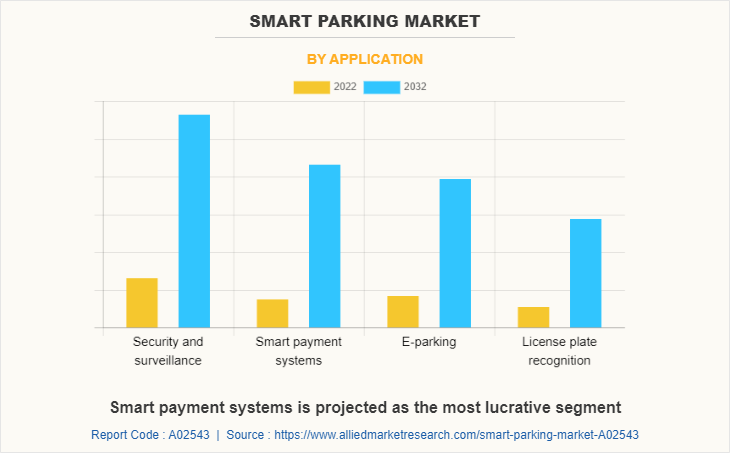 Increased parking concerns across the globe
The smart parking market has witnessed a surge in growth due to the rise in parking issue faced by people all over the world. The need for efficient and convenient parking solutions has become a major concern for both individuals and businesses, leading to an increase in demand for smart parking technology. This industry has been gaining traction in recent years as it offers solutions that make it easier for people to find parking spaces, reduce traffic congestion, and enhance overall parking management. The growth of industry is expected to continue as the parking concern continues to rise in urban areas around the world.
Finding a vacant parking space during peak hours is difficult in areas such as hospitals, hotels & shopping centers, airports, universities, and exhibition & convention centers. The growth in population results in issues associated with residential and commercial parking. The problem linked to this is solved by using improved features such as notification of available free space by SMS & live updates of space reservations using the smart parking technology. This technology decreases the amount of time spent by the user for finding out the vacant parking slot and automates the process of searching for the optimal parking floor and spot. It thus creates a huge demand for the smart parking market.
Growth in demand for Internet of Things (IoT)-based technology.
The Internet of Things (IoT) is a system of interrelated computing devices that are connected to the Internet to perform a specified task by exchanging data without requiring human-to-human or human-to-computer interaction. IoT-enabled sensors and devices are being used to gather real-time data and provide valuable insight into parking availability, usage patterns, and occupancy rates. This data is then utilized to optimize parking management, reduce congestion, and improve overall parking experiences for drivers. The adoption of IoT-based technologies is expected to continue driving the growth of the smart parking market as more cities and businesses look to modernize their parking systems.
Moreover, the time spent on searching for parking slots globally is more, and such related issues in many countries are solved by the University of Kansas by developing a project on smart parking solutions with the use of IoT technology. Moreover, implementing an IoT-based smart parking system helps manage better parking and reduces the  time for parking of the driver. For instance, in parking garages, drivers may even list the parking slots available at the entrance before entering the garage. This is done by receiving constant information updates from the sensors and providing this information to the driver. Such advancement in the IoT technology for smart parking solutions is expected to significantly drive the smart parking market.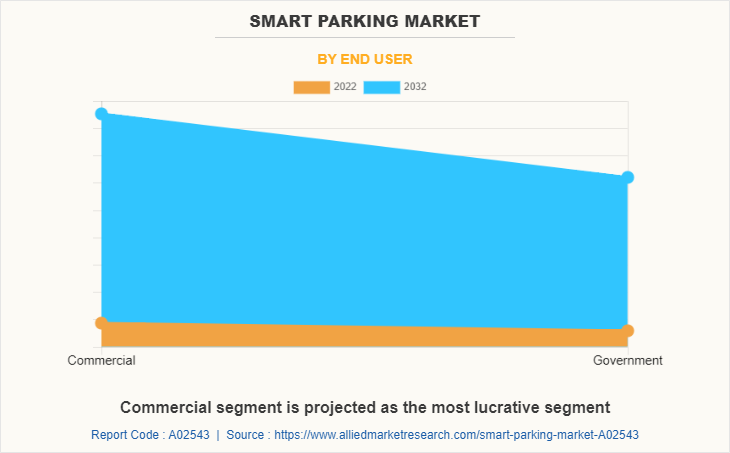 High implementation cost & configuration complexity
Smart parking solutions rely on various technologies such as sensors, cameras, and software, which may be expensive to install and maintain. These costs are often passed on to the consumers, making it challenging to achieve widespread adoption. In addition, configuring these technologies to work seamlessly together may be complex, requiring significant expertise and time. This complexity may also lead to compatibility issues between different systems, further hindering the adoption of a smart parking solution. There is a necessity to frequently upgrade the system & software required to keep them compatible with the external environment due to constant technological advancements.
Moreover, lack of standardization across the industry, which may make it difficult for customers to compare different solutions and make informed decisions. Moreover, this lack of standardization makes itself challenging for manufacturers to produce interpretable products, which may limit the options available to customers. Furthermore, the implementation of a smart parking solution may be complicated by numerous factors such as the physical layout of parking facilities, environmental factors, and the availability of power and network connectivity. These factors may impact the effectiveness and reliability of the solutions and require customized solutions which may further increase the cost and complexity.
High configuration complexity coupled with higher initial implantation cost hinders the wide adoption of the smart parking market. Addressing these challenges may require the industry to continue to innovate and work together to develop more affordable, interoperable, and effective smart parking solutions.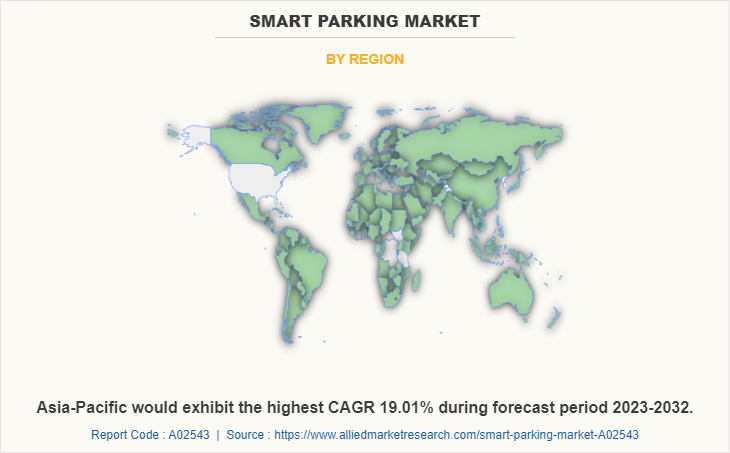 Rise in investment in building driverless vehicles.
The driverless vehicle industry is expected to experience significant growth in the coming years. This is due to the increasing demand for safer, more efficient, and cost-effective transportation solutions. As a result, many companies have invested heavily in developing and manufacturing these vehicles. The rise of driverless vehicles had a considerable influence on applications for the smart parking industry. There may be a need for a smart parking solution that may cater to these vehicles with the introduction of autonomous cars. Smart parking systems are equipped with advanced technologies such as sensors, cameras, and data analytics software that may help drivers find parking spaces quickly and efficiently. In addition, the demand for smart parking systems is expected to increase with the rise of driverless vehicles. This system may help drivers save time and money by finding available parking spaces quickly and easily.
Moreover, many car manufacturing companies such as Tesla, Waymo, and Ford have tested parking assistance functions in an autonomous vehicle that shows free parking space. As a result, there are many opportunities for companies that participate in the development and manufacturing of a smart parking solution. The development of technology to manage or park vehicles using smartphones is adopted by many countries such as Canada, the U.S., Germany, the UK, and others. Furthermore, software companies offer frequent updates to resolve the problem of congestion for the smart parking technique. The continuous advancements in terms of technology and infrastructure are expected to create lucrative growth opportunities for the smart parking market during the forecast period.
Recent Developments
In January 2023, Robert Bosch GmbH signed an agreement with APCOA to Provide Automated Valet Parking Technology in Parking Garages across Germany. Both companies planned to make up to four parking spaces per parking garage ready for automated valet parking.

In December 2022, TKH Group through its subsidiary TKH Security (formerly Park Assist) awarded a contract from Raleigh-Durham International Airport for Automated Parking Guidance System. Its new smart-sensor M5 camera-based APGS provides travelers with an effective method to successfully find an available parking space.

In October 2022, Amano McGann, Inc. entered into a partnership with Soldier Field in Chicago to deploy New Parking Technology. This system delivers lower maintenance costs, seamless updates, and intuitive Quick-Scan Onboarding.

In July 2022, IPS Group, Inc. launched a stereoscopic vehicle detection sensor as part of the fully integrated smart parking ecosystem. The sensors integrate with IPS Single-Space Parking Meters to detect space vacancy and occupancy.

in August 2021, Continental AG acquired Kopernikus Automotive with a focus on infrastructure-based automated parking in parking garages and maneuvering in vehicle factories and logistics centers.
The COVID-19 pandemic has had a significant impact on the smart parking market. The pandemic has led to a decrease in traffic and parking demand, which has resulted in lower revenue for smart parking operators. In addition, the pandemic has disrupted the supply chain and made it more difficult for smart parking operators to obtain the necessary equipment and software. As a result of these challenges, the growth of the smart parking market has slowed during the pandemic.
Key Benefits For Stakeholders
This report provides a quantitative analysis of the market segments, current trends, estimations, and dynamics of the smart parking market analysis from 2022 to 2032 to identify the prevailing smart parking market opportunities.
The market research is offered along with information related to key drivers, restraints, and opportunities.
Porter's five forces analysis highlights the potency of buyers and suppliers to enable stakeholders make profit-oriented business decisions and strengthen their supplier-buyer network.
In-depth analysis of the smart parking market segmentation assists to determine the prevailing market opportunities.
Major countries in each region are mapped according to their revenue contribution to the global market.
Market player positioning facilitates benchmarking and provides a clear understanding of the present position of the market players.
The report includes the analysis of the regional as well as global smart parking market trends, key players, market segments, application areas, and market growth strategies.
 Smart Parking Market Report Highlights
Aspects
Details
Market Size By 2032
USD 33.5 billion
Growth Rate
CAGR of 17.4%
Forecast period
2022 - 2032
Report Pages
341
By Type
By Technology

Internet of Things (IoT)
Ultrasonic
RFID

By Application

Security and surveillance
Smart payment systems
E-parking
License plate recognition

By End User
By Region

North America (U.S., Canada, Mexico)
Europe (UK, Germany, France, Italy, Rest of Europe)
Asia-Pacific (China, India, Japan, Australia, Rest of Asia-Pacific)
LAMEA (Latin America, Middle East, Africa)

Key Market Players
Continental AG, Aisin Corporation, Amano McGann, Inc., Urbiotica, S.L., SWARCO, IPS Group, Inc., Robert Bosch GmbH, Smart Parking Ltd, IEM SA, TKH Group
Analyst Review
The smart parking market holds high potential for the automotive industry. The current business scenario witnesses an increase in the demand for smart parking systems, particularly in developed regions such as Mexico, China, and other European countries is reported. Companies in this industry adopt various innovative techniques to provide customers with advanced and innovative feature offerings. The low rate of internet penetration in developing regions restrains the market. in some developing regions, the roads are poorly maintained and there is no proper signage or making to guide drivers to parking spots. In addition, there is often a lack of electricity supply and proper connectivity to support the operation of the smart parking systems. This factor hinders the growth of the smart parking industry. Furthermore, the low rate of adoption of technology in developing countries may be attributed to cultural and social factors. Many people in this region are not familiar with the use of a smartphone or mobile applications, making it challenging to implement smart parking solutions that rely on these technologies. The driver must have a GPS equipped smartphone that has an active internet connection to identify the exact location of available parking, which is affected by the lower internet penetration in developing countries. Hence, this low penetration of the internet hampers the smart parking market across the globe.
Moreover, numerous developments have been carried out by companies such as IPS Group Inc., IEM SA, Klaus Multiparking Systems, Robert Bosch GmbH, Smart Parking Limited, and others to support the concept of smart parking across different cities to tackle the problem of vehicle parking within cities, which leads to the growth of the market. For instance, in July 2020, IEM SA collaborated with Telenor, one of leading telecommunication companies Scandinavia, to equip PrestoSense vehicle detection sensors on 25 parking spaces of Telenor in Lillesand, Norway. Moreover, in October 2020, Robert Bosch GmbH collaborated with Daimler AG and the car park operator Apcoa and launched an automated valet parking system in Germany