Smart Railway Market Statistics - 2027
The global smart railway market was valued at $18,304.8 million in 2019, and is projected to reach $38,469.7 million by 2027, registering a CAGR of 12.8%. Smart railway is a technologically advanced approach to efficiently manage railway operations through sharing of rail data across rail infrastructure components, such as passengers, control centers, ticketing department, and freight. Smart Railway are integration of the latest technologies, including Internet of Things (IoT), big data, cloud, analytics, artificial intelligence (AI), global positioning system (GPS), and machine learning (ML) to make rail operations more efficient and accurate. The growth of the global smart railway market growth is driven by the penetration of digital infrastructure and requirement for automated & autonomous rail operations. Majority of railways are operated through government authorities where procurement and installation of such smart technologies are done through contracts and agreements. Wining these contracts or agreements is the key strategy adopted by the market participants in the smart railway market.
The COVID-19 health crisis has a savior impact on overall activities and the resulting into containment measures have caused long term financial and economic disruptions. This massive downfall is impacted the rail transportation provider's revenue generations and even some service providers are need support from the federal government to regularize the services. After the lifting restrictions of the lockdown across the nations, transportation activities are opened partially across the globe with the stringent restrictions of the usage. Most of the market players in Smart railway market has experienced pandemic impact on the business operations and financial results in the second half of fiscal 2020. This financial losses result in focus on operational activities rather than new investment. Thus, COVID-19 outbreak has significant impact on the overall Smart Railway Market, owing to decrease in ridership and health concerns of passengers.
The factors such as rapid urbanization couple with local commute requirements, surge in need for passenger & freight capacity, increase in number of railway projects across the globe, and change in passenger payment habits are expected to drive the growth of the global smart railway market. However, high installation cost and infrastructure changes of the existing system are expected to restrain the growth of market during the forecast period. On the contrary, changes in ridership outlook and entering into contracts/agreements with rail operators for business expansion are anticipated to offer remunerative opportunities for the expansion of the market in the near future.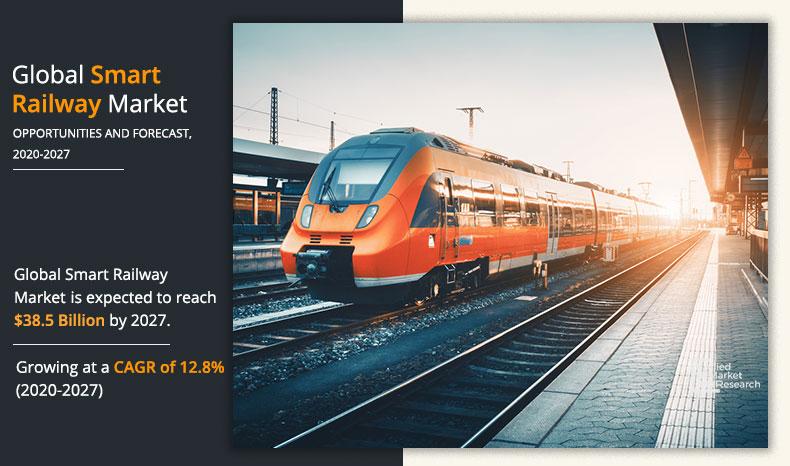 The smart railway market is segmented into system, offering type, and region. Depending on system, the market is categorized into passenger information system, rail & freight operations management system, smart safety & security monitoring system, rail communication & networking system, smart ticketing system, rail analytics system, and others. By offering type, it is fragmented into solutions, components & devices, and services. Region wise, it is studied across North America, Europe, Asia-Pacific, and LAMEA.
Key players profiled in the smart railway market report include Alstom, BOMBARDIER INC., ABB Ltd, Siemens AG, Cisco Systems, Inc., Huawei Technologies Co., Ltd., IBM, Indra Sistemas, S.A., Hitachi, Ltd., and Aitek S.P.A.
Rapid urbanization coupled with rise in local commute requirements 
In the recent years, urbanization is attaining the peak, as majority of the population is shifting to urban areas, owing to increase in work opportunities and rapid industrialization. In this era of urbanization, convenient daily commute between workplace and residence is the need for every individual. Moreover, urban passengers are more inclined toward rail commute, as it serves as a time-effective alternative to avoid unnecessary traffic congestion. Thus, increase in reliability of urban passengers on railway for daily commute significantly contributes toward the growth of the smart railway market. However, majority of urban passengers are facing issues with real-time mode information, overall commute duration, and safety during travel via conventional railways, which hamper the working efficiency of passengers. Smart Railway enables the real-time information of railways, streamline railway operations, and ease fare payment. Thus, upsurge in usage of railway for daily commute in urban areas and changes in digital outlook of passengers are expected to spur the demand for Smart Railway in the upcoming yeas.
Smart Railway Market

---
By System
Rail & Freight Operations Management System Segment is projected as the most lucrative segment
Increase in demand for passenger and freight capacity
The railway industry has witnessed significant growth in passenger ridership as compared to other public transit, owing to its fare frequency and overall commute time. According to Organisation for Economic Co-operation and Development (OECD), passenger transport by rail for million passenger-kilometers has witnessed steady growth over the past decade. Moreover, countries such as China, India, and Japan are gaining momentum for million passenger-kilometers. According to the similar source, China registered 0.37 million rail passenger–kilometers in 1998, which attained 1.41 million rail passenger- kilometers in 2018. Moreover, India registered 0.40 million rail-kilometers in 1998, which was reached 1.16 million rail passenger-kilometers in 2017. Moreover, in 2019, the U.S. witnessed around 60% of increase in rail ridership since 1997, and is expected to continue the same trend in the near future. Rail transit in the U.S. is holding around 48% of the total public transit. Railway has witnessed a significant rise in ridership, and is expected to continue in the upcoming years. Thus, increase in ridership is expected to create demand for cost-effective and operational efficient rail solutions. Smart Railway are likely to deliver various services such as passenger & freight operations management, safety & security monitoring, rail communication & networking, and ticketing system, which are expected to cater to the changing demands of passengers along with reducing the commute time and enhancing the travel experience.
Winning contract/agreement—a key strategy to gain competitive advantage
The smart railway technology solution is used by rail operators, which are majorly government authorities operating rail functions within the nation with ease and high efficiency. Moreover, digitalization is expected to gain traction for smart railway technology. The installation of this technology  is likely to be accepted by majority of rail transportation service providers across the globe. This technology installation is carried out through open contracts and agreements between service providers of rail transportation and developers or manufacturers of smart railway technology. These contracts mentioned about the set of requirement are required to be met in a certain timeframe. These long term contracts and agreements are associate with the long term business opportunities with the rail operators. Manufacturers need to focus toward winning the contracts and agreements for new installations to gain a competitive advantage.
Smart Railway Market

---
By Offering Type
Solutions is projected as the most lucrative segments
High installation cost
The installation of smart railway technology solutions in railways incurs high cost and includes installing payment collection equipment & checking devices, setting of communication network (wired networks), installing network equipment (all kinds of networks), fixing installed system hardware, finetuning & testing system hardware, and monitoring interaction between system components along with infrastructural changes in railways. These upgradations of the existing system associate with high cost as compared to the existing and traditional railway systems. Thus, high installation cost of the technology is expected to hamper the growth of smart railway market.
COVID-19 Impact Analysis
From March 2020, public transport in majority of the cities has been completely or partially shut down. Although the restrictions on public mobility have been lifted partially since the past two or three months, major cities are experiencing 70–90% reduction in the public transit ridership. After easing lockdown restrictions, world is gradually reshaping and coming back to the normal pace with the new permanent changes in the society. Transportation has begun partially across the globe with stringent restrictions such as passenger limit and maintenance of social distancing. This results to 90% decrease in passenger ridership, and results in huge financial losses of rail operators. This financial losses result in focus on operational activities rather than new investment. Thus, COVID-19 outbreak has significant impact on the overall smart railway market, owing to decrease in ridership and health concerns of passengers.  
Smart Railway Market

---
By Region
Asia Pacific would exhibit the highest CAGR of 14.2% during 2020-2027.
Key Benefits For Stakeholders
This study presents the analytical depiction of the global smart railway market analysis along with the current trends and future estimations to depict imminent investment pockets.
The overall smart railway market opportunity is determined by understanding profitable trends to gain a stronger foothold.
The report presents information related to key drivers, restraints, and opportunities of the global smart railway market with a detailed impact analysis.
The current market is quantitatively analyzed from 2019 to 2027 to benchmark the financial competency.
Porter's five forces analysis illustrates the potency of the buyers and suppliers in the industry.
 Smart Railway Market Report Highlights
Aspects
Details
By SYSTEM

Passenger Information system
Rail & Freight Operations Management System
Smart Safety & Security Monitoring System
Rail Communication and Networking System
Smart Ticketing System
Rail Analytics System
Others

By OFFERING TYPE

Solutions
Components & Devices
Services

By Region

North America (U.S, Canada, Mexico)
Europe (UK, Germany, France, Spain, Russia, Rest of Europe)
Asia-Pacific (China, India, Japan, South Korea)
LAMEA (Latin America, Middle East, Africa)

Key Market Players
ABB Ltd, BOMBARDIER INC., Aitek S.P.A., Alstom, Indra Sistemas, S.A., Cisco Systems, Inc., Huawei Technologies Co., Ltd., Hitachi, Ltd., IBM, Siemens AG