Smart Robot Market Overview:
The Global Smart Robot Market is expected to value at $4,057 million in 2017, and is projected to reach $17,561 million by 2025, registering a CAGR of 19.6% from 2018 to 2025. Smart robot is designed to carry out various operations without interference of the humans. A smart robot uses an artificial intelligence (AI) system that can learn from its environment and its experience. Smart robots can collaborate, work together and learn from the behavior of humans.
The growth of the smart robot market is driven by rise in industrial automation, advancement of robotics for connected and digital world, and strong government funding for automation solutions. However, high manufacturing cost and insecure connections with robots limit the market growth. On the contrary, rise in developments of smart homes, increase in concern of workplace safety is anticipated to provide lucrative growth opportunities for the market.
ABB, iRobot Corporation, Grey orange pte ltd, Epson America, Inc., Rethink Robotics, KuKa, F&P Personal Robotics, SoftBank Robotics, Yaskawa Electric, Cyberdyne, and Fanuc are some of the key players operating in the global smart robot market.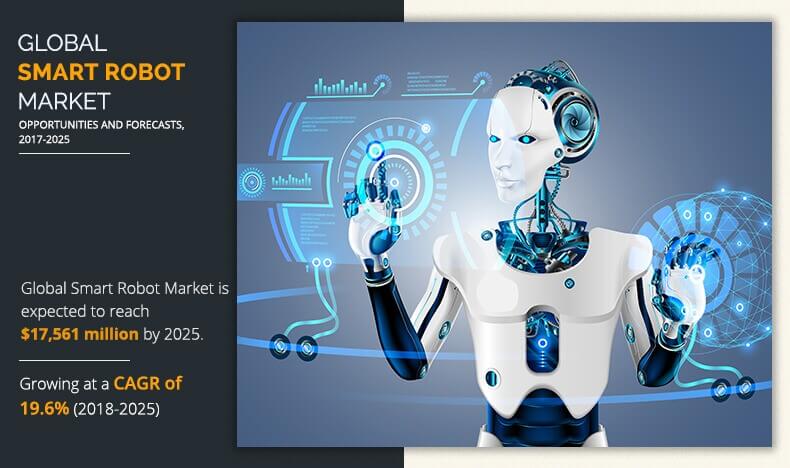 The smart robot market is segmented into component, application, industry vertical, and region. Based on component it is bifurcated into hardware and software. The application segment is divided into welding & painting, assembling & disassembling, mobility, inspection & security and others. And based on industry verticals, it is classified into manufacturing, automotive, electrical & electronics, food & beverages, chemical, residential, and others. Based on region, the market is analyzed across North America, Europe, Asia-Pacific, and Latin America and Middle East (LAMEA).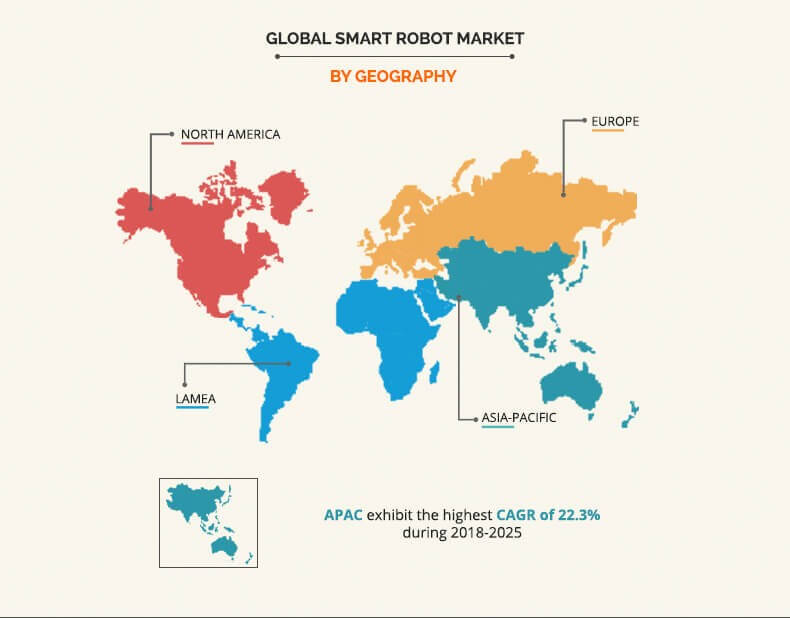 Top Impacting Factors
Developments in automotive sector, use of robots in agriculture sector and government regulation boost the growth of the smart robot market. In addition, factors such as growth in industrial automation, advancement of robotics for connected and digital world, and strong government funding for automation solutions, high manufacturing cost, insecure connections with robots, difficulty of reprogramming, regular maintenance, and software updates of the system are anticipated to either drive or hamper the market growth.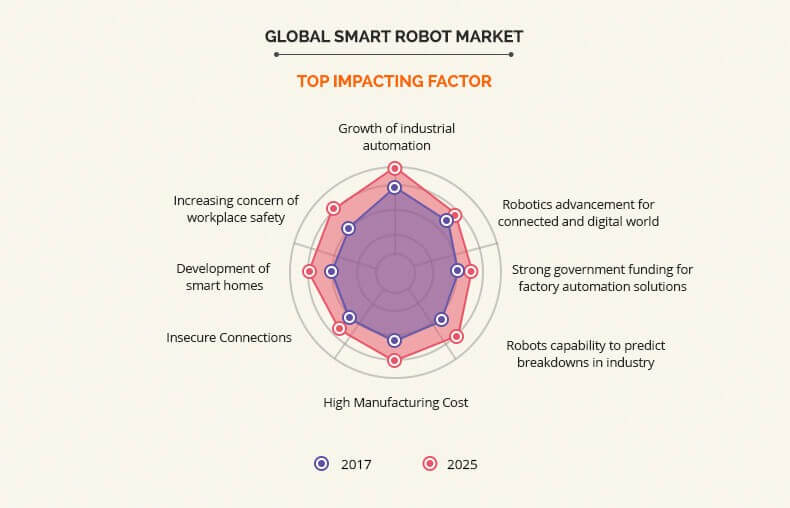 Growth of industrial automation.
Several industries such as manufacturing, healthcare, automobile, and construction are rapidly adopting industrial automation. This leads to increase in adoption of smart robots due to their highly stable and accurate performance. The main reason for such adoption is to have better quality, and safety in terms of injuries that arise from machineries. In manufacturing and production line of the industry, smart robots are deliberately used to move materials and perform a variety of programmed tasks.
Moreover, around 40% of the robots are used for the application of material handling in most of the industries. A dangerous task is done through the robots that improves the workers safety along with the efficiency in the construction industry. For instance, Komatsu a general machine manufacturing company has developed a multi-purpose drone and bulldozer automation system, especially for the construction industry. This drone flies above a construction site and is used for monitoring delivery, inventory, and overall progress. This trend is expected to significantly drive the smart robot market in future.
Strong government funding for factory automation solutions
The growth of the smart robot for industrial purpose is supported by the government of South Korea due to its ability to manufacture a mass production in limited time and with high accuracy. In 2017, Japan allocated $30millions for a robot revolution by identifying the future of its country. Thus, the development of smart factories for production of robots is expected to create huge opportunities for the smart robot market in future.
High Manufacturing Cost
The software in smart robots need to be frequently upgraded to keep them compatible. Also, the cost of all components, which include sensor assembly, pneumatics mechanism, AI connectivity unit, and others required in a smart robot incur a high cost during the manufacturing & assembling process. Moreover, its manufacturing and installation is a time-consuming process. In addition, irregular maintenance and poor handling of robots can cause the degradation of the system. Therefore, high initial cost coupled with maintenance cost hinder the adoption of the smart robots.
Key Benefits for Stakeholders
This study comprises of the analytical depiction of the global smart robot market with current trends and future estimations to depict the imminent investment pockets.
The overall market potential is determined to understand the profitable trends to gain a stronger foothold.
The report presents information related to key drivers, restraints, and opportunities with a detailed impact analysis.
The current market is quantitatively analyzed from 2018 to 2025 to benchmark the financial competency.
Porter's five forces analysis illustrates the potency of the buyers and suppliers in the industry.
 Smart Robot Market Report Highlights
Aspects
Details
By Component

Hardware

Sensor
Actuator
Power source
Control System

SOFTWARE

By Application

Welding& painting
Assembling & disassembling
Mobility
Inspection & Security
Others

By Industry Vertical

Automotive
Manufacturing
Electrical & Electronic
Food & Beverage
Chemical
Residential
Others

By Region

North America (U.S., Canada, Mexico)
Europe (UK, Germany, France, Russia, Rest of Europe)
Asia-Pacific (China, India, Japan, South Korea, Rest of Asia-Pacific)
LAMEA (Latin America, Middle East, Africa)

Key Market Players
IROBOT CORPORATION, ASEA BROWN BOVERI LTD. (ABB), SEIKO EPSON CORPORATION, GREYORANGE PTE LTD., RETHINK ROBOTICS, KUKA, F&P PERSONAL ROBOTICS, SOFTBANK ROBOTICS, YASKAWA ELECTRIC, FANUC