The global smart sensor market size was valued at $37.12 Billion in 2019, and smart sensor market size is projected to reach $91.37 Billion by 2027, to register a CAGR of 14.30% from 2020 to 2027. A smart sensor is an important technological innovation that enables better control and monitoring of different operations. For instance, to sense physical input such as light, heat, motion, moisture, pressure, or any other entity, and respond by producing an output on a display or transmit the information in an electronic form for further processing with the help of signal conditioning, embedded algorithms, and digital interface. These sensors collect highly accurate environmental data with minimum level of noise. 
Smart sensors are applicable in advanced IT solutions, such as machine-to-machine communication and analytics, and to measure fluctuations regarding temperature or pressure acceleration, which are critical for a process. In addition, these devices are implemented in smart grids, smart cities, and smart environments (forest fire control, snow level monitoring, and earthquake early detection); and automobile, defense, sports, and electronic sectors.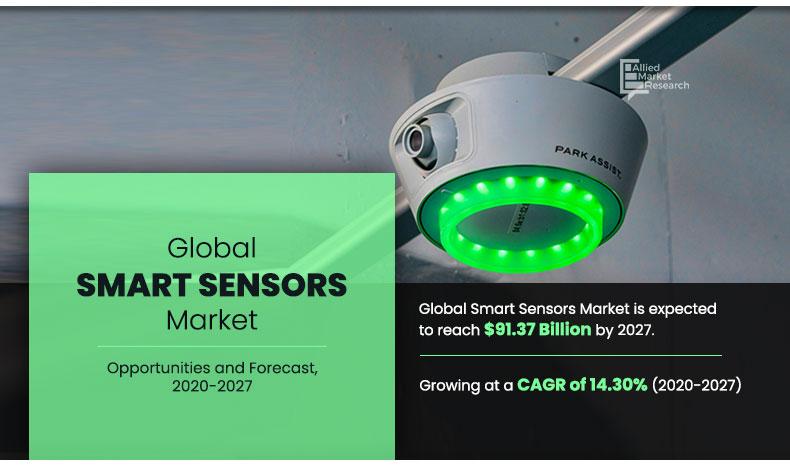 The smart sensor industry is currently in its growth stage and is expected to register substantial growth in the future, attributed to high investments in R&D activities by market players and focus of society toward Internet of Things (IoT). Other factors that drive the smart sensor market growth include increase in demand for automobile & electronics and development of smart cities. According to the Edison Foundation, the U.S. installed 65 million smart meters in 2015 and the number of installations increased to 70 million in 2016, comprising more than half households in the country. Such significant adoptions are being supported by the American Recovery and Reinvestment Act of 2009 (ARRA), which includes funding for the Smart Grid Investment Grant (SGIG) program that encourages utilities and municipalities to start implementing smart metering infrastructure in their communities.
The global smart sensor industry is segmented into type, end use, and region. By type, the market is segmented into touch sensor, image sensor, temperature sensor, motion sensor, position sensor, and pressure sensor. The end use segment is divided into automotive industry, consumer electronics, industrial, infrastructure, healthcare, and others. 
Region wise, the smart sensor market trends are analyzed across North America (U.S., Canada, and Mexico), Europe (UK, Germany, France, Italy, and Rest of Europe), Asia-Pacific (China, Japan, India, and Rest of Asia-Pacific), and LAMEA (Latin America, the Middle East, and Africa).  Asia-Pacific is the largest segment and the region is expected to develop at a significant growth rate during the forecast period. This is attributed to increase in adoption of smartphones and adoption of smart electronic appliances in residential, commercial, and industrial sectors. 
Leading smart sensor market players such as Eaton, Honeywell International Inc. and Infineon Technologies AG are focusing their investments on technologically advanced and cost-effective products. For instance, in March 2018, Honeywell launched Amazon Alexa voice-ready sensors for hotels. Honeywell's INNCOM e7 Sensors (e7) is the first enterprise grade environmental control and energy management solution that incorporates Amazon Alexa voice control for an effortless guest experience that includes room temperature, lighting, drapery, and amenities services. Such advancements are expected to significantly propel the market growth.
Top Impacting Factors
Factors such as robust demand for smart sensors in automobile sector, growth in trends toward Internet of Things, and rise in demand for smart sensors in development of smart cities majorly drive the market growth. However, incorporation of smart sensors in devices incurs extra value and reduces life of devices. This is expected to hamper the market growth to a certain extent. Furthermore, rise in adoption of wearable devices and various innovative applications in the biomedical sector are expected to offer lucrative market opportunities in the global market.
Smart Sensor Market

---
By Type
Image sensors segment is projected as one of the most lucrative segments.
Competition Analysis
Competitive analysis and profiles of the major smart sensor market players such as ABB Ltd., Analog Devices, Eaton, Honeywell, Infineon Technologies, NXP Semiconductors N.V., Renesas Electronics, Siemens, STMicroelectronics, and Texas Instruments.
Covid-19 Impact Analysis
The global smart sensor market has been significantly impacted by the COVID-19 outbreak. Production facilities of electronics and semiconductors have been halted, owing to slowdown and unavailability of the workforce across the globe. COVID-19 outbreak has caused a significant and protracted drop in manufacturing utilization, and travel bans & facility closures kept workers out of their factories, which has led to slowdown in growth of the smart sensor market in 2020. However, negative impact of COVID-19 on the smart sensor market is expected to stay for a short period, and by early 2021, the market is anticipated to observe robust recovery rate, owing to extensive demand for installation of IoT devices across numerous industries and rapidly growing initiatives for smart cities and smart grid technologies.
Smart Sensor Market

---
By End Use
Automotive segment is expected to secure leading position during forecast period.
Asian and European countries under lockdowns have suffered major loss of business and revenue, owing to shutdown of manufacturing units in these regions. Operations of production and manufacturing industries have been heavily impacted by outbreak of the COVID-19 disease; thereby, leading to slowdown in growth of the smart sensor market in 2020.  
However, the market is expected to witness a recovery in its growth rate in coming years, owing to growth in focus of organizations to fulfill surge in demand for smart technologies driven by rapid acceleration in IoT-based infrastructure such as smart cities and smart grids across the globe. In addition, the pandemic has increased a number of organizations to modernize their infrastructure with IoT-based sophisticated technology so that production is not hampered, if such pandemic arises in the future.
Smart Sensor Market

---
By Region
Asia-Pacific would exhibit the highest CAGR of 15.7% during 2020-2027
Key Benefits For Stakeholders
This study comprises analytical depiction of the global smart sensor market size along with the current trends and future estimations to depict the imminent investment pockets.
The overall smart sensor market analysis is determined to understand the profitable trends to gain a stronger foothold.
The report presents information related to key drivers, restraints, and opportunities with a detailed impact analysis.
The current smart sensor market forecast is quantitatively analyzed from 2019 to 2027 to benchmark the financial competency.
Porter's five forces analysis illustrates the potency of the buyers and the smart sensor market share of key vendors.
The report includes the market trends and the smart sensor market share of key vendors.
 Smart Sensor Market Report Highlights
Aspects
Details
By Type

Touch Sensor
Image Sensor
Temperature Sensor
Motion Sensor
Position Sensor
Gas sensor
Light sensor
Pressure sensor
Others

By End Use

Automotive
Consumer Electronics
Industrial
Infrastructure
Healthcare
Others

By Region

North America (U.S, Canada, Mexico)
Europe (UK, Germany, France, Italy, Rest of Europe)
Asia-Pacific (China, Japan, India, Rest of Asia-Pacific)
LAMEA (Latin America, Middle East, Africa)

Key Market Players
EATON, HONEYWELL INTERNATIONAL INC., INFINEON TECHNOLOGIES AG, MICROCHIP TECHNOLOGY INC., NXP SEMICONDUCTOR, RENESAS ELECTRONICS, SIEMENS AG, STMICRO ELECTRONICS, TEXAS INSTRUMENTS, QUALCOMM TECHNOLOGIES, INC.