Smart Textile Market Overview:
Global Smart Textile Market size is expected to reach $5,369 million by 2022 from $943 million in 2015 at a CAGR of 28.4% from 2016 to 2022. Smart textiles are fabrics that are manufactured to include technologies that provide the wearer with increased functionality. It senses and reacts to stimuli or environmental conditions, such as those from thermal, mechanical, chemical, magnetic, and other sources. The global demand for various smart textile products has increased continuously due to their expanding base of applications in end user industries. Most of the demand for smart textile comes from end use industries such as military and defense and healthcare. Both developed and developing countries, will witness the increase in demand with innovative trends. This can be attributed to the factors such as increase in standard of living, rising incomes, awareness of safety and environmentalism, advances in medical technology, expanding automotive sectors, and increased spending on healthcare.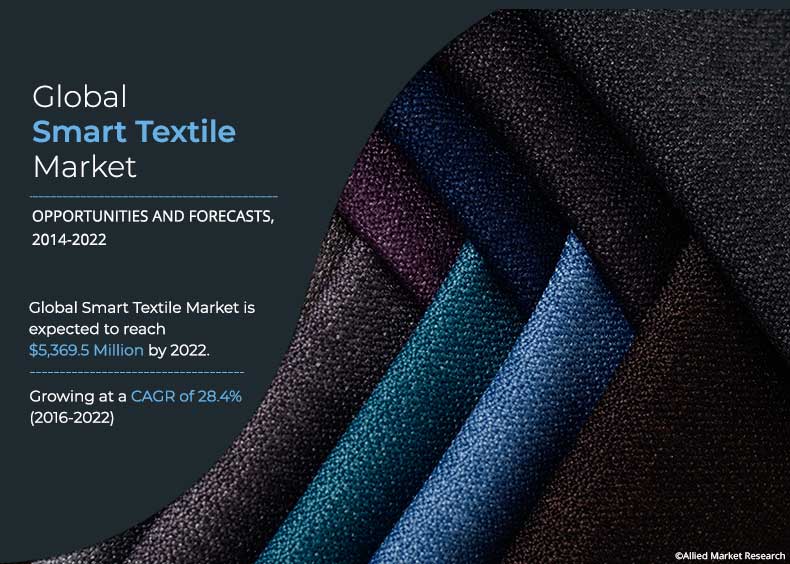 Integration of smart textiles & wearables, use of nanotechnology in textiles, applications in smartphones, wearables in healthcare sector, and application in the military, defense & sports sector are the major factors that drive the smart textile market across the globe. Increasing research and development in the smart textile market along with the growing demand in emerging economies such as India and China are acting as major opportunities in the global smart textile market.
North America was the highest revenue-generating region in 2015, which is expected to grow at CAGR of 27.9% during 2016 to 2022. Moreover, North America is expected to maintain its dominant position over the forecast period. Europe and Asia-Pacific are the second and third leading regions for smart textile market respectively.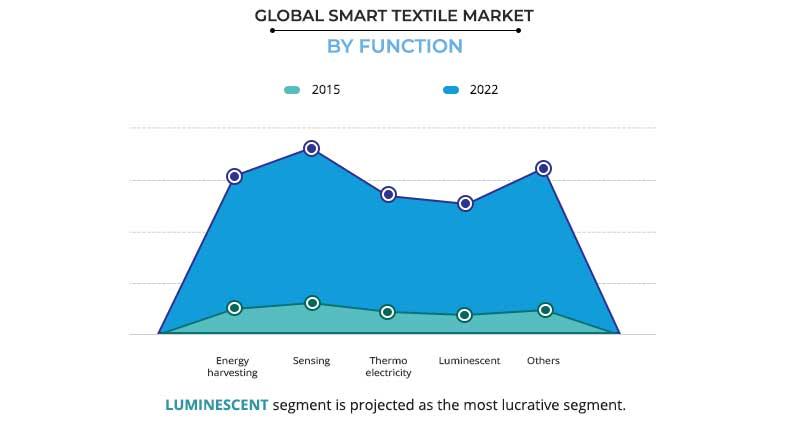 The global smart textile market is segmented based on function, application, and geography. On the basis of function the smart textile market is categorized into energy harvesting, sensing, thermoelectricity, luminescent, and others, which include weaving, knitting, and braiding. On the basis of application, the smart textile market is bifurcated into healthcare, military and defense, entertainment, automotive, sport and fitness, and others. Geographic breakdown and deep analysis of each of the aforesaid segments is included for North America, Europe, Asia-Pacific, and LAMEA.
Top Investment Pockets:
At present, military & defense, healthcare, and entertainment segments have witnessed large-scale adoption of smart textiles due to increasing demand for functional and superior properties products. Automotive and sports & fitness are other popular segments in the global smart textile market. The rapid growth of smart textiles in the end user application is expected in subsequent years due to rise in demand for higher quality fabrics. These segments have a potential to generate high returns due to expected rise in the adoption of high-end fabrics.
Increasing adoption of smart textiles in the military and defense and entertainment sectors are expected to rise and have been identified as some of the lucrative targets for investment. As compared to other segments, these segments possess larger market size by value. Other emerging end user applications such as healthcare, automotive, sport & fitness, and others are expected to witness good growth in the coming years. However, these applications currently possess moderate market size in terms of value.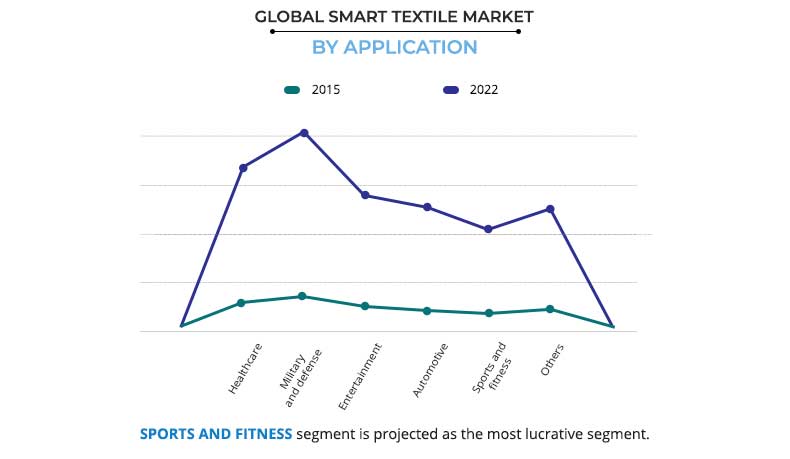 Market Dynamics:
Drivers:
Integration of Smart Textiles and Wearables
With the integration of electronic components in smart textiles, they are used in various applications such as health management, actuation, response, and communication. They consist of components such as sensors, actuators, control units, and others. Wearable technology mainly concerns textiles, electronic devices, and apparel. These textiles help to control muscle vibrations, regulate body temperatures, and protect from environmental hazards such as radiation. As electronic components can be miniaturized, it is possible to integrate textiles and electronic components. These are the factors that are the driving the global smart textile market.
Restraints:
High Cost of Production
The major restraint for the smart textile market is the high cost of production. Smart textiles require high-end materials and are highly sophisticated due to which perfect cost-price balance is not achieved by manufacturers. The market is hindered due to the cost of electronic devices and components, which further increases the prices of the smart textiles.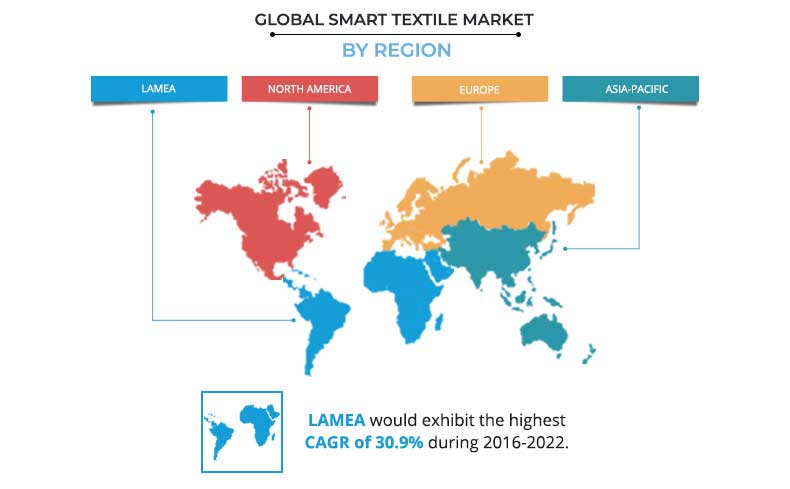 LAMEA Review:
Brazil is expected to witness growth in the smart textile market and is presumed to be the market leader in this region. Brazil is the ninth largest economy in the world in terms of GDP and the fifth largest by purchasing power parity. Brazil is the only South American country that holds a prominent position in global textile production. The country is one of the largest producers of apparel, according to the Institute of Studies and Industrial Marketing of Brazil. The Brazilian textile industry is constantly growing owing to the acquisition of modern equipment and technical development, which is further expected to drive the smart textile market during the forecast period. UAE has the largest market for smart textile in the Middle East region.
Major players that operate in this market are DuPont de Nemours & Co., Koninklijke Ten Cate NV, Texas Instruments Inc., Google Inc., Gentherm Inc., Schoeller Textiles AG, Sensoria Inc., Textronics, Adidas, and Ohmatex.
Other key market players in the value chain include, Intelligent Clothing Ltd., International Fashion Machines, Inc., Interactive Wear AG, Vista Medical Ltd., Nike Inc., ONeill, Eleksen, Fibretronic Limited, ThermoSoft International, and Peratech Ltd.
Key Benefits for Stakeholders:
The smart textile market research report provides a quantitative and qualitative analysis of the current market trends, estimations, and dynamics through 2014-2022, which assist in identifying the prevailing market opportunities in different end user segments.
Market trends of major countries in each region are mapped according to forecasted market revenue.
Top investment pockets, which highlight the opportunity in the most lucrative end user segments is part of the study.
Focused study of the factors that drive and restrict the growth of smart textile market is provided.
Key manufactures of smart textiles are profiled and their recent developments are listed.
 Smart Textile Market Report Highlights
Aspects
Details
By Function

Energy harvesting
Sensing
Thermoelectricity
Luminescent
Others

By Application

HEALTHCARE
MILITARY AND DEFENSE
ENTERTAINMENT
AUTOMOTIVE
SPORTS AND FITNESS
OTHERS

By Geography

North America
EUROPE

UK
France
Germany
Italy
Spain
Rest Of Europe

Asia Pacific

India
China
Rest Of Asia-Pacific

LAMEA

Latin America
Middle East
Africa

Key Market Players
SCHOELLER TEXTILES AG, GOOGLE INC., DUPONT DE NEMOURS & CO., TEXTRONICS, SENSORIA INC., OHMATEX, ADIDAS, GENTHERM INC., KONINKLIJKE TEN CATE NV, TEXAS INSTRUMENTS INC.