Nanotechnology Market Outlook – 2030 
The global nanotechnology market size was valued at $1.76 billion in 2020, and is projected to reach $33.63 billion by 2030, registering a CAGR of 36.4% from 2021 to 2030. Nanoscience and nanotechnology involve the study of nanoparticles and devices, which find their application across all the science fields such as chemical, bio-medical, mechanics, and material science among others. Nanotechnology market encompasses the production and application of physical, chemical, and biological systems and devices at scales ranging from individual atoms or molecules to around 100 nanometers. 
The emergence of COVID 19 has limited the growth of Nanotechnology market in 2020 and is estimated to witness limited growth till the end of 2021 due to implementation partial and complete lockdown among countries to restrict the pandemic.
Nanotechnology carries a significant impact, and serves as a revolutionary and beneficial technology across various industrial domains, including communication, medicine, transportation, agriculture, energy, materials & manufacturing, consumer products, and households. Emerging use cases and application is expected to be one of the key factors contributing towards the growth of nanotechnology market size. The U.S. National Nanotechnology Initiative has estimated that around 20,000 researchers are working in the field of nanotechnology. For the UK, the Institute of Occupational Medicine has estimated that approximately 2,000 people are employed in new nanotechnology companies and universities where they may be potentially exposed to nanoparticles.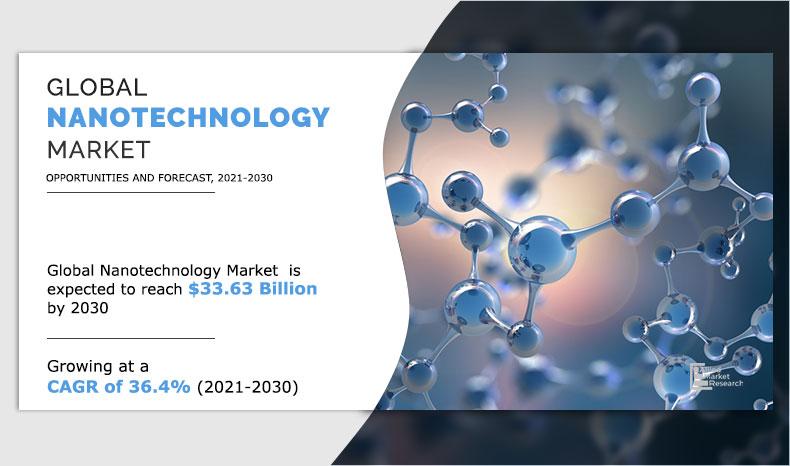 Get more information on this report : Request Sample Pages
Furthermore, various organizations globally are investing in nanotechnology market and its emerging applications. For instance, in 2018, Osaka University-led researchers, in a joint research project with The University of Tokyo, Kyoto University, and Waseda University, constructed integrated gene logic-chips called gene nanochips. These self-contained nanochips can switch genes on and off within a single chip using integrated factors on the nanochips, preventing unintended crosstalk. 
In addition, nanoscale sensors and devices may provide cost-effective continuous monitoring of the structural integrity and performance of bridges, tunnels, rails, parking structures, and pavements over time.
Moreover, nanoscale sensors, communications devices, and other innovations enabled by nanoelectronics support an enhanced transportation infrastructure that can communicate with vehicle-based systems to help drivers maintain lane position, avoid collisions, adjust travel routes to avoid congestion, and improve drivers' interfaces to onboard electronics. All these factors are expected to be major nanotechnology market trends globally.
Factors such as surge in adoption of nanotechnology in medical diagnosis & imaging, and technological advancements in nanotech devices drive the growth of the global nanotechnology market. However, issues arising in the deployment of nanodevices in extreme conditions and high cost of the technology act as the major barriers, thereby hampering the market growth. On the contrary, increase in support and R&D funding from government organizations and emergence of self-powered nanotech devices are anticipated to offer lucrative opportunities for the nanotechnology market forecast. 
Nanotechnology Market

---
By Type
Nanodevice

segment projected to be the most lucrative segment
Get more information on this report : Request Sample Pages
Segment Overview
The nanotechnology market analysis is studied under type, application, and region. By type, the market is bifurcated into nanosensor and nanodevice. Nanosensor segment is further categorized into optical nanosensor, biological nanosensor, chemical nanosensor, physical nanosensor, and others. Nanodevice segment is further divided into nanomanipulators, nanomechanical test instruments, nanoscale infrared spectrometers, and others. By application, the nanotechnology market is analyzed across electronics, energy, chemical manufacturing, aerospace & defense, healthcare, and others. The geographical analysis is given for North America, Europe, Asia-Pacific, and LAMEA along with their prominent countries.
Nanotechnology Market

---
By Application
Aerospace and Defense segment will grow at a highest CAGR of 43.4% during 2021 - 2030
Get more information on this report : Request Sample Pages
The ongoing spread of COVID-19 has become one of the biggest threats to the global economy and is causing widespread concerns and economic hardship for consumers, businesses, and communities across the globe. The "New Normal" that includes social distance and working from home has created challenges with daily activities, regular work, needs, and supplies, causing delayed initiatives and missed opportunities.
Nanotechnology Market

---
By Region
Asia-Pacific region would exhibit the highest CAGR of 40.0% during the forecast period
Get more information on this report : Request Sample Pages
The COVID-19 pandemic is impacting the society and overall economy across the global. The impact of this outbreak is growing day-by-day as well as affecting the supply chain. It is creating uncertainty in the stock market, falling business confidence, massive slowing of supply chain, and increasing panic among customers. European countries under lockdowns have suffered a major loss of business and revenue due to shutdown of manufacturing units in the region. Operations of production and manufacturing industries have been heavily impacted by the outbreak of the COVID-19 disease; which has led to slowdown in growth of the nanotechnology market analysis in 2020.
According to nanotechnology market trends, the COVID-19 has severely impacted global manufacturing and industrial sector as production facilities have stalled, which, in turn, have led to significant demand in industries.
Emergence of COVID-19 has declined growth of the nanotechnology market in 2020, and is estimated to witness slow growth till the end of 2021. Implementation of partial or complete lockdown across various countries globally is the prime reason for this decline in growth rate. As industries were temporarily shut, it reduced the need for maintenance from various industries.
Top Impacting Factors
Significant factors that impact growth of the global nanotechnology industry include growth in adoption of nanotechnology in medical diagnosis, and emerging technological advancements in nanotech devices. However, problems regarding deployment of nanotech devices in extreme weather conditions and high cost of the technology act as major restraining factors, hampering the market to a certain extent. Furthermore, increase in government support and funding, and emergence of self-powered nanotech devices are expected to offer lucrative opportunities in the coming years.
Competitive Analysis
The nanotechnology market leaders profiled in the report include Altair Nanotechnologies Inc., Applied Nanotech Holdings Inc., Thermofisher Scientific, Imina Technologies Sa, Bruker Axs, Kleindiek Nanotechnik GmbH, eSpin Technologies Inc., Advanced Nano Products, Biosensor International, and Nanoics Imaging Ltd. These key players adopt several strategies such as, new product launch and development, acquisition, partnership and collaboration and business expansion to increase the nanotechnology market share during the forecast period. 
Surge in Adoption of Nanotechnology in Medical Diagnosis
The term nanotechnology describes a range of technologies performed on a nanometer scale with widespread applications in various industries. Nanotechnology-based diagnostic techniques that are currently under development may provide two major benefits such as detection of disease at an earlier stage and instant treatment facilities. Various innovations are being carried out in the field of medical diagnosis to bring efficiency.
Issues Pertaining to the Deployment of Nanotech Devices in Extreme Weather Conditions
Nanotech devices are expected to work under extreme weather conditions such as electromagnetic noise, radiation, high vacuum, and high temperature. In the field of nanotech devices, the devices must maintain stringent accuracy specifications for displacement, force, and response times. These new requirements present additional challenges in the compensation for or elimination of cross-sensitivities. Many devices lose their precision and reliability when exposed to harsh environments. It is important that advanced nanosensor and other devices maintain maximum autonomy such that the devices can operate independently with low maintenance.
Increase in Government Support and Funding
Nanoscience and nanotechnology are a priority field for today's innovation leaders. Nanotechnology is a key element of advanced manufacturing, which is being pursued by a widening circle of industrial countries that include Australia, Canada, China, France, Germany, Japan, the Republic of Korea, and the USA. Advanced manufacturing is the focus of one of China's 16 mega-engineering programs to 2020, by which time the country plans to be innovation-driven. For instance, the BRICS (Brazil, Russian Federation, India, China, and South Africa) are all striving to become nanotechnology hubs. In addition, the U.S. federal government leads the world in nanotechnology R&D funding.
Key Benefits For Stakeholders
This study comprises analytical depiction of the nanotechnology market size along with the current trends and future estimations to depict the imminent investment pockets.
The overall nanotechnology market analysis is determined to understand the profitable trends to gain a stronger foothold.
The report presents information related to key drivers, restraints, and opportunities with a detailed impact analysis.
The current nanotechnology market forecast is quantitatively analyzed from 2019 to 2028 to benchmark the financial competency.
Porter's five forces analysis illustrates the potency of the buyers and suppliers in the smart display.
The report includes the nanotechnology market share of key vendors and nanotechnology market trends.
 Key Market Segments
By Type

Nanosensor

Optical Nanosensor
Chemical Nanosensor
Physical Nanosensor
Biosensors
Others

Nanodevice

Nanomanipulator
Nanomechanical test instruments
Nanoscale infrared spectrometers

By Application

Electronics
Energy
Chemical manufacturing
Aerospace & Defense
Healthcare
Others

By Region

North America
Europe

UK
Germany
Russia
Rest of Europe

Asia-Pacific

China
India
Japan
Australia
Rest of Asia-Pacific

LAMEA

Latin America
Middle East
Africa
 
Key Market Players
Altair Nanotechnologies Inc. (Canon Investment Holdings Limited)
Applied Nanotech, Inc. (Nano Magic Holdings Inc.)
Advanced Nano Products Co., Ltd.
Bruker Corporation
Biosensors International Group, Ltd. (Bluesail Medical Co., Ltd.)
eSpin Technologies, Inc.
Imina Technologies SA
Kleindiek Nanotechnik GmbH
NANONICS IMAGING Ltd.
Thermo Fisher Scientific Inc.