Solar Lights Market Research, 2031
The global solar lights market was valued at $8.1 billion in 2021, and is projected to reach $14.2 billion by 2031, growing at a CAGR of 6.2% from 2022 to 2031.
Solar lights are one of the most environment-friendly and sustainable outdoor lighting solutions available. Solar lights are portable light fixtures composed of LED lamps, photovoltaic solar panels, poles, light sensors, and rechargeable batteries. A solar panel collects solar energy during daylight hours and charges a battery which powers a fixture solar light at night. Solar light products provide affordable, attractive, low-maintenance illumination for residential, commercial, and public infrastructure.
The solar energy industry experienced significant growth over the last two decades as the world governments are encouraging users to adopt solar-powered devices. One of the most well-liked subsectors of the solar energy market is outdoor solar lighting. China is one of the leading providers of photovoltaic modules in the world. In short term, the COVID-19 situation has drastically decreased China's production of solar light products, raw material storage and distribution facilities shut down. Post COVID-19, most players are hopeful of a quick recovery as residential and government projects have decided for the energy transmission to renewable sources which is boost the demand for solar light in near future.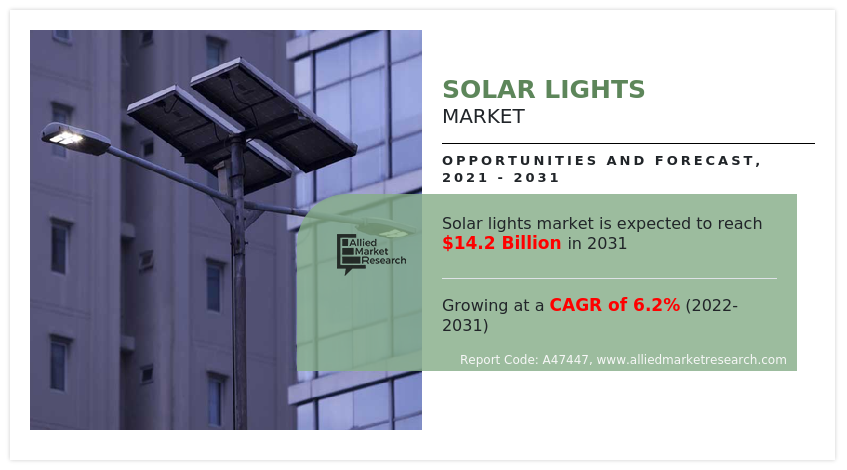 The report includes the study of the solar light market with respect to the growth prospects and restraints based on the regional analysis. The study includes Porter's five forces analysis of the solar light industry to determine the impact of suppliers, competitors, new entrants, substitutes, and buyers on the market growth. Additionally, solar lights are particularly helpful for outdoor spaces and can be installed anyplace, which is expected to support the expansion of the global solar light market in the coming years.
Energy independence, easy installation, reliability, and waterproofing elements are some factors driving the growth of the solar lights market share during the forecast period. Solar lights can meet unique performance parameters by varying solar panel size, bulb brightness, battery size, lighting angles, pole heights, and special features like motion sensors or network connectivity which helps boost the solar lights market size.
The gradually growing requirement of energy and the limited resource of traditional energy sources are challenging for both developed and developing countries. Solar lights provide a clean, cost-effective, environment-friendly solution to provide households with access to lighting. Awareness related to clean energy is increasing in the developing nations boosting the global solar lights market trends in near future. A wide variety of off-grid solar products, ranging from large installations powering to small portable lights are gaining popularity in low- and middle-income countries. Prices for different type of solar lights have decreased by around 80% in the past 6 years and are expected to drop even further which is driving the growth of the solar lights industry. Governments, NGOs and other organizations accelerating the adoption of solar lights through tax cuts, subsidies which is creating more favorable opportunity for solar lights market growth in the near future.
Nowadays, the use of solar lights is very common in both residential and commercial places. According to solar lights market analysis, residential sector is indulged in efficiently offsetting and diversifying electricity consumption which is boosting the solar light market during the forecast period. Solar energy further brought a huge transition in the commercial market. Solar lights are gaining popularity and replacing the conventional outdoor lighting solutions and street lights. Moreover, increase in the investment by the government and favorable government policies for construction of new highways and roadways projects in developing countries with solar street light products is anticipated to boost the growth of the solar light market.
Compared with traditional street lighting, solar street lighting uses solar energy which is completely renewable. In a genuine sense, solar street lighting promotes environmental protection. Solar light products are cost effective over time as no continuing electricity costs are attached with the product. Solar lights can store enough energy to operate continuously throughout the night, even in overcast or snowy weather as product can turn on and off independently. Solar light products help illuminate all parking lots and paths during storms and power outages. The demand for the global solar lights market is anticipated to grow due to the increase in popularity of solar light products such as solar garden lights, solar street lights for highways, and solar IoT lights in various applications.
Switching to solar power products, means taking an active part in conserving the environment. People around the world are adapting new ways to make positive changes in community. According to solar lights market forecast, residential sector is focusing on investing in future with solutions which are smarter, greener, and more adaptable to the ever-changing landscape. Adoption of off grid or solar lighting network in residential and public gardens help overcome the utility connection light maintenance cost.
Off-grid solar lights help overcome the constraints associated with traditional grid-powered lighting solutions. Off-grid solar lighting solutions can avoid foundation work of cables ditch digging, cable pipe laying, cable threading inside pipes and ditch landfill, which needs a lot of labor. Off-grid solar light systems provide a much easier installation. The off-grid solar lights are independent and come up with the economic benefits such as cost-saving and labor-saving which drives up demand for off-grid solar light products in the market.
The rechargeable batteries are already included in a solar light fixture which makes installation of solar lights effortless. Solar light batteries are recharged over the day to provide a constant flow of electricity at night. The battery charges and drains as the lights operate from dusk to dawn. Technological development in new batteries such as longer life-span and excellent environmental compatibility is drive the demand for solar lighting products in different applications. Decomposable or "green" batteries are now undergoing development for solar light, which is projected to open new solar lights market opportunities in the forecasted period.
Switching to solar light products is advantageous in several applications such as in infrastructure projects and residential garden lighting, however the products have a few drawbacks. The surface temperature of the outdoor solar lights in summer can rise to 60℃. The ultraviolet rays have a destructive effect on the protective coating of the shell, plastic parts, potting glue, sealing rubber ring adhesive strip, adhesive, etc. Long-term exposure of product toward the high ultraviolet rays will result in fractures on the panel which can impact the product ability to perform effectively in different weather conditions. The surface of solar PV is affected by the ambient temperature, which results in less effective sunlight absorption. In addition, it is simple for dirt and dust particles to accumulate on the surface of solar light resulting in obstructing sunlight absorption and lowering performance of the product which is creates a restrain in the market growth.
The need for solar lights has increased due to a boom in the global solar industry. A surge in the investigation of new renewable energy sources has grown over the past five years, aside from the pandemic period. The report further outlines the details about the revenue generated through the sale of solar lights across North America, Europe, Asia-Pacific, and LAMEA. Major players operating in the power purchase agreement market include Jinhua Sunmaster Lighting Co. Ltd, Solar Street Lights USA, Sunna Design SA, ENGOPLANET ENERGY SOLUTIONS LLC, Engcotec GmbH, Kon Lighting, SEPCO, Fonroche Lighting America, Inc., Greenshine New Energy, Koninklijke Philips N.V. and wipro lighting.
The solar lights market is segmented into Type, Panel Type, Solar Power Systems and Application.
Solar Lights Market

---
By Type
Outdoor Solar Lights segment is dominating the segment in the forecast period
By type, the market is classified into outdoor solar lights and indoor solar door. The outdoor solar lights segment is further classified on the basis of type into solar street lights, solar garden lights, solar parking lot lights, solar traffic lights, solar sign lights and others. The solar garden lights segment is further classified on the basis of type solar post lights, solar flood lights, solar lanterns, solar deck light, solar wall lights, solar step lights, solar fence lights, solar walkways lights, solar porch lights, solar driveways lights, solar lawn lights and others. The indoor solar lights segment is further classified on the basis of type into solar shed lights, solar desk lights and others. In 2021, the outdoor solar light segment dominated the market as products are used to illuminate streets, large outdoor areas and to lower the expenditure extra expense of outdoor lighting. The key factors influencing the rise in demand for outdoor solar lighting are improving affordability, better accessibility, and government support.
Solar Lights Market

---
By Panel Type
Polycrystalline segment witnessed the highest market in the forecast period
By panel type, the market is classified into polycrystalline, monocrystalline and amorphous. In 2021, polycrystalline segment dominated in the market as Polycrystalline solar panel is the most predominant panel for the solar light products. The polycrystalline panel perform better even in low light conditions and have a higher temperature coefficient and high-power density which drive its demand in the market.
Solar Lights Market

---
By Solar Power Systems
Off-Grid holds a dominant position in 2021
By solar power system, the market is classified into off-grid, on-grid and hybrid. In 2021, off-grid segment to dominated in the market as systems are good in terms of expandability as energy needs change over time the power of off-gride can also be increases. The off-grid system is 100% self-sustaining and not connected in any way to local grid's power system or utility which drive its demand in the market.
Solar Lights Market

---
By Application
Highways and Roadways is the most lucrative segment
By application, the market is classified into highways and roadways, residential, commercial and industrial and others. In 2021, highways and roadways segment dominated in the market as government is coming with the new infrastructure projects and new policies for adoption of solar street light products. Manufacturers are developing well-designed solar products to operate continuously with compact maintenance, which is driving the market for roads and highways segment.
Solar Lights Market

---
By Region
Asia-Pacific is dominating region and maintain its dominance in forecast period
By region, the market is classified into North America, Europe, Asia-Pacific and LAMEA. In 2021, Asia-Pacific to dominated in the market as owing to increased production of solar lighting products. In China and Japan, large companies have already entered the production of the products and are also expanding the production capacity are expected to be the key factors which drive the growth of the market during the forecast period.
The conflict between Russia and Ukraine has a significant impact on the energy sector. Russia's invasion of Ukraine has created shock waves in global energy markets, leading to price volatility, supply shortages, security issues. As a result, the cost of manufacturing solar light products and batteries will increase and significant supply chain challenges. The war can significantly slow the renewable energy transition of the Europe. The Russia-Ukraine war has a major impact on the global solar industry. Production has decreased sharply, while demand has also declined.
The booming world economy has caused exponential population growth and high energy demand which is becoming very difficult to satisfy. Some of the non-renewable sources are depleting which are used to produce power. Solar lights products also reduce the dependence on the fossil fuels. The residential sector is shifting towards the solar energy sources for power production. Several companies are investing in business expansion, production capacity and launching new products for solar light market.
Key Strategies
In April, 2022, Wipro Lighting company has decided to launch best and highly eco-friendly lamination product named Wipro SolaRISETM. The product is technologically advanced, environment-friendly, efficient and innovative solutions. This development helps the company to increase product portfolio in lighting solutions
In October 2021, Koninklijke Philips N.V. company decided to launch the new product named Philips Essential SmartBright Solar Wall Light (BWS010 series). The product is an All In One (AIO) solar-based wall lamp with a compact size, easy installation, and motion sensors make which make product very suitable to be installed in the home area and garden area
Key Benefits For Stakeholders
This report provides a quantitative analysis of the market segments, current trends, estimations, and dynamics of the solar lights market analysis from 2021 to 2031 to identify the prevailing solar lights market opportunities.
The market research is offered along with information related to key drivers, restraints, and opportunities.
Porter's five forces analysis highlights the potency of buyers and suppliers to enable stakeholders make profit-oriented business decisions and strengthen their supplier-buyer network.
In-depth analysis of the solar lights market segmentation assists to determine the prevailing market opportunities.
Major countries in each region are mapped according to their revenue contribution to the global market.
Market player positioning facilitates benchmarking and provides a clear understanding of the present position of the market players.
The report includes the analysis of the regional as well as global solar lights market trends, key players, market segments, application areas, and market growth strategies.
 Solar Lights Market Report Highlights
Aspects
Details
Market Size By 2031
USD 14.2 billion
Growth Rate
CAGR of 6.2%
Forecast period
2021 - 2031
Report Pages
640
Type

Outdoor Solar Lights

Type

Solar Street Lights
Solar Garden Lights

Type

Solar Post Lights
Solar Flood Lights
Solar Lanterns
Solar Deck Light
Solar Wall Lights
Solar Step Lights
Solar Fence Lights
Solar Walkways Lights
Solar Porch Lights
Solar Driveways Lights
Solar Lawn Lights
Others

Solar Parking Lot Lights
Solar Traffic Lights
Solar Sign Lights
Others

Indoor Solar Lights

Type

Solar Shed Lights
Solar Desk Lights

Panel Type

Polycrystalline
Monocrystalline
Amorphous

Solar Power Systems
Application

Highways and Roadways
Residential
Commercial and Industrial
Others

By Region

North America (U.S., Canada, Mexico)
Europe (Germany, Spain, Italy, UK, France, Rest of Europe)
Asia-Pacific (China, Japan, India, South Korea, Rest of Asia-Pacific)
LAMEA (Brazil, Saudi Arabia, UAE, Rest of LAMEA)

Key Market Players
Jinhua Sunmaster Lighting Co. Ltd, Sunna Design SA, ENGOPLANET ENERGY SOLUTIONS LLC, Kon Lighting, SEPCO, Greenshine New Energy, wipro lighting, Solar Street Lights USA, Engcotec GmbH, Fonroche Lighting America, Inc., Koninklijke Philips N.V.