Solar Powered ATM Market Outlook – 2030 
The global solar powered ATM market size was valued at $1.27 billion in 2020, and is projected to reach $3.10 billion by 2030, growing at a CAGR of 9.7% from 2021 to 2030. Solar powered ATM is a machine in banking industry that recreates the banking services in areas with shortage of electricity. Solar ATM consists of components, which include solar plates, battery, and ATM machine. It works on the same mechanism where solar panel installed in the roof is connected to inverter, to machine, and then to battery for storing excess power. 
Dealing with an unprecedented increased risk & compliance management, administering existing solutions, and rising changes across regulatory frameworks are some of the critical challenges faced solar powered ATM providers during the pandemic situation.
In addition, it is preferred for reasons such as uninterrupted supply of power, no capex for the project, and can have better utilization of existing resources. Furthermore, these factors are increasing the business for banks and help in educating rural people about the advantages of using solar such as in interrupted supply of power and utilization of solar resources.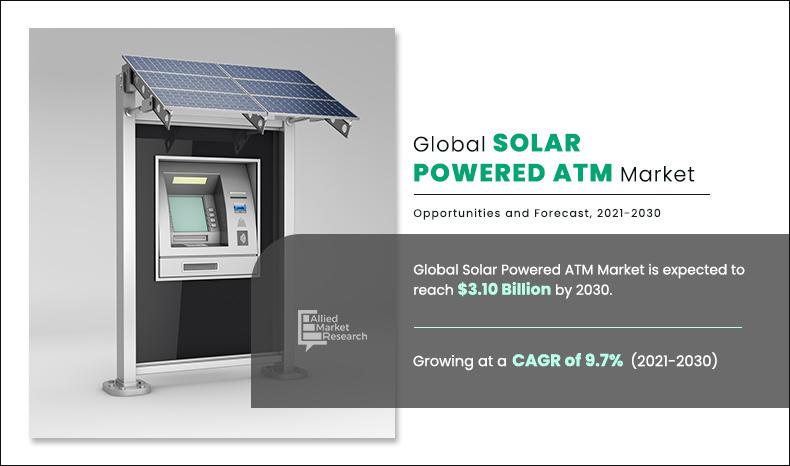 Growing demand and increase in need of continuous electricity supply technology among banks & financial institutions and rise in power cut issues in rural areas are boosting the global solar powered ATM market growth. In addition, rapidly adoption of solar power ATM among banks across the U.S. and Canada and other developing nations, such as India, positively impacts the growth of the market. However, lack of awareness of solar powered ATM hampers the market growth. On the contrary, increase in key player initiatives, such as product launch, product development, and partnership, is expected to offer remunerative opportunities for the expansion of the solar powered ATM market during the forecast period.
By end user, the banks segment garnered the largest solar powered ATM market share in 2020, and is expected to maintain its dominance in the upcoming years due to the major requirement from customers for solar based ATMs to check several banking information such as account information, cash deposit, and regular bill payments. However, the bank service agent segment is expected to witness significant growth rate during the forecast period due to rise in awareness among third-party payment service providers toward solar powered banking products such as ATM and others. 
Region-wise, the solar powered ATM industry was dominated by Asia-Pacific and is expected to retain its position during the forecast period, owing to expansion of FinTech infrastructure and hefty investments from private & public players in the region. 
The report focuses on growth prospects, restraints, and trends of the global solar powered ATM market analysis. The study provides Porter's five forces analysis to understand impact of various factors, such as bargaining power of suppliers, competitive intensity of competitors, threat of new entrants, threat of substitutes, and bargaining power of buyers, of the global solar powered ATM market share.
Solar Powered ATM Market

---
By Component
Deployment segment will generate the maximum revenue during 2021 - 2030
Segment Overview
The global solar powered ATM market is segmented on the basis of component, type, end user, and region. By component, the solar powered ATM market is bifurcated into deployment and managed service. By type, it is categorized into on-site, off-site, and others. By end user, the market is divided into banks and bank service agent. Region-wise, it is analyzed across North America, Europe, Asia-Pacific, and LAMEA.
Solar Powered ATM Market

---
By Type
On-Site segment will dominate the market by the end of 2030
Competitive Analysis
The key players profiled in the solar powered ATM market are Alpha Tech Energy Solutions India Pvt. Ltd, Diebold Nixdorf Incorporated, Euronet Worldwide Inc., Fujitsu Ltd., GRG Banking Equipment Co. Ltd., HESS Cash Systems GmbH, Hitachi Payment Services Pvt. Ltd., Hyosung Global, NCR Corporation, and Vortex Engineering. These key players have adopted various strategies, such as product portfolio expansion, mergers & acquisitions, agreements, geographical expansion, and collaborations, to increase their market penetration and strengthen their foothold in the industry.
Solar Powered ATM Market

---
By End User
Bank segment will lead the market throughout the forecast period
COVID-19 Impact Analysis
The solar powered ATM market witnessed significant growth in the past few years; however, due to the outbreak of the COVID-19 pandemic, the market is projected to witness sudden decline in 2020. This is attributed to implementation of lockdown by governments in majority of the countries and shut down of businesses across the globe and restrictions on selling and installing systems. Moreover, with the ongoing unprecedented global health crisis, consequences are being witnessed in all industrial sectors and economies globally. Presently, preferences of consumers in terms of buying solar powered ATM is completely different, owing to rising awareness of growing CO2 emission and climate change.
Solar Powered ATM Market

---
By Region
Asia-Pacific region would exhibit the highest CAGR of 11.9% during 2021 - 2030
Top Impacting Factors
Increase in Need of Continuous Electricity Supply Technology Among Banks and Financial Institution
Major banks and financial institutes are adopting renewable electricity generation technology to harnesses a naturally existing energy flux such as wind, sun, heat, or tides to generate electrical energy. Furthermore, as majority of the banks have started digitizing their banking services, the need for continuous electricity further increased for maintaining normal banking services. In addition, any disruption in electricity can cause servers to shut down and stop all transaction of banks, which in turn, will hugely affect the banks credibility. 
For instance, according to a report by IEA in 2021, electricity's share of final energy consumption increased from 15% in 2020 to 20% in 2021 and it is set to grow to 24% by 2040. Thus, the demand for electricity is ever growing and the supply for major sources of electricity is decreasing each year at much faster rate than before. Therefore, major banks are adopting solar panels in their workplace with most consumption. 
Moreover, with rise of digital banking, there is need for servers running 24X7 to cope with rise in number of transactions across the globe, owing to growing foreign investments and trade. Thus, solar panels used by the fintech and banking sector provide continuous electricity supply, which is driving the growth of the solar powered ATM market.
Rise in Power Cut Issues in Rural Areas
Physical bank branches play an important role in rural areas, despite the adoption of digital transactions seeing a significant jump in these areas as there is very low penetration of internet and digital banking in rural areas. Thus, the need for cheap and constant supply of electricity is rising among banks and financial institutions. For instance, according to a report by Kotak Mahindra Bank in 2021, the penetration of the internet is 33% and that of smartphones is 37% in rural India, which, in turn, drives the demand for solar power electricity, owing to high power cuts in rural areas. 
In addition, various banks and fintech companies are installing solar powered ATMs in rural areas of developing nations to provide enhanced customer services to end users, thereby driving the growth of the solar powered ATM market. Moreover, many banks in rural areas are changing from petrol and diesel generators to solar panels, owing to growing concern regarding CO2 emission and rising cost of petrol and diesel, which propel the growth of the solar powered ATM market.  
Key Benefits For Stakeholders     
The study provides an in-depth analysis of the global solar powered ATM market forecast along with the current & future trends to explain the imminent investment pockets.
Information about key drivers, restraints, & opportunities and their impact analysis on global solar powered ATM market trends is provided in the report.
Porter's five forces analysis illustrates the potency of the buyers and suppliers operating in the industry.
The quantitative analysis of the solar powered ATM market from 2021 to 2030 is provided to determine the market potential.
 Solar Powered ATM Market Report Highlights
Aspects
Details
By Component

Deployment
Hardware
Software
Managed Service

By Type
By End User
By Region

North America (U.S., Canada)
Europe (UK, Germany, France, Italy, Spain, Netherlands, Rest of Europe)
Asia-Pacific (China, Japan, India, Australia, South Korea, Rest of Asia-Pacific)
LAMEA (Latin America, Middle East, Africa)

By Key Market Players

Alpha Tech Energy Solutions India Pvt. Ltd
Diebold Nixdorf Incorporated
Euronet Worldwide Inc.
Fujitsu Ltd
GRG Banking Equipment Co. Ltd.
HESS Cash Systems GmbH
Hitachi Payment Services Pvt. Ltd.
Hyosung Global
NCR Corporation
Vortex Engineering