Soybean Meal Market Research, 2031
The global soybean meal market size was valued at $59.2 billion in 2021, and is projected to reach $94.2 billion by 2031, growing at a CAGR of 4.9% from 2022 to 2031.
Soybean meal is a great animal feed because it is highly digested, tasty, and contains a lot of digestible energy. Depending on the degree of dehulling and the processing technique, soybean meal has a CP content of 45–55% and a TDN of 75–84%. All of the necessary amino acids are present in the protein, however, the concentrations of cystine and methionine are not ideal. In high-energy diets, methionine may be particularly crucial as the first limiting amino acid. Large quantities have not been fed to dairy or beef cattle due to the high rate of CP degradation in the rumen. Various processing techniques for soybeans have been developed recently to lessen CP breakdown in the rumen. In terms of calcium and phosphorus, soybean meal is superior to cereal grains. Full-fat roasted soybeans have recently become a significant component of the diets of dairy cattle, particularly in affluent nations. It has also been demonstrated that feeding full-fat soybeans can increase milk concentrations of conjugated linoleic acid, a substance that has been linked to a lower risk of cancer in people. The oilseed crop that is most widely cultivated worldwide is soybean. India is the country with the highest production of soybean seeds in South Asia. A seasonal crop, soybeans may thrive in a variety of environments. Soybeans are typically solvent extracted and have an oil content of 16–21%.
In the years to come, the industry's general growth trajectory is anticipated to be supported by the increase of animal husbandry and the growing public awareness of livestock emissions.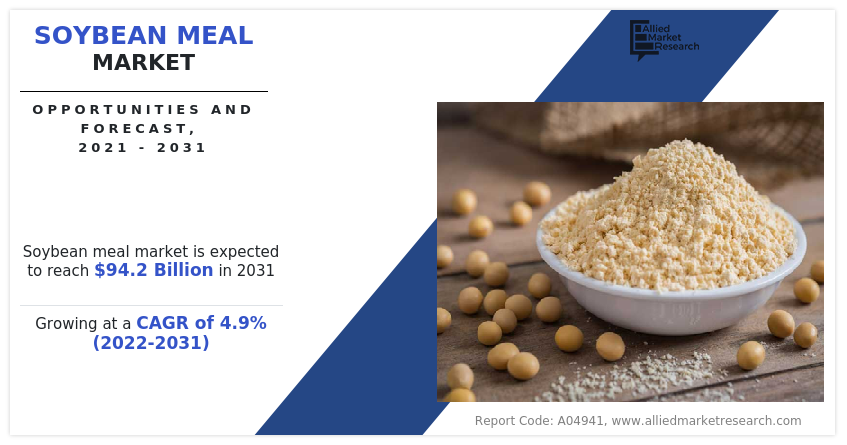 The nutritional components of products made from soybean meal are essential components for optimizing diets and estimating the overall amount of nutrients provided to animals. Maximum feed items for livestock and poultry contain soybean meal. The industry that produces animal feed has the biggest need for soybean meal. However, soybean meal is an essential part of the daily diet for dairy animals such as cattle and buffalo because it increases their ability to produce milk. Additionally, to  satisfy the rising demand for meat, soybean meal is fed to animals including pigs, ruminants, and fowl to help them gain weight. Additionally, in food products for human consumption, such as bakery goods and nutritional supplements, soybean meal is used as a substitute for meat products to increase the body's protein supply.
Although a sizable amount of the soybean meal sector is devoted to supplying human protein requirements, growing consumer concern over the quality of animal food items is creating new demand for animal feed. Additionally, the use of soybean meal concentrates in ground feeds and the maximization of productivity in monocultures reduce the reliance on easily available fishmeal in nature. The health benefits that soybean meal concentrate provides when used in animal feeds are valued by livestock farmers in addition to aquaculture producers, which is anticipated to support the growth of the soybean meal ingredients market during the forecast period.
Nowadays, almost all food and beverage products on the market follow the organic trend. As consumers become more health concerned and knowledgeable about the unsanitary production and development of food crops and their impact on the body, there is a growing market demand for organic products. For example, the absence of radiation, genetic engineering, harmful chemicals, GMO ingredients, pesticides, and fertilizers are advantages of organic products.
Additionally, according to the Research Institute of Organic Agriculture, 3.1 million organic farmers produced $123 million in revenue in 2019. (FIBL). Furthermore, Australia has the largest amount of organic agricultural land on the planet, at 35.7 billion hectares. Latin America and Asia are next with 11% and 5.9% of the world's organic acreage, respectively, followed by Europe with 16.5 million hectares, or more than 60% of the total. A different estimate by FIBL states that 1.5% of cropland worldwide is organic, and this percentage is rising along with the demand for organic goods. More than three-quarters of consumers globally feel non-GMO food products are significantly or somewhat healthier, despite the fact that leading international scientific organizations to endorse genetically modified organisms. Globally, GMOs continue to top consumers' lists of concerns regarding food. Major corporations are also making progress in the development of organic products to fulfil the increased soybean meal market demand. The market for organic products is also expected to rise as a result of rising disposable income and rising spending on organic products, particularly in developing countries like China, India, Brazil, and Mexico. The use of chemicals, artificial additives, preservatives, or non-organic materials is also low during the stages of producing, processing, and preserving organic soy protein. Major market players are promoting soy products with organic labels since these products are created from raw materials grown organically.
The soybean meal market is segmented on the basis of nature, application, sales channel, and region. By nature, the market is divided into organic and conventional. By application, the soybean meal market is fragmented into food industry, animal feed industry, and pharmaceutical. By sales channel, it is classified into online, offline, and B2B. Region wise, the soybean meal market is analyzed across North America, Europe, Asia-Pacific, and LAMEA.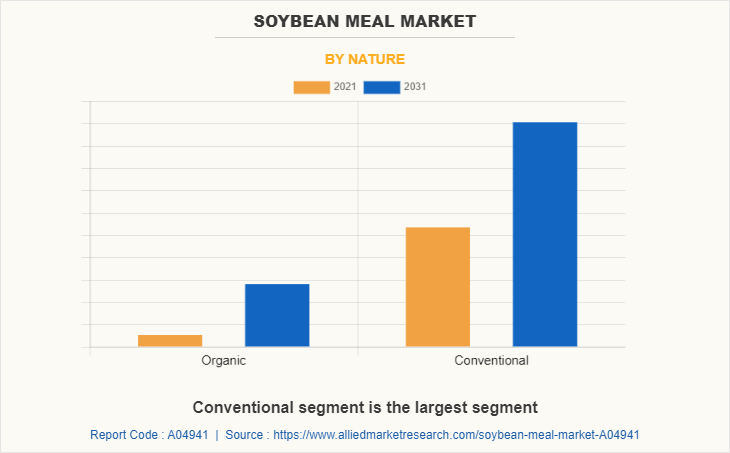 The conventional segment, as per nature, dominated the soybean meal market in 2021 and is anticipated to maintain its dominance throughout the soybean meal market foreacst period. This is attributed to the low price and easy availability of conventional soybean meal. For children, adults, and animal feed, the amount of proteins and vitamins in conventionally produced soybean meals is adequate.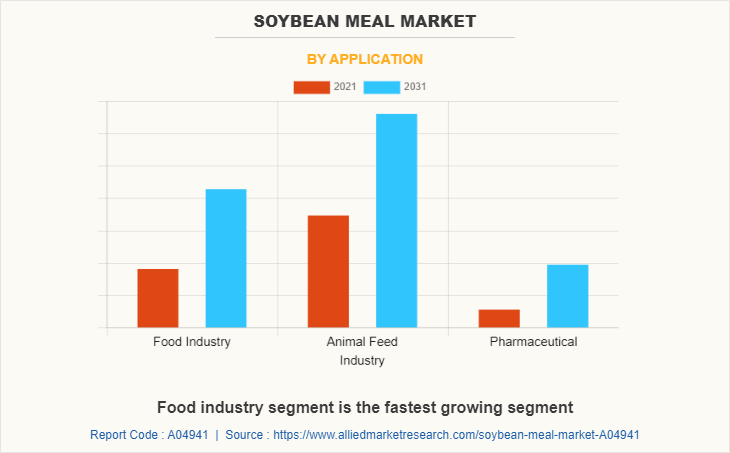 The animal feed industry segment dominates the global soybean meal market. Cattle are fed soybean meal during the fattening phase to encourage efficient growth. This is due to the fact that it increases the amount of fat deposits in the carcass, which improves the food's quality and appeal to consumers. To meet the nutritional needs of grass-fed cattle, particularly grass-fed beef, high-energy or high-protein feeds should be supplemented if the grass is of poor nutritional quality.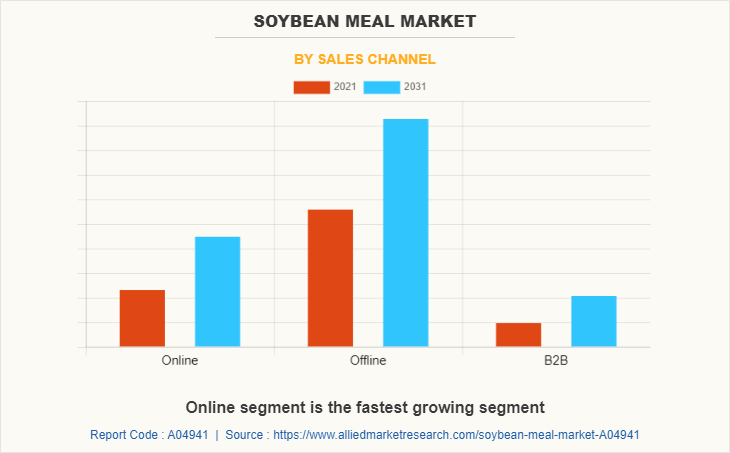 The online segment exhibits the fastest soybean meal market growth. Online platforms are more often used to buy soybean meals because of how simple they are to use and how quickly they can be accessed. Online sales are increasing as a result of time-saving features, easy access to information on the ingredients used in soybean meal products, and the availability of home delivery.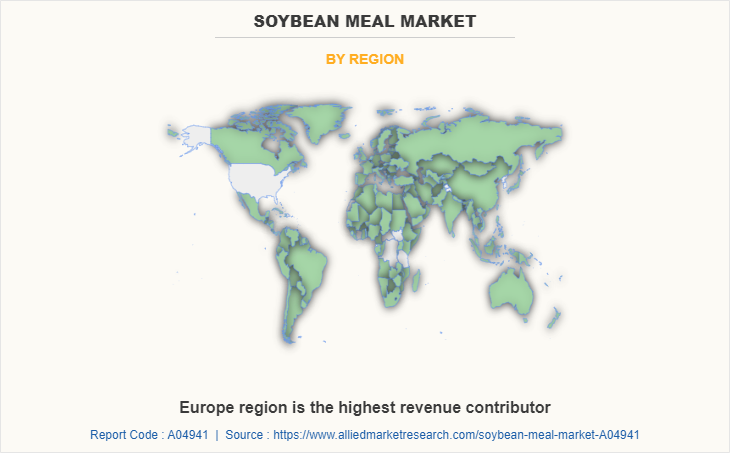 Region wise, Asia-Pacific dominated the market with the largest soybean meal market share during the soybean meal market foreacst period. Due to the growing potential in the Chinese and Indian markets, Asia-Pacific now has the largest market for soybean meal. In India, the demand for soy protein is rising as a result of the rapidly growing market for soybean meal, which has also raised the country's protein needs.
Since the general population has become more aware of the nutritional benefits of soybean meal, consumption has increased. Considering that it contains a lot of protein, it is frequently considered to be a healthy option. Consuming soybean meal reduces levels of cholesterol and low-density lipoprotein cholesterol. Additionally, it promotes the growth of lean muscle mass, enhances the healing of strained muscles, and lessens oxidative stress and inflammation of the muscles. A health claim that has been approved by the U.S. Food and Drug Administration states that a diet low in saturated fat and cholesterol that includes 25 gm of soy protein per day lessens the risk of heart disease (FDA). Additionally, men's prostate health, muscle mass, bone health, menopausal symptoms, and breast cancer prevention are all benefited by soybean meal content. Thus, it is projected that a number of health benefits and a rise in consumer health consciousness will fuel soybean meal market expansion.
The lack of regulatory standards is one of the main factors impeding the growth of the soybean meal industry. In countries where frameworks based on scientific risk have been established to govern national food safety standards, this trend is noticeably more prevalent. For instance, the components of soybean meal are subject to strict criteria set by federal and state regulatory agencies in the U.S. Certain usage and labeling laws in the U.S. limit the growth of soybean meal as a dairy substitute. Additionally, only 8% of soy proteins may be used in chili, and only 12% of soy proteins may be used in Salisbury steaks and meatballs. Additionally, there is a 3.5% restriction on the quantity of soy flour that can be used in normal sausage products, and it must be correctly labeled before being put on the market. Components of soybean meal should never be used in infant food, according to the European Communities Commission, because they could increase the risk of allergies. The market for soybean meal cannot grow due to these restrictions.
The major players analyzed for the soybean meal industry are Mahesh Agro Food Industries, Louis Dreyfus Company B.V., Bunge Limited, Mamta Hygiene Products Pvt. Ltd., Nordic Soya Ltd., Mukwano Industries Uganda Ltd., Gujarat Ambuja Exports Limited, AdamPolSoya, Wudi Deda Agriculture Co. Ltd., Agrocorp International Pte Ltd, Shafer Commodities Inc., Denofa AS, Kohinoor Feeds and Fats Ltd., Minnesota Soybean Processors, Granol Indstria Comrcio e Exportao S/A, DHN International, Gauri Agrotech Products Pvt. Ltd., The Scoular Company, CHS Inc., and Kemin Industries, Inc. Key players operating in the soybean meal market have adopted product launch, business expansion, and mergers & acquisitions as key strategies to expand their soybean meal market share, increase profitability, and remain competitive in the market.
Key Benefits For Stakeholders
This report provides a quantitative analysis of the soybean meal market size, segments, current trends, estimations, and dynamics of the soybean meal market analysis from 2021 to 2031 to identify the prevailing soybean meal market opportunities.
The market research is offered along with information related to key drivers, restraints, and opportunities.
Porter's five forces analysis highlights the potency of buyers and suppliers to enable stakeholders make profit-oriented business decisions and strengthen their supplier-buyer network.
In-depth analysis of the soybean meal market segmentation assists to determine the prevailing market opportunities.
Major countries in each region are mapped according to their revenue contribution to the global market.
Market player positioning facilitates benchmarking and provides a clear understanding of the present position of the market players.
The report includes the analysis of the regional as well as global soybean meal market trends, key players, market segments, application areas, and soybean meal market growth strategies.
 Soybean Meal Market Report Highlights
Aspects
Details
Market Size By 2031
USD 94.2 billion
Growth Rate
CAGR of 4.9%
Forecast period
2021 - 2031
Report Pages
250
By Nature
By Application

Food Industry
Animal Feed Industry
Pharmaceutical

By Sales Channel

Offline

sub-type

Supermarkets and hypermarkets
Convenience stores
Others

B2B
Online

By Region

North America (U.S., Canada, Mexico)
Europe (Germany, Spain, UK, Italy, France, Russia, Finland, Rest of Europe)
Asia-Pacific (China, Japan, India, Indonesia, Thailand, Vietnam, Philippines, Rest of Asia-Pacific)
LAMEA (Brazil, Argentina, South Africa, Saudi Arabia, Rest of LAMEA)

Key Market Players
The Scoular Company, CHS Inc., Minnesota Soybean Processors., Kemin Industries, Inc., Mamta Hygiene Products Pvt Ltd, DHN International, Granol Indstria Comrcio e Exportao S/A, Mahesh Agro Food Industries, Gauri Agrotech Products Pvt. Ltd., Mukwano Industries Uganda Ltd., Nordic Soya Ltd., Kohinoor Feeds and Fats Ltd., Wudi Deda Agriculture Co. Limited, AdamPolSoya, Denofa AS, Agrocorp International Pte Ltd, Gujarat Ambuja Exports Limited, Bunge Limited, Shafer Commodities Inc., Louis Dreyfus Company B.V.