The global sparkling wines market size was valued at $33.9 billion in 2019, and is anticipated to reach $51.7 billion by 2027, growing at a CAGR of 7.3% during the forecast period. Sparkling wines is a fermented carbonated beverage made with grapes and other fruits. The fermentation process results in the production of alcohol and CO2. During the fermentation process, the gas is not allowed to escape, and thus forms tiny bubbles. This carbonation of wine takes place either in bottles or large tanks. Carbonation can also result from CO2 injected into a few varieties of wines.    
As the living standards are increasing globally, the aspiration of consumers to consume premium quality luxury products is also expected to grow. The consumption of these products is often associated with occasions such as celebrations. Furthermore, product dependency of these products at marriages, parties, and social gatherings is anticipated to drive the market growth in the coming years. Moreover, the luxury segment experienced considerable growth across most regions in 2019, driven primarily by robust consumption. Luxury brands have started to develop accurate social media strategies to engage tech-savvy young consumers that seek greater value for money, more personalization, and integrated digital access. Therefore, there has been increase in the number of netizens along with rise in internet penetration.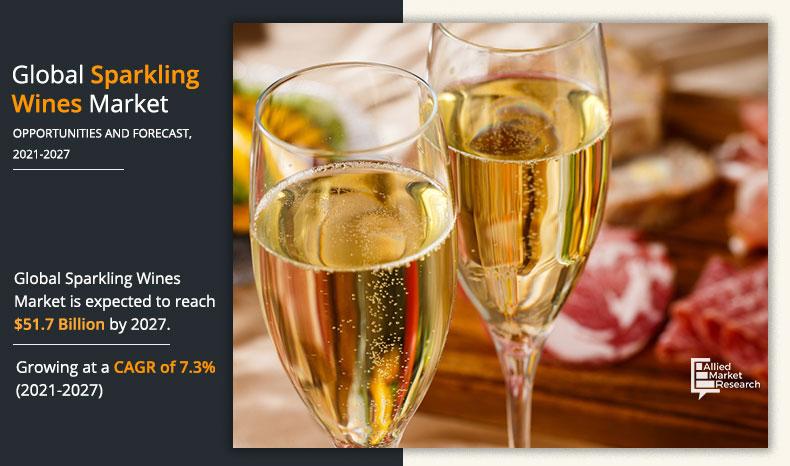 Taking this into consideration, most key players in the sparkling wines market strategize on promoting their products on various social media platforms. Through the social media marketing strategy, the sparkling wines market is expected to attract critical growth opportunity during the forecast period.  
The sparkling wines market has been largely impacted due to lack of availability of workers during the coronavirus pandemic, which, in turn, affected the production capacity. Furthermore, due to closures of wholesales markets, producers had to solely rely on supermarkets and e-commerce traders to market the sparkling wine products.  
Rise in number of consumers suffering from alcohol addiction has been a great concern for governments of different nations. As a result, many governments have imposed stringent rules & regulations on the sales and distribution of these products. Moreover, there are restrictions on advertisements and promotions of such products, which restrict the marketing strategies available to the manufacturers. In addition, some governments also support campaigns and non-government organizations (NGO) that condemn the use of such beverages. These factors act as major hindrances for the market growth.
Sparkling Wines Market

---
By Type
The Red segment held the major share of 54.50% in 2019
Emerging nations are expected to provide major opportunities for the sparkling wines market during the forecast period. Rise in acceptance of wines and spirits consumption and surge in popularity of vintage wines for special occasions are expected to stimulate the sparkling wines market growth in emerging nations such as China, Canada, and Germany. Moreover, rise in social media trends in developed countries is also taking the lifestyle of millennials and Gen Z toward spending more on premium products, which is expected to open new avenues for the market participants to enter emerging markets. 
The coronavirus pandemic has largely but negatively influenced the global sparkling wines market. Moreover, due to high demand and low supply trends, the prices and demand for sparkling wine products increased in 2020 to overcome economic instability. On the contrary, disruptions to the supply chain in shipping could lead to temporary shortages in the supply, putting upward pressure on prices in the short term. 
Sparkling Wines Market

---
By Products
The Cava segment witness a CAGR of 7.8% from 2021-2027
According to the sparkling wines market analysis, the market is segmented into type, product, price point, sales channel, and region. Based on type, the market is segregated into red, rose, and white. By product, it is fragmented into cava, champagne, cremant, prosecco, and others. Depending on price point, it is divided into economy, mid-range, and luxury. By sales channel, it is classified into supermarket/hypermarket, specialty stores, on trade, and others. Region-wise, it is analyzed across North America (the U.S., Canada, and Mexico), Europe (Germany, France, the UK, Spain, Italy, Russia, and Rest of Europe), Asia-Pacific (China, Japan, India, Australia, South Korea, Singapore, New Zealand, and Rest of Asia-Pacific), and LAMEA (Brazil, Argentina, the UAE, South Africa, Saudi Arabia, Turkey, and Rest of LAMEA). 
Based on type, red wine held the major sparkling wines market share. The red segment is driven by increasing demand for wine due to its health benefits, premiumization of wine products, innovation in flavor, and more advanced distribution networks. Changing tastes, new preferences among consumers, and increasing demand for new and exotic flavors, such as Riesling wine and other tropical fruit wines, are expected to fuel the growth of the sparkling wines market. 
Sparkling Wines Market

---
By Price Point
The Eoconomy segment helds the higest market share of 55.52% in 2019
Based on products, the prosecco segment is anticipated to gain a major market share in the future. It is highly aromatic, crisp wine, and cheaper than champagne, which make it popular. Its improved taste has impacted the consumers and drawn attention toward the market.
Based on sales channel, the supermarket/hypermarket segment held the major market share and is likely to remain dominant throughout the sparkling wines market forecast period. Sparkling wines is available in huge varieties at affordable prices in various regions, which make it a major attraction for consumers at supermarket/hypermarket. People get to shop from a variety of choices at these destinations, which also save their time of moving from one store to another. Therefore, these factors lead to the growth of the segment and ultimately to the growth of the market.
Sparkling Wines Market

---
By Distribution Channel
The others segment witness a CAGR of 8.7% from 2021-2027
Europe held the major market share in terms of value and volume in 2019. Europe is the leading producer of sparkling wines across the globe. Italy majorly produces prosecco, the most important sparkling wine, across globe in terms of volume and making 27% of all the sparkling wines in the world. Moreover, Italy is followed by France, with a contribution of 22% in the sparkling wine production. In addition, France is famous for producing champagne, which is famous across the globe. 
Players in the market have adopted business expansion and product launch as their key developmental strategies to expand their market share, increase profitability, and remain competitive in the market. The key players profiled in this report include Accolade Wines Australia Limited, Bronco Wine Company, Casella Family Brands, Caviro Extra S.P.A, Constellation Brands, E. & J. Gallo Winery, Pernod Ricard, The Wine Group, Treasury Wine Estates, and Vina Concha Y Toro SA.   
Sparkling Wines Market

---
By Region
The Europe region helds the higest market share of 61.05% in 2019
Key benefits for stakeholders    
The report provides quantitative analysis of the current sparkling wines market trends, estimations, and dynamics of the market from 2019 to 2027 to identify the prevailing market sparkling wines market opportunities.  
Porter's five forces analysis highlights the potency of buyers and suppliers to enable stakeholders to make profit-oriented business decisions and strengthen their supplier–buyer network.
In-depth analysis and the market size & segmentation assist to determine the market potential.
The major countries in each region are mapped according to their revenue contribution to the market.     
The market player positioning facilitates benchmarking and provides a clear understanding of the present position of the market players in the sparkling wines industry. 
 Sparkling Wines Market Report Highlights
Aspects
Details
By Type
By Product

Cava
Champagne
Cremant
Prosecco
Others

By Price Point
By Sales Channel

Supermarket/Hypermarket
Specialty Stores
On Trade
Others

By Region

North America (U.S., Canada, Mexico)
Europe (Germany, France, UK, Italy, Spain, Russia, Rest of Europe)
Asia-Pacific (China, Japan, India, Australia, South Korea, Singapore, New Zealand, Rest of Asia-Pacific)
LAMEA (Brazil, Argentina, United Arab Emirates, South Africa, Saudi Arabia, Turkey, Rest of LAMEA)

Key Market Players
TREASURY WINE ESTATES, CONSTELLATION BRANDS, INC., BRONCO WINE COMPANY, ACCOLADE WINES AUSTRALIA LIMITED, E. & J. GALLO WINERY, CAVIRO EXTRA S.P.A., PERNOD RICARD, VINA CONCHA Y TORO SA, CASELLA FAMILY BRANDS