The global sports tourism market size was valued at $323,420.0 million in 2020, and is projected to reach $1,803,704.0 million by 2030, registering a CAGR of 16.1% from 2021 to 2030.
Sports, travel, and tourism are all interrelated. Sports tourism is now a well-established niche market in the travel industry, whether it is professional athletes or officials attending tournaments and events or fans flying to a country to witness a global sports league.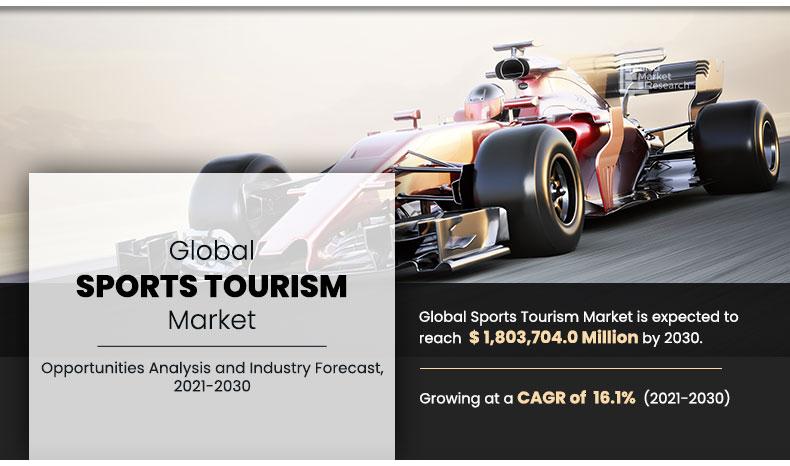 The tourism industry is rapidly expanding. Tourism is an excellent way to escape the monotony of everyday life. Many people prefer a short or long vacation to break the monotony of life. However, as a generation grows older, the definition of tourism shifts toward exploration. Traditional culture, values, cuisine, monuments, and lifestyles have caught the interest of the X and Y generations, as they provide tourists with a memorable and long-lasting experience. Countries such as the U.S., the UK, Germany, France, Spain, and Australia are popular for sporting events and attract both domestic and international visitors from all over the world. Furthermore, many developing countries, such as India, Sri Lanka, and Brazil, are investing in infrastructure to attract a larger customer base, which is expected to drive the global sports tourism market.
Sports events are cancelled for a variety of reasons, including a lack of financial resources. Sports event planning necessitates a significant investment of both time and money. Sports events are organized by a large number of people, which means they necessitate a significant investment. Organizers of sporting events frequently exhibit excessive commercialism and poor financial management, making poor strategic decisions about ticket prices and sponsors. The Indian Premier League (IPL), Pakistan Super League (PSL), and Big Bash League are all franchise-based sports leagues. A lack of financial support for franchisee teams, on the other hand, can result in event cancellation, which can harm the sports tourism market. As a result, the cancellation of sporting events due to lack of financial resources will restrain the growth of the sports tourism market.
To broaden the reach and popularity of sports, new tournaments are being held in existing venues to attract more spectators, and new venues for existing tournaments are being established to attract more spectators. As the number of sports tourists has increased, there is a greater demand for more seating capacity at sporting venues around the world. Large seating capacities result in higher ticketing revenue generation because sports event venues can accommodate a larger number of visitors. Increased revenue from tickets and sports packages will drive the growth of the sports tourism market. Many sports clubs and events are working to increase their capacity to accommodate sports tourists. As a result, new tournaments held in existing venues will create lucrative revenue-generating opportunities for the sports tourism market.
The global sports tourism market demand has been negatively affected by the COVID-19 outbreak. However, as things return to normal and vaccination campaigns pick up speed, sports tourism is expected to fully recover by 2022. People are becoming more health-conscious, and it is expected that they will actively participate in sporting activities to fulfil their desire for a healthy and active lifestyle. When the situation improves and travel restrictions are lifted, sports tourism will regain momentum due to the global population's never-ending love and passion for sports.
Travel restrictions across borders may hinder the growth of the sports tourism industry. Major countries such as India, China, and other densely populated Asia-Pacific countries, may take longer to fully vaccinate their populations. This could cause the sports tourism market to recover slowly. As a result, various nations' government policies imposing travel restrictions can have a direct impact on the sports tourism market and may impede the global sports tourism industry's growth.
The global sports tourism market is segmented on the basis of product, type, category, and region. On the basis of product, the market is categorized as football/soccer, cricket, motorsport, tennis, and others. As per type, it is divided into domestic and international. Based on category, the sports tourism market is bifurcated as active and passive. Region-wise, the sports tourism market is analyzed across North America, Europe, Asia-Pacific, and LAMEA. 
As per the sports tourism market forecast, due to the enormous popularity and love for football among the global population, the football/soccer segment was the highest revenue contributor in 2020. Domestic segment accounted for the majority of market share. Government development policies as well as large investments in sports infrastructure such as playing fields, stadiums, and sports clubs, have significantly aided the domestic segment's growth. Due to an increase in sports activities and events across various countries, the passive segment captured the greatest share of the sports tourism market. According to the sports tourism market trends, region-wise, Europe is expected to dominate the market. Due to presence of all the major football playing nations and clubs in Europe made Europe an integral part of the football industry.
The prominent sports tourism industry players include BAC Sports, QuintEvents, Sports Travel & Hospitality Group, MATCH Hospitality, THG Sports, Club Europe Holidays Ltd, Gullivers Sports Travel Limited, Inspiresport, DTB Sports Hospitality, Event Management Ltd, and Great Atlantic Sports Travel.
Key Benefits For Stakeholders
This report provides a quantitative analysis of the current trends, estimations, and dynamics of the global sports tourism market from 2021 to 2030 to identify the prevailing market opportunities.
Porter's five forces analysis highlights the potency of buyers and suppliers to enable stakeholders to make profit-oriented business decisions and strengthen their supplier–buyer network.
In-depth analysis of the market segmentation assists to determine the prevailing market opportunities.
Major countries in each region are mapped according to their revenue contribution to the global industry. 
The market player positioning segment facilitates benchmarking while providing a clear understanding of the present position of the key market players.
The report includes analyses of the regional as well as global market, key players, market segments, application areas, and growth strategies.
Key Market Segments
By Product
Football/Soccer
Cricket
Motorsport
Tennis
Others
By Type
By Category
By Region
North America
Europe 

UK
Germany
France
Italy
Spain
Netherlands
Rest of Europe

Asia-Pacific

China
Japan
India
Australia
New Zealand
Rest of Asia-Pacific

LAMEA

Brazil
South Africa
Argentina
UAE
Rest of LAMEA