Stevia Beverages Market Research, 2031
The global stevia beverages market was valued at $225.1 million in 2021, and is projected to reach $523.5 million by 2031, growing at a CAGR of 8.9% from 2022 to 2031.
As consumers continue to focus on maintaining their health & immunity, the demand for functional beverages that contain stevia is likely to continue to grow. Stevia is a natural sweetener that can be used to reduce the sugar content in beverages without compromising on taste, which makes it an attractive option for manufacturers looking to produce functional beverages.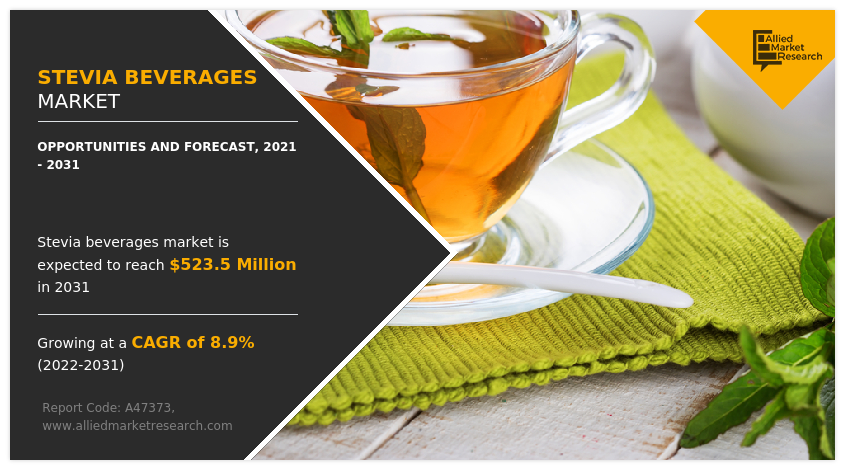 The stevia beverages market is segmented into Type, Application and Distribution Channel.
Stevia is native to subtropical & tropical regions in western North America to South America, in countries such as Brazil and Paraguay. Moreover, stevia is grown in several Asian countries, such as the Philippines, Thailand, Indonesia, and Malaysia. The humid environment in these regions is ideal for stevia cultivation. Stevia has been used for more than 1,500 years by the Guaraní people of Brazil and Paraguay as a sweetener in herbal teas.
Rise in health awareness among consumers, increase in disposable income, changes in consumption pattern, and need for healthy lifestyle propels the growth of the stevia beverages market. In addition, surge in participation of people in different physical exercises & sports further boosts the demand for the stevia beverages in sports drinks segment. Moreover, consumers are looking for less sugar and premium juice products; they are demanding products that provide value-added benefits which surge the stevia beverages market size. Further, the market is being driven by the growth in popularity of plant-based products and the increasing availability of stevia-sweetened beverages. Additionally, technological advancements in stevia extraction and formulation are expected to drive further growth in the stevia beverages industry.
Stevia is majorly used in hypertension treatment, blood pressure control, anti-tooth decay, anti-obesity, & weight loss programs as well as used as source of antioxidants and pill & capsule additive to improve the taste. Stevia has zero calories, making it a popular sweetener in food & beverages products. It can be used as a powder, a liquid, or as a leaf, where the most common form of stevia is liquidThe second most common form of stevia is powder. It is expected that the share of powdered stevia will increase in the future due to its growth in applications in the food & beverages industry. Most of its applications are in baked goods, dairy products, beverages, confectionery products, and nutritional supplements.
The outbreak of COVID-19 resulted in complete or partial shutdown of manufacturing operations. Travelling restrictions imposed by the government severely disrupted the supply chain or distribution channelsIn addition, the economic impact of the pandemic has led to changes in consumer behavior, including reduced spending on non-essential items, which may affect the demand for premium products such as stevia beverages which increases the stevia beverages market opportunity.
According to the International Food Information Council, stevia sweeteners add sweetness to food & beverages for children without contributing to calories consumed or added sugars intake. Stevia sweeteners are not cariogenic, so they do not increase the risk of dental caries. With a focus on reducing the consumption of added sugars in recent decades, the food & beverages containing low-calorie sweeteners has increased; such factors surge the stevia beverages market demand.
However, rise in stevia production prices, decline in consumption of carbon-infused drinks, and seasonality are the factors anticipated to limit the growth of the market. There are certain health-related risks associated with the consumption of soft drinks. Therefore, there has been decline in the overall consumption of soft drinks from the past few years in the mature markets such as North America and Europe. This is likely to boost the adoption of stevia beverages industry in these regions.
Observational research conducted by International Food Information Council among children and adults has shown increase in the percentage of people reporting daily consumption of products containing low-calorie sweeteners, current intake of low-calorie sweeteners is well within acceptable levelsIn addition, stevia is generally recognized as safe by regulatory agencies, including the FDA (Food and Drug Administration), and used as a sweetener for many years. However, it is important to note that stevia beverages should be consumed in moderation, and children should still drink plenty of water and eat a healthy, balanced diet to ensure proper nutrition.
Furthermore, carbonated beverages are generally sweetened, flavored, acidified, artificially colored, and sometimes chemically preserved. The major ingredient of carbonated soft drinks is sugar, where sucrose is the most common sweetener used in the product. Lately, increase in consumption of sugar is a known common factor associated with the rise in number of diabetics & obese people. The health concerns together with the continuous increase in sugar prices drive people to look at other sugar free alternative or low-calorie-based sweeteners for their daily intake. This is projected to increase the demand for stevia, thereby contributing to its stevia beverages market trends.
Leading global health authorities such as the European Food Safety Authority (EFSA) and the Joint FAO/WHO Expert Committee on Food Additives (JECFA) have concluded that high-purity steviol glycosides are safe for consumption within the ADI level. Moreover, the safety of stevia sweeteners has been confirmed by the Japan's Ministry of Health, Labour and Welfare; Food Standards Australia New Zealand; and Health Canada. Based on the conclusions of these global authorities, stevia sweeteners are currently permitted for use in more than 60 countries which reults in stevia beverages market growth.
According to the National Library of Medicine studies, it was concluded that low-calorie sweetener consumption can help reduce body weight by decreasing overall calorie intake. Researchers examined 88 sustained intervention studies that included objective measurements of body weight & BMI and the use of relevant comparators. Compared with sugar consumption, low-calorie sweetener consumption reduced body weight, BMI, and total calorie intake. When comparing consumption of low-calorie sweeteners with the intake of water or nothing, there was additionally no difference in body weight, BMI, or total calorie intake. Moreover, no effect was found between taking low-calorie sweetener capsules versus placebo capsules, indicating that the effect of low-calorie sweetener intake on energy balance is through calorie displacement, such studies surge the demand for stevia beverages.
A few key facts provided by the FoodDrinkEurope reveal opportunities for stevia in the European industry. For instance, soft drinks is considered as the world's most innovative food sector. The sector is an important end-using industry of stevia. The countries with the highest levels of soft drinks per capita consumption were Germany (336 liters), Hungary (310 liters), and Belgium (272 liters). Other innovative sectors are dairy products, chocolate, and biscuits, which are also relevant end-using industries for stevia sweeteners. Other important application areas for stevia are healthy bars & snacks, savory snacks & sauces, and botanical protein powders.
 Increase in demand for natural sweeteners is likely to surge the market demand for stevia beverages because stevia is a natural sweetener that is derived from the stevia rebaudiana plant. As consumers increasingly seek out natural alternatives to artificial sweeteners, stevia's popularity has grown. This has led to increase in the number of stevia-sweetened beverages available in the market, as well as increase in demand for these products.
Increase in incidences of cardiovascular diseases, strokes, obesity, type 2 diabetes, and rise in health consciousness have shifted a wide population toward low-calorie & nutritional foods and increased the intake of natural ingredients. Thus, consumers' propensity toward organic products has increased the demand for natural sweeteners. According to the International Stevia Council, more than 100 countries globally have received the approval for stevia, and products sweetened with stevia have been accessed by more than 4.5 billion consumers globally.
The demand is driven by rise in consumers' demand for healthier & natural food products. Moreover, regulatory changes in the EU stimulate demand for stevia in Europe. The European food and drink market is one of the largest in the world. Strong growth in the food & beverages industry drives the demand for natural sweeteners such as stevia.
In recent years, the global stevia beverages industry has witnessed an uptick owing to increase in awareness of the health benefits of low-calorie consumable products. Moreover, introduction of several stevia-based beverages is positively supporting the overall market and has been well appreciated by consumers. Further, demand for natural ingredient-based products along with the presence of antioxidants is expected to supplement the market growth.
The stevia beverages market forecast on the basis of type, application, distribution channel, and region. By type, it is divided into powder, liquid, and other. Depending on application, it is segregated into soft drinks, RTD tea & coffee, RTD juice, sports drinks, and other beverages. As per distribution channel, it is classified into e-commerce, hypermarkets/supermarkets, convenience stores, independent retailers, and others. Region wise, it is analyzed across North America (the U.S., Canada, and Mexico), Europe (the UK, France, Germany, Russia, Spain, Italy, and rest of Europe), Asia-Pacific (China, Japan, India, South Korea, Australia, and rest of Asia-Pacific), and LAMEA (Brazil, Argentina, Chile, Saudi Arabia, Africa, and rest of LAMEA).
Stevia Beverages Market

---
By Type
Based on type powder segment held the major share in the market.
According to type, the stevia beverages market share in powder segment exhibited around 45.22% of the market share in 2021 owing to its widespread availability, convenience of usage, and ability to be incorporated into various food-based applications. In the health food industry, powdered stevia is sold in its extracted form so an individual can use prescribed amount to sweeten beverages & foods.
Stevia Beverages Market

---
By Application
Based on application soft drinks held the major share in the market.
As per application, soft drinks segment held the major share in the marketMany soft drink manufacturers have introduced stevia-based versions of their popular products, such as cola, lemon-lime, and ginger ale. In addition to traditional soda flavors, there is growth in number of stevia-based energy drinks, sports drinks, and flavored waters available. The market for stevia-based soft drinks is expected to continue to grow, as more consumers seek out natural and healthier alternatives to sugar-sweetened beverages. In particular, the trend toward low-calorie and reduced-sugar products is likely to drive the demand for stevia-based drinks.
Stevia Beverages Market

---
By Distribution Channel
On the basis of the distribution channel convenience stores segment held the major share of the market.
On the basis of distribution channel, convenience store held the major share in the market.  many convenience stores have begun to incorporate healthier food and beverage options in response to changing consumer preferences. This includes stocking more low-calorie and reduced-sugar products, which often includes stevia-based beverages. Moreover, the convenience store market for stevia beverages is expected to continue growing as more consumers seek out healthier and low-calorie options. As such, it is likely that convenience stores will continue to expand their offerings of stevia-based beverages to meet this demand.
Stevia Beverages Market

---
By Region
Asia-Pacific held the major share in the stevia beverages market.
By Region, Asia-Pacific held the major share in the market contributing 39.18% of total share in the stevia beverages market. Asia-Pacific is expected to grow at the fastest rate due to high population and rapid urbanization. The independent retailer distribution channel plays a significant part in delivering stevia beverages in the Asia-Pacific region due to its reach to remote and rural areas. Most of the people in Asia-Pacific reside in rural areas and the supermarkets/hypermarkets are only restricted to urban cities.
Players operating in the global stevia beverages market have adopted various developmental strategies to expand their market share, exploit the market opportunities, and increase profitability in the market. The key players profiled in this report include PepsiCo, Inc., ViStevia, Plus Beverages, Stevi0cal, Steaz, Merisant Company, Group Krisda Stevia of Canada Inc, Zevia, The Coca-Cola Company, and Cargill, Incorporated.
Key Benefits For Stakeholders
This report provides a quantitative analysis of the market segments, current trends, estimations, and dynamics of the stevia beverages market analysis from 2021 to 2031 to identify the prevailing stevia beverages market opportunities.
The market research is offered along with information related to key drivers, restraints, and opportunities.
Porter's five forces analysis highlights the potency of buyers and suppliers to enable stakeholders make profit-oriented business decisions and strengthen their supplier-buyer network.
In-depth analysis of the stevia beverages market segmentation assists to determine the prevailing market opportunities.
Major countries in each region are mapped according to their revenue contribution to the global market.
Market player positioning facilitates benchmarking and provides a clear understanding of the present position of the market players.
The report includes the analysis of the regional as well as global stevia beverages market trends, key players, market segments, application areas, and market growth strategies.
 Stevia Beverages Market Report Highlights
Aspects
Details
Market Size By 2031
USD 523.5 million
Growth Rate
CAGR of 8.9%
Forecast period
2021 - 2031
Report Pages
250
Type
Application

Soft Drinks
RTD Tea and Coffee
RTD Juice
Sports Drinks
Other Beverages

Distribution Channel

Ecommerce
Hypermarket and Supermarket
Convenience stores
Independent retailers
Others

By Region

North America (U.S., Canada, Mexico)
Europe (UK, France, Germany, Russia, Spain, Italy, Rest of Europe)
Asia-Pacific (China, Japan, India, South Korea, Australia, Rest of Asia-Pacific)
LAMEA (Brazil, Argentina, Chile, Saudi Arabia, Africa, Rest of LAMEA)

Key Market Players
Stevi0cal, Plus Beverages, Zevia, ViStevia, Merisant Company, Steaz, PepsiCo, Inc., The Coca-Cola Company, Group Krisda Stevia of Canada Inc