The global stevia market was valued at $637.1 million in 2018, and is projected to reach $1,169.4 million by 2026, registering a CAGR of 8.0% from 2019 to 2026.
Stevia is a natural, zero calorie, non-cariogenic sweetener, which has a low glycemic Index (GI). It offers multiple potential benefits especially in managing diabetics & obesity, controlling blood pressure, and managing weight. Thus, it is used as a sugar substitute in many foods & beverages by consumers. Stevia is approximately 200 to 300 times sweeter as compared to the regular sugar. Thus, it is becoming one of the popular ingredients & food additives used in the foods and beverages industry. This is attributed to the fact that stevia possesses many beneficial properties such as it enhances flavor, prevents fermentation & discoloration, reduces stickiness in beverages, and has high heat resistance.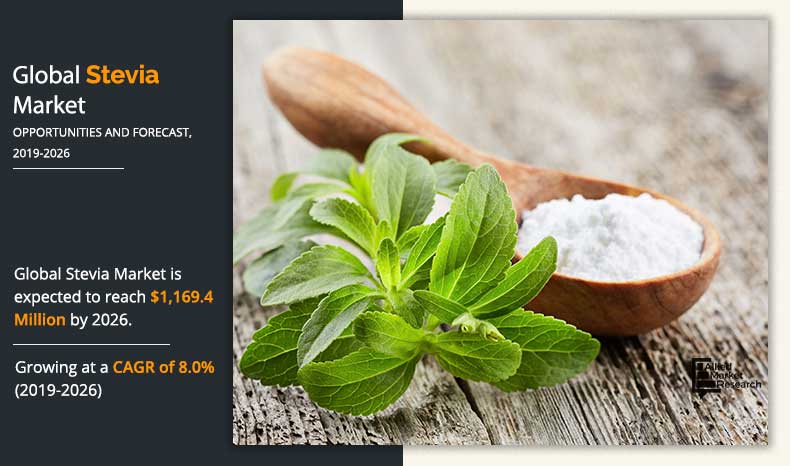 Alarming increase in the prevalence of diabetes and cardiovascular diseases and surge in obese population worldwide have fueled the demand for stevia-containing products, which are suitable for the consumption for obese and diabetic patients. Furthermore, expansion of distribution channels such as online stores, discount stores, supermarkets, and hypermarkets has made the stevia easily accessible to consumers, which, in turn, has driven the stevia market growth.
The global stevia market is segmented into form, end user, distribution channel, and region. Depending on form, the market is classified into liquid, powder, and others. By end user, it is divided into food & beverages industry, pharmaceutical industry, retail industry, and others. On the basis of distribution channel, it is segregated into direct channel and indirect channel. Region wise, it is analyzed across North America (the U.S., Canada, and Mexico), Europe (Germany, France, the UK, Italy, Spain, and rest of Europe), Asia-Pacific (China, India, Australia, Japan, and rest of Asia-Pacific), and LAMEA (Latin America, Middle East, and Africa).
The liquid segment would exhibit the highest CAGR of 8.6% during 2019-2026.
By form, the powder segment accounted for the highest stevia market share in 2018. This is attributed to increase in use of stevia powder across the food & beverages industry and pharmaceuticals industry. In addition, the powder form of stevia is highly soluble in nature and has prolonged shelf life, thus making it more popular over the other forms of stevia available in the market. 
Stevia Market

---
By End User
The Retail segment would exhibit the highest CAGR of 9.5% during 2019-2026.
Depending on end user, the food & beverages was the leading segment in the global stevia market in 2018, as stevia is one of the popular ingredients & food additives used in the food & beverages industry. Furthermore, it is used to enhance flavor, prevent fermentation & discoloration, and reduce stickiness in beverages. Moreover, it acts as an antioxidant and has high heat tolerance, which fuel its demand in the food & beverages industry.  In addition, it finds its major application as a natural stabilizer in a various dairy products, confectioneries, beverages, and other food products. Thus, all these factors augment the demand for stevia in the food & beverages industry.
Stevia Market

---
By Distribution Channel
Indirect Channel segment would exhibit the highest CAGR of 9.1% during 2019-2026.
On the basis of distribution channel, in 2018, the direct channel led the global stevia market, due to rise in use of stevia in various industries, including food & beverages, pharmaceutical, animal feed, and cosmetic & personal care. This has increased the sale through the direct distribution channel, which offers stevia in bulk quantity on discounted rate. 
Europe would exhibit the highest CAGR of 9.5% during 2019-2026.
Region wise, Asia-Pacific accounted for the highest market share in 2018. In Asian countries, such as Japan, where, stevia has been traditionally used as a key ingredients for years in food & beverages and dietary supplements sectors. Moreover, rise in health concerns among consumers related the artificial sweeteners in this region has encouraged manufacturers to use natural sweeteners in their products. This has propelled Asian sweetener makers, such as Morita Kagaku Kogyo, to use stevia in their product offerings. Moreover, food & beverage companies in Japan have adopted stevia as an additive, as it has zero calories, helps in lowering blood pressure, and manages diabetes, thereby providing effective solution to consumers for maintaining their health. All these factors together have led to higher demand for stevia in this region.
The key players operating in the global stevia market analysis focus on prominent strategies, such as new product launch, to overcome competition and to maintain as well as improve their share worldwide. Some of the major players in the global stevia industry analyzed in this report include Archer Daniels Midland Company, BENEO (SUDZUCKER Group), Cargill, Incorporated., Foodchem International Corporation, FRAKEN BIOCHEM CO. LTD, Haihang Industry Co., Ltd, Ingredion Incorporated, PureCircle, Tate & Lyle PLC., and Van Wankum Ingredients.
Key Benefits for Stakeholders:
The stevia market report provides a quantitative analysis of the current stevia market trend, estimations, and dynamics of the global stevia market size from 2019 to 2026 to identify the prevailing opportunity.
The key countries in all the major regions are mapped on the basis of market share.
Porter's five forces analysis highlights the potency of buyers and suppliers to enable stakeholders to make profit-oriented business decisions and strengthen their supplier–buyer network.
A comprehensive analysis of factors that drive and restrict the market growth is provided.
 In-depth market share analysis of the industry segment and size helps to determine the prevailing market opportunities.
Industry player positioning segment facilitates benchmarking and provides a clear understanding of the present position of players along with the stevia market forecast.
 Stevia Market Report Highlights
Aspects
Details
By Form
By End User

Food & Beverages Industry
Pharmaceutical Industry
Retail Industry
Others

By Distribution Channel

Direct Channel
Indirect Channel

By Region

North America (U.S., Canada, Mexico)
Europe (UK, Germany, France, Italy, Spain, Rest of Europe)
Asia-Pacific (China, Japan, India, Australia, Rest of Asia-Pacific)
LAMEA (Latin America, Middle East, Africa)

Key Market Players
Archer-Daniels-Midland Company (ADM), BENEO GmbH, CARGILL INC., Foodchem International Corporation, FRAKEN BIOCHEM CO. LTD, Haihang Industry Co., Ltd, Ingredion Incorporated, PureCircle, TATE & LYLE PLC. (TATE & LYLE), Van Wankum Ingredients