Sugar Confectionery Market Overview:
Global sugar confectionery market was valued at $44,481 million in 2015, and is expected to reach $55,594 million by 2022, registering a CAGR of 3.2% during 2016-2022. Sugar confectioneries are referred to as sweets and are consumed by almost all income groups. These products offer a wide range of variety, ranging from individually wrapped sweets and sophisticated packaging for cheap products. The preferred type of confectioneries often differs according to the geographical region, owing to difference in regulatory norms and other factors such as economy and taste & preference of customers.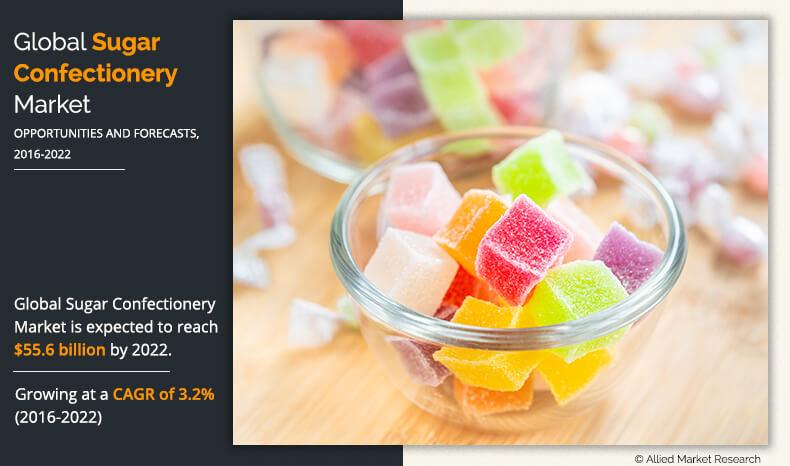 The sugar confectionery market is in growth at a steady pace on account of the high demand from middle-class consumers. Introduction of new products with innovative flavors & healthy ingredients, increase in gifting trend, and growth in retail market are expected to drive the demand in the near future. In addition, rise in disposable income and increase in population in emerging countries such as China and India is anticipated to augment the market during the analysis period. However, growth in health awareness globally and rise in instances of diabetes are estimated to hamper the sugar confectionery market growth. Key players in the region invest on advertising campaigns and marketing to enhance their brand recognition and influence in the sugar confectionery industry.
Segment Review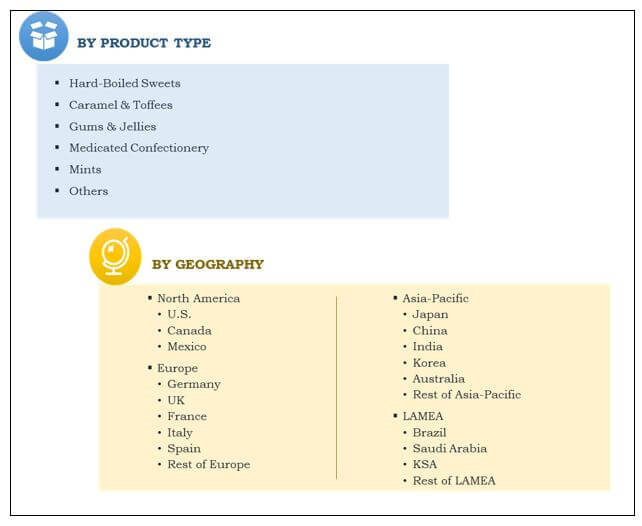 The market is segmented based on product type and geography. On the basis of product type, the market is classified into hard-boiled sweets, caramel & toffees, gums & jellies, medicated confectionery, mints, and others. Geographically, it is analyzed across North America, Europe, Asia-Pacific, and LAMEA.
Regional Analysis
The consumption of sugar confectionery in Asia-Pacific is expected to increase, assisted by the growth in regional population, development in retail market, and stable economic growth. Emerging markets such as China and India are expected to show the highest increase in demand for sugar confectionery products during the forecast period.
India Sugar Confectionery Market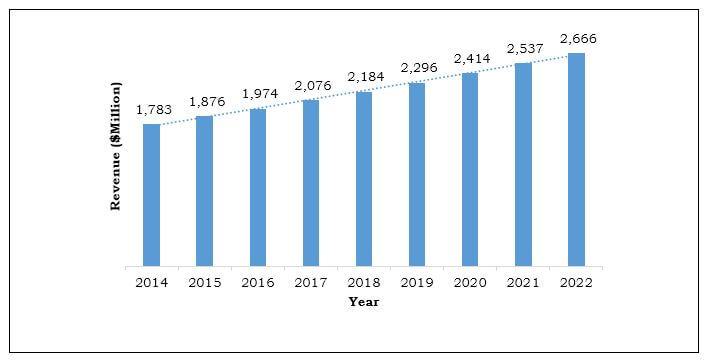 Major sugar confectionery companies have adopted agreement, product launches, expansions, mergers & aquisitions to sustain the intense competition in this market. Major players operating in this market include Nestl SA, Chupa Chups SA., Cadbury PLC., Kraft Foods Inc., Ferrero SpA., The Hershey Company, Perfetti Van Melle S.P.A., HARIBO Dunhills (Pontefract) PLC, Lotte Confectionery Co Ltd, WM Wrigley JR Company, and Lindt & Sprungli.
Other market players (not profiled in report) include Adams and Brooks Candy, Jelly Belly Candy, AS Kalev, Mapro Industries Ltd., Barambo Ltd., Roshen Kondyterska Korporatsia, GBO Mendelez International, and Croatian company Kra dd.
Key Benefits for Stakeholders
This report provides a quantitative analysis of the current sugar confectionery market trends and estimations from 2014 to 2022 of the sugar confectionery industry, which assist to identify the prevailing market opportunities.
Major countries in each region are mapped according to individual market revenue.
This study evaluates the competitive landscape to understand the competitive environment globally.
Comprehensive analysis of factors that drive and restrict the growth of the market is provided.
Microlevel analysis is conducted based on type and region.
Key players and their significant developments in the recent years are listed.
 Sugar Confectionery Market Report Highlights
Aspects
Details
By Product Type

Hard-Boiled Sweets
Caramel & Toffees
Gums & Jellies
Medicated Confectionery
Mints
Others

By Geography

North America
Europe

Germany
France
UK
Spain
Italy
Rest of Europe

Asia-Pacific

India
China
Japan
Australia
Korea
Rest of Asia-Pacific

LAMEA

Brazil
Saudi Arabia
South Africa
Argentina
Turkey
Venezuala
Rest of LAMEA

Key Market Players
NESTLE SA, CHUPA CHUPS SA, CABBORY PLC, KRAFT FOODS INC, FERRERO SPA, THE HERSHEY COMPANY, PERFETTI VAN MELLE S.P.A., LOTTE CONFECTIONERY CO LTD, LINDT & SPRUNGLI, WM WRIGLEY JR COMPANY