Global SCRM Market - 2031
The global supply chain risk management market size was valued at $2.9 billion in 2021, and is projected to reach $6.9 billion by 2031, growing at a CAGR of 9.2% from 2022 to 2031.
The process of identifying, assessing, and mitigating potential risks and uncertainties in a supply chain is known as supply chain risk management (SCRM). It entails identifying risk sources, assessing their impact, and taking proactive steps to prevent or mitigate their effects.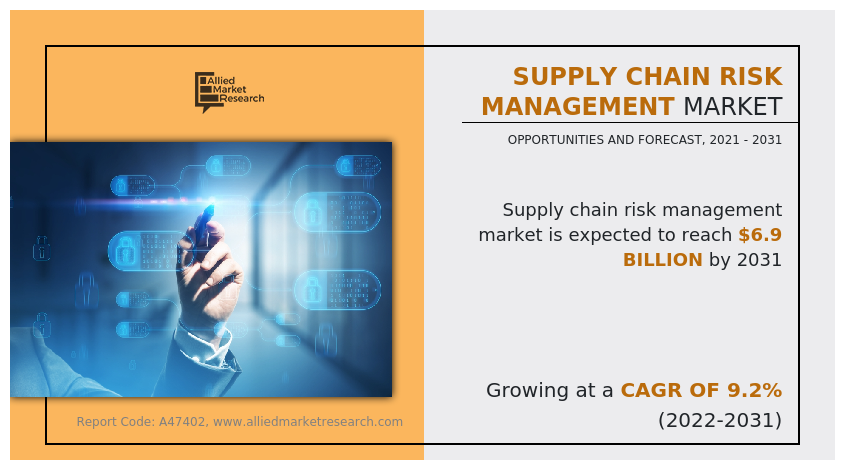 The goal of supply chain risk management (SCRM) is to ensure the continuity of supply chain operations and reduce the likelihood of disruptions such as product recalls, production delays, quality issues, and supply chain disruptions. The emphasis is on keeping goods and services flowing and protecting against supply chain-related losses. SCRM requires the participation of all supply chain stakeholders, including suppliers, manufacturers, distributors, and customers. It requires a comprehensive and proactive approach that includes risk assessments, contingency planning, risk mitigation strategies, and continuous monitoring & evaluation. Effective SCRM can improve supply chain resilience, boost brand reputation, and reduce the risk of financial loss.
Previously, it was assumed that only large businesses needed a well-thought-out, comprehensive SCRM plan. This was due to the high cost of implementing a viable SCRM plan. Identifying what to analyze, handling the complexity of data gathering, and gaining organizational buy-in, all required a significant investment of time, effort, and money.
Nevertheless, as the world & organizations become more integrated, and supply chains & regulations get more complex, SCRM is an operation that should be addressed by every firm. Organizations can now use AI and Machine Learning (ML)-enabled software solutions to help minimize the cost of building and deploying an SCRM plan. The use of technology has become increasingly important in SCRM, with the use of data analytics, artificial intelligence, & cloud-based systems to manage and monitor supply chain risk. Moreover, SCRM market growth is propelled by increased government regulations and standards. As Governments and industry groups are developing regulations and standards to improve supply chain transparency, accountability, and risk management.
Furthermore, collaboration and partnerships between major players is important for seamless supply of products and raw materials in industry. SCRM has become more collaborative, with companies partnering with their suppliers and other stakeholders to share information and work together to manage risk. For instance, in December 2022, SAP Ariba and PwC developed a new co-innovation strategy to assist organizations in meeting their ESG and net zero targets. It addressed supply chain risk management, monitoring, and compliance with this move.
Supply Chain Risk Management Market

---

By Component
Services is projected as the most lucrative segment
In 2021, Europe is second largest market for supply chain risk management software, which is part of supply chain management. As the retail sector is one of the most important sectors in the European Union economy, employing approximately one in every ten people in more than 3.6 million retail businesses, the demand for supply chain risk management is likely to rise in order to decrease both internal and external risks. The surge in focus on logistics value, a lot of which is driven by retail & home delivery, is likely to give numerous opportunities for market expansion in nations such as the UK. Furthermore, the market's expansion is due to a variety of causes, including an increase in North American vendor penetration in the Western market.
The rise in demand for third-party risk management, as well as services & government initiatives in supply chain management and the adoption of cloud-based supply chain management solutions are the key drivers of supply chain risk management market growth. However, data security issues, as well as non-formal and manual risk management processes, are major factors limiting the growth of the SCRM market. Furthermore, the standardization of risk assessment processes across organizations, as well as the integration of advanced technologies is expected to provide growth opportunities for the market during the forecast period.
The supply chain risk management market is segmented on the basis of component, end-use industry, enterprise size, deployment, and region. By component, it is bifurcated into solution and services. By end use industry, it is classified into retail and consumer goods, healthcare and pharmaceuticals, manufacturing, food and beverages, transportation and logistics, automotive and other. By enterprise size, it is categorized into large enterprise and small & medium enterprise. By deployment, it is divided into on premise and cloud. By region, the market is analyzed across North America, Europe, Asia-Pacific, and LAMEA.
Supply Chain Risk Management Market

---

By End Use Industry
Transportation and Logistics is projected as the most lucrative segment
An increase in transportation and logistics spending is driving the adoption of automation technologies in logistics and supply chains. The transportation and logistics industry is large & competitive, and it includes distinct industries such as shipping, railroads, and air services. The adoption of SCM solutions in transportation management is expected to drive market expansion in this region owing to factors such as the digital revolution in the transportation sector, increased urbanization, and surge in traffic congestion.
Some leading companies profiled in the supply chain risk management market report comprises AnyLogistix, Avetta LLC, CURA, DHL International GmbH, EXIGER, JAGGAER, LogicManager, Inc., Marsh LLC, MetricSream, and SAP Arbia.
The leading companies have adopted strategies such as acquisition, partnership, product development, and product launch to strengthen their market position. In August 2022, EXIGER acquired Supply Dynamics in order to develop the first end-to-end supply chain visibility and risk management solution. It is the most advanced supply chain platform for tracking, tracing, and orchestrating the acquisition and supply of subcontracted products, parts, raw materials, and ingredients. In addition, in December 2021, LogicManager, Inc developed new ERM software that is compatible with modern risk management technology. It enhances innovative risk management software integrated with AI capabilities and adds new features to support a comprehensive ERM program.
Supply Chain Risk Management Market

---
By Enterprise Size
Small and Medium Enterprise is projected as the most lucrative segment
Rise in adoption of cloud-based supply chain management solutions
Cloud-based supply chain management software has several advantages over on-premises supply chain management software. As it offers pay-per-usage licensing and requires less IT setup, businesses are turning to cloud supply chain management to transform their operations and save operational costs. Cloud SCM vendors are also updating their product offerings, which reduces system costs even further.
In addition, the market has a profitable potential as a result of factors including the expansion of cloud SCM in the e-commerce industry, the development in the adoption of cloud SCM among small & medium-sized organizations (SMEs), and the rise in demand for low initial investment. Moreover, it offers businesses a host of advantages such as quick deployment, reduced risk, higher flexibility, less stress on IT, increased visibility, and other advantages that are beneficial for market expansion.
Furthermore, organizations are using cloud-based solutions more frequently for supply chain management duties. As companies upgrade their supply chain strategies, cloud apps are anticipated to provide the flexibility to scale up quickly. As long as people continue to work remotely or in hybrid models, data is expected to be available whether at home, at work, or in the warehouse. For the business to succeed in the international market and the digital age, there needs to be more connectivity. Techniques and methods must evolve together with the supply chain. The possibility of loss is reduced, supply availability is increased, and stock levels are optimized with the use of software for supply chain risk optimization. This enhances the customer experience, boosts supply chain efficiency, and quickens market expansion.
Supply Chain Risk Management Market

---

By Deployment
Cloud is projected as the most lucrative segment
Increase in demand for third party risk management
Third-party risk is the potential financial loss incurred by a business that relies on outside parties to deliver services. Vendors, contractors, partners, suppliers, and non-human workers such as internet of things (IoT) devices, robotic process automation (RPA), bots, and service accounts are just a few of the various third-party communities that make up the supply chain. These third-party communities usually require access to intellectual property, confidential data, and product & software designs of a corporation.
In addition to the typical services such as the fabrication of parts or the assembly of goods for a company's customers, third-party risk might come from the shared data between businesses and such outside parties. Companies deal with outsiders or third parties more regularly, especially those who haven't been adequately vetted. Hence, there is a higher possibility of business disruption and data breaches. In addition, a 2019 Spiceworks survey found that, out of 600 firms, 44% had a data breach brought on by a third-party provider.
In addition, many organizations are relying more on vendors and partners to support critical business functions in order to keep up with the digital transition. Thus, these companies unintentionally, or at the very least unwillingly, increase their attack surface. These third-party identities could quickly transform from a competitive advantage to a weakness if a company does not have a solid third-party reputation and risk management strategy. The adoption of third-party risk management tools can reduce the risks associated with interacting with third parties. Moreover, by enabling management to plan for operational efficiency within known probable outcomes, third-party risk management places a heavy emphasis on reducing risks and their effects on performance.
Furthermore, businesses that take an active approach to third-party management can successfully lower their risk of data leaks and protect important product secrets from competitors or industries where intellectual property infringement is rampant. These factors boost the demand for third-party risk management solutions, which drives market growth.
Supply Chain Risk Management Market

---

By Region
Asia-Pacific would exhibit the highest CAGR of 11.4% during forecast period
The COVID-19 pandemic had a significant impact on the supply chain risk management market. The global health crisis disrupted global supply chains, increasing risk and uncertainty. Companies have faced a variety of challenges, such as factory closures, reduced capacity, and disrupted transportation & logistics. As a result, many businesses have had to rethink their supply chain strategies in order to mitigate risk and keep operations running. In response to the pandemic, demand for supply chain risk management solutions has increased as businesses seek to better understand their risk exposure and implement risk-mitigation measures. As a result, the market for supply chain risk management solutions has expanded, as has investment in technologies such as AI and the IoT, which can help businesses manage their supply chains more effectively. Furthermore, the COVID-19 pandemic highlighted the importance of greater supply chain resilience and flexibility, as well as having contingency plans in place to respond to disruptions. As a result, many businesses are emphasizing risk management and taking a more proactive approach to supply chain risk management in order to better prepare for future challenges
Key Benefits For Stakeholders
This report provides a quantitative analysis of the market segments, current trends, estimations, and dynamics of the supply chain risk management market analysis from 2021 to 2031 to identify the prevailing supply chain risk management market opportunities.
The market research is offered along with information related to key drivers, restraints, and opportunities.
Porter's five forces analysis highlights the potency of buyers and suppliers to enable stakeholders make profit-oriented business decisions and strengthen their supplier-buyer network.
In-depth analysis of the supply chain risk management market segmentation assists to determine the prevailing market opportunities.
Major countries in each region are mapped according to their revenue contribution to the global market.
Market player positioning facilitates benchmarking and provides a clear understanding of the present position of the market players.
The report includes the analysis of the regional as well as global supply chain risk management market trends, key players, market segments, application areas, and market growth strategies.
 Supply Chain Risk Management Market Report Highlights
Aspects
Details
Market Size By 2031
USD 6.9 billion
Growth Rate
CAGR of 9.2%
Forecast period
2021 - 2031
Report Pages
279
Component
End Use Industry

Retail and Consumer Goods
Healthcare and Pharmaceuticals
Manufacturing
Food and Beverages
Transportation and Logistics
Automotive
Other

Enterprise Size

Large Enterprise
Small and Medium Enterprise

Deployment
By Region

North America (U.S., Canada, Mexico)
Europe (UK, Germany, France, Russia, Rest of Europe)
Asia-Pacific (China, Japan, India, South Korea, Rest of Asia-Pacific)
LAMEA (Latin America, Middle East, Africa)

Key Market Players
DHL International GmbH, AnyLogistix, EXIGER, SAP Arbia, CURA, JAGGAER, LogicManager, Inc., Avetta, LLC, Marsh LLC, MetricSream