Surge Protection Devices Market Outlook - 2028
The global surge protection devices market size was valued at $2.81 billion in 2020, and is projected to reach $4.27 billion by 2028, growing at a CAGR of 5.4% from 2021 to 2028.
COVID-19 scenario to impact commercial segment under Surge Protection Device Market negatively.
Power surge protector devices (SPDs) are designed to protect electrical appliances from voltage spikes. SPDs limit the voltage supplied to an electric device by either blocking or shorting any unwanted voltages above a safe threshold limit to the ground. They are used in automatic control buses, electric power supply networks, telephone networks, and various communication systems.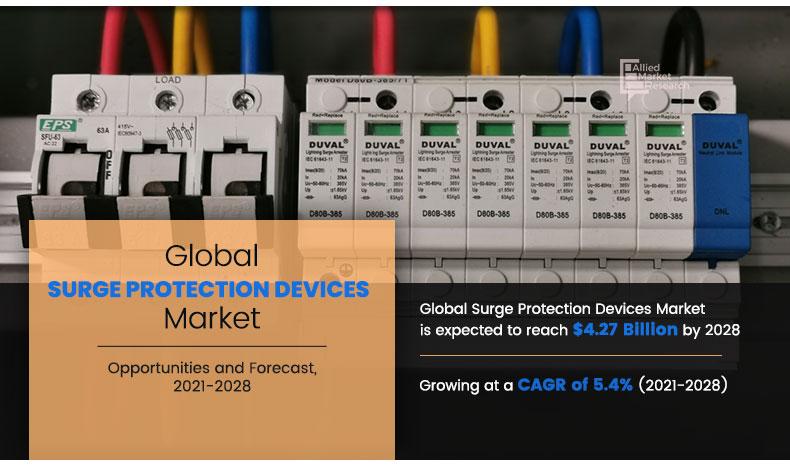 The key factor that drives the surge protection devices market share includes increase in demand for usage of electrical and electronics appliances in commercial & residential sectors. Moreover, high costs incurred due to electrical equipment downtime have also encouraged the adoption of whole house surge protector as it provides safety in industries and in the domestic sector.
Surge Protection Devices Market

---
By Type
Hard Wired Surge Protection Devices segment will grow at a highest CAGR of 7.1% during 2021 - 2028
The key factors that hamper the surge protection devices market growth are lack of awareness among small scale manufactures and competition from uninterrupted and non-fluctuating power supply systems. On the contrary, growth in awareness for need of SPDs, rapid industrialization, and power supply issues in developing countries are anticipated to provide lucrative opportunity for the global surge protection devices market.
Segment Overview
The surge protection devices market is segmented on the basis of type, power range, component, and end use. By type, the market is divided into below 100 KA, 100 KA to 500 KA, 500 KA to 1000 KA, and above 1000 KM. By power range, the market is segmented into below 100 KA, 100 KA to 500 KA, 500 KA to 1000 KA, and above 1000 KM. By component, it is categorized into suppressor, gas discharge tube, surge arrestor, and others. By end use, the market is analyzed across residential, industrial, and commercial. Region wise, the market is studied across North America, Europe, Asia-Pacific, and LAMEA along with their prominent countries.
Surge Protection Devices Market

---
By Power Range
500 KA To 1000 KA segment will dominate the market with a highest CAGR of 6.9% during 2021 - 2028
Competitive Analysis
The key players profiled in the surge protection devices industry include ABB Ltd, Belkin International, Eaton Corporation, Emerson Electric Co., General Electric Company, Hubbel Incorporated, Littelfuse Inc, Mersen, Schneider Electric Co., and Siemens AG. These key players have adopted strategies, such as product portfolio expansion, mergers & acquisitions, agreements, regional expansion, and collaborations, to enhance their market penetration.
Surge Protection Devices Market

---
By Component
Gas Discharge Tube Segment holds a dominant position throughout the forecast period.
Covid-19 Analysis
The ongoing spread of COVID-19 has become one of the biggest threats to the global economy and is causing widespread concerns and economic hardship for consumers, businesses, and communities across the globe. The "new normal" that includes social distancing and working from home has created challenges with daily activities, regular work, needs, and supplies, causing delayed initiatives, and missed opportunities.
The COVID-19 pandemic is impacting the society and overall economy across the globe. The impact of this outbreak is growing day-by-day as well as affecting the supply chain. It is creating uncertainty in the stock market, falling business confidence, massive slowing of supply chain, and increase in panic among customers. European countries under lockdown have suffered a major loss of business and revenue due to shutdown of manufacturing units in the region. Operations of production and manufacturing industries have been heavily impacted by the outbreak, which led to slowdown in the growth of the surge protection devices market in 2020.
According to the surge protection devices market trends, the COVID-19 pandemic has severely impacted the global manufacturing and industrial sectors as production facilities have stalled, which, in turn, led to significant demand in industries.
The emergence of COVID-19 has declined the growth of the surge protection devices market in 2020, and is estimated to witness slow growth till the end of 2021. Implementation of partial or complete lockdown across various countries globally is the prime reason for this decline in the growth rate. As industries were temporarily shut, it reduced the need for maintenance from various industries.
Surge Protection Devices Market

---
By End Use
Commercial segment is projected as one of the most lucrative segments.
Top Impacting Factors
Notable factors positively affecting the surge protection market include rise in demand for protection system for electronic devices and increase in usage of high voltage equipment and machinery in manufacturing units. However, high maintenance cost associated with surge protection devices hampers the growth of the market. Furthermore, rapid industrialization and protection system for high technological equipment adopted in emerging economies are expected to offer lucrative opportunities for the market growth in the coming years.
Increase in Demand for Protection System for Electronic Devices  
Surge protection devices are used in many industries and residential for protection of machines, expensive appliances, and devices from surges. Over the past few years, the need for protection system for electronic devices worldwide has increased at a rapid pace. This is attributed to increased demand for protection system, which, in turn, drives the surge protector devices industry growth.
High Maintenance Cost of the Device 
High maintenance cost of the surge protection device has created a thread to the market growth as installation of the luminaire for better functioning of SPD is very crucial and needed, also the components used in SPDs such as gas discharge tube, cartridge, wiring, LED need proper time-to-time checking, and replacement; thus, adding to the maintenance cost of SPDs. 
Surge Protection Devices Market

---
By Region
Asia-Pacific would exhibit the highest CAGR of 7.6% during 2021-2028
Key Benefits For Stakeholders
This study comprises analytical depiction of the global surge protection devices market size along with the current trends and future estimations to depict imminent investment pockets.
The overall surge protection devices market analysis is determined to understand the profitable trends to gain a stronger foothold. 
The report presents information related to key drivers, restraints, and opportunities with a detailed impact analysis.
The present surge protection devices market forecast is quantitatively analyzed from 2020 to 2028 to benchmark the financial competency. 
Porter's five forces analysis illustrates the potency of the buyers and the sensor market share of key vendors.
The report includes the market trends and the surge protection devices market share of key vendors.
 Surge Protection Devices Market Report Highlights
Aspects
Details
BY TYPE

HARD WIRED SURGE PROTECTION DEVICES
PLUG IN SURGE PROTECTION DEVICES
LINE CORD SURGE PROTECTORS
POWER CONTROL DEVICES

BY POWER RANGE

BELOW 100 KA
100 KA TO 500 KA
500 KA TO 1000 KA
ABOVE 1000 KM

BY COMPONENT

SUPPRESSOR
GAS DISCHARGE TUBE
SURGE ARRESTOR
OTHERS

BY END USE

RESIDENTIAL
INDUSTRIAL
COMMERCIAL

BY REGION

NORTH AMERICA (U.S, Canada, Mexico)
EUROPE (UK, Germany, France, Russia, Rest of Europe)
ASIA-PACIFIC (China, Japan, India, South Korea, Rest of Asia-Pacific)
LAMEA (Latin America, Middle East, Africa)

Key Market Players
ABB LTD, BELKIN INTERNATIONAL (FOXCONN INTERCONNECT TECHNOLOGY LIMITED (FIT)), EATON CORPORATION PLC, EMERSON ELECTRIC CO, GENERAL ELECTRIC COMPANY, HUBBELL INCORPORATED, LITTELFUSE, INC, MERSEN, SCHNEIDER ELECTRIC SE, SIEMENS AG