Surgical Equipment Market Overview:
The global surgical equipment market size valued at $31,722.30 million in 2019 and is estimated to reach $44,448.58 million by 2027, at a CAGR of 6.3% during the forecast period. Surgical equipment are tools that aid the physical modification of biological tissue or help to provide access to the internal body. Inception of modern electronic technologies such as minimally invasive surgery equipment and robotic and power assisted systems primarily drive the growth of the surgical equipment market. 
The factors that boost the surgical equipment market growth include increase in preference for robotic assisted surgery and surge in geriatric population, which is highly susceptible to ocular disorders, gastric disorders, intestinal disorders, and other health conditions. Robotic-assisted surgery is a type of minimally invasive surgery that uses technology to provide surgeons greater control, access, and accuracy during the surgical procedure. However, inadequate quality assurance concerning to performance, improper sterilization procedures for reusable equipment, and the absence of affirmative regulatory framework in developing economies that limit the market growth. On the contrary, R&D in the field of surgical equipment is anticipated to create new opportunities during the forecast period.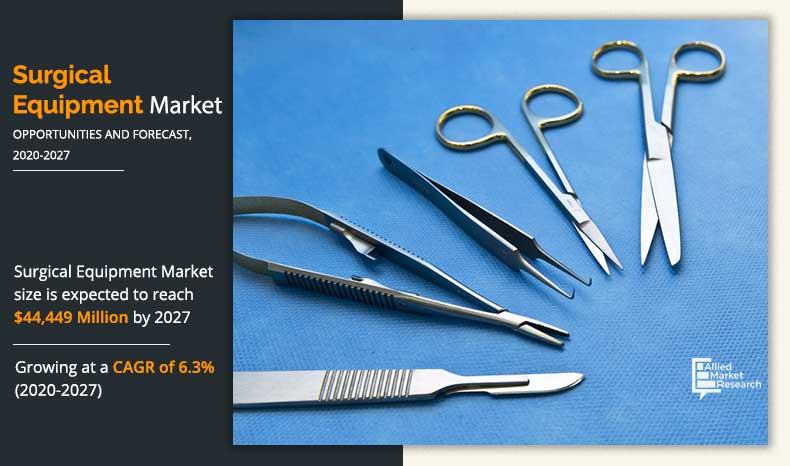 The global surgical equipment market is segmented on the basis of product, category, applications, and region. By product, the market is classified into surgical sutures & staplers, handheld surgical devices, electrosurgical devices, other surgical equipment. 
Handheld surgical devices are further sub-divided into forceps & spatulas, retractors, dilators, graspers, auxiliary instruments, cutter instruments, ligating clips, and others. Auxiliary instruments further segmented into clamps and cannuals. Cutter instruments further divided into trocars, lancets, and scissors. Other surgical equipment includes surgical hernia mesh, surgical glue, and powered surgical instruments.
Product segment review
By product, the handheld surgical instruments account for the largest market share, owing to the rise in number of surgeries performed globally and its frequent use in all types of surgeries. However, the global market for manual handheld surgical instruments is expected to decline during the forecast period due to shift in customer preferences from traditional (invasive) to minimally invasive surgeries. Electrosurgical devices segment is the fastest growing segment due to high demand for minimally invasive surgeries and advancement in technology. 
Surgical Equipment Market

---
By Product
Handheld surgical instruments segment holds a dominant position in 2019 and would continue to maintain the lead over the forecast period.
Category segment review
On the basis of category, the disposable surgical equipment segment is expected to register highest CAGR during the forecast period. This is attributed to the fact that the disposable surgical equipment have witnessed significant traction over the years, and are increasingly being adopted during various surgeries such as plastic & reconstructive surgeries, wound closure, orthopedic surgery, laparoscopic surgeries, and others.
Surgical Equipment Market

---
By Category
Disposable surgical equipment Segment is projected as one of the most lucrative segment.
Region segment review
By region, the surgical equipment market is analyzed across North America, Europe, Asia-Pacific, and LAMEA. North America dominated the global surgical equipment market followed by Europe and Asia-Pacific. The growth in North America and Europe was primarily driven by advent of new technologies, growing ageing population, favorable regulatory framework, and high disposable income of the consumers. However, Asia-Pacific and LAMEA are expected to have the maximum growth potential. Asia-Pacific is anticipated to be the fastest growing region in the surgical equipment market with a CAGR of 8.2% during the forecast period. This is due to the substantial expenditures on improving healthcare infrastructure and increase in demands for better healthcare services, and surgical procedures in the region.
Surgical Equipment Market

---
By Region
Asia Pacific region would exhibit the highest CAGR of 8.2% during 2020-2027.
Some of the key players operating in the market include Medtronic Plc., Peters Surgical SASU, Johnsons & Johnsons, Conmed Corporation, Novartis International AG, Smith & Nephew PLC, Boston Scientific Corporation, B. Braun Melsungen AG, Cousin-Biotech, Enthral Medical GMBH, Fuhrmann GMBH, Integral Lifesciences Holdings Corporation, and KLS martin Group. The other players (not profiled in the report) in the value chain include Stryker Corporation, Zimmer Biomet, Dextera Surgical, Hospira, SIM Surgical, and among others.
Key Benefits For Stakeholders
This report provides a detailed quantitative analysis of the current surgical equipment market trends and surgical equipment market forecast estimations from 2020 to 2027, which assists to identify the prevailing cephalosporin market opportunities. 
An in-depth surgical equipment market analysis includes analysis of various regions is anticipated to provide a detailed understanding of the current trends to enable stakeholders formulate region-specific plans.
A comprehensive analysis of the factors that drive and restrain the growth of the global surgical equipment market is provided.
Region-wise and country-wise surgical equipment market conditions are comprehensively analyzed in this report.
The projections in this report are made by analyzing the current trends and future market potential from 2019 to 2027 in terms of value.
An extensive analysis of various regions provides insights that are expected to allow companies to strategically plan their business moves.
Key market players within the surgical equipment market are profiled in this report and their strategies are analyzed thoroughly, which helps in understanding competitive outlook of global surgical equipment market.
 Surgical Equipment Market Report Highlights
Aspects
Details
BY PRODUCT

Surgical Sutures & Staplers

Surgical Sutures
Surgical Staplers

Handheld Surgical equipment

Forceps & Spatulas
Retractors
Dilators
Graspers
Auxiliary Instruments**Clamps**Cannulas
Cutter Instruments **Trocars**Lancets**Scissors**Ligating clips**Others

Electrosurgical Devices
Other surgical equipment

Surgical Hernia Mesh
.Surgical Glue/Sealant & Hemostasis
Powered Surgical Instruments

BY CATEGORY

Reusable Surgical Equipment
Disposable Surgical Equipment

BY APPLICATION

Neurosurgery
Plastic & Reconstructive Surgeries
Wound Closure
Urology
Obstetrics & Gynecology
Thoracic Surgery
Microvascular
Cardiovascular
Orthopedic Surgery
Laparoscopy
Ophthalmic application
Veterinary application
Dental application
Others

BY REGION

North America (U.S., Canada, Mexico)
Europe (UK, France, Germany, Spain, Italy, Russia, Rest of Europe)
Asia-Pacific (Japan, China, India, Thailand, Vietnam, Indonesia, Rest of Asia-Pacific)
LAMEA (Brazil, Saudi Arabia, Algeria, Maghreb, Rest of LAMEA)

Key Market Players
.B. BRAUN MELSUNGEN AG, BOSTON SCIENTIFIC CORPORATION, CONMED CORPORATION, COUSIN-BIOTECH, ENTRHAL MEDICAL GMBH, .FUHRMANN GmbH, INTEGRA LIFE SCIENCES HOLDINGS CORPORATION, JOHNSON & JOHNSON, KLS MARTIN GROUP, MEDTRONIC PLC, NOVARTIS INTERNATIONAL AG, PETERS SURGICAL SASU, SMITH & NEPHEW PLC