Swarm Intelligence Market Research, 2032
The global swarm intelligence market was valued at $28.5 million in 2022, and is projected to reach $725.4 million by 2032, growing at a CAGR of 38.6% from 2023 to 2032.
Swarm intelligence is a type of AI that is inspired by the behavioral patterns of insects such as ants, bees, and wasps. This technology improves human group judgments and aids in the prediction of events. It is like many people working together on a platform to achieve a common goal on a large scale. Swarm intelligence, which uses agents such as sonar, radar, and cameras to gather data and information, is widely utilized in robotics and drones. The market for swarm intelligence has expanded due to the rise in demand for solutions and methods for more effectively managing significant data-related difficulties, as well as the expanding use of drones, powered by swarm intelligence in the defense and military sectors. Swarm intelligence aids in the development of a realistic and workable strategy for carrying out the necessary task of finding and hitting the target. Swarm intelligence offers advantages for financial intelligence as well. It aids in projecting how the market is expected to behave. An algorithm is used to analyze financial data and project future market activity using the group's collective intelligence. It lowers risk by assisting investors in making more informed selections.
Moreover, factors such as the increase in demand for effective and innovative solutions, and technological development primarily drive the swarm intelligence market growth. However, swarm-based system implementation and design complexity hamper market growth to some extent. Additionally, the increasing use in military and communications applications is expected to provide lucrative opportunities for market growth during the forecast period.
Swarm intelligence is the study of the collective behavior of distributed, self-organizing systems, which frequently require human cooperation and physical contact. The capacity of individuals to physically gather and engage in swarm intelligence activities was significantly constrained due to the adoption of social distancing policies and travel restrictions. The total demand for swarm intelligence technology and services had been impacted since businesses and organizations that primarily rely on swarm intelligence for tasks such as optimization, decision-making, and problem-solving were forced to find alternate solutions or delay their initiatives.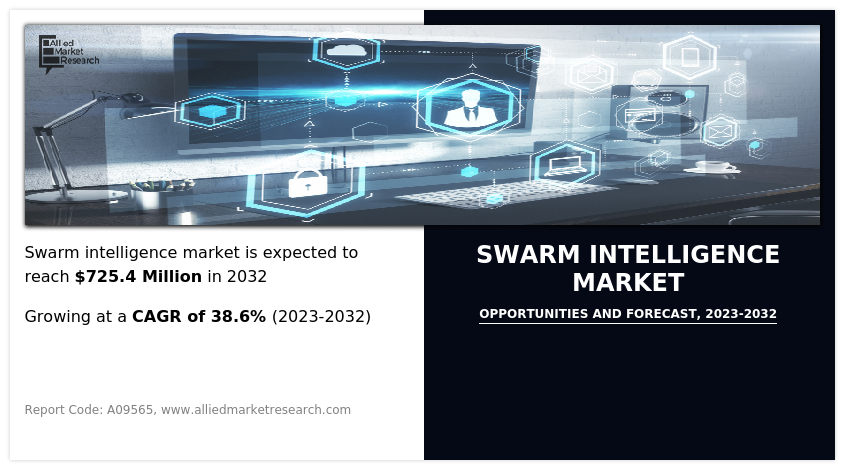 The swarm intelligence market is segmented into Model, Capability and Application.
The swarm intelligence market is segmented on the basis of model, capability, application, and region. On the basis of model, it is classified into particle swarm optimization, ant colony optimization, and other. On the basis of capability, it is segregated into optimization, clustering, scheduling, and routing. On the basis of application, it is categorized into robotics, drone, and human swarming. On the basis of region, it is analyzed across North America, Europe, Asia-Pacific, and LAMEA.
The global swarm intelligence industry is dominated by key players such as Unanimous AI, Convergentai, Inc., Dobot, Sentien Robotics, Swarm Technology, Valutico, Kim Technologies, Hydromea, Powerblox, Robert Bosch Gmbh. These players have adopted various strategies to increase their market penetration and strengthen their position in the swarm intelligence industry.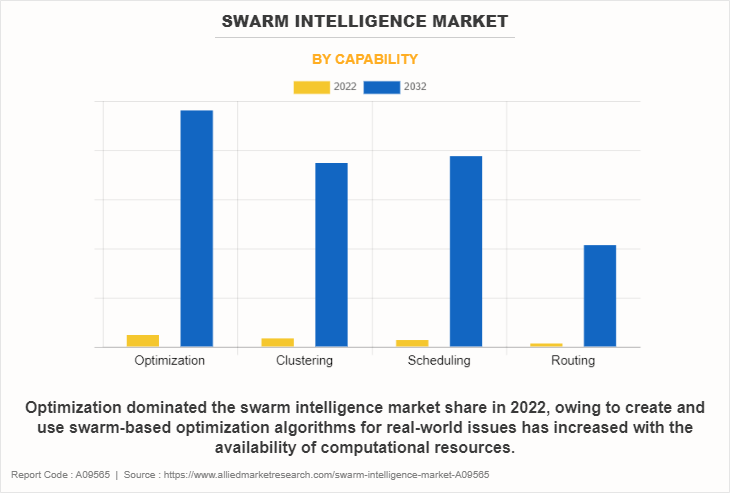 On the basis of capability, optimization segment dominated the swarm intelligence market in 2022 and is expected to maintain its dominance in the upcoming years owing to better productivity, shorter delivery times, and more customer satisfaction propels the market growth significantly. However, the routing segment is expected to witness the highest growth, owing to efficiently traverse complicated networks by making use of the interactions and cooperation among a swarm of simple agents, which are inspired by the group behavior of social creatures.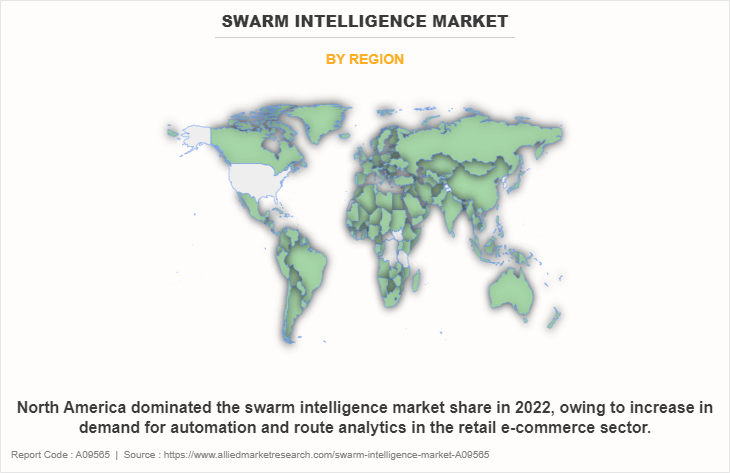 Region wise, the swarm intelligence market size was dominated by North America in 2022 and is expected to retain its position during the forecast period, owing to the growing use of swarm-based drones in military and defense services, the U.S. is a significant contributor to the development of swarm intelligence in North America. However, Asia Pacific is expected to witness significant growth during the forecast period, owing to optimize production procedures, improve quality assurance, and boost supply chain management in the manufacturing industry, which will increase productivity and efficiency.
The report focuses on growth prospects, restraints, and analysis of the global swarm intelligence market trend. The study provides Porter's five forces analysis to understand the impact of various factors, such as bargaining power of suppliers, competitive intensity of competitors, the threat of new entrants, threat of substitutes, and bargaining power of buyers on the global swarm intelligence market share.
Top Impacting Factors
Increase in demand for effective and innovative solutions 
Industries encounter complicated issues on a regular basis in fast expanding environment, necessitating the use of fresh thinking to develop effective and efficient solutions. Traditional approaches frequently fall short in resolving these issues, creating a necessity for cutting-edge alternatives such as swarm intelligence. Robotics, AI, logistics, agriculture, and the healthcare sector are just a few of the industries looking for methods to better their operations, decision-making, and overall efficiency. Swarm intelligence, which takes its cues from the group behavior of natural swarms such as ants and bees, provides a novel and effective solution. Swarm intelligence allows for the creation of collective intelligence that is superior to that of individual agents by modelling the decentralized decision-making and collaboration seen in these swarms. Moreover, the aim for enhanced yields, diminished environmental impact, and improved productivity in agriculture is what fuels the demand for efficient and novel solutions. Real-time data collection on soil conditions, plant health, and insect infestations is made possible by swarm intelligence techniques in conjunction with autonomous agents or drones fitted with sensors. These data are analyzed by swarm intelligence algorithms to improve crop management, irrigation, and pesticide use, resulting in increased yields and less resource waste.
Technological development 
Technological development is an important factor behind the development and widespread use of swarm intelligence. Implementing swarm intelligence solutions across multiple industries is now possible due to the ongoing advancements in computer power, networking, and sensor capabilities. The field has expanded as a result of these developments, which have made it possible to construct and use large-scale swarm intelligence systems. The complicated calculations and simulations necessary for swarm intelligence algorithms are made possible in large part by advances in computing capacity. Algorithms process larger datasets, run more iterations, and solve more challenging problems with more computational power. This enables more precise and effective decision-making inside swarms, improving results and performance. The development and use of swarm intelligence approaches have been greatly expedited by the accessibility of high-performance computing resources. Swarm intelligence has also been significantly influenced by connectivity. Effective collaboration and coordination require the capacity for individual agents or robots inside a swarm to communicate and share information in real-time. The spread of the Internet of Things (IoT) and improvements in wireless communication technology have made it easier for swarm members to communicate without interruption. Owing to this, swarms adjust to changing circumstances, share information, and work together to solve issues. Applications for swarm intelligence have exploded in fields including robotics, logistics, and precision agriculture as a result of the increased connection.
Key Benefits for Stakeholders
This report provides a quantitative analysis of the market segments, current trends, estimations, and dynamics of the swarm intelligence market analysis from 2022 to 2032 to identify the prevailing swarm intelligence market opportunities.
The market research is offered along with information related to key drivers, restraints, and opportunities.
Porter's five forces analysis highlights the potency of buyers and suppliers to enable stakeholders make profit-oriented business decisions and strengthen their supplier-buyer network.
In-depth analysis of the swarm intelligence market forecast assists to determine the prevailing market opportunities.
Major countries in each region are mapped according to their revenue contribution to the global market.
Market player positioning facilitates benchmarking and provides a clear understanding of the present position of the market players.
The report includes the analysis of the regional as well as global swarm intelligence market trends, key players, market segments, application areas, and market growth strategies.
 Swarm Intelligence Market Report Highlights
Aspects
Details
Market Size By 2032
USD 725.4 million
Growth Rate
CAGR of 38.6%
Forecast period
2022 - 2032
Report Pages
274
By Model

Particle Swarm Optimization
Ant Colony Optimization
Others

By Capability

Optimization
Clustering
Scheduling
Routing

By Application

Robotics
Drones
Human Swarming

By Region

North America (U.S., Canada)
Europe (UK, Germany, France, Italy, Spain, Rest of Europe)
Asia-Pacific (China, Japan, India, Australia, South Korea, Rest of Asia-Pacific)
LAMEA (Latin America, Middle East, Africa)

Key Market Players
ConvergentAI, Inc., Hydromea, Sentien Robotics, Unanimous AI, Valutico, Robert Bosch GmbH, Dobot, Swarm Technology, Powerblox, Kim Technologies
Analyst Review
The market for swarm intelligence is a dynamic ecosystem that quickly expands and is centered on the use of swarm intelligence concepts and tools in a variety of sectors. To solve difficult problems and improve processes, swarm intelligence makes use of the collective behavior and decentralized decision-making of groups of people or autonomous entities. The demand for creative and effective solutions to challenging issues drives the swarm intelligence market expansion. Swarm intelligence approaches are being actively adopted by sectors such as robotics, AI, optimization, logistics, agriculture, and healthcare to improve their operations. Technology advances that enable the widespread adoption of swarm intelligence solutions, such as increased computer power, connection, and sensor capabilities, drive industry growth. Swarm intelligence has transformed the robotics industry by altering the way robots work. Solutions for swarm robotics allow groups of robots to cooperate while displaying emergent behavior and self-organization. Applications for this include environmental monitoring, warehouse automation, and search & rescue operations. The market for swarm robotics is anticipated to expand significantly as businesses want to take advantage of the increased effectiveness, scalability, and adaptability that swarm intelligence provides. Furthermore, another important area where swarm intelligence has an impact is AI. Machine learning models and swarm-based algorithms are used to handle optimization issues, pattern recognition issues, and data analysis issues. To solve complex problems, these algorithms imitate the actions of natural swarms. As more businesses become aware of the potential of swarm-based approaches to strengthen decision-making processes and increase efficiency, the market for swarm intelligence in AI is expected to expand.