Supply Chain Management Market Research, 2032
The global supply chain management market was valued at $27.2 billion in 2022, and is projected to reach $75.6 billion by 2032, growing at a CAGR of 10.9% from 2023 to 2032.
"The COVID-19 outbreak had significant impact on the growth of the supply chain management market owing to, growth in e-commerce during the pandemic has encouraged supply chain management industry players to automate and digitalize processes to cater to the growing demand. The rising need for seamless product manufacturing, distribution, and delivery has encouraged small and medium businesses to adopt efficient supply chain solutions during the COVID-19 pandemic, consequently driving the growth of the supply chain management market."
Supply chain management is the handling of the entire production flow of a good or service starting from the raw components all the way to delivering the final product to the consumer. A company creates a network of suppliers ("links" in the chain) that move the product along from the suppliers of raw materials to those organizations that deal directly with users. In addition, effective supply chain management systems minimize cost, waste and time in the production cycle. Moreover, an efficient supply chain can reduce the need to maintain inventory, therefore, cutting overhead costs associated with storage and security. 
Rise in technological advancement & investments and surge in demand & usage of supply chain management services & software by various enterprises and industries boost the growth of the global SCM market. In addition, increase in adoption of SCM software in healthcare and pharmaceutical companies positively impacts the supply chain management market growth. However, lack of awareness about supply chain management software and increase in security and privacy concerns among businesses is hampering the supply chain management market growth. On the contrary, increase in advanced information and communications technology is expected to offer remunerative opportunities for expansion of the SCM market during the forecast period.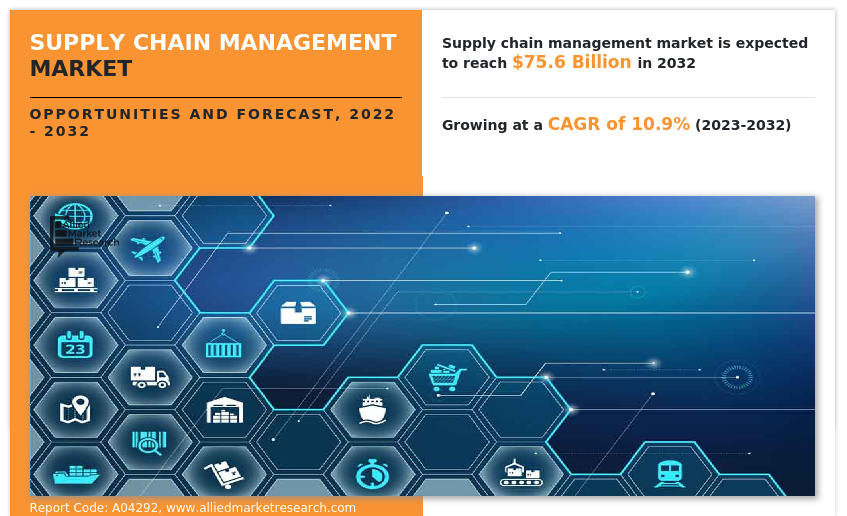 The supply chain management market is segmented into Component, Solution Type, Deployment Mode, Enterprise Size and Industry Vertical.
The SCM market is segmented on the basis of by component, solution type, deployment model, enterprise size, industry vertical, and region. By component, the market is bifurcated into solution and services. By solution type, it is classified into transportation management system, warehouse management system, supply chain planning, sourcing & procurement software, and manufacturing execution system. By deployment model, the market is divided into on-premise and cloud based. By enterprise size, it is bifurcated into small & medium-sized enterprises (SMEs) and large enterprises. Depending on industry vertical, it is fragmented into retail & consumer goods, healthcare & pharmaceuticals, manufacturing, food & beverages, transportation & logistics, automotive, and other. By region, the market is analyzed across North America, Europe, Asia-Pacific, and LAMEA.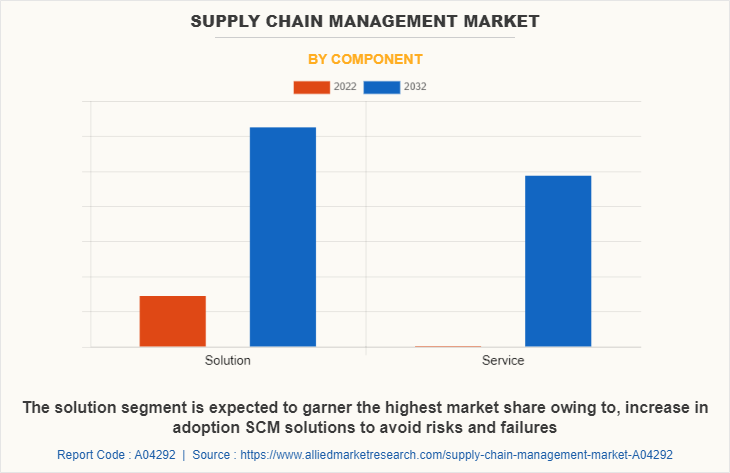 In terms of component, the solution segment holds the largest supply chain management market size as it is used for quality assurance, supplier management, and logistics management. However, the service segment is expected to grow at the highest rate during the forecast period owing to, increase in use of SCM service more to lower risks and failures. Improved visibility, enhanced productivity, analytics, cost savings, higher agility.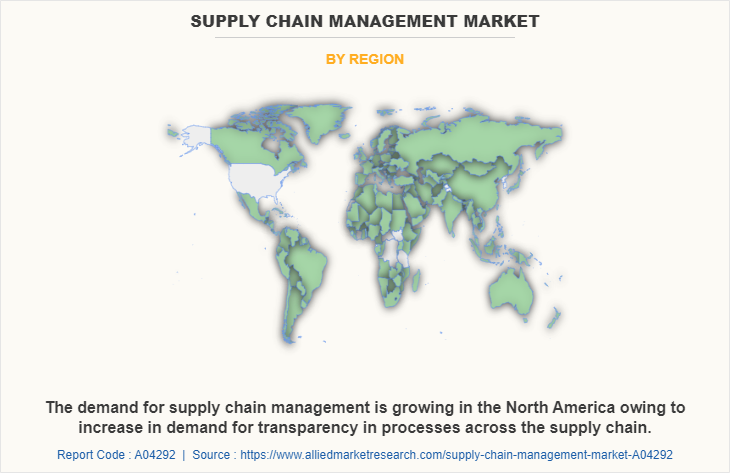 Region wise, the supply chain management market share was dominated by North America in 2022 and is expected to retain its position during the forecast period, owing to technological infrastructure in the region combined with the high adoption of advanced technologies. However, Asia-Pacific is expected to witness significant growth during the forecast period, owing to various mergers and acquisitions taking place between leading vendors. 
The key players that operate in the supply chain management industry are IBM Corporation, Blue Yonder Group, Inc., kinaxis, Manhattan Associates, Inc., Oracle Corporation, SAP SE, Epicor Software Corporation, HighJump., Infor, THE DESCARTES SYSTEMS GROUP INC. These players have adopted various strategies to increase their market penetration and strengthen their position in the supply chain management industry.  
Digital Capabilities 
The development and quick delivery of products are the main goals of supply chain management. Digital SCM solutions are being developed by industry participants to increase delivery and material handling productivity. Suppliers, producers, logistics companies, and retailers may effectively coordinate product development, order fulfilment, and data tracking through the usage of supply chain software. Manufacturing, maintenance, and distribution processes are improved, leading to higher efficiency, when sophisticated technologies like AI, machine learning, IoT, and automation are integrated into SCM. These technologies can foresee failure before it occurs, allowing the supply chain to run without interruption. These technologies are being used more frequently to improve connectivity, transparency, and supply chain management efficiency. 
Key Benefits: 
The key benefits of supply chain management include gaining a better collaboration with suppliers, better quality control, shipping optimization, reduced inventory, improved risk mitigation and better visibility and data analytics. Behavior analytics can also help businesses identify trends in customer behavior, gain insights into customer preferences, and optimize business processes. Additionally, effective supply chain management is crucial for business performance and can have a range of benefits, including the streamlined flow of goods and services as well as improved customer satisfaction. 
Government Regulations: 
Government and public services organizations are unlocking the true potential of supply chain management as they strive to deliver value to the public more efficiently and effectively. In fact, to remain resilient in times of disruption, mission-ready organizations ensure operations and supply chain management practices are set up for success. In addition, various trade requirements are implemented on daily basis, which gives rise to the continuous transformation of the supply chain domain. The government regulations impact on every supply chains, whether a public company or a private supplier. In addition to the regulations legislated by different governments, companies must also answer to some of the agencies and adhere to a range of industry standards. Industry standards which impact supply chain management include, RoHS, REACH, the FDA, U.S. Customs and Border Protection's Automated Commercial Environment (ACE) system, the U.S. Securities and Exchange Commission, and OSHA. Registration, Evaluation, Authorization and Restriction of Chemicals (REACH): It is the EU rule that regulates chemicals. It governs chemicals considered as substances of high concern, listed by the EU. According to this regulation, anything that contains SVHC chemicals greater than 0.1% of the mass of the object must need to report to the EU. The 2019 NDAA and a supply chain bill by the U.S.: This bill states, how the U.S. government contractors requires to monitor their supply chains. The provisions of this bill include prohibitions on utilizing certain Chinese companies for contractor deliverables, requirements to voluntarily disclose vulnerabilities, and the establishment of a new Federal Acquisition Security Council. Section 889 of 2019 NDAA forbids the procurement of certain services and technologies from companies connected with the People's Republic of China. For instance, U.S. government has implemented conflict minerals as defined under the Dodd-Frank Act it included a provision that public companies must be able to prove their sourced minerals are not coming from places that are financing conflict in the Democratic Republic of the Congo or an adjoining country, according to Source Intelligence. 
Top Impacting Factors 
Increase in implementation of technological advancement and investments 
Increase in technological advancement and investments is expected to drive the operational efficiency and help to increase the business revenue. In addition, these technologies are being used to improve transparency, supply chain visibility, connectivity, and the use of supply chain management. Furthermore, many companies have taken advantage of automation to accomplish efficiencies across their supply chains for decades. This pace of change is accelerating due to technological advancements such as intelligent automation (IA) it combines artificial intelligence (AI) and robotic to automate complex process of machines. Moreover, major players in this market are investing and integrating advanced software technologies such as cloud computing, AI, machine learning and other technologies in SCM. For instance, in December 2021, according to Gartner survey, amongst 211 supply chain professionals, 34% of respondent said that adapting new technology is the most important strategic change in supply chain organizations, such an increase in the adoption and integration of AI-based and cloud based SCM software among key players drives the growth of the supply chain management market share.   
Surge in demand and usage of supply chain management services and software by various enterprises and industries     
Increasing in need for demand and supply management solutions is one of the key factors that fuels the growth of supply chain management software. Demand management is a process within an organization which enables that organization to tailor its capacity to meet variations in demand or to manage the level of demand using marketing or supply chain management strategies. Demand management solutions help to generate statistics-based forecast from data, recent events, and casual factors for internet-dependent organizations. Demand management applies an automated ecosystem to assess supply restrictions, financial predictions, customer commitments, and inventory count, demand management enables an automated ecosystem. The solution predictions all demands for products and services to support the marketing team and involves prioritizing demand when supply is defecating. Organizations are increasingly focusing on proper demand management as it simplifies the planning and use of resources for profitable business results. Moreover, E-commerce platforms have gained popularity, especially during the pandemic. Online platforms offer a plethora of options to consumers on a single portal, offering convenience and saving time & effort. Rigorous online marketing supplemented with attractive offers and discounts offered by companies has increased the popularity of e-commerce in recent years. The growth in the e-commerce sector has encouraged market players to adopt SCM solutions for efficient management, planning, and prompt delivery of goods to customers, which in turn is driving the growth of the market. 
KEY BENEFITS FOR STAKEHOLDERS  
Information about key drivers, restraints, & opportunities and their impact analysis on global supply chain management market trend is provided in the report. 

The Porter's five forces analysis illustrates the potency of the buyers and suppliers operating in the industry. 

The supply chain management market analysis from 2022 to 2031 is provided to determine the market potential. 
 Supply Chain Management Market Report Highlights
Aspects
Details
Market Size By 2032
USD 75.6 billion
Growth Rate
CAGR of 10.9%
Forecast period
2022 - 2032
Report Pages
364
By Component
By Solution Type

Transportation management system
Warehouse management system
Supply chain planning
Procurement and sourcing
Manufacturing execution system

By Deployment Mode

On-premise
On-Demand/Cloud-Based

By Enterprise Size
By Industry Vertical

Retail and consumer goods
Healthcare and pharmaceuticals
Manufacturing
Food and beverages
Transportation and logistics
Automotive
Others

By Region

North America (U.S., Canada)
Europe (UK, Germany, France, Spain, Italy, Rest of Europe)
Asia-Pacific (China, Japan, South Korea, India, Australia, Rest of Asia-Pacific)
LAMEA (Latin America, Middle East, Africa)

Key Market Players
Oracle Corporation, Kinaxis, Epicor Software Corporation, Infor, Blue Yonder Group, Inc., IBM Corporation, THE DESCARTES SYSTEMS GROUP INC, SAP SE, HighJump., Manhattan Associates, Inc.
Analyst Review
Supply chain management is the management of the flow of goods and services and includes all processes that transform raw materials into final products. It involves the active streamlining of a business's supply-side activities to maximize customer value and gain a competitive advantage in the marketplace. Moreover, supply chain management (SCM) represents an effort by suppliers to develop and implement supply chains that are as efficient and economical as possible. Supply chains cover everything from production to product development to the information systems needed to direct these undertakings. 
The global supply chain management market is expected to register high growth due to the rising demand and increased awareness of the benefits of SCM solutions, such as transportation management systems, planning & analytics, forecasting accuracy, warehouse & inventory management, supply chain optimization, procurement & sourcing, waste minimization, manufacturing execution and relevant synthesis of business data. Additionally, the rapidly growing adoption of information technology and technical breakthroughs improves and supports the overall supply chain, contributing to market expansion. With surge in demand for supply chain management, various companies have established alliances to increase their capabilities. For instance, in April 2020, Körber collaborated with VARGO, which is a provider of warehouse execution software, material-handling systems integration, and equipment solutions for fulfilment and distribution centers. Through this collaboration, Körber provides VARGO's offerings such as Continuous Order Fulfillment Engine, and warehouse execution system among others in North America. The collaboration also focuses on distribution of Körber's warehouse management system by VARGO as part of its design solutions. 
In addition, with further growth in investment across the world and the rise in demand for supply chain management, various companies have expanded their current product portfolio with increased diversification among customers. For instance, in March 2022, Logility, Inc., introduced upgrades to its software for improved planning capabilities across the product lifecycle. The new upgrade offers visualization of the global relationships of users with their interconnected network through supply chain network maps. The software also exhibits new Product Lifecycle Management (PLM) dashboards for improved analysis of product performance and speed-to-market. 
Moreover, with increase in competition, major market players have started acquisition companies to expand their market penetration and reach. For instance, September 2021, Accenture acquired MacGregor Partners, a leading supply chain consultancy and technology provider specializing in intelligent logistics and warehouse management to expands Accenture's supply chain network and fulfillment transformation capabilities powered by Blue Yonder technology.