Warehouse Management Systems Market Research, 2031
The global warehouse management systems market was valued at $2.7 billion in 2021, and is projected to reach $12.3 billion by 2031, growing at a CAGR of 16.3% from 2022 to 2031.
In the wake of COVID-19 pandemic, the warehouse management system market is witnessing a minimal impact in terms of demand and supply, owing to the imposition of lockdown measures has increased the utility for contactless methods for warehousing, as well as warehouse operators, are inclined towards automation capabilities to cope with inventory handling. On the other hand, the market will grow robustly in the long run due to a surge in demand for cloud-based solutions in end-use industries to supervise inventory in real-time.
A warehouse management system (WMS) is a collection of guidelines and procedures designed to streamline operations at distribution centers and warehouses so they can accomplish their objectives. Moreover, a warehouse management system's primary duty is to keep track of inventory arrivals and departures. Warehouse management system has various features such as keeping track of the stock's exact location within the warehouse, making the most use of the space at hand, or coordinating work to achieve the highest level of efficiency.
Robust growth in e-commerce industry and increased demand for cloud WMS solutions are driving the growth of the market. In addition, surge in adoption of multichannel distribution networks is fueling the growth of the Warehouse management system market. However, high investment required in setting up on-premises WMS for SMEs and concerns regarding data privacy and information security limit the growth of this market. Conversely, the adoption of digital technologies in supply chain management is anticipated to provide numerous opportunities for warehouse management system industry expansion during the forecast period.
The report focuses on growth prospects, restraints, and analysis of the global warehouse management system market trend. The study provides Porter's five forces analysis to understand the impact of various factors, such as bargaining power of suppliers, competitive intensity of competitors, the threat of new entrants, threat of substitutes, and bargaining power of buyers on the global warehouse management system market share.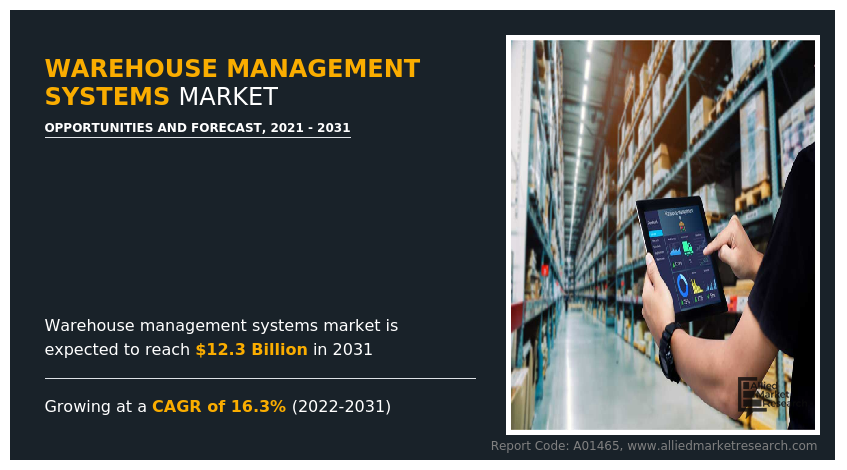 The warehouse management systems market is segmented into Component, Deployment Model, Enterprise Size and Industry Vertical.
Segment review
The global warehouse management system market is segmented into components, user type, deployment models, industry verticals, and regions. Depending on the component, the market is divided into software and services. Based on user type, it is categorized into large enterprises and SMEs. By Deployment model, it is divided into on-premise and cloud-based. Based on industry verticals, it is bifurcated into retail and consumer goods, healthcare and pharmaceuticals, manufacturing, food and beverages, transportation and logistics, automotive and others. Region-wise, it is analyzed across North America, Europe, Asia-Pacific, and LAMEA.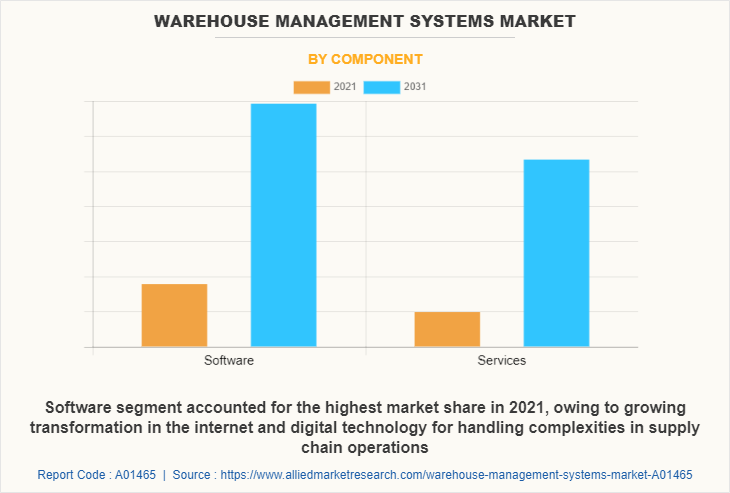 Depending on the component, the software segment dominated the warehouse management system market share in 2022 and is expected to continue this trend during the forecast period, owing to the rapid adoption of the warehouse management system, to decrease order processing errors and delivery lag times. However, the service segment is expected to witness the highest growth in the upcoming years, owing to the rise in the adoption of warehouse management solutions requires precise maintenance by the business to achieve strategic and competitive advantages.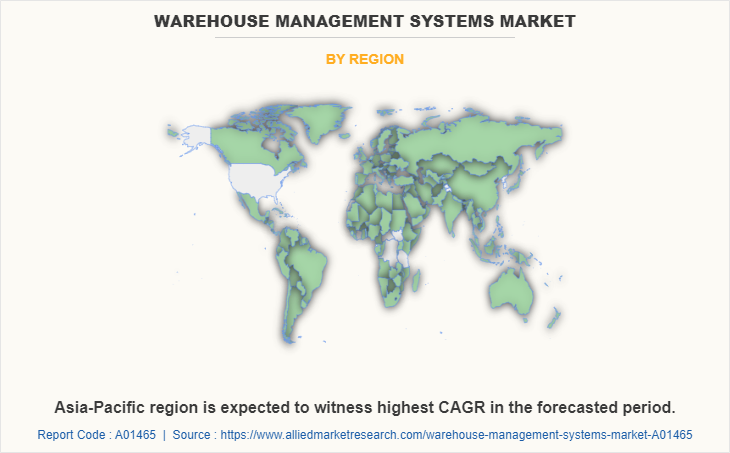 Region-wise, the warehouse management system market was dominated by North America in 2021 and is expected to retain its position during the forecast period, owing to the need for manufacturers to automate warehouse management procedures to reduce costs in this region. However, Asia Pacific is expected to witness significant growth during the forecast period, owing to the new technological acceptance and developing digital transformation due to the increasing competition among market players in this region.
The global warehouse management system market is dominated by key players such as Blue Yonder Group, Inc., HighJump Software, Inc. (Koeber), IBM Corporation, Infor Inc., Manhattan Associates, Inc., Oracle Corporation, PSI Logistic (PSI AG), SAP SE, Softeon, Inc., Tecsys, Inc. These players have adopted various strategies to increase their market penetration and strengthen their position in the industry.
Digital Capabilities
The relevance of warehouse management systems in wireless technologies, such as automation, the Internet of Things (IoT), and AI-enabled systems is growing, owing to their advantages like efficient work processes and improved accuracy. These technologies are becoming the highest priority techniques in average every sector. For instance, according to the article published by Korber, in June 2022, digitization and process automation is the highest supply chain priority for 84% of all businesses.  In addition, Automation can take many different forms, organizations can experiment with several strategies to enhance picking performance and accuracy within a warehouse operation such as Automated Mobile Robots (AMR). For instance, AMRs are vehicles that can transport items independently without the need for physical guides or markers by using sensors and processors onboard. Moreover, robots can cut down on the amount of time needed to move around the property. The robot may then transport a variety of products, including packing, to the following place. Also, a robot in a production environment could transport finished products to retail locations or raw materials there. Many companies are adopting automation technologies to provide optimized solutions to industries. For instance, in May 2022, Softeon introduced a mobile robot platform, and continued expansion of its software support for materials handling systems, especially for mobile robots and put walls. Such developments further propel the driving growth of the warehouse management system market.
Furthermore, IoT is ideal for automation that can streamline workloads and render more visibility into warehouse operations. IoT consists of interconnected things with embedded sensors that can exchange and collect data in real-time. For instance, each item that has to be tracked in a supply chain or inventory management has an RFID tag attached, providing crucial information to support key decision-making. Moreover, several large and small businesses are adopting and developing IoT-enabled smart platforms. For instance, in July 2021, Amazon introduced its 3.6 million-square-foot fulfillment center in Mt. Juliet. One of several sizable Amazon fulfillment centers in the state, it has 80,000 square feet of office space and a fully automated warehouse system. Such improvements further contribute to the rising growth of warehouse management system market.
End-User Adoption
The growing digitalization in warehouse management systems by several organizations in many sectors is accelerating end-user adoption. In order to achieve complete product traceability, digital warehousing refers to logistics facilities that use technology to streamline procedures and flows. With manual inventory control and task organization in traditional warehousing, there is a considerable risk of mistakes and delays. On the other hand, digitization improves the speed and accuracy of the various processes, allowing for, among other benefits, real-time stock control and accelerated delivery times. For instance, according to McKinsey, with the help of digital twins, digital warehouse designs and can boost efficiency by 20% to 25%. Moreover, businesses that adopt digitization have begun incorporating AR/VR and the Industrial IoT (Internet of Things) in their production and logistics processes to obtain information on their supply chains in real-time. For instance, in October 2021, Zyter and Qualcomm partnered to implement a state-of-the-art, IoT-based smart warehouse for OneScreen. The warehouse will feature LiDAR-based digital twins, autonomous mobile robots (AMR), AR/VR technologies, IoT sensors, and a robust warehouse management system.
Furthermore, for warehouses to run smoothly, agility and efficiency are essential, and RFID technology is one of the newest developments available currently. Additionally, recent years have seen significant advancement in barcode technology, giving rise to RFID (Radio Frequency Identification) technology. The identification codes are scanned by this system using radio waves, which makes them easier to read. Many different organizations are providing RFID solutions for correct control and storage of warehouse stock. For instance, in Sept 2021, SimplyRFID introduced RFID-powered inventory management tools, the company has been helping businesses eliminate the need for barcode technology for inventory tracking through its RFID-powered inventory management tools. With barcodes becoming increasingly outdated due to their inaccurate and slow nature, RFID technology has grown in popularity due to its impressive efficiency.
Government Initiatives
Various companies and government bodies are collaborating to strengthen R&D in different industries with evolving productive alliances that lead to indigenous design, development, manufacturing, and deployment of cost-effective warehouse management products and solutions. For instance, in March 2022, the Union government emphasized the execution of PM GatiShakti National Master Plan encompassing the seven engines for economic transformation, seamless multimodal connectivity and logistics efficiency. The GatiShakti Master plan for expressways, 100 new cargo ports with a multimodal logistics park, and initiatives to connect urban mobility to trains would offer new storage and logistics facilities across the nation the much-needed boost. Quick service restaurants, poultry, ready-to-eat food, ice cream, dairy products, confectionery & pastry products, fruits & vegetables, pharmaceuticals, and other items will be stored, handled, and transported in large part at this facility. This engagement will augment the indigenous Intellectual Property and create new avenues for wider adoption and monetization of home-grown 5G products & solutions. This execution will further help to create more opportunities in warehouse management system market.
Furthermore, the growing development by the government to provide a smart warehouse management system is driving the growth of the market. For instance, in January 2022, the Government of India developed a roadmap to roll out Online Storage Management (OSM) in the country. Through the integration of State portals with the national portal, the OSM plans to establish a single source of data for the food grains held in the nation for the central pool. Additionally, over the DCP States, the OSM will create an ecosystem of storage management programs, each of which will be able to record the Minimum Storage Specifications (MSS). Moreover, such developments boost the market growth and help to provide more opportunities for organizations.
Top impacting factors
Robust growth in the e-commerce industry
The growth in the e-commerce industry is directly influencing the adoption of WMS solutions, as it helps in improving the accuracy of store-level inventory and multiplying the order and fulfillment options. This leads to reconfigured traditional warehouses by retailers with a major focus on e-commerce, and they are investing a significant amount of funds in in-store WMS solutions. For instance, in May 2022, Wabash, the visionary leader of connected solutions for the transportation, logistics, and distribution industries, introduced the creation of a new tech-enabled Wabash Parts distribution network. This unifies and expands Wabash's parts distribution capabilities across all product lines, and provides immediate scale to grow. This is enhancing the e-commerce channel which in turn drives market growth.
Furthermore, the rise in e-commerce sales further accelerates consumer spending on warehouse management systems owing to its feature of better inventory tracking and traceability. According to the Census Bureau's Annual Retail Trade Survey (ARTS) release, e-commerce sales increased by $244.2 billion or 43% in 2020, the first year of the pandemic, rising from $571.2 billion in 2019 to $815.4 billion in 2020. Such robust growth in the e-commerce industry will significantly drive the move toward the growth of the warehouse management system industry.
Increased demand for cloud WMS solutions
Growing demand for cloud Warehouse Management System (WMS) solutions owing to its features such as better scalability, effective labor, traceable materials, optimized supply chain, and other internal automation benefits. These inherent advantages enable companies to optimally manage their inventory and supply chain needs, from labor and space requirements to equipment and fulfillment. Hence, the remarkable adoption of cloud-based WMS solutions is observed around the world, which is expected to drive market growth worldwide.
Moreover, the cloud WMS has a significant ability to manage inventory, order placements, and warehouse automation capabilities. Furthermore, benefits from an integrated WMS and ERP solution to manage depository and more through a comprehensive cloud-based ERP solution. This enables employees to remove all the hassle of dealing with multiple in-house systems and all the maintenance and tech upgrades, which eventually drives the warehouse management system market size.
In addition, as technology progression is on a surging trend, the introduction of microservices software that uses APIs is acting as major advancement to interconnect with one another's independent solutions, which further enabled integration capabilities of cloud technology. For instance, in September 2022, Enterprise software provider Yonyou Network Technology launched next-gen cloud ERP product for overseas users.  This ERP helps businesses to make better decisions by providing accurate inventory data. ERP inventory management systems also enable businesses to control their logistics, operations, finance, and inventory from a singular system reducing errors and improving efficiency. This, in turn, is expected to drive market growth.  Furthermore, larger organizations are also switching to cloud-based warehouse management systems, as it allows organizations to offload exhausting tasks such as maintenance, infrastructure administration, and timely upgrades, among other tasks. Hence, the inherent features of cloud-based WMS solutions are expected to boost warehouse management system market trends.
KEY BENEFITS FOR STAKEHOLDERS        
This report provides a quantitative analysis of the market segments, current trends, estimations, and dynamics of the Warehouse management system market analysis from 2021 to 2031 to identify the prevailing warehouse management system market forecast.

The market research is offered along with information related to key drivers, restraints, and opportunities.

Porter's five forces analysis highlights the potency of buyers and suppliers to enable stakeholders make profit-oriented business decisions and strengthen their supplier-buyer network.

In-depth analysis of the Warehouse management system market growth assists to determine the prevailing market opportunities.

Major countries in each region are mapped according to their revenue contribution to the global market.

Market player positioning facilitates benchmarking and provides a clear understanding of the present position of the market players.

The report includes the analysis of the regional as well as global warehouse management system market share, key players, market segments, application areas, and market growth strategies.
 Warehouse Management Systems Market Report Highlights
Aspects
Details
Market Size By 2031
USD 12.3 billion
Growth Rate
CAGR of 16.3%
Forecast period
2021 - 2031
Report Pages
264
By Component
By Deployment Model
By Enterprise Size

Large Enterprises
Small and Medium Sized Enterprises

By Industry Vertical

Retail and consumer goods
Healthcare and Pharmaceuticals
Manufacturing
Food and Beverages
Transportation and logistics
Automotive
Other

By Region

North America (U.S., Canada)
Europe (UK, Germany, France, Spain, Italy, Rest of Asia-Pacific)
Asia-Pacific (China, India, Japan, South Korea, Australia, Rest of Asia-Pacific)
LAMEA (Latin America, Middle East, Africa)

Key Market Players
HighJump Software Inc., Softeon, Inc., IBM CORPORATION, Oracle Corporation, SAP SE, Blue Yonder Group, Inc., PSI Logistics, Infor Inc., Tecsys, Inc., Manhattan Associates, Inc.