The global swimwear market size was valued at $19.8 billion in 2022 and is projected to reach $30.9 billion by 2032, growing at a CAGR of 4.5% from 2023 to 2032.
The popularity of beach culture is a major driver of growth in the swimwear market. Beaches are a popular destination for people around the world, and as a result, swimwear is an essential part of the beach experience. Whether it's for lounging on the sand, swimming in the water, or participating in water sports, swimwear is a must-have item for any beachgoer.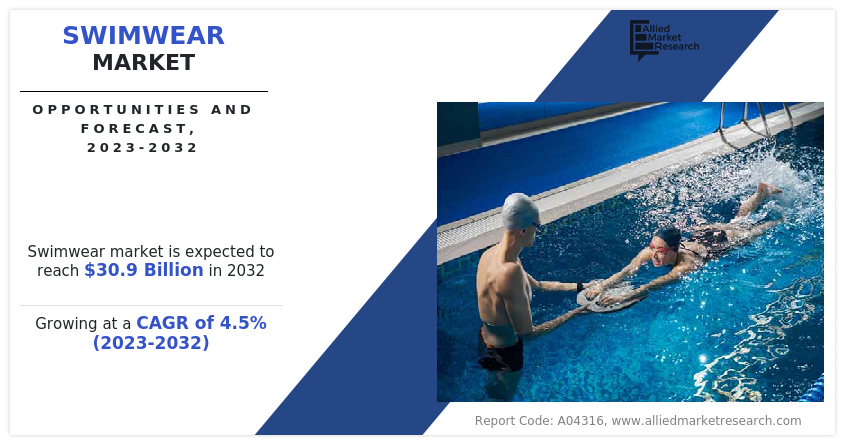 Swimwear is a costume specially designed for people engaged in water-based activity or water sports such as swimming, water polo, surfing, water skiing, or even leisure activities such as sunbathing. It protects the wearer from chlorinated water in swimming pools and seawater, which contains salts that can cause skin rashes. It is manufactured using different types of fabrics such as polyester, nylon, spandex, and other blended fibers, as they offer high elasticity, high drapability & comfort required for performing various water activities. Moreover, swimwear has gained popularity as semi-casual wear as the consumer nowadays prefers wearing these for pool parties and at outdoor venues such as restaurants, resorts, and shopping centers.
Market Dynamics
Swimwear today is not only a prerequisite to get into a pool but is also becoming a fashion statement. It is not only used for competitive activities but also for regular surfing and aquatic fitness activities. Many women hang out in their swimwear by the poolside or the beach for long hours and hence it's important that while the swimwear is functional, it's also stylish and suits one's personality. Swimwear for women is available in multiple bold colors, asymmetric designs, African and geometric prints, and classic yet modern silhouettes. Even though this luxury swimwear is expensive, women prefer these high-end brands as they focus more on offering value-added features such as trendy prints and convenient cuts that enhance the slimming effect. In addition, with the increase in accessibility to weekend getaways, beaches, and international travel, the acceptance of fashion beachwear has become an important part of the fashion industry. Fashion designers have always been experimenting with women fashion in terms of material, design, and pallet. These also include new types of fabrics and materials with a variety of styles and prints. Fine detailing, bold prints, pastels, and metallic colors are also in demand among consumers. Further, luxury swimwear offers greater resistance to the impact of sand, salt, chlorine, and other minerals in the water. These high sales from the luxury segment augment the growth of global swimwear industry over the next few years.
Product innovation majorly drives the growth of the global swimwear industry. The rise in disposable income and ever-changing fashion trends results in the increased purchase of modern and designer swimsuits, especially multifunctional one-piece and cover-ups, which are also perceived as fashion statements. Innovations in swimwear material have been an ongoing trend. Vendors have introduced innovative swimwear products to cater to various needs of the customers led by new products developed to provide health benefits, improved fit, advances in UV protection, thermal swimwear, and lightweight performance swimwear. In addition, the demand for trendy fitness apparel by the middle-aged individual's segment has also increased in the past few years. The growth in demand for trendy and fashionable sports apparel leads to the launch of new products to cater to the customer's demand. Most premium swimwear manufacturers and designers perceive that engineering a swimsuit is more complicated than designing a regular costume or dress as it takes lots of time & effort to develop and introduce innovative products in the swimwear market. Manufacturers focus on the comfort and the features of swimwear as they both have a high impact on the purchase decision of a consumer.
Neoprene, also known as polychloroprene, is a type of synthetic rubber, produced by polymerization of chloroprene. It comprises characteristics such as low oxidization rate and ozone & weathering resistance, which help extend the shelf life of neoprene-based products, despite exposure to ozone compounds and weathering stimulators. In addition, neoprene's resistance to hydrogen gas, natural gas, ammonium salts, mineral oils, silicone oils, greases, and various chemicals is a key factor that boosts the demand for neoprene-based products. High thermal insulation, enhanced flexibility, adequate surface friction, and the lightweight nature of the fabric have increased its use in manufacturing wetsuits/swimsuits. With process innovations and advancements in neoprene fiber incorporation technologies to develop fabrics that improve their elasticity and efficacy, the swimwear market is projected to witness high sales in the coming years.
Even though the women's swimwear segment dominates the swimwear market, the changing trends in men's swimwear market have brought a new trend of swimwear, which are suitable as both swimwear, sportswear, and casual wear. This trend has been successful in attracting new consumers. Vendors that specialize in men's swimwear lines are expected to expand their productions during the forecast period with product line extensions and innovations to provide niche products. Some example Nike Swim from Perry Ellis International has introduced a new product line of men's swimwear, which includes Nike Immiscible Brief, Nike Gemstone Brief, Nike Gemstone Jammer, and Nike Hazard 9″ E-Board. Expansion in product line & innovations in men's swimwear is expected to play a fundamental role in the swimwear market growth over the next few years.
With the growing trends of swimwear in developing countries is expected ti propel the swimwear market demand in the upcoming years. Beaches are not only a popular vacation spot, but they also play a significant role in the local culture of coastal communities. Many coastal towns and cities have developed a beach lifestyle that revolves around activities such as surfing, sunbathing, and beach volleyball, all of which require appropriate swimwear. As a result, swimwear has become an essential aspect of beach culture, and the demand for high-quality, stylish swimwear has increased significantly.
Swimwear requires proper systematic processing and designing of raw materials of various fabrics such as polyester, nylon, polypropylene, spandex, and neoprene to produce desired texture, design, look, and other fashion attributes of swimwear. Leading swimwear designers and manufacturers invest huge amounts of money to R&D new materials that can help improve the comfort levels, performance, and the longevity of swimsuits. However, the price volatility of raw materials proves to be challenging for swimwear manufacturers. In addition, fluctuations in commodity markets, natural calamities affecting the raw material sources, fluctuations in global economies, and others are some of the key factors affecting the price of raw materials. Thus, volatility in raw material prices hampers the growth of the overall market.
Segmental Overview
The global swimwear market is segmented into fabric, end user, distribution channel, and region. On the basis of fabric, the market is divided into polyester, nylon, neoprene, spandex, and others. based on end user, the market is divided into women, men, and children. As per distribution channel, the market is divided into online and offline. Region-wise, the market is analyzed across North America (the U.S., Canada, and Mexico), Europe (Germany, France, Italy, Spain, UK, Russia, and rest of Europe), Asia-Pacific (China, Japan, India, South Korea, Australia, Thailand, Malaysia, Indonesia, and rest of Asia-Pacific), and LAMEA (Brazil, South Africa, Saudi Arabia, UAE, and rest of LAMEA).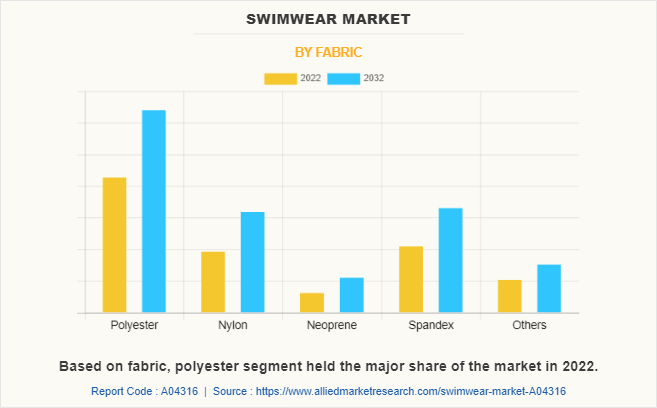 By Fabric
Based on fabric, the polyester segment held the major swimwear market share, in terms of revenue, in 2022 as polyester is a strong and resilient material that is resistant to wear and tear. Polyester swimwear withstands frequent use, exposure to chlorine and other pool chemicals, and exposure to sunlight. Moreover, polyester is a hydrophobic material, meaning that it repels water. This property allows polyester swimwear to dry quickly, which is beneficial for swimmers who want to stay comfortable and avoid chafing. With the growing demand for durable and cost-effective swimwear, manufacturers are offering different types of swimwear.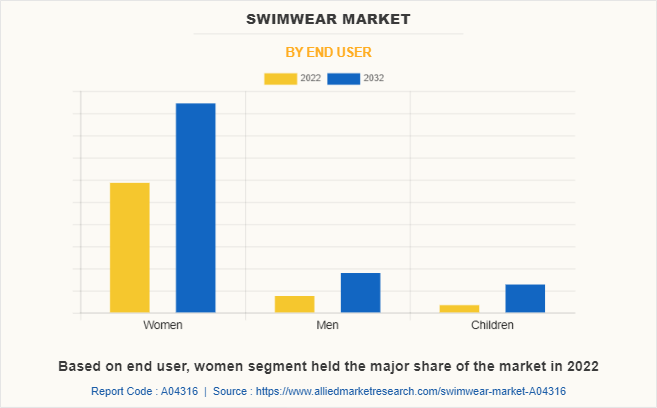 By End User
Based on end user, the women segment held the major share of the market in 2022. The global swimwear market is dominated by the women's swimwear segment, which includes bikinis, one-piece, tankini tops, bottoms, and others. Swimwear with high necklines, racerbacks, and other athletic details is gaining popularity among women who want swimwear that is both functional and stylish. With the increasing demand for woman swimwear, manufacturers are investing in research and development to offer cost-effective and fashionable swimwear for women.
By Distribution Channel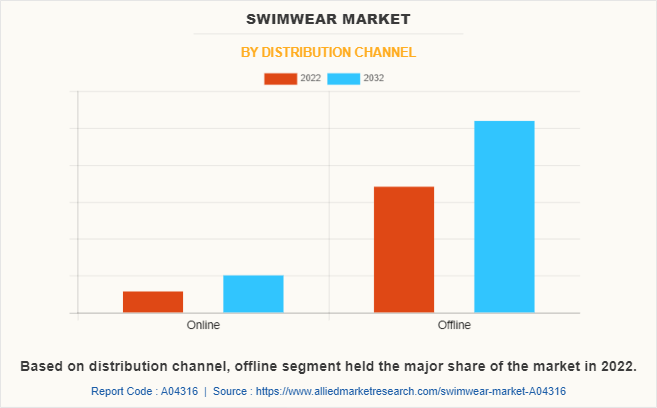 As per distribution channel, the Offline segment held the major share of the market in 2022. Manufacturers consistently work to improve their products' shelf visibility; as a result, they focus mostly on offline sales. As a result, a larger selection of household products, including swimwear is offered offline. Additionally, since the bulk of products is bought in offline stores and brand preference is easier to acquire in rural areas of developing countries, the offline market is crucial for customers living there. As a result, these elements are promoting market expansion during swimwear market forecast.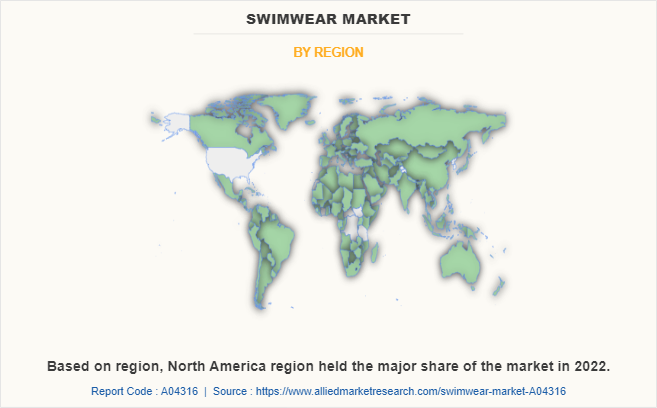 By Region
Region-wise, North America was the largest market in 2022 and held the major share of the market in 2022. Growth in the population who prefer to live a healthy lifestyle with stronger participation in sports and fitness activities drives the market development. Technological advancements in designs lead to enhanced comfort as well as boost performance, which significantly attracts fitness and sports enthusiasts. There is a growing interest in fitness and wellness in the region, with consumers seeking out swimwear that is designed with athletic and performance features which is expected to propel the growth of the market.
Competition Analysis
The players in the swimwear market have adopted acquisition, business expansion, partnership, collaboration, and product launch as their key development strategies to increase profitability and improve their position in the market.
Some of the key players profiled in the swimwear market analysis include Haddow Group Plc, Nike Inc., Boardriders, Inc., Arena Italia S.p.A., Swimwear Anywhere, Inc., Adidas AG, Dick's Sporting Goods, Gap Inc., Phillips-Van Heusen Corporation (PVH Corp.), and Perry Ellis International Inc.
Recent Expansions in the Swimwear Market
In January 2023, Old Navy the brand of The Gap, Inc. expanded its franchise business to over 10 markets, concentrating growth in Latin America
In December 2022, Adidas AG announced the expansion of its North American headquarters with the purchase of a building next to its existing campus in North Portland.
In August 2022, The Gap, Inc. launched a new customer experience center just ahead of the holiday season in Longview, Texas.
In February 2021, The Gap, Inc. announced plans to build a new distribution center in Longview, Texas to meet rising demand for digital shopping.
Recent Product Launches in the Swimwear Market
In June 2021, Adidas AG launched its first full-cover accessible swimwear collection in order to expand its portfolio.
In April 2021, Nike Inc. launched its first sustainable swimwear collection in order to expand its portfolio.
Key Benefits For Stakeholders
This report provides a quantitative analysis of the market segments, current trends, estimations, and dynamics of the swimwear market analysis from 2022 to 2032 to identify the prevailing swimwear market opportunities.
The market research is offered along with information related to key drivers, restraints, and opportunities.
Porter's five forces analysis highlights the potency of buyers and suppliers to enable stakeholders make profit-oriented business decisions and strengthen their supplier-buyer network.
In-depth analysis of the swimwear market segmentation assists to determine the prevailing market opportunities.
Major countries in each region are mapped according to their revenue contribution to the global market.
Market player positioning facilitates benchmarking and provides a clear understanding of the present position of the market players.
The report includes the analysis of the regional as well as global swimwear market trends, key players, market segments, application areas, and market growth strategies.
 Swimwear Market Report Highlights
Aspects
Details
Market Size By 2032
USD 30.9 billion
Growth Rate
CAGR of 4.5%
Forecast period
2022 - 2032
Report Pages
280
By Fabric

Polyester
Nylon
Neoprene
Spandex
Others

By End user
By Distribution Channel

Online
Offline

Sub type

Hypermarkets and Supermarkets
Specialty Stores
Brand Outlet
Others

By Region

North America (U.S., Canada, Mexico)
Europe (Germany, France, Italy, Spain, UK, Russia, Rest of Europe)
Asia-Pacific (China, Japan, India, South Korea, Australia, Thailand, Malaysia, Indonesia, Rest of Asia-Pacific)
LAMEA (Brazil, South Africa,, Saudi Arabia, UAE, Argentina, Rest of LAMEA)

Key Market Players
The Gap, Inc., Swimwear Anywhere, Inc., Perry Ellis International, Inc., Dick's Sporting Goods Inc., Boardriders Inc., PVH Corp., Pentland Brands Limited, Arena S.p.A, Adidas AG, Nike Inc.
Analyst Review
Based on the interviews of various top-level CXOs of leading companies, product innovation majorly drives the global swimwear market. It is very important for a manufacturer to focus on both comfort and features to meet the expectations of the consumer regarding functionality as well as fashion. Vendors are continuously engaged in introducing new modern & designer swimwear in the market to gain a competitive edge & maintain its market position. Another factor that supports the growth of the swimwear market is demand for luxury & high-brands swimwear by women. There is a very wide range of styles of modern swimsuits available for women, which vary according to body coverage and materials. The choice of style may depend on the occasion, for example whether it is to be worn for a passive occasion such as sunbathing or for an activity such as surfing or swimsuit competition. The choice also considers community standards of modesty, as well as current fashions and personal preferences.
The developing countries are expected to emerge as major markets for swimwear owing to increase in number of pools & swimming clubs, growth in demand for multifunctional swimwear & beachwear, rise in participation of water sports, and surge in R&D activities in fashion & apparel industries. However, as per CXO perspectives, the frequent fluctuations in the prices of raw materials and high investment in R&D for swimwear are projected to affect the growth of the swimwear market.