The global tampon market size accounted for around $2,819.4 million in 2018 and is expected to reach $4,055.5 million by 2026, registering a CAGR of 4.7% from 2019 to 2026. Tampon is a female hygiene product, which is inserted into vagina during menstruation prevent menstrual blood from leaking into clothes. Once inserted correctly, a tampon is held in place and inflates as it soaks up the fluid. Tampons are cylindrical in shape and mostly made of cotton, rayon, or a blend of both. They can be inserted using a plastic or cardboard applicator or can be directly inserted, without the use of an applicator. In addition, tampons are available with fragrance or without fragrance. Moreover, most women find tampons more comfortable to use than sanitary pads. Using tampons enables women to stay more active, without being concerned about them falling out of place. These could be used while swimming or any other physical activity as well, without hindrance. These can easily be worn by the women and also are travel friendly. Moreover, tampons are generally made up of medical grade cotton and rayon. Presently, manufacturers are focusing toward making tampons with 100% organic cotton. Organic tampons are made with organic cotton, which is grown without the use of synthetic pesticides or fertilizers. Non-organic styles typically use a mix of cotton and rayon. The idea behind using organic cotton is to make tampons more environment friendly by not using any sort of plastic in it. In addition, organic tampons are also beneficial, in terms of female hygiene, as they do not have bleach in it and are also devoid of harmful chemicals. Thereby, increasing environment and female hygiene concerns contribute to the tampon Market growth.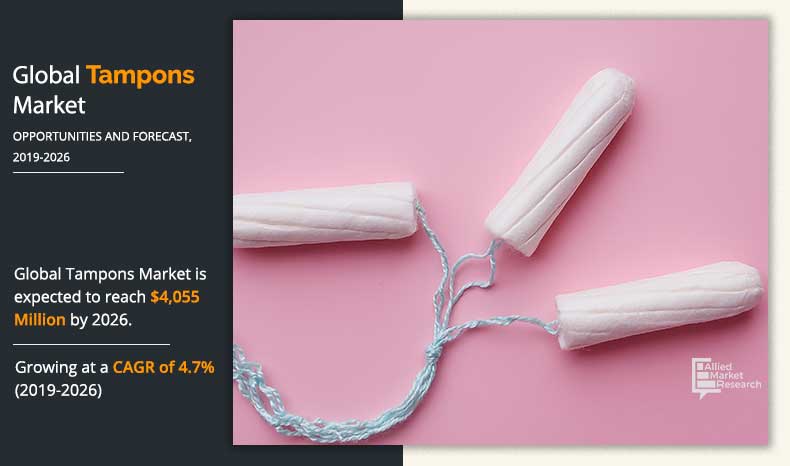 The tampon market is expected to witness a significant growth during the forecast period due to factors such as rise in demand of these devices, owing to increase in awareness for advanced feminine hygiene products. Moreover, tampons also help in preventing odor and are more comfortable and are hygienic than sanitary pads. Tampons are made up of the medical grade material, making them safe to be inserted into the body. However, tampons can be messier to use and hard to insert & remove. Sometimes tampons can also cause allergic reactions, which hinders the growth of the tampon market. However, increase in focus on product innovations for feminine hygiene products and emphasis on production of tampons made from organic and biodegradable materials can help open new avenues for the growth of the tampon market.
Global Tampon Market Segmentation
The global tampon market is segmented based on product, material type, and end user. Based on product type, the market is bifurcated into radially wound pledget and rectangular/square pad. Based on material, the market is classified into cotton, rayon and blended. Based on distribution channel, the market is categorized into online stores and pharmacy & retail store. Based on region, the market is analyzed across North America (U.S., Canada, and Mexico), Europe (Germany, France, Italy, Spain, UK, and rest of Europe), Asia-Pacific (China, Japan, India, Australia, and rest of Asia-Pacific), and LAMEA (Brazil, Saudi Arabia, South Africa and rest of LAMEA).
Product segment review
On the basis of product, the radially wound pledget tampons segment holds the maximum share and is expected to be the fastest growing segment. This is attributable to increase in demand for tampons among women, owing to their compact size. Surge in awareness towards maintain menstrual hygiene further propels the market growth for tampons market.
Cotton segment is projected as one of the most lucrative segments.
Material segment review
On the basis of material type, the blended segment was the major contributor toward the tampon market, attributed to the rise in demand for safe, durable, and non-allergenic composition of the material. In addition, most brands produce tampons made with a blend of cotton and rayon. These tampons are also cost effective as compared to other alternatives in the market.
Radially Wound Pledget segment is projected as one of the most lucrative segments.
North America accounted for majority of the tampon Market share in 2018 and is anticipated to continue this trend during the forecast period. This is attributed to increased adoption of tampons by maximum women in this region. Moreover, increased government initiatives toward making female hygiene available to most women further boosts the market growth of tampons in this region. In addition, presence of key market players including Kimberly-Clark   and Johnson & Johnson contributes to the market growth. Canada is anticipated to grow at the fastest rate during the forecast period, owing to initiative taken by governments toward the improvement of female hygiene. However, Asia-Pacific is anticipated to grow at the fastest rate during the forecast period, owing to the rise in awareness among women toward availability of tampons and importance of menstrual hygiene. Moreover, significant rise in the number of campaigns to improve awareness regarding the benefits of using tampons in the Asia-Pacific region is a major factor that is anticipated to boost the adoption of tampons among women during the forecast period. Moreover, presence of large women population in the region, along with increase in awareness regarding the importance of using tampons also fuel the growth of the market.
Major key players operating in tampon market are Svenska Cellulosa Aktiebolaget (SCA), Bodywise Ltd, Corman SpA, First Quality Enterprises Inc., Procter and Gamble Co., Johnson & Johnson Inc., Kimberly-Clark Corporation, Edgewell Personal Care Company, and Unicharm Corporation.
Asia-Pacific region would exhibit the highest CAGR of 5.8% during 2019-2026.
Key Benefits for Stakeholders:
The tampon market share and analysis is based on a comprehensive analysis of key developments in the tampon industry.
The development strategies adopted by key market players are enlisted to understand the competitive scenario of the global market.
The study provides an in-depth analysis of the market trends to elucidate the imminent investment pockets.
The global tampon market trends are studied from 2018 to 2026.
Information about key drivers, restrains, and opportunities and their impact analysis on the tampon market size is provided.
Porter's five forces analysis illustrates the potency of buyers and suppliers operating in the industry.
The quantitative analysis of the global tampon market from 2019 to 2026 is provided to determine the market potential.
 Tampon Market Report Highlights
Aspects
Details
By Material

Cotton
Rayon tampons
Blended tampons

By Type

Radially Wound Pledget
Rectangular/Square Pad

By Distribution Channel

Online Stores
Pharmacy & Retail Stores

By Region

North America (U.S., Canada, Mexico)
Europe (Germany, France, UK, Italy, Spain, Rest of Europe)
Asia Pacific (Japan, China, India, Australia, Rest of Asia-Pacific)
LAMEA (Brazil, Saudi Arabia, South Africa, Rest of LAMEA)

Key Market Players
Body Wise International, CORMAN SPA, Cohitech-Cotton High Tech, S.L, Edgewell Personal Care Company, First Quality Enterprises, Inc., Johnson & Johnson, Kao Corporation, Kimberly-Clark Corporation, Unicharm Corporation, Procter & Gamble