Tea Tree Oil Market Outlook - 2025
Tea tree oil is derived from the leaves of Melaleuca alternifolia, a small tree native to Queensland and New South Wales, Australia. It has a bushy crown and a papery, whitish bark. The leaves are scattered or arranged alternately. Tea tree oil is not diluted when packed and distributed for commercial use. However, tea tree oil is also available in diluted form owing to the preference of the end user. This diluted form is specifically used in the cosmetic industry. It is also used in the FMCG sector and the pharmaceutical industry. This increase in demand from various sectors boosts the tea tree oil market growth. The global tea tree oil market size was valued at $38.8 million in 2017 and is projected to reach $ 59.5 million by 2025, growing at a CAGR of 5.6% from 2018 to 2025. By 2022, the global essential oil market is expected to reach US$11.19 billion with a CAGR of 9.1%.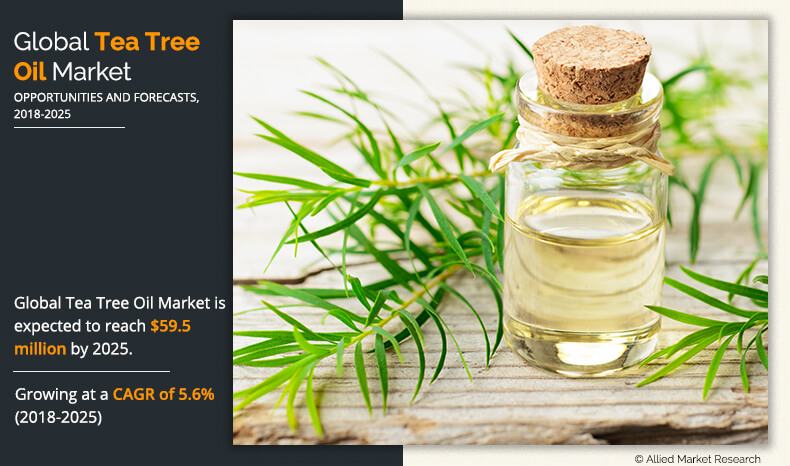 As per the global tea tree oil market analysis, Australia is the major producer for tea tree oil. As of 2015, Australia produced 700 tons of tea tree oil annually. Apart from Australia, this type of oil is also produced in China, South Africa, Kenya, Indonesia, and Thailand. About 90% of the oil is exported to different countries in North America and Europe. Approximately, 50% of the tea tree oil exported is used to make healthcare, cosmetic, pharmaceuticals, veterinary, and aromatherapy products. The global tea tree oil market is segmented into application, end user, grade, and region.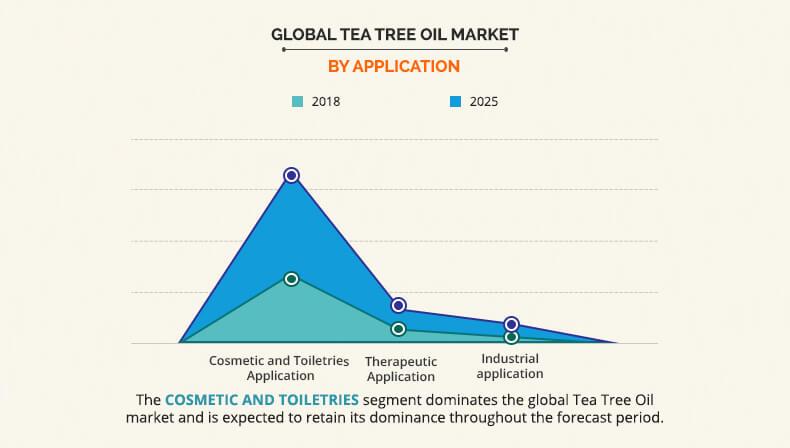 Based on application, the tea tree oil market is classified into cosmetic & toiletries application, therapeutic application, and industrial application. Among these, the cosmetic & toiletries segment accounts for higher value share owing to its application in the production of different types of cosmetic products, such as shampoo & conditioners, skin clearing lotions, mouthwash, body lotions, shower gels, cleansing soaps, deodorants, hand wash sanitizers, and face creams. The tea tree oil features antibacterial, antiviral, and antifungal properties and hence is majorly preferred in its non-diluted form. It is effective against a variety of fungal infections of the scalp, skin, and toenails due to its antifungal properties. It is also a suitable treatment against herpes, cold sores, shingles, and warts owing to its antiviral properties.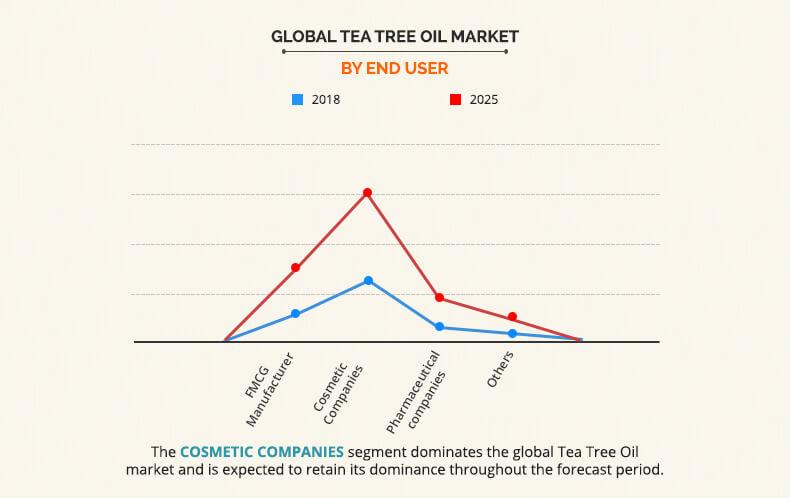 Based on end user, the tea tree oil market is segmented into FMCG manufacturer, cosmetic companies, pharmaceutical companies, and others. Cosmetic companies account for higher value share as compared to other potential end users due to the surge in demand for tea tree oil in the production of various types of cosmetic products. Tea tree oil is increasingly used in the pharmaceutical products as its anti-inflammatory and anesthetic properties help reduce swelling and soothe pain, while its antibacterial action prevents infections and reduces scarring. It also helps cure skin ailments, cuts, burns, acne, cold sores, boils, warts, ringworm, skin rashes, herpes, corns, lice, insect bites, and fungal infections. Therefore, it is majorly used in the pharmaceutical industries to make different products that can be used by the customers to cure different infections or diseases. Thus, the pharmaceutical companies segment is expected to witness significant growth in terms of value sales.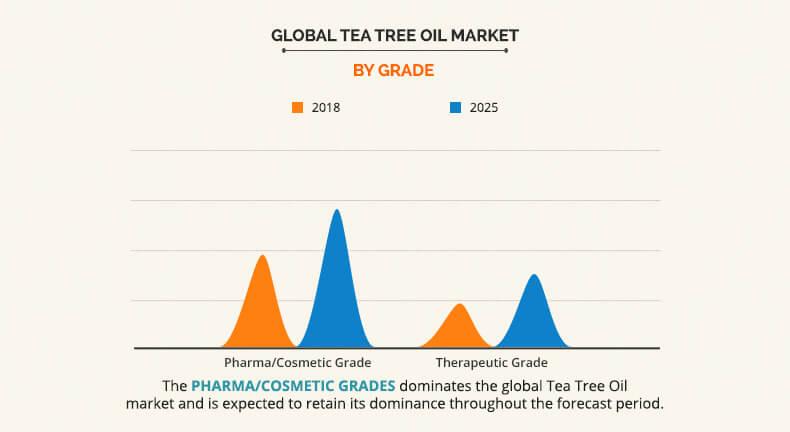 Based on grade, the tea tree oil market is segmented into pharma/cosmetic grade and therapeutic grade. Pharma/cosmetic grade accounts for higher value global tea tree oil market share. The therapeutic grade is anticipated to experience growth in terms of value sales in the tea tree oil market forecast, owing to the antiseptic, antiviral, and fungicidal properties of the tea tree oil.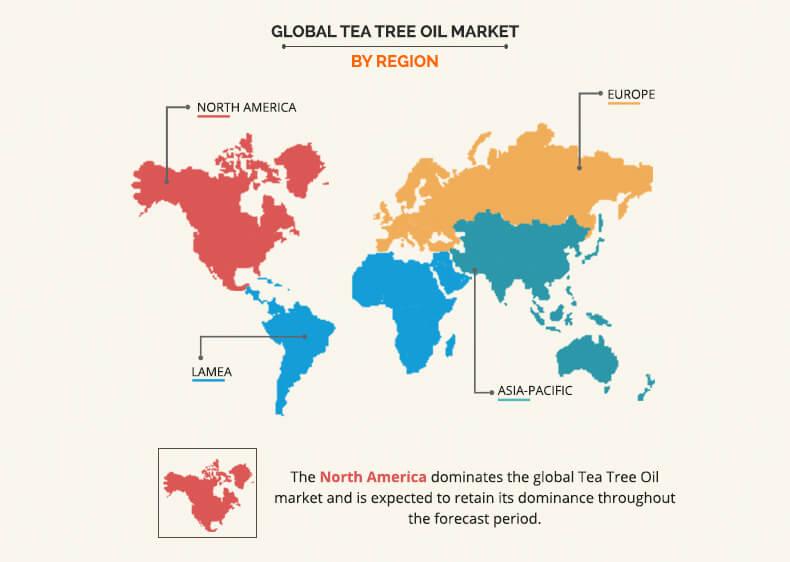 Based on region, the tea tree oil industry is analyzed across North America, Europe, Asia-Pacific, and LAMEA. There is an increase in the demand for tea tree oil among the consumers from the developed countries of North America and Europe. Thus, North America and Europe are the dominant regions in the market. Rise in demand for natural cosmetic products owing to lesser side-effects and other benefits, in Europe, also boosts the growth of the market in this region. Asia-Pacific provides immense opportunity for the growth of the global tea tree oil market due to surge in preference for natural or clean label cosmetic and pharmaceutical products among the customers. These products are natural, chemical-free, and thus involve less side-effects. Therefore, there is an increase in the demand for the tea tree products among the consumers in the Asia-Pacific region.
Key players profiled in the report include Main Camp, G.R. Davis, Maria River Plantation, Cassegrain Kalara, Jenbrook, LvHuan Technology, Coromandel Mountains, Fuyang Biotechnology, Oribi Oils, and Integria Healthcare. These players adopt different strategies to mark their presence in the market.
Key Benefits for Tea Tree Oil Market:
The report provides an extensive analysis of the current and emerging tea tree oil market trends and opportunities.
The report provides detailed qualitative and quantitative analysis of the current trends and future estimations that help evaluate the prevailing tea tree oil market opportunity.
A comprehensive analysis of the factors that drive and restrict the tea tree oil market growth is provided.
An extensive tea tree oil market analysis is conducted by following key product positioning and monitoring the top competitors within the market framework.
The report provides extensive qualitative insights on the potential segments or regions exhibiting favorable growth.
 Tea Tree Oil Market Report Highlights
Aspects
Details
By APPLICATION

Cosmetic and Toiletries Application
Therapeutic Application
Industrial Application

By END USER

FMCG Manufacturer
Cosmetic Companies
Pharmaceutical Companies
Others

By GRADE

Pharma/Cosmetic Grade
Therapeutic Grade

By Region

North America (U.S, Canada)
Europe (Germany, France, UK, Italy, Spain, Rest of Europe)
Asia-Pacific (China, India, Japan, Australia, Rest of Asia-Pacific)
LAMEA (Brazil, Argentina, South Africa, Rest of LAMEA)

Key Market Players
GR DAVIS PTY LTD, MAIN CAMP NATURAL EXTRACTS PTY. LTD, SOIL, INTEGRIA HEALTHCARE AUSTRALIA PTY LTD, COROMANDEL MOUNTAINS TEA TREE OIL COMPANY, JENBROOK PTY LTD, ORIBI OILS (PTY) LTD, MARIA RIVER PLANTATION, CASSEGRAIN KALARA (T.G.CASSEGRAIN & CO PTY LTD), NATURALLY AUSTRALIAN TEA TREE OIL PTY LTD (NATTO)