The global tire bead wire market size was valued at $1.2 billion in 2021, and is projected to reach $2.5 billion by 2031, growing at a CAGR of 8.3% from 2022 to 2031.
Tire bead wire is a strong and corrosion-resistant wire that is used to secure a tire bead to a wheel rim. It is formed of steel or other metal alloys and serves to keep the tire bead in the appropriate shape and size when it comes into contact with the wheel rim, assuring a solid fit and lowering the risk of the tire slipping off the rim.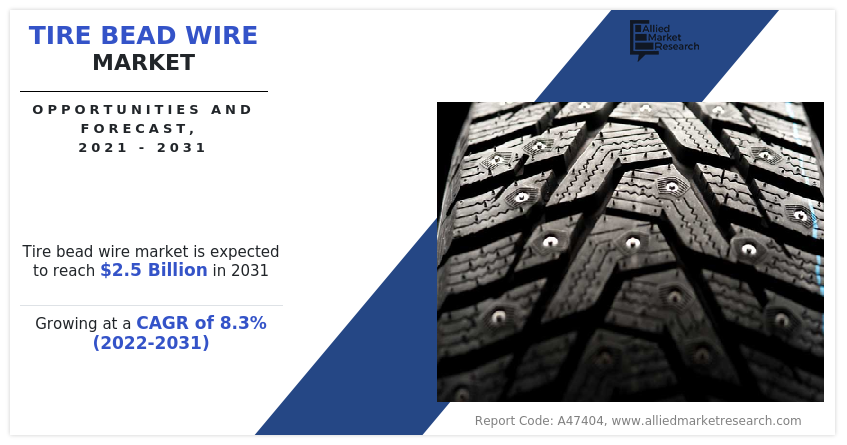 The growth of the tire bead wire market is being driven by rise of industrialization and urbanization, as well as an increase in customer interest in sports vehicles, racing automobiles, and bikes. As a result, rising sales of passenger cars and commercial vehicles in both established and emerging economies are expected to boost potential market sales during the forecast period. In addition, the rise in disposable income and surge in demand for electric cars have increased demand for the tire bead wire. Due to its great mechanical strength and flexibility, tire bead wire is widely utilized in the production of electric vehicles.
The COVID-19 outbreak had a short-term impact on the tire bead wire business. Unavailability of raw resources for manufacturing auto components and automobiles, travel limitations, instability in the import/export trades, and a lack of skilled labour greatly slowed automotive manufacture, hampered tire bead wire market growth. Also, significant pressure was noticed in the automobile industry as a result of supply chain disruption. This intricacy impacted automobile prices, exchange currency volatility, and stock piling, slowing the automotive industry and affecting the global economy. Furthermore, a sharp decline in commercial and passenger vehicle sales was noted, which greatly hindered tire bead wire market growth throughout the pandemic.
The high cost of tire bead wire is one of the major challenges for the market growth. This is due to the fact that high-quality materials and qualified specialists are required to manufacture the products. In addition, tire bead wire has a high production cost when compared to other relevant technologies. Lack of standard is another issue confronting the tire bead wire sector. As a result, several manufacturers provide products with varying specifications, these factors are anticipated to restrict the market growth.
Tire bead wire is an important reinforcing material for vehicle tires. Bead wire protects tire from changing form due to air pressure and attaches the tires to the rim to reduce vibration while driving. The automotive market is anticipated to rise significantly during the forecast period. In addition, the growth is being driven by a number of factors, including rise in interest in motorsport including bike and car racing. Increase in tire demand  is anticipated to be driven by rise in sales of passenger and commercial vehicles, particularly in emerging economies. For instance, in January 2022, according to an article in the Economics Times, Investment Information and Credit Rating Agency (ICRA) maintains a (volume) demand growth projection for the tire business of 13-15% in FY22. These reasons are projected to increase the overall demand for tire bead wire industry, providing the most lucrative opportunities for the future.
The key players profiled in tire bead wire market report include Aarti Steels Limited, Bekaert, HBT RUBBER INDUSTRIAL CO., LTD, Jiangsu Xingda Steel Tyre Cord Co.Ltd, Kiswire, Rajratan, Shandong Daye, Shanghai Metal Corporation, SNTAI INDUSTRIAL GROUP LTD, and Tianjin Bladder Technology Co.,Ltd.
The tire bead wire market is segmented on the basis of type, application, and region. By type, the market is classified into regular tensile strength (1770-2200 MP), high tensile strength (Above 2200), and others. By application, the market is categorized into passenger vehicle tire, commercial vehicle tire, motorcycle tire, bicycle tire, and others. By region, the market is analyzed across North America, Europe, Asia-Pacific, and LAMEA.
The tire bead wire market is segmented into Type and Application.
Tire Bead Wire Market

---
By Type
The Regular Tensile Strength (1770-22-- MP) sub-segment held the highest market share in 2021
By type, the regular tensile strength (1770-2200 MP) segment dominated the global tire bead wire market share in 2021 due to regular tensile strength is the maximum stress that a rubber tire can sustain before breaking down. The higher the number, the stronger the wire. The normal tensile strength range for tire bead wire is 1770-2200MP. It is important to remember that not all cables can tolerate high temperature & pressure and should consequently be avoided if possible.
Tire Bead Wire Market

---
By Application
The passenger vehicle sub-segment held the highest market share in 2021
By application, the passenger vehicle tire segment dominated the global tire bead wire market share in 2021 due to rise in global population, surge in transportation activities, and increase in passenger car sales, all of which drive the market growth. In addition, rise in consumer demand for luxurious and exotic cars has increased the demand for tire bead wire, which aids in effectively reducing tire weight, fuel consumption, and tire production costs, making it the most preferred bead tire in the manufacturing of passenger vehicles. This is expected to boost market growth during the forecast period.
Tire Bead Wire Market

---

By Region
The Asia-Pacific region accounted for the highest market share in 2021
By region, Asia-Pacific dominated the global market in 2021. The increase in transportation activity, rise in disposable income, growing demand for vehicles, and shift in consumer preference for the automobile industry in both developed and developing countries such as China, India, South Korea, and others have boosted demand for tire bead wire. In addition, the existence of various automobile producers including Changan Automobile, Dongfeng Motor Corporation, and FAW Group Co., Ltd., in China had a significant portion of the Asia-Pacific market. The demand for products is also anticipated to increase during the forecast period as a result of expanding foreign player investments and increased production capacity.
Impact of COVID-19 on the Global Tire Bead Wire Industry
COVID-19 has negatively impacted various industries such as automotive that has led to a drastic decline in automotive sales. As tire bead wire is widely used in automotive manufacturing, there was significant reduction in the tire bead wire demand globally.
China is the leading producer and exporter of raw materials such as feedstock required for tire bead wire production. However, China being the epicenter of the coronavirus pandemic, its export was affected, leading to a decline in tire bead wire production.
The tire bead wire market faced various challenges, including material supply chain interruptions and labor shortages. Furthermore, severe government transportation rules and the rigorous application of lockdown hindered overall industry growth.
Key Benefits For Stakeholders
This report provides a quantitative analysis of the market segments, current trends, estimations, and dynamics of the tire bead wire market analysis from 2021 to 2031 to identify the prevailing tire bead wire market opportunities.
The market research is offered along with information related to key drivers, restraints, and opportunities.
Porter's five forces analysis highlights the potency of buyers and suppliers to enable stakeholders make profit-oriented business decisions and strengthen their supplier-buyer network.
In-depth analysis of the tire bead wire market segmentation assists to determine the prevailing market opportunities.
Major countries in each region are mapped according to their revenue contribution to the global market.
Market player positioning facilitates benchmarking and provides a clear understanding of the present position of the market players.
The report includes the analysis of the regional as well as global tire bead wire market trends, key players, market segments, application areas, and market growth strategies.
 Tire Bead Wire Market Report Highlights
Aspects
Details
Market Size By 2031
USD 2.5 billion
Growth Rate
CAGR of 8.3%
Forecast period
2021 - 2031
Report Pages
280
Type

Regular Tensile Strength (1770-2200 MP)
High Tensile Strength (Above 2200)
Others

Application

Passenger Vehicle Tire
Commercial Vehicle Tire
Motorcycle Tire
Bicycle Tire
Others

By Region

North America (U.S., Canada, Mexico)
Europe (Germany, France, UK, Italy, Spain, Rest of Europe)
Asia-Pacific (China, Japan, India, South Korea, Australia, Rest of Asia-Pacific)
LAMEA (Brazil, Saudi Arabia, UAE, South Africa, Rest of LAMEA)

Key Market Players
AARTI STEELS LIMITED, Jiangsu Xingda Steel Tyre Cord Co.Ltd, Rajratan Global Wire Ltd, shanghai metal corporation, Tianjin Bladder Technology Co.,Ltd., bekaert, HBT RUBBER INDUSTRIAL CO., LTD, kiswire inc., Shandong Daye, SNTAI INDUSTRIAL GROUP LTD