The global tonic wine market size was valued at $1,782.7 million in 2020, and is projected to reach $3,133.2 million by 2030, registering a CAGR of 5.8% from 2021 to 2030.
Tonic wine is made with the blend of herb and fruit extracts. Tonic wine is used as medicine due to its medicinal and nutritional properties. It helps to cure various viral diseases and flu. Tonic wine can also be consumed by children as it contains less than 5% alcohol.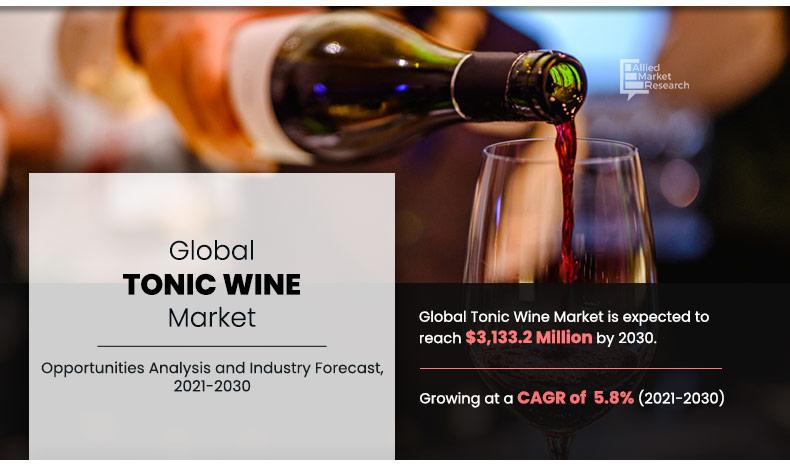 Lucrative packaging plays a key role in increasing wine sales, and thus growth of the tonic wine market. Moreover, cans are made of aluminum and have a shelf life of five years and are convenient when a single or two-glass serving is preferred. However, there are many fermented beverages available in the market, which acts as alternative for tonic wine. In addition, the concept of tonic wine is not so popular in Asia-Pacific and LAMEA. Thus, presence of alternatives hampers growth of the tonic wine market during the forecast period.
Tonic wine is considered to be a healthy wine that boosts energy and enhances sexual vitality. Tonic wine was first invented by the monks in Devon, England. Now it is commercially produced and sold, and has gained immense popularity in England and Ireland. The rising awareness regarding the positive health effects of tonic wine is boosting the demand and fostering the tonic wine market growth.
The rapid growth and development of e-commerce platforms is expected to drive the growth of the tonic wine market. Tonic wine is not easy to find. Hence, in such case, the online sales channels may provide the consumers with perfect product finder solutions. The easy home delivery and easy payment options are the major benefits of the online sales channels that may boost the sales of tonic wine.
The outbreak of the COVID-19 pandemic negatively impacted the tonic wine market in 2020. Travelling restrictions imposed by governments resulted in decline of export and imports of raw material used for making tonic wine. Disrupted supply chains hampered the production. Further, closure of restaurants, bars, supermarkets, and chocolate specialty stores negatively impacted the wine tonic wine market during the pandemic.
The tonic wine market is segmented on the basis of product type, distribution channel, application, and region. On the basis of product type, the market is categorized into Magnum, Buckfast, Sanatogen, and Mandingo. As per distribution channel, it is divided into supermarkets/hypermarkets, convenience stores, specialty stores, and online stores. According to application, it is fragmented into household and food services.
Region-wise, the market is analyzed across North America (the U.S., Canada, and Mexico), Europe (the UK, Germany, France, Italy, Spain, Russia, Portugal, and rest of Europe), Asia-Pacific (China, Japan, India, Australia, and rest of Asia-Pacific), and LAMEA (Brazil, Argentina, South Africa, and the rest of LAMEA).
Tonic Wine Market

---
By Product Type
Buckfast segment held the major share of 46.6% in 2020
The market is being driven by factors such as rapid growth in foods and beverages industry in developing countries and increased health consciousness among people.
As per the wine tonic wine market forecast, by product, the buckfast segment dominated the market in 2020, garnering a share of around 46.6%. In addition, it has become part of antisocial parties in some parts of Scotland and Northern Ireland, despite being promoted as a tonic. Lurgan, as well as the Central Lowlands, comprising Glasgow and adjacent regions of East Kilbride, Hamilton, Blantyre, South Lanarkshire, Cambuslang, and Coatbridge had high retail sales.
Tonic Wine Market

---
By Distribution Channel
Specialty Stores segment held the major share of 44.0% in 2020
According to the tonic wine market trends, by application type, the food service segment dominated the market with a market share of 79.9% in 2020. 
Depending on distribution channel, the supermarkets/hypermarkets segment is estimated to foresee highest growth rate during the forecast period. This is attributed to availability of broad range of foods & beverages under single roof, in addition to ample parking space and convenient operation timings. 
Tonic Wine Market

---
By Application
Food Services segment held the major share of 79.9% in 2020
Region wise, Europe dominated the global tonic wine market. This is attributable to increase in per capita consumption of tonic wine in top European countries such as Germany, France, Italy, Portugal, the UK, and Spain. Tonic wine is gaining rapid traction among European consumers and Europe is expected to retain its leading position throughout the forecast period. North America is estimated to be the fastest-growing market owing to rise in awareness regarding tonic wine, demand for healthy food, and rise in demand for premium and luxury products among the population.
The major players operating in the global tonic wine market are Buckfast, Crabbie's, Stone's, Lindisfarne, Mella, Frederiksdal, Sanatogen, Wincarnis, Jingjiu, Sainsbury's, Bristol, Campari Group, Dee Bee Wholesale, Macleod Distillers, Herb Affair, Leonard J Russell Snr, Portman Group, and Zhangyu.
Tonic Wine Market

---
By Region
Europe region held the higest market share of 50.5% in 2020
Key Benefits For Stakeholders
The report provides a quantitative analysis of the current market trends, estimations, and dynamics of the market size from 2020 to 2030 to identify the prevailing opportunities.
Porter's five forces analysis highlights the potency of buyers and suppliers to enable stakeholders to make profit-oriented business decisions and strengthen their supplier–buyer network.
In-depth analysis and the market size and segmentation assist to determine the prevailing market opportunities.
The major countries in each region are mapped according to their revenue contribution to the market. 
The market player positioning segment facilitates benchmarking and provides a clear understanding of the present position of the market players in the tonic wine industry.
 Tonic Wine Market Report Highlights
Aspects
Details
By Product

Magnum
Buckfast
Sanatogen
Mandingo

By Distribution Channel

Supermarkets/Hypermarkets
Convenience stores
Specialty Stores
Online Stores

By Application
By Region

North America (U.S., Canada, Mexico)
Europe (UK, Germany, France, Italy, Spain, Russia, Portugal, Rest of Europe)
Asia-Pacific (China, Japan, India, Australia, Rest of Asia-Pacific)
LAMEA (Brazil, Argentina, South Africa, Rest of LAMEA)

Key Market Players
Bristol, CAMPRI GROUP, CONSTELLATION BRANDS, INC., Crabbie's, Frederiksdal, Ian Macleod Distillers, Mellasat Vineyard, REMY COINTREAU SA, Stone's Original, THE CARLYLE GROUP