Torque Sensor Market Outlook - 2026
The global torque sensor market size was valued at $8.39 billion in 2018 and is estimated to reach $16.82 billion by 2026, registering a CAGR of 7.7% from 2019 to 2026. A torque sensor, also known as torque transducer or torque meter, is a device that measures and records the torque, i.e., force on a rotating system, such as an engine, crankshaft, gearbox, transmission, rotor, a bicycle crank, or cap torque tester. 
A torque sensor is a transducer that converts a mechanical input into an electrical output signal. There are two types of torque sensor namely, dynamic torque sensor and static torque sensor. A reaction torque sensor measures static torque, and rotary measures dynamic torque. Torque measurements are critical to process control and monitoring.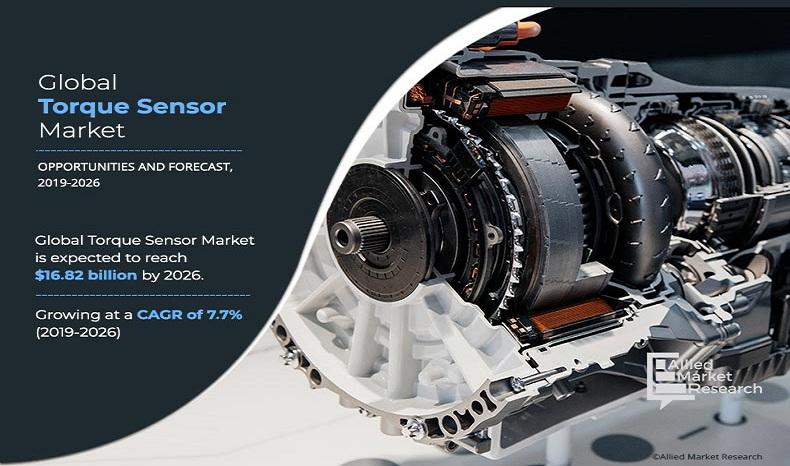 The growth of the torque sensor market is driven by substantial growth in the demand for high performance vehicles, increase in penetration of EPS in passenger vehicles, and surge in demand for new measurement technologies. However, high installation cost is expected to restrain the growth of the torque sensor market. Furthermore, emerging application of torque sensor in healthcare vertical and evolution in the use of torque sensor in industrial application offer lucrative opportunities for the torque sensor market growth.
There are various applications that require repeatable and accurate torque measurements such as tightening torque of threaded fasteners, motor output horsepower measurement, and industrial automation processes. Torque meter or Torque transducer performs an extremely vital role in ensuring torque is measured accurately. This ensures the integrity of safety. 
For instance, within the automotive industry in particular, incorrectly tightened fasteners will produce joint failures and damage to a manufacturers reputation. If cars interior trim panel screw was failed, the result would be a quality issue and lead to disappointment to both customers and manufacturers. If a seat belt bolt or wheel nut was failed, a safety issue arises and the end result could mean end-user injury or even a fatality. So, it is very necessary to have correct and reliable torque sensor.
The torque sensors are widely used in various industries and automotive applications, where reliability of the connection is a very important concern. Further, the industrial torque sensor provides reliability of operation in harsh environments.
Torque Sensor Market

---
By Type
Dynamic Torque Sensor segment would exhibit the highest CAGR of 9.3% during 2019-2026
Segmentation
The torque sensor market is segmented on the basis of type, application, and region. On the basis of type, the market is bifurcated into dynamic torque sensor and static torque sensor. These dynamic torque sensors are sub-segmented into rotary torque sensor and Non-contacting torque sensor. 
Torque Sensor Market

---
By Application
Automotive segment is expected to secure a leading position during the forecast period
Applications covered in the study include automotive, industrial, aerospace & defense, healthcare, and others (agriculture, mining, and test & measurement). Based on region, the torque sensor market is analyzed across North America, Europe, Asia-Pacific, and LAMEA. 
Torque Sensor Market

---
By Geography
Asia-Pacific region holds a dominant position in 2018 and is expected to grow at a highest rate of 8.8% during the forecast period
The key market players profiled in the report include ABB Ltd., Honeywell International corporation, Infineon Technologies, Kistler Group, Sensor Technology, PCB Piezotronics, Crane Electronics, Datum Electronics, Futek Advanced Sensor Technology Inc., and HBM. These key players have adopted strategies such as product portfolio expansion, mergers & acquisitions, agreements, geographical expansion, and collaborations to enhance their torque sensor market share.
Top Impacting Factors
The notable factors positively impacting on the torque sensor market include growth in demand for high performance vehicles, increase in penetration of EPS in passenger vehicles, and surge in demand for new torque measurement technologies. However, high installation cost hampers the market growth. 
Moreover, emerging torque sensor application in healthcare vertical and evolution in the use of torque sensor in industrial applications offer lucrative market opportunities during the forecast period.
Rise in Demand for High Performance Vehicles
The automotive industry is witnessing a steady increase in demand for high-performance vehicles. With increase in disposable income of consumers followed by high standard of living influences consumers to spend more on luxury vehicles. Sensors have become an intrinsic part of the production process, as they help increase the efficiency and precision through automation. 
Torque sensors are used in vehicles in the automobile industry to provide benefits such as safety and fuel efficiency. For instance, the automobile manufacturer Ford, an American-based company, introduced high-performance models of two of its highest selling vehicle models, one is Fiesta in 2014 and other is Focus in 2016.
High Installation Cost
The addition of torque sensors does help increase automation in the automotive industry; however, it incurs extra cost, which is expected to restrain the market growth. Certain automotive components such as wheel, steering, and other power tools are continuously used for long time, therefore, there are possibilities of component getting wear out. Thus, torque sensor gets extremely important to detect heating issues and other related problems. This in turn increases the overall lifetime of a vehicle. Thus, installation of torque is necessity for next-generation automobiles. 
However, this installation increases the overall cost of vehicle, impacting the vehicle sales. This increase in price is expected to significantly impact the developing regions particularly in countries such as India and China as well as Southeast Asian region. 
Emerging Application of Torque Sensor in the Healthcare Vertical 
Technological advancements in torque sensor technologies offer innovative and additional features to the medical devices and equipment.  Moreover, the medical sector is witnessing fastest growth due to torque sensor as it has ability to provide accurate results in robotic surgical systems, pharmaceutical tablet forming, surgical stapler testing, fitness & rehabilitation equipment, and others. These torque sensors also provide medical facilities by means of telemedicine in the rural and underdeveloped areas. These factors are anticipated to provide lucrative opportunities for the market expansion.
Key Benefits For Stakeholders:
This study includes the analytical depiction of the global torque sensor market outlook along with the current trends and future estimations to determine the imminent investment pockets.
The market size is determined to understand the profitable trends to gain a stronger foothold.
The report presents information related to key drivers, restraints, and opportunities with a detailed impact on the torque sensor market analysis.
The current torque sensor market forecast is quantitatively analyzed from 2018 to 2026 to benchmark the financial competency.
Porter's five forces analysis illustrates the potency of the buyers and suppliers in the torque sensor industry.
The report includes the torque sensor market trends and market share of key vendors.
 Torque Sensor Market Report Highlights
Aspects
Details
By Type

Dynamic Torque Sensor

Rotary torque sensor
Non-contacting torque sensor

Static Torque Sensor

By Application

Automotive
Industrial
Aerospace & Defense
Healthcare
Others

By Region

North America (U.S., Canada, Mexico)
Europe (Germany, France, Italy, UK, Rest of Europe)
Asia-Pacific (Japan, China, India, South Korea, Rest of Asia-Pacific)
LAMEA (Latin America, Middle East, Africa)

Key Market Players
HBM, Honeywell International Inc., Futek Advanced Sensor Technology Inc., PCB Piezotronics, ABB Ltd., Infineon Technologies, Sensor Technology, Datum Electronics, Crane Electronics, Kistler Group