Traction Control System Market Outlook - 2025
The traction control system market is expected to reach $44.14 billion by 2025 from $27.59 billion in 2017 with a CAGR of 6.7% from 2018 to 2025. The growth in the market can be observed with the rise in demand for safety applications.
Traction control system is an advanced active braking system used in automobiles, which helps drivers to control their vehicles. It allows wheels of a vehicle to maintain dynamic contact with the road surface, which is proportional to the braking inputs given by the driver. Traction control activates when it senses that the wheels may slip, helping drivers make the most of the traction that is available on the road surface. The global traction control system market is growing demand for safety features, technological advancement, and stringent global safety protocols for vehicle safety.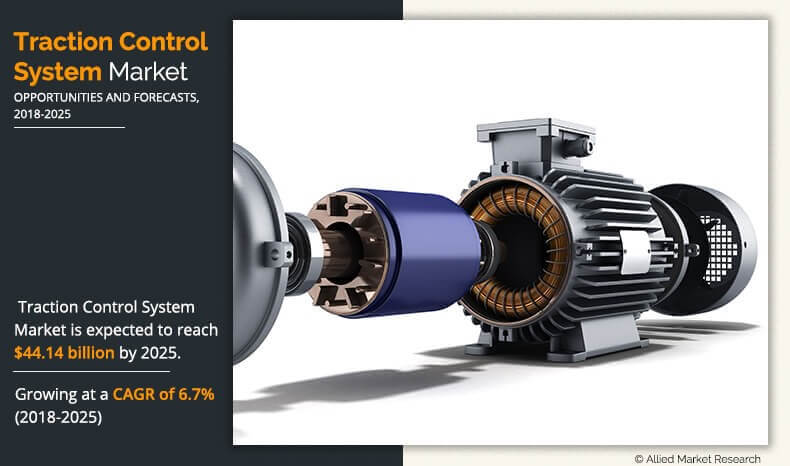 Further, the growing demand for vehicle safety and comfort systems in automobiles has fueled the adoption of traction control system applications in automobiles. Traction control system market trend are high maintenance cost and high safety standard ratings. However, development of advanced braking systems for two wheelers and expansion in untapped markets of developing countries such as India, Indonesia, and Brazil, are expected to provide growth opportunities to the traction control system market players.
The traction control system market segmentation is based on type, component vehicle type, and region. The type segment is further divided as mechanical linkage and electrical linkage. To meet the upcoming emission regulations/norms the vehicle manufacturers are reducing the overall weight of the vehicles. The reduction in the weight can be achieved by replacing the mechanical linkages of systems by electrical components. Therefore, the electronic linkage accounts to have the major share during the forecast period.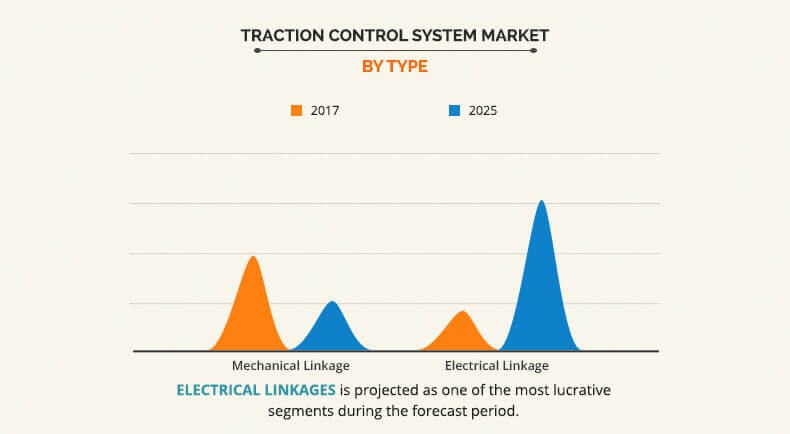 The traction control system market based on component includes hydraulic modulators, ECU, and Sensors. During the traction control system market analysis, it is estimated that the sensors segment is projected to have the fastest growth during the forecast period. This growth can be attributed to the increase in traction control system applications and features.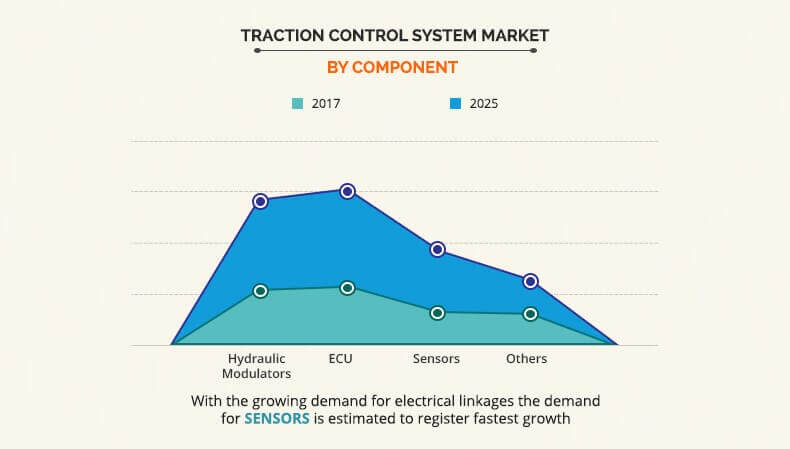 The vehicle type segment is further divided into ICE vehicles [passenger cars & commercial vehicles] and electric vehicles battery [electric vehicles (BEV), & plug-in hybrid electric vehicle (PHEV)]. During the forecast period, BEVs are estimated to experience rapid growth and HEV are estimated to have the largest traction control system market share.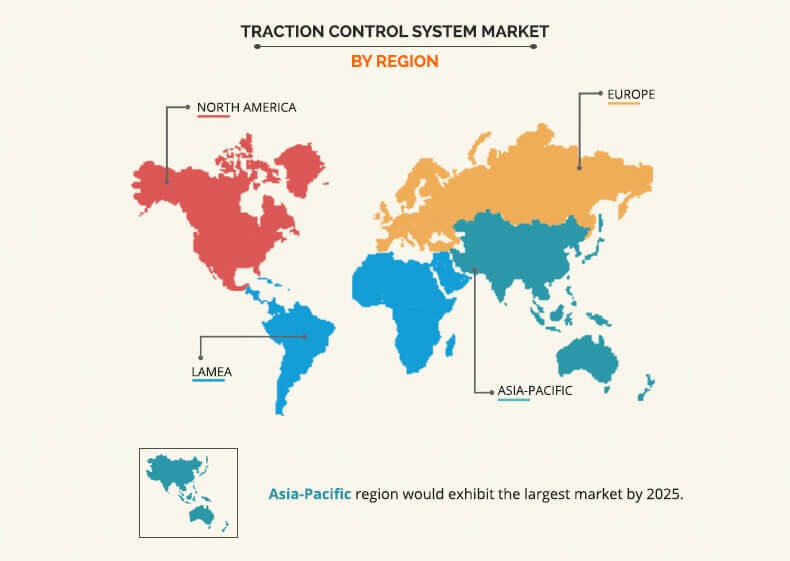 Region wise, the market is analyzed across North America, Europe, Asia-Pacific, and LAMEA. Asia-Pacific is expected to dominate the market in the near future, owing to increase in favorable government initiatives along with high-end technology adoption by automobile manufacturers. Most of the traction control suppliers and manufacturers are concentrated in the European and Asia-Pacific region. This is the key reason for the substantial market share of these regions. Asia-Pacific is expected to account for the highest share of the market by 2025 owing to highest vehicles sales and upcoming safety mandates.
Competitive Analysis
Competitive analysis and profiles of the major traction control system industry includes players such as, Robert Bosch GmbH (Germany), Continental AG (Germany), Autoliv, Inc. (Sweden), Nissin Kogyo Co. Ltd. (Japan), WABCO (Belgium), ZF TRW (U.S.), Hyundai Mobis (South Korea), Denso Corporation (Japan), Hitachi Automotive Systems, Ltd. (U.S.), and ADVICS Co., Ltd (Japan) are provided in this report. The key strategies adopted by these players from 2015 to 2018 were product launch, acquisition, partnership, business expansion, and collaboration. For instance, ZF TRW expanded its business by manufacturing integrated brake control (IBC) system, a vacuum independent technology which simplifies the brake system architecture in high volume for vehicle manufacturers.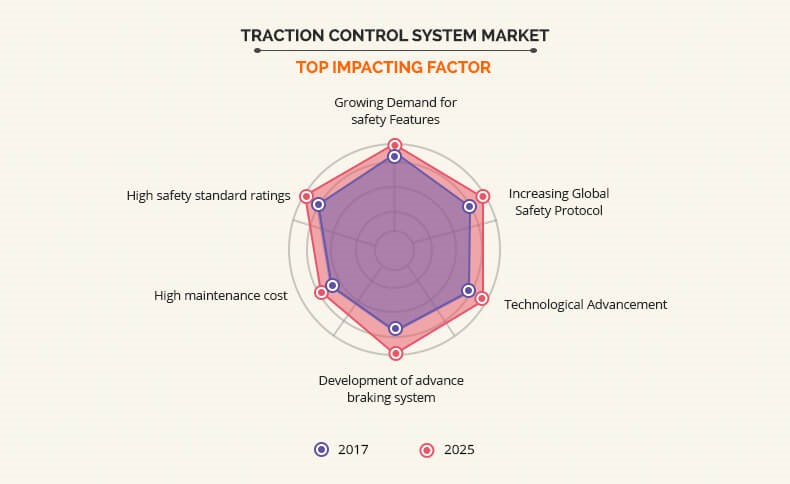 Top Impacting Factors
Growth in the demand of safety features
Growth in the demand for safety features such as ABS, traction control system, and ESC, owing to the increase in number of road accidents around the world, drives the growth of the traction control system market in almost all the geographies. According to The Global Burden of Disease, published by The Harvard School of Public Health on behalf of the World Health Organization and the World Bank, road accidents are estimated to become the third leading cause of death by 2020. This has created an upsurge in the demand for safety features to be incorporated in automobiles, for the protection of lives. As per Bosch Research Studies and ASEAN, 26% of all powered two-wheeler accidents in Germany can be prevented through ABS and traction control system technologies.
Increase in global safety protocols
Certain organizations and constitutional governments of countries issue safety protocols to the vehicles for the safety of the people, due to increase in rate of road accidents. The European Parliament has enforced a law which states that from January 2016, it is compulsory for bikes above 125cc to have ABS. The recent draft notification from the Indian Ministry of Road Transport and Highways mandates that two-wheelers with an engine capacity exceeding 125cc, manufactured from April 1, 2017, need to be fitted with anti-lock braking systems. Therefore, increase in global safety protocols is anticipated to drive the traction control system market in the future.
High maintenance cost
The traction control system appears to be a very promising safety device for the automobiles. The traction control system market growth is currently experiencing hindrances due to its high maintenance cost. Various electronic components such as control modules and sensors, together form the traction control system, which have a very short life and require periodic maintenance. These parts are quite costly and require a lot of capital for their repairing. In addition, lack of substitutes of these parts hampers the traction control system market.
Key Benefits for Traction Control System Market:
The report includes an in-depth analysis of different segments and provides traction control system market size estimations between 2018 and 2025.
Porters five forces model illustrates the potency of buyers & sellers, which is estimated to assist the market players to adopt effective strategies and understand the growth of the traction control system market.
Key market players are profiled to gain an understanding of the strategies and traction control system market opportunity tapped by the key players.
This report helps to understand the traction control system market forecast from 2018 to 2025, which helps identify the prevailing market opportunities.
 Traction Control System Market Report Highlights
Aspects
Details
By Vehicle Type

ICE VEHICLES
Electric Vehicles

By Component

Hydraulic Modulators
ECU
Sensors
Steering Angle Sensor

By Type

Mechanical Linkage
Electrical Linkage

By Region

North America (U.S., Canada, Mexico)
Europe (UK, Germany, France, Italy, Rest of Europe)
Asia-Pacific (China, India, Japan, South Korea, Taiwan, Rest of Asia-Pacific)
LAMEA (Latin America, Middle East, Africa)

Key Market Players
HYUNDAI MOBIS CO., LTD, Nissin Kogyo Co., Ltd., Denso Corporation, ADVICS CO., LTD, WABCO, CONTINENTAL AG, AUTOLIV INC, Robert Bosch GmbH, ZF TRW, Hitachi Ltd.