Travel Accessories Market Research, 2031
The global travel accessories market was valued at $48.2 billion in 2021, and is projected to reach $95.7 billion by 2031, growing at a CAGR of 6.4% from 2022 to 2031.
Travel accessories are intended to gain convenience and comfort in journey. Travel accessories include, travel bags, travel electronic accessories, pillow, blankets, sleep mask, travel outfits, and others. Growing per capita income, rise in expenditure on luxury lifestyle, and rise in number of business and leisure trips per person are likely to drive the growth of the market during the forecast period. Increase in the number of leisure and business trips is expected to increase the utility and usage of travel accessories, which in turn boosts the sales of travel pillows, blankets, and travel bags.
Travel & tourism includes leisure tourism, business tourism, medical tourism, and others. The factors that promote the growth of travel & tourism industry include, changes in lifestyle, rise in tourism promotion, an increase in accessibility of transport facilities, and others, which in turn are expected to boost the sales of the travel accessories during the forecast period. Continuous development in the travel & tourism industry and easy and affordable accesses to the hospitality & infrastructure facilities are likely to promote people to opt for tours and travel, which further supplements for the growth of the market during the forecast period.
Globalization in business refers to change in a business from a company associated with a single country to one that operates in multiple countries. The leading business organizations, such as Toyota Motor Corporation, Mc Donald's, Wal-Mart stores Inc., and others have started venturing beyond national boundaries to tap more business opportunities. Thus, business travel increased dynamically in the last decade, where people got prompted to by basic travel accessories including travel bags, business cases, electronic accessories, and others for convenience.
Online sales have evolved as a key source of revenue for many companies. The online sales market is expected to expand enormously in the near future due to the rapidly expanding online and mobile user customer bases in emerging markets, increase in mobile-commerce sales, improvement in logistics services, ease in payment options, and the facility to enhance into new international markets by major brands. Furthermore, local brands of the travel bags and electronic accessories in Asia-Pacific are selling their product through online platform so people can have their desired product in affordable price, which in turn boost the sales of travel accessories through online sales.
Increase in terrorism & crime rate, political uncertainty, and natural calamities are some of the factors that decrease the growth of the travel and tourism of some of the countries including China, India, U.S. and Brazil. Decrease in tours and travel is expected to decrease the sales of the travel accessories. Furthermore, growing popularity of virtual tourism and adoption of technology in business sector to conduct meeting and evets including virtual meeting through skype are further restraining the growth of the market.
Outbreak of COVID-19 has negatively impacted the overall growth of the travel accessories market. Travel and tourism industry was highly and harshly impacted by the spread of coronavirus. Due to rapid spread of COVID-19 in 2020, most of the countries closed their boundaries, which significantly impacted the country revenue through travel and tourism. Thus, COVID-19 was negatively affected the overall growth of the travel accessories market in 2020.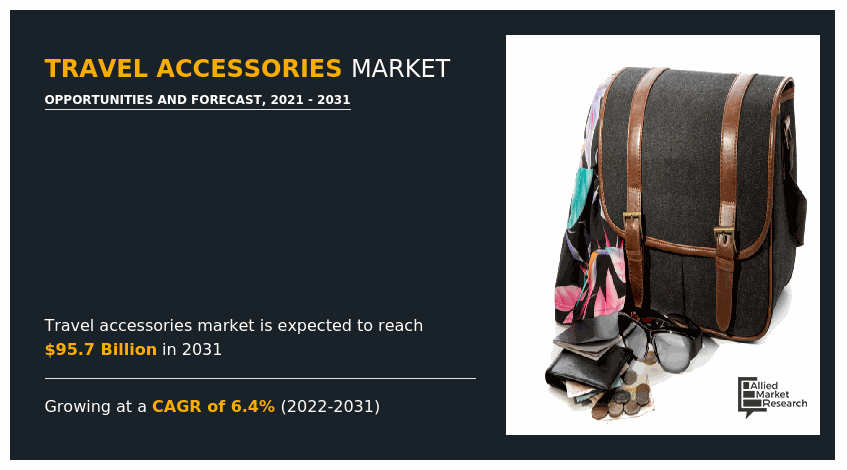 The travel accessories market is segmented into type, distribution Channel and region. On the basis of type, the market is categorized into travel bags, electronic accessories, travel pillow and blanket, toiletries, and others. On the basis of distribution channel, it is bifurcated into supermarkets/hypermarkets, specialty stores, factory outlets, online stores, and others. On the basis of region, it is analyzed across North America (the U.S., Canada, and Mexico), Europe (Germany, France, UK, Italy, Spain, Russia and Rest of Europe), Asia-Pacific (China, Japan, India, Australia, South Korea and Rest of Asia-Pacific), and LAMEA (Latin America, Middle East and Africa).
On the basis of type, the travel bags segment was the highest contributor to the market, with $19,899.3 million in 2021, and is estimated to reach $37,464.5 million by 2031, at a CAGR of 5.8% during the travel accessories market forecast period. Increase in the number of tours and travels including leisure and business travel has intensified the demand for travel bags. Technological advancement in travel bags, such as smart luggage with GPS tracking and self-driving suitcase and use of high resistive polycarbonate material in travel bags are likely to drive the growth of the market for the travel bag segment during the forecast period.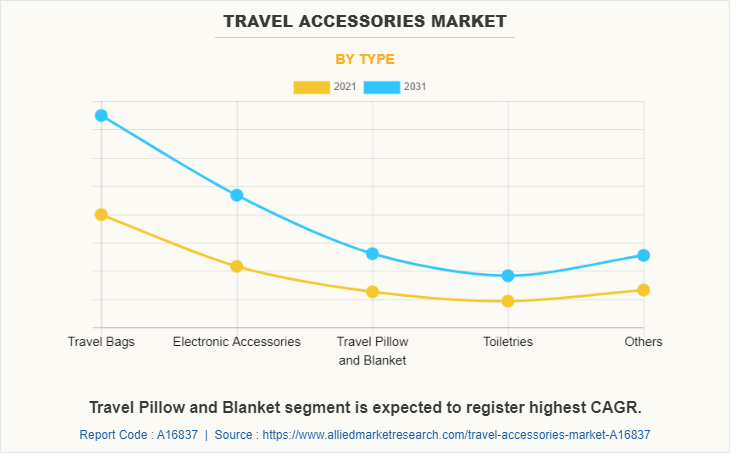 According to distribution channel, the supermarkets/hypermarkets segment was the highest contributor to the market, with $15,349.0 million in 2021 and is estimated to reach $26,581.6 million by 2031, at a CAGR of 5.0% during the forecast period. Hypermarkets/supermarkets feature a separate area for travel related products, making it easier for consumers to identify and purchase the products. These stores provide consumers with a premium advantage, such as availability of various brands of travel bags, travel pillow and blankets, and other products and offer discounts on certain products, assistance of sales representatives, and easy checkouts, which contribute toward the travel accessories market size growth through the supermarket and hypermarket segment.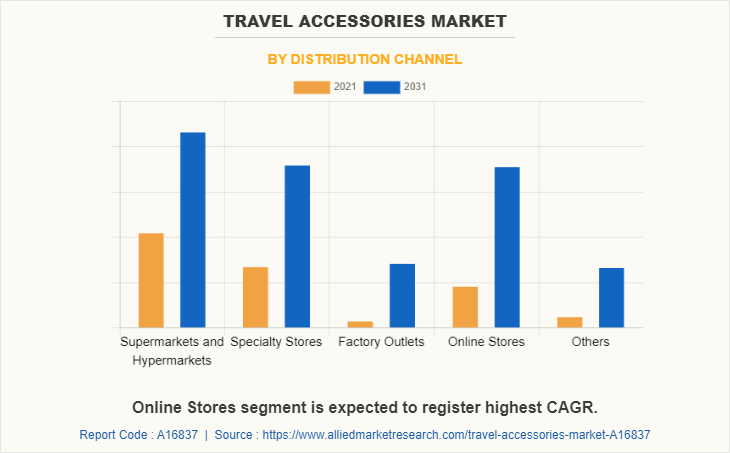 Region-wise, Asia-Pacific garnered the major travel accessories market share in 2021, and is expected to maintain its market share during the forecast period.  Growing disposable income, rise in expenditure on tours and travel, launch of smart luggage with tracking devices, and growing adoption of western lifestyle are some of the factors attributable for the Asia-Pacific travel accessories market growth during the forecast period.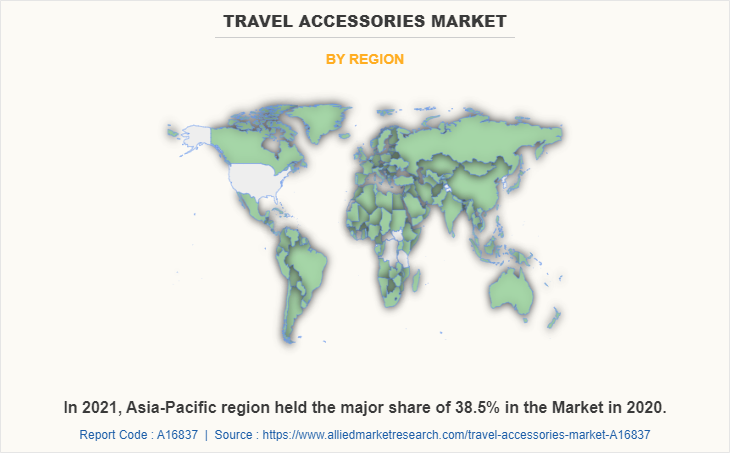 The players operating in the global travel accessories industry have adopted various developmental strategies to expand their market share, increase profitability, and remain competitive in the market. The key players profiled in this report include ACE Co., Ltd., Adidas AG, LVMH Group, Magellan's, Nike, Inc., Sungjoo Group, Travel Blue Ltd., United States Luggage Company, LLC., VF Corporation, and VIP Industries Ltd.
Key Benefits For Stakeholders
This report provides a quantitative analysis of the market segments, current trends, estimations, and dynamics of the travel accessories market analysis from 2021 to 2031 to identify the prevailing travel accessories market opportunities.
The market research is offered along with information related to key drivers, restraints, and opportunities.
Porter's five forces analysis highlights the potency of buyers and suppliers to enable stakeholders make profit-oriented business decisions and strengthen their supplier-buyer network.
In-depth analysis of the travel accessories market segmentation assists to determine the prevailing market opportunities.
Major countries in each region are mapped according to their revenue contribution to the global market.
Market player positioning facilitates benchmarking and provides a clear understanding of the present position of the market players.
The report includes the analysis of the regional as well as global travel accessories market trends, key players, market segments, application areas, and market growth strategies.
 Travel Accessories Market Report Highlights
Aspects
Details
By Distribution Channel

Supermarkets and Hypermarkets
Specialty Stores
Factory Outlets
Online Stores
Others

By Type

Travel Pillow and Blanket
Toiletries
Others
Travel Bags
Electronic Accessories

By Region

North America (U.S., Canada, Mexico)
Europe (Germany, France, U.K., Italy, Spain, Russia, Rest of Europe)
Asia-Pacific (China, Japan, India, Australia, South Korea, Rest of Asia-Pacific)
LAMEA (Latin America, Middle East, Africa)

Key Market Players
Nike Inc., Magellan's, Sungjoo Group, VF Corporation, ACE Co., Ltd., VIP Industries Ltd., Travel Blue Ltd, LVMH Group, United States Luggage Company, LLC., Adidas AG