Tequila is a preferred agave-based alcohol happily possessed by Mexico. Tequila has gained its location as one of the most popular alcohols among the American population. As a famous beverage among the young consumer section, Tequila has created extreme popularity in recent times. A large customer base and regular flow in the United States Tequila market have actually led to its enormous revenue generation in the country.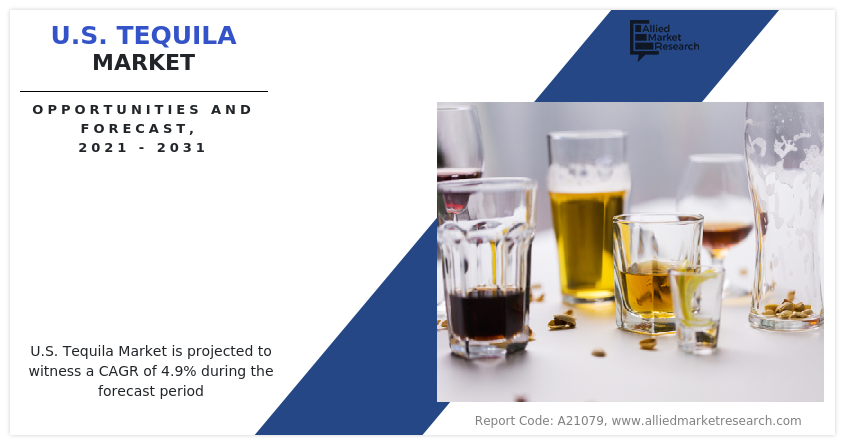 The US tequila market is mostly driven by significant elements such as increasing popularity amongst the young millennial generation, the rise of healthier and flavorful tequila options, as well as enhancing marketing as well as advertising and marketing activities by the suppliers.The increasing appeal of tequila amongst the young population can be credited to the image of tequila associated with a solid and macho beverage. Furthermore, flavored and also healthier variations of tequila align with the present trend amongst millennials towards a much healthier way of living as well as a preference for flavored drinks. Additionally, significant marketing as well as advertising and marketing efforts by the suppliers have likewise added to the climbing appeal of tequila in the United States. The manufacturers have been relying heavily on digital advertising and marketing platforms such as YouTube and also Instagram to reach out to their target customers and build a positive brand picture of their items.

Regardless of the high growth capacity of US tequila market, it encounters certain restraints in terms of price and accessibility. The raised cost of tequila as a result of elevated labor expenses, coupled with rising demand for costs products, is making tequila an extra costly alternative for consumers. Additionally, limited accessibility of Tequilas in some components of the country due to low demand, is additionally restricting market possibility.

Besides the limiting variables, there exist a variety of chances for the U.S. Tequila market. For instance, there is an emerging change toward natural beginning for premium and ultra-premium Tequila, as consumers like much healthier as well as natural variants. In such situations, the producers and distributors of organic tequila can benefit from this untapped chance by satisfying particular and particular niche consumer sectors. Moreover, the makers can concentrate on tapping into undiscovered global markets in order to address the soaring demand for tequila. In addition, engaging in calculated partnerships with recognized players in the food and beverage industry has given brand-new spin to consumer acquisition capabilities, consequently giving brand-new possibilities to the US Tequila market.

The United States Tequila market has actually observed significant growth in the recent years, and this pattern is anticipated to sustain in the future. Costs Tequila is the largest as well as most swiftly growing segment, as well as is expected to witness considerable growth in sales. This can be credited to the raising demand for high-end and costly Tequila, specifically among the growing young customer base. Additionally, the hype regarding new flavors of Tequila has generated intense warmth in the marketplace as people are inclined in the direction of it as its alternatives for experiential consumption boosts. Innovative promotions and also concentrated techniques by makers in the direction of advertising and branding.
The tequila market is segmented into product type, price range, distribution channel. On the basis of product type, the tequila market is segregated into tequila blanco, tequila reposado, tequila anejo and tequila joven. By price range, U.S. Tequila Market Sizeis classified into premium and economy. Depending on distribution channel, U.S. Tequila Market Share categorized into B2B and B2C.
U.S. Tequila Market

---
By Type
The Tequila Blanco segment held the major revenue share in 2021 and is expected to grow with the highest CAGR during the forecast period.
The US tequila market can be segmented into different types, specifically Tequila Blanco, Tequila Joven, Tequila Reposado as well as Tequila Anejo. Tequila Blanco is the most typically used version, with almost 88% of the complete market share, as it is the most affordable type of Tequila available in the marketplace. It is usually a wonderful tan-colored, clear solution made with 100% agave and also it supplies prominent flavors of under-ripe fruits, nuts and herbs.
Tequila Reposado is aged for at least two months in oak barrels, offering it a more mellow flavor. On the other hand, Tequila Anejo, aged approximately 3 years in well-seasoned oak barrels, produces a strong and also extreme flavor profile. Last But Not Least, Tequila Joven, made from a combination of Blanco and also Reposado Tequila, has a more powerful as well as tougher flavor.
U.S. Tequila Market

---
By Price Range
By Price Range, the Economy segment held the major share of the market in 2021.
The United States Tequila market can further be split right into premium and also economy grade. The prices for both classifications differ relying on the type of Tequila. The premium Tequila segment is dominated by Tequila Reposado as well as Tequila Anejo and also deals with an upper-class consumer base. Tequila Blanco, on the other hand, represents the economic climate grade and also satisfies the masses. The economic situation segment is one of the most favored sections for liquors, as it supplies an excellent balance in regard to prices as well as top quality.
U.S. Tequila Market

---
By Distribution Channel
By Distribution Channel, the B2B segment held the major share of the market in 2021.
The US Tequila Market has actually been even more segmented by circulation networks right into B2B (Organization to Company) as well as B2C (Service to Customer). The B2B distribution network can be additionally separated right into vendors, dealers, chains, worldwide, and also regional suppliers, while B2C circulation networks include bars, clubs, liquor stores, grocery stores, and also convenience stores.
The major players operating in the market focus on key market strategies such as mergers, product launches, acquisitions, collaborations, and partnerships. They have been focusing on strengthening their market reach to maintain their goodwill in the ever-competitive market. Some of the key players in the U.S. Tequila Industry include Diageo Plc, Eastside Distilling, Bacardi Limited, Brown-Forman Corporation, Constellation Brands Inc., Becle, S.A.B DE C.V., Pernod Ricard, Proximo Spirits, Ambhar Global Spirits LLC, and California Tequila Inc..
Key Benefits for Stakeholders
Enable informed decision-making process and offer market analysis based on current market situation and estimated future U.S. Tequila Market Trends
Analyze the key strategies adopted by major market players in U.S. tequila market.
Assess and rank the top factors that are expected to affect the growth of U.S. tequila market.
Top Player positioning provides a clear understanding of the present position of market players.
Detailed analysis of the U.S. Tequila Market Growth assists to determine the prevailing U.S. Tequila Market Opportunities and U.S. Tequila Market Forecast.
Identify key investment pockets for various offerings in the U.S. Tequila Market Analysis.
 U.S. Tequila Market Report Highlights
Aspects
Details
Forecast period
2021 - 2031
Report Pages
84
By Type

Tequila Blanco
Tequila Reposado
Tequila Anejo
Tequila Joven

By Price Range
By Distribution Channel
Key Market Players
Constellation Brands, Gruppo Campari, Sazerac, Grand Bay International, Brown-Forman, Diageo, Southern Glazer's, William Grant & Sons, Julio Bermejo, Heineken