The global vehicle anti-theft system market size was valued at $14.3 billion in 2021 and is projected to reach $27.4 billion by 2031, growing at a CAGR of 7% from 2022 to 2031.
Vehicle owners value their possessions. However, vehicle theft is common in most countries around the world. Manufacturers use a variety of methods to prevent vehicle theft. An anti-theft device is a type of device that helps protect a vehicle from theft using automatic or manual techniques. A variety of technologies can be used to achieve goals. There are many different anti-theft devices available in the market, from alarm systems to GPS tracking.
These devices limit the possibility of vehicle theft by enhancing the security system. Technological advancements in the anti-theft system, for instance, real-time vehicle tracking system, and Ultra-Wideband (UWB) technology consequently open opportunities in the vehicle anti-theft system market. In addition, many vehicles come with pre-installed immobilizer units which can give protection through the ignition system. OEM immobilizers function through the ECU/ECM (computers) installed inside the vehicle.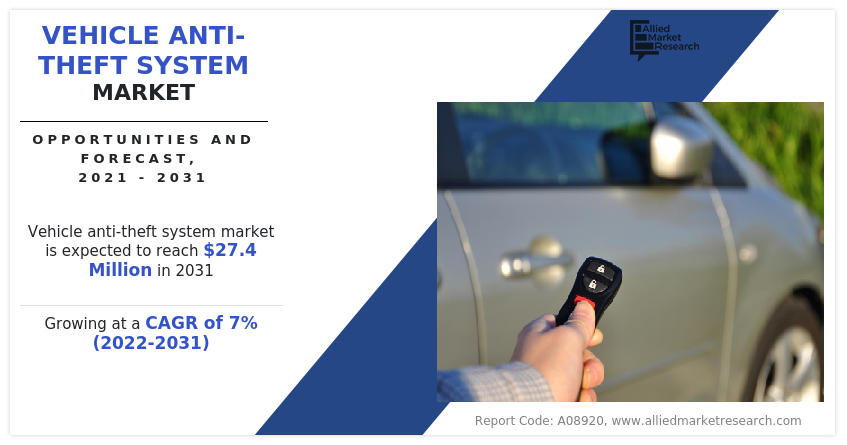 The demand for the vehicle anti-theft system market is directly influenced by automotive production and sales activities across the globe as the vehicle anti-theft system is one of the key components the modern vehicles for enhanced safety. Moreover, modern vehicles and automotive OEMs incline to smart technology to cater to the change in demand for end users, which in turn supports the growth of the market.
Factors such as the adoption of smart technology for vehicle safety and improved convenience, and product development to cater to changes in demand patterns are expected to drive the growth of the vehicle anti-theft system market. However, the high cost of the vehicle anti-theft system and the decrease in production and sale of automobiles restrain the market growth. On the contrary, agreements and contracts with automotive OEMs for long-term business opportunities, and growth in developing nations are projected to offer lucrative growth opportunities for the market players.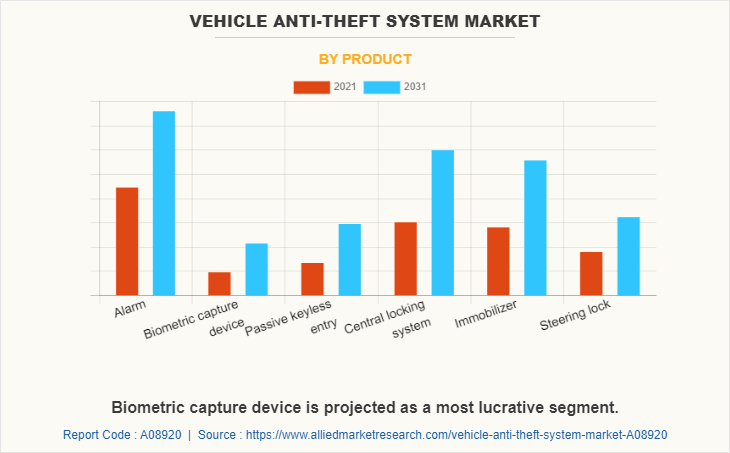 The market is segmented into product type, technology, sales channel, vehicle type, and region. On the basis of product type, the market is divided into alarm, biometric capture device, passive keyless entry, central locking system, immobilizer, and steering lock. On the basis of technology, the market is segmented into Global Positioning System (GPS), Remote Frequency Identification Device, Real-time Location Systems (RTLS), Automotive Biometric Technologies, and others. On the basis of sales channel, the market is bifurcated into OEMs and aftermarket. On the basis of vehicle type, the market is bifurcated into passenger cars and commercial vehicles. Region-wise, the market is analyzed across North America, Europe, Asia-Pacific, and LAMEA.
Asia-Pacific comprises China, Japan, India, South Korea, and the rest of Asia-Pacific. The rest of Asia-Pacific includes countries such as Indonesia, Singapore, Thailand, Vietnam, and Malaysia. The vehicle anti-theft system market has great prospects in the Asia-Pacific, owing to changing automotive outlook, growth in penetration of high-end technology-enabled passenger vehicles, and an increase in inclination toward electrified mobility in various countries in the region.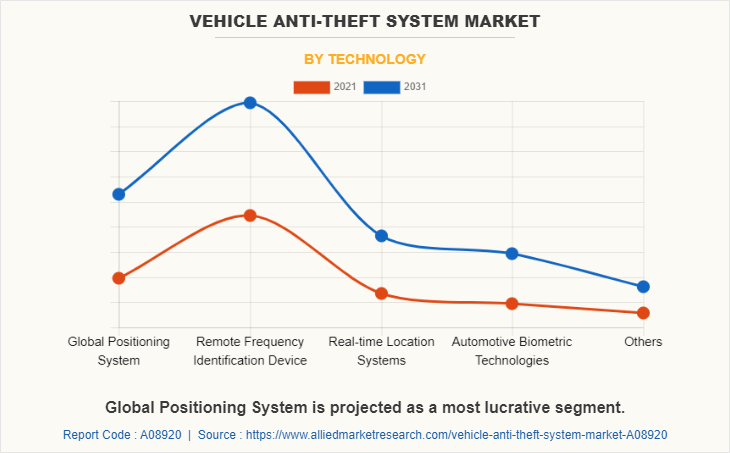 The production activities are expected to have a direct influence on the overall demand for anti-theft systems because present vehicles equipped with vehicle anti-theft systems. Moreover, an increase in the penetration of electric vehicles is anticipated to support the growth of vehicle anti-theft systems in the coming years due to a raise in vehicle safety and security.
Leading technology solution providers in Japan are focused on organic growth strategies such as expansion activities to gain competitive advantage and development of high-end technology-enabled solutions in the global market.     
Competitive analysis and profiles of the major vehicle anti-theft system market players include Continental AG, Robert Bosch GmbH, Hella GmbH & Co. KGaA, Tokai Rika MFG Co. Ltd., Valeo S.A., Denso Corporation, Stoneridge Inc., Aptiv PLC., Huf Hulsbeck & Furst GmbH & Co. KG, Marquardt Group. The leading companies are adopting strategies such as acquisition, agreement, expansion, partnership, contracts, and product launches to strengthen their market position.
In November 2022, Continental AG signed a contract with BMW to install the CoSmA UWB vehicle access solution in BMW iX. It establishes a connection between the smartphone and the vehicle is established via Bluetooth low energy, ultra-wideband radio technology ensures the precise locate the smartphone.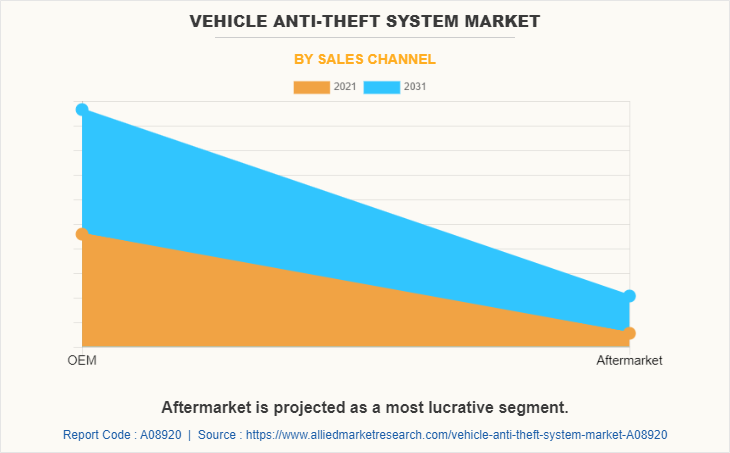 In October 2022, Huf Hulsbeck and Furst GmbH and Co. for a phone as a key based on ultra-wideband technology which prevents so-called relay station attacks, in which thieves extend the signals of a wireless key in order to get into the car unnoticed.
In August 2021, Tokai Rika Electric Mfg. Co., Ltd. has developed a fingerprint-authentication start switch to help boost vehicle anti-theft performance. A first for Japanese cars, this switch was used by the new Toyota Land Cruiser that was launched in August 2021. This switch has also been awarded one of Toyota Motor Corporation's vehicle project technology prizes for helping to greatly enhance the appeal of the Land Cruiser.
In October 2021, Marquardt Group started the development of cell phone-based smart car access PnD3 platform for series production that combines the latest ultra-wideband technology (UWB) with NFC (Near Field Communication) or BLE (Bluetooth Low Energy) use in passenger cars and commercial vehicles. It enables cyber-secure storage of the digital vehicle key in the smartphone - and in combination with the precise UWB driver localization opens up completely new application possibilities.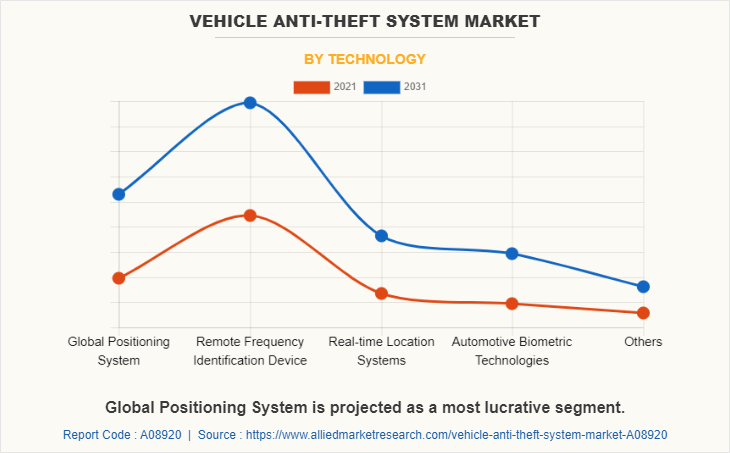 Adoption of smart technology for vehicle safety and improved convenience
The automotive industry has witnessed remarkable growth in penetration of the high-end technology such as ADAS systems, autonomous driving, and connected mobility among others. These integrations of smart technologies create demand for advanced automotive access control solutions for effective operation, improved security of the vehicle from thefts, and better convenience solutions. Moreover, the automotive keyless entry system is the next-generation automotive locking solution that provides a vehicle anti-theft solution. Moreover, the introduction of safety and security standards for automotive manufacturing in emerging nations such as India is expected to spur the demand for automotive keyless entry systems and passive keyless entry systems. This is expected to create an attractive opportunity for the market players in these regions during the forecast period. The introduction of these systems such as alarm systems, immobilizers, and other vehicle anti-theft systems in modern vehicles is expected to boost revenues in the global vehicle anti-theft system market.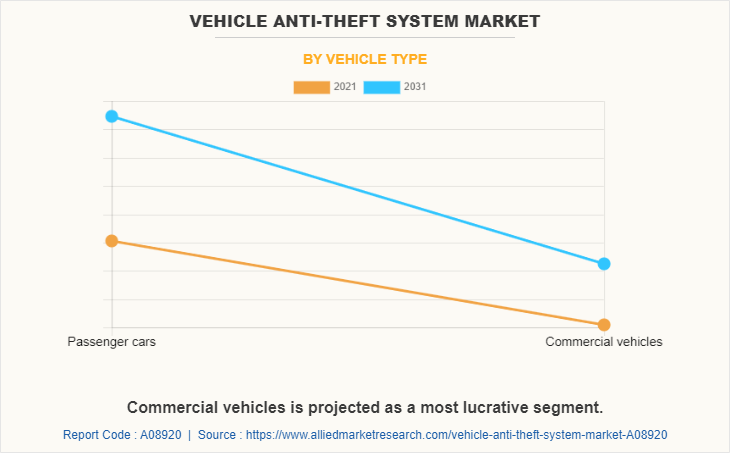 Product development to cater to changing demand pattern
The automotive industry has registered significant growth in recent years, due to the introduction of vehicles with advanced features for effective safety and comfort to passengers. Numerous companies have been developing and introducing advanced vehicles equipped with different vehicular technologies, which has supplemented the growth of the global market. Moreover, technology-driven companies such as NXP Semiconductors, Hella KGaA Hueck & Co., Continental AG, and Robert Bosch GmbH, are focusing on upgrading their existing vehicle anti-theft systems, which is expected to open new avenues for the company to grow its business. For instance, in June 2021, Hella KGaA Hueck & Co. launched a digital car key with ultra-wideband technology. Similar developments & product launches carried out by these companies support the development of the global vehicle anti-theft system market.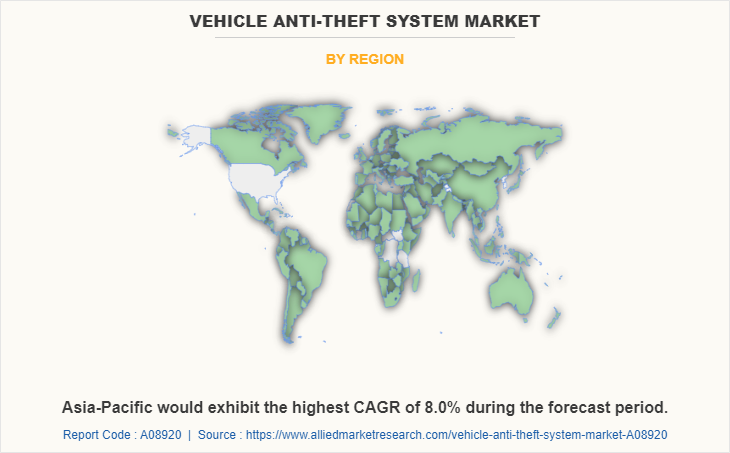 High cost of the anti-theft systems
An increase in the need for operational efficiency, high-end technology-enabled vehicle safety, a rise in concern toward vehicle safety, and effective operation ability for access of the vehicle is expected to spur the demand for vehicle anti-theft system. Moreover, the anti-theft system has applications in passenger as well as commercial vehicles for improved safety requirements. The keyless entry system is integrated with various high-end technology such as Bluetooth system, sensors, operating software, and electronic control panels, to regulate the operations. All the subsystem of the keyless entry is associated with high cost, which eventually increases the cost of the anti-theft system to be used in automobiles, thus, restraining the growth of the vehicle anti-theft system market during the forecast period.
Growth in developing nations
The automotive industry has changed dramatically in developing regions such as India, Mexico, Brazil, and Morocco, as both production, and sales, have changed. Moreover, the majority of the leading automakers have production facilities as these countries have a good source of raw materials, manufacturing-friendly policies, and a cost-effective workforce. Furthermore, end users in these countries are inclined toward high-end technology-enabled automotive along with cost-effective and fuel-efficient solutions. In addition, governments of developing nations are introducing supporting policies to boost sales of vehicle anti-theft systems, which, in turn, is expected to create an opportunity for market participants to focus on these countries and gain a competitive advantage.
Changes in the production and sales activities of the automotive industry are expected to influence the overall demand in the near future. For instance, in 2021, 79.1 million motor vehicles were produced around the world, an increase of 1.3% compared to 2020, due to a low base as 2020 was the first year to have been impacted by the pandemic leading to a period of tremendous uncertainty. Moreover, as per the latest ACEA numbers, nearly 8 million vehicles were manufactured in the EU in the first three quarters of 2022, representing a 5.8% rise from the 2021 numbers for the same period. Other major markets, including North America and China, reported 11.8% and over 15.1% increases in their outputs respectively. Many auto companies also altered their car-making approach – embracing industry 4.0 for efficiency and better manufacturing resilience.
Key Benefits For Stakeholders
This report provides a quantitative analysis of the market segments, current trends, estimations, and dynamics of the vehicle anti-theft system market analysis from 2021 to 2031 to identify the prevailing vehicle anti-theft system market opportunities.
The market research is offered along with information related to key drivers, restraints, and opportunities.
Porter's five forces analysis highlights the potency of buyers and suppliers to enable stakeholders make profit-oriented business decisions and strengthen their supplier-buyer network.
In-depth analysis of the vehicle anti-theft system market segmentation assists to determine the prevailing market opportunities.
Major countries in each region are mapped according to their revenue contribution to the global market.
Market player positioning facilitates benchmarking and provides a clear understanding of the present position of the market players.
The report includes the analysis of the regional as well as global vehicle anti-theft system market trends, key players, market segments, application areas, and market growth strategies.
 Vehicle Anti-Theft System Market Report Highlights
Aspects
Details
Market Size By 2031
USD 27.4 billion
Growth Rate
CAGR of 7%
Forecast period
2021 - 2031
Report Pages
410
By Product

Alarm
Biometric capture device
Passive keyless entry
Central locking system
Immobilizer
Steering lock

By Technology

Real-time Location Systems
Automotive Biometric Technologies
Others
Global Positioning System
Remote Frequency Identification Device

By Sales channel
By Vehicle type

Passenger cars
Commercial vehicles

By Region

North America (U.S., Canada, Mexico)
Europe (UK, Germany, France, Spain, Rest of Europe)
Asia-Pacific (China, Japan, South Korea, India, Rest of Asia-Pacific)
LAMEA (Latin America, Middle East, Africa)

Key Market Players
Continental AG, Aptiv, Stoneridge, Inc., Valeo S.A, Robert Bosch GmbH, Huf Hulsbeck & Furst GmbH & Co. KG, HELLA GmbH & Co. KGaA, Tokai Rika Electric Mfg. Co., Ltd., Marquardt Group, Denso Corporation