Video Analytics Market Statistics: 2027
The global video analytics market size was valued at $4,102.0 million in 2019, and is projected to reach $21,778.0 million by 2027, registering a CAGR of 22.7% from 2020 to 2027. Video analytics is a computerized processing and automatic analysis of video content generated, collected, or monitored during video surveillance. While monitoring videos, the software identifies attributes, events, or patterns and characteristics of people or objects while ignoring irrelevant activities via video analysis of monitored environments. A large volume of unstructured video data is produced through video surveillance in industries, city surveillance, and through social media. Video analytics software also enables users to analyze, organize, and share insights gained from video data to help in making better decisions.
With disrupting effects of coronavirus in 2020 on various sectors, many video analytics vendors are adopting various business and marketing strategies, including innovating their product portfolio and trying to come up with more advanced & suitable solutions as per client needs. For instance, in August 2020, AllGoVision launched AllSafe Video Analytics, aimed to enhance the safety of people in office buildings, public areas, industries, and other public & private facilities amid the COVID-19 pandemic. Moreover, in July 2020, one of the leading players in the video analytics market, Cisco Meraki announced acquisition of Modcam to expand its capabilities in video analytics field.
On the basis of component, the software segment was the highest revenue contributor in the video analytics market share in 2019. This was attributed to growth in need to monitor premises or any facility from any kind of physical threats or suspicious activities. In addition, precise image analysis, real-time processing, multiple visual inputs, and enhanced accuracy are factors that propel demand for video analytics software. However, the service segment is expected to exhibit highest growth rate during the forecast period, owing to increase in adoption of digital technologies across various industries and need to provide enhanced services. Thus, video analytics services help organizations in project consultation, configuration, installation, security monitoring, and other essential security services, which boosts video analytics market growth.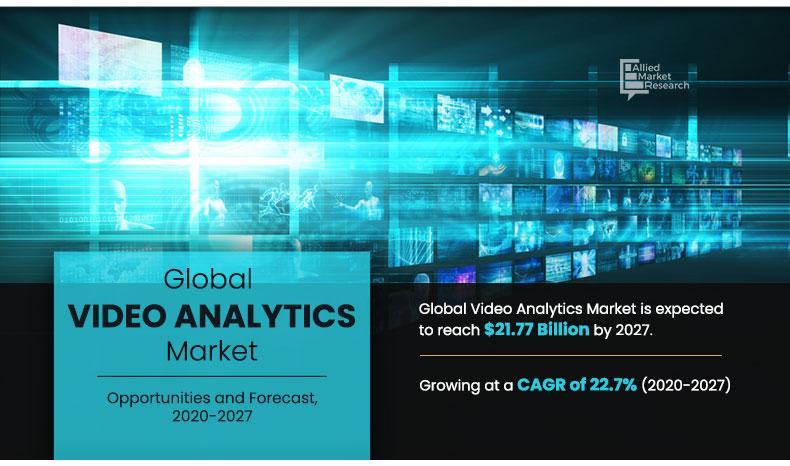 By deployment mode, the on-premise segment dominated the overall video analytics market in 2019, and is expected to continue this trend during the forecast period. This is attributed to adoption of on-premise deployment model by industries such as banking, financial services & insurance (BFSI), education, and healthcare, which are vulnerable to cyber-attacks or data breaching due to critical information.
North America is the leading market for video analytics and has a large number of major players who offer advanced video analytics solutions. Honeywell International, Inc., is one of the major players in the video analytics market in North America, which exhibits high investment in the solutions segment. Growth in demand for business intelligence and increase in demand for technologically enhanced public safety infrastructure drives the market in North America. For instance, in 2017, largest smart camera project for traffic data collection on the basis of video analytics was introduced by Citilog on the highway of Colombia. However, Asia-Pacific is expected to observe highest growth rate during the video analytics market forecast period, owing to emerging trend of adopting video analytics in various sectors including retail and public sector, as well as the transportation industry. For instance, China applied Social Credit System, which uses extensive facial recognition of its citizen.
The report focuses on growth prospects, restraints, and video analytics market analysis. The study provides Porter's five forces analysis of the video analytics industry to understand the impact of various factors such as bargaining power of suppliers, competitive intensity of competitors, threat of new entrants, threat of substitutes, and bargaining power of buyers on the video analytics market trends.
Segment review
The global video analytics market is segmented on the basis of component, deployment, organization size, application, and region. By component, the market is classified into software and services. By deployment, the market is categorized into on-premise and cloud. On the basis of organization size, the market is bifurcated into large enterprises and small & medium enterprises. By application, the market is divided into retail, critical infrastructure, airports, public transport, police, defense and security, smart cities, hospitality, healthcare, BFSI, transportation & logistics, manufacturing, mining, and others. By region, the video analytics industry is analyzed across North America, Europe, Asia-Pacific, and LAMEA. 
Market Landscape & Trends
In the past few years, the field of video analytics has experienced remarkable technological advancement. A type of video analytics called object recognition includes identifying things in video data using computer algorithms. Applications for object recognition include surveillance, traffic monitoring, and retail analytics. Another subset used for  object recognition is facial recognition, use computer algorithms to locate people in video data. There are several uses for facial recognition, including security, marketing, and healthcare. In the subject of video analytics, behavior analysis, and human behavior in video data are examined using computer algorithms. Applications for behavior analysis include customer behavior analysis, crowd monitoring, and healthcare. Using real-time computer algorithms to analyze video data is a recent development in video analytics. Security, traffic monitoring, and sports analysis are a few of the uses for real-time analytics. Furthermore, video analytics has been merged increasingly with other technologies like AI, machine learning, and the Internet of Things (IoT) to build more automated and intelligent systems.
Video Analytics Market

---
By Component
Service segment is projected as one of the most lucrative segments.
COVID Impact Analysis
Post COVID-19, the size of the video analytics market is estimated to grow from $5,186.0 million in 2020 and projected to reach $21,778.0 million by 2027, at a CAGR of 22.70%. The current estimation of 2027 is projected to be higher than pre-COVID-19 estimates. With the emergence of the global health crisis, various business systems have been facing unprecedented challenges right from product development to sales and services, thereby leading to closure of companies. However, video content analysis and surveillance technology has gained a double fold growth to support government lockdowns and social distancing measures, which plays a significant role in containing the pandemic. 
In addition, outbreak of COVID-19 is anticipated to offer lucrative opportunities for key players operating in the global video analytics market. Although the market is gaining significant heights, owing to the COVID scenario, companies within the market are focused on improving overall quality of services, in terms of better throughput, negligible delay, and effective recognition technology. Hence, to achieve this, companies are integrating 5G and AI technology, thereby gaining a viable solution for issues such as latency and bandwidth. One of the most common use cases that is gaining popularity is its ability to extract information such as number of people who visited a place, age, demographic, and popularity.
Video Analytics Market

---
By Organization Size
SMEs segment is projected as one of the most lucrative segments.
Top impacting factors    
Rise in demand for automation of video tracking and management drives the demand for video analytics across various industries such as banking, financial services, retail, airports, manufacturing, and others. In addition, demand for IP-based security cameras, and growth in concern over safety and security pertaining to life & assets are expected to fuel the market growth during the forecast period. However, increase in number of false alarms during bad weather or poor lightning conditions and the high cost of initial installment are anticipated to restrict the market growth. Furthermore, use of advanced technologies such as AI, machine learning with video analytics, rise in requirement of business intelligence and insights, and increase in need of edge-based analytics to recognize and profile applications are the major factors expected to provide opportunities for the market growth.
Increase in demand for IP-based security cameras 
In the recent years, video management system is experiencing an augmented trend of IP-based surveillance systems, high-resolution IP cameras, and network video recorder (NVR). Increase in IP infrastructure, rise in tele density, and the demand for remote access drive the growth of IP-based security. Thus, market vendors are expanding their product portfolios offering integrated video analytics features with IP-based security cameras. For instance, in October 2019, Bosch launched "IP 3000i Cameras" with built-in essential video analytics solution. The benefits of IP-based security cameras along with video analytics include remote accessibility, smart data capture, detecting blocked emergency exits or queue notifications, intrusion detection, crowd management, and facial recognition. Nowadays, the retail industry has implemented IP-based security cameras to capture behavior analytics with demographics. Thus, increase in deployment of IP-based security cameras across various business sectors propel the demand for video analytics solutions.
Video Analytics Market

---
By Application
Defense & Security segment is one of the most significant segments.
Use of advanced technologies such as AI, machine learning with video analytics 
Key players in the market are continuously enhancing their product offerings to get a competitive edge and cater to changes in requirement of end users. Hence, they are utilizing advanced technologies such as AI, deep learning, and machine learning integrated with video analytics software. 
In addition, players in the video analytics market are introducing advanced AI-based video analytics solutions to provide autonomous way to monitor and enhance analysis of video content in real-time. For instance, in August 2019, Sprint launched "Curiosity Smart Video Analytics," together with technologies from Hitachi Vantara and Ericsson. Furthermore, such use of these advanced technologies in video analytics can offer a dramatic increase in accuracy along with a significant reduction in false alarms, which has been a vulnerable point of video analytics applications in surveillance. Machine learning can also help in accurate classification of images and different types of objects. 
Rise in number of streaming services
Introduction of streaming services such as Netflix, Amazon Prime Video, and Disney+ has provided consumers with more alternatives for watching TV series, movies, and original material online.  These services alter how consumers view videos and movie distribution models with their rise popularity.
Businesses are anticipated to distribute high-quality video content online more easily and affordably due to technological improvements. New competitors are expected to enter the market and compete with long-standing companies. In addition, alterations in consumer preferences have been a significant factor. Desires of consumers for convenience and flexibility are met by streaming services. Consumers are expected to watch their chosen TV episodes and movies on their own time without worrying about advertising or missing an episode.
Moreover, rise of streaming services has propelled new product development. Businesses invest heavily in original content, which is now a major differentiation for streaming services. High-quality movies and television shows have been produced as a result, and new talent has had possibilities to break into the business. All of these factors  foster global market expansion and are anticipated to do so during the forecast period.
Video Analytics Market

---
By Region
Asia-Pacific region is projected as one of the most significant segments.
Key Benefits For Stakeholders
This study includes the video analytics market analysis, trends, and future estimations to determine the imminent investment pockets.
The report presents information related to key drivers, restraints, and video analytics market opportunity.
The video analytics market size is quantitatively analyzed from 2019 to 2027 to highlight the financial competency of the industry.
Porter's five forces analysis illustrates the potency of buyers & suppliers in video analytics market.
 Video Analytics Market Report Highlights
Aspects
Details
By Component
By Deployment
By Organization Size

Small & Medium Enterprises
Large Enterprises

By Application

Retail
Critical Infrastructure
Airports
Public Transport
Police
Defense and Security
Smart cities
Hospitality
Healthcare
BFSI
Transportation & Logistics
Manufacturing
Mining
Others

By Region

North America (U.S., Canada)
Europe (UK, Germany, France, Spain, Italy, Rest of Europe)
Asia-Pacific (Japan, China, Australia, India, South Korea, Hong Kong, Rest of Asia-Pacific)
LAMEA (Brazil, Saudi Arabia, South Africa, United Arab Emirates, Chile, Nigeria, Rest of LAMEA)

Key Market Players
INTERNATIONAL BUSINESS MACHINES CORPORATION, QOGNIFY, HONEYWELL INTERNATIONAL INC., AXIS COMMUNICATIONS AB, AVENTURA TECHNOLOGIES, INC., VERINT SYSTEMS INC., PURETECH SYSTEMS INC., ALLGOVISION TECHNOLOGIES PVT. LTD., INTELLIVISION TECHNOLOGIES CORP., CISCO SYSTEMS, INC.