Video Streaming Market Insights - 2026
The global video streaming market size was valued at $38.56 billion in 2018, and is projected to reach $149.34 billion by 2026, growing at a CAGR of 18.3% from 2019 to 2026. Video streaming or media streaming is a video content, which can be sent in compressed form over the internet and played immediately rather than storing it on the hard drive of the device. The word streaming means listening to music or watching a video in real time rather than to wait for the video to be downloaded to the device and then watch it. Streaming videos are usually sent from a pre-recorded video file that is compressed and can be sent over multiple users at the same time. Any device, that has an access to internet and applications that can un-compress the contents, can enjoy the services of video streaming. 
The solution segment dominated the overall video streaming market in 2018 and is expected to remain dominant during the forecast period, due to numerous factors such as increase in disposable income, better standard of living, rise in penetration of smartphones, easy accessibility of internet, and changes in lifestyle. However, the service is expected to witness high growth rate in the upcoming years as these services help to provide a personalized experience to viewers. This factor is projected to fuel the growth of the segment in the upcoming years.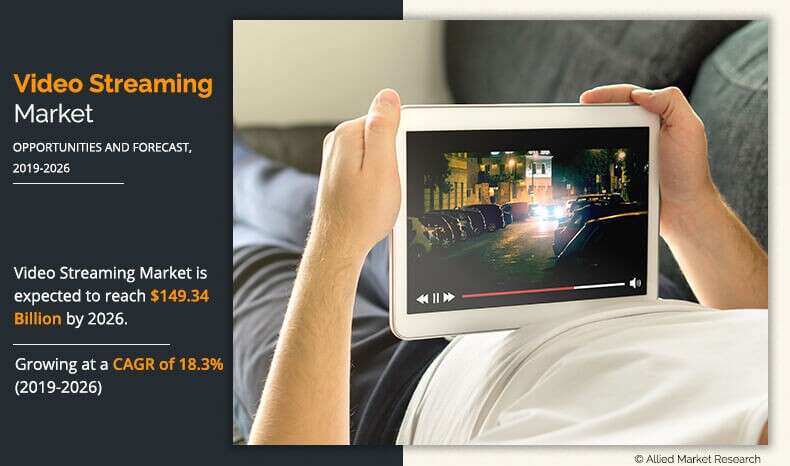 The subscription revenue model was the highest contributor to the global video streaming market share in 2018 and is projected to remain dominant during the forecast period owing to increase in the number of subscriptions registered by large-scale video streaming content providers. For instance, in 2018, Netflix had 139 million subscribers worldwide. In addition, Amazon Prime Video subscribers in the U.S. has reached to 101 million. However, the advertisement revenue model is expected to witness highest growth as new entrants in the market are mainly turning to the ad-supported streaming models primarily due to the difficulty of breaking into an existing crowded over-the-top space with a subscription-based revenue model which drives the growth of the market.
Video Streaming Market

---
By Solution Type
Over-the-top segment is projected as one of the most lucrative segments.
North America dominated the overall video streaming market share in 2018, as the region has witnessed substantial adoption of video streaming in recent years. Moreover, the growth of the market is driven by the presence of key players such as Amazon Web Services, Netflix Inc., Hulu, Microsoft Corporation, and others in the U.S. However, the Asia-Pacific region is expected to grow at the highest CAGR owing to increase in the adoption of streaming services in countries such as China, India, Japan, and Australia. There is high growth in the number of on-demand streaming and live streaming consumers in the Asia-Pacific region. Further, key market players of this market are investing heavily in this region to expand their subscription-based consumers, which is opportunistic for the market. 
Video Streaming Market

---
By Revenue Model
Subscription segment hold a dominant position in 2018 and would continue to maintain the lead over the forecast period.
The report focuses on the growth prospects, restraints, and video streaming market trends. The study provides Porter's five forces analysis of the video streaming industry to understand the impact of various factors, such as bargaining power of suppliers, competitive intensity of competitors, threat of new entrants, threat of substitutes, and bargaining power of buyers on the video streaming market growth.
Segment review
The global video streaming market segmentation includes component, solution type, streaming type, deployment mode, revenue model, end user, and region. By component, it is bifurcated into solutions and services. By solution type, the market is divided into IPTV, over-the-top, and Pay-TV. By streaming type, the market is classified into Live/Linear Video Streaming, and Non-Linear Video Streaming. By deployment mode, the market is segmented into cloud, on-premise, and hybrid. By revenue model, it is categorized into subscription, transactional, advertisement, and hybrid. On the basis of end user, the market is divided into consumer and enterprise. By region, it is analyzed across North America, Europe, Asia-Pacific, and LAMEA.
Video Streaming Market

---
By Region
Asia-Pacific region would exhibit the highest CAGR of 24.7% during 2019-2026.
The key players operating in the global video streaming market include Netflix Inc., Amazon.com Inc., Tencent Holdings Limited, Baidu Inc., Comcast Corporation, Hulu, LLC., Ustream Inc., Kaltura, Inc., Akamai Technologies, and Brightcove Inc.
Top Impacting Factors
Factors such as increase in live streamed content, rise in adoption of cloud-based video streaming solutions, and extensive growth of online video in developing economies majorly boost the growth of the market. Moreover, rise in popularity of video game streaming services as well as extensive use of videos in corporate training fuels the growth of the market. However, bandwidth limitations and latency & reliability issues are expected to hamper the video streaming market growth. Furthermore, increase in impact of video streaming in the education sector and integration of advanced technologies in video platforms to improve video quality are providing numerous opportunities for the market.
Increase in live streamed content
For many content providers and rights holders, live streaming represents an exciting opportunity to connect directly with their target audiences and drive new revenue streams. Live streaming is on the rise, but it is still in its early stage. The increase in penetration of the cloud and growth in reach of the Internet have allowed different audiences to more easily reach their niche content and allows for advertisers to more accurately put relevant content in front of intenders. Large number of people are streaming live video content than before mainly due to the efforts taken by the companies such as Hulu, Facebook, and the NCAA. According to a survey conducted by the Interactive Advertising Bureau (IAB) in May 2018, 47% of live streaming video viewers worldwide are streaming more live video compared with a year ago and nearly as 44% participants said that they watch less live TV as a result of live streaming. These statistics shows the extensive ongoing growth of the live streamed contents which is expected to drive the growth of the video streaming market.
Rise in popularity of video game streaming services
In 2018, the video games market generated almost $131 billion revenue with mobile gaming outpacing revenue made by PC and console gaming. The market could become a $300 billion industry by 2025 primarily due to the growth of mobile gaming and innovative offerings like cloud gaming, VR gaming, and others. Moreover, major game companies are competing to become the Netflix of games, driven by rapidly increasing viewership on existing streaming channels. However, latency and bandwidth limitations will serve as a major restraint on the development of mobile gaming services. On the contrary, the maturing of cloud technologies and development of 5G reduce these network issues, creating high competition in the video streaming market in which several leaders have already emerged. Further, Google, Microsoft, and other players of the video game industry are racing to make video games as easy to stream as movies on Netflix or songs on Spotify. For instance, Google's Stadia as well as Microsoft's Project xCloud will allow people to play games on their tablets, smartphones, connected TV's and others.
Integration of advanced technologies in video platforms to improve video quality
Technological innovations such as Artificial Intelligence (AI), block-chain technology, deep learning, and natural language processing are expected to be the next transformative technologies for streaming and improve video quality which is expected to provide numerous opportunities for the video streaming market in the upcoming years. AI is playing an important role in scoring, editing, cinematography, scriptwriting, voice-overs, and most aspects of video production. Various providers use AI to improve content quality. Also, popularity of online streaming over media such as YouTube and Netflix is expected to increase in near future. For instance, Facebook and other platforms are deploying AI to remove and prevent harmful content before its even posted. Image analysis techniques such as object detection and image classification are used to categorize and detect specific images, while images segmentation puts those images into context.
Impact of COVID-19 on Video Streaming Market:
The growth of video streaming market is expected to surge during the Covid-19 pandemic due to advent of 5G mobile technology and surge in usage of over-the-top media services Disney+, Netflix, and Amazon Prime video for entertainment purpose.
According to Nokia, Disney+ an video streaming service provider accounts for 8.0% of all the video steaming services in European networks during the pandemic period.
In addition, Netflix has reported that its paid subscribers count has reached a new high of 15.8 million from January 2020 to March 2020 and 7.0 million more subscribers are expected to be added by the end of June.
Key Benefits for Stakeholders:
This study includes the video streaming market analysis, trends, and future estimations to determine the imminent investment pockets.

The report presents information related to key drivers, restraints, and opportunity.

The video streaming market size is quantitatively analyzed from 2018 to 2026 to highlight the financial competency of the industry.

Porter's five forces analysis illustrates the potency of buyers & suppliers in the video streaming industry.
 Video Streaming Market Report Highlights
Aspects
Details
BY COMPONENT
BY SOLUTION TYPE
BY STREAMING TYPE

Live/Linear Video Streaming
Non-Linear Video Streaming

BY DEPLOYMENT MODE
BY REVENUE MODEL

Subscription
Transactional
Advertisement
Hybrid

BY END USER
BY REGION

North America (U.S, Canada)
Europe (UK, France, Germany, Spain, Italy, Rest of Europe)
Asia-Pacific (China, India, Japan, Australia, South Korea, Rest of Asia-Pacific)
LAMEA (Latin America, Middle East, Africa)

Key Market Players
Akamai Technologies, Inc, Amazon.com Inc, Baidu, Inc, Brightcove Inc, Comcast Corporation, Hulu, LLC, Kaltura, Netflix, Inc., Tencent Holdings Ltd, Ustream, Inc