Online/Virtual Fitness Market Research, 2032
The global online/virtual fitness market was valued at $14.9 billion in 2022, and is projected to reach $250.7 billion by 2032, growing at a CAGR of 32.7% from 2023 to 2032.
The COVID-19 outbreak had a positive impact on the growth of the online or virtual fitness market due to the imposition of lockdowns led to the closure of many fitness centers and gyms. As a result, in-person workouts were replaced by digital at-home exercises. In addition, owing to the increasing demand for online classes, many gyms and health club providers adopted online services. In the coming years, health club providers will be required to adopt a hybrid or multichannel approach which will include both in-person and remote exercise sessions for the customers.
Online or virtual workout is next generation fitness revolution. It is a convenience-based fitness/wellness service to the clients to access a trainer or instructor online instead of visiting the fitness facility.  Usually, the training videos that are provided on the online dashboard or fitness app are managed by the instructor. The sensors in smartphones and wearable allow various virtual fitness applications such as sleep monitoring and running rhythm tracking to improve users' life styles and health.  The various forms of online or virtual fitness offerings enable accessibility of health & wellness to every individual from shift workers to the housewives, and any person who may not keen or able to visit the gym. 
Rise in need for advanced fitness sessions to achieve physical fitness, growth in interest of health insurance providers in online/virtual fitness services to reduce health insurances costs, increase in demand for healthy foods, lack of time to attend training sessions at fitness institutes, and surge in demand for AR & VR based fitness boost the growth of the global online/virtual fitness market. In addition, shutdown of gyms and studios due to ongoing COVID-19 pandemic situation has positively impacted the growth of the online/virtual fitness market. However, no real interaction with the instructor and interruption in the flow of the class due to tech glitches hampers the online/virtual fitness market growth. On the contrary, growth in popularity of online fitness programs among elderly is expected to offer remunerative opportunities for expansion of the online/virtual fitness market during the forecast period.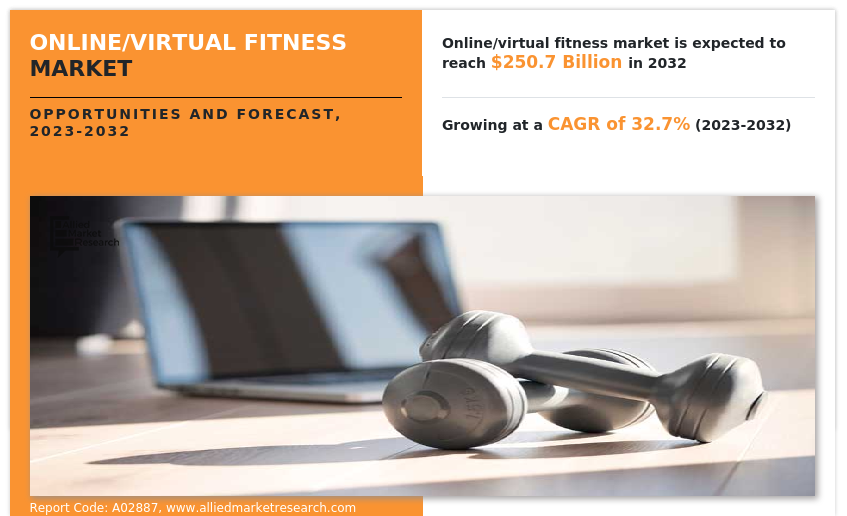 The online/virtual fitness market is segmented into Streaming Type, Device Type, Session Type, Revenue Model and End User.
Segment Review 
The online or virtual fitness market is segmented on the basis of streaming type, device type, session type, revenue model, end user, and region. On the basis of streaming type, it is categorized into Live and on-demand. On the basis of device type, it is classified into smart TVs, smartphones, laptops desktops and tablets, others. By session type, it is bifurcated into group and solo. Depending on revenue model, it is divided into subscription, advertisement, and hybrid. By age group, the market is classified as professional gyms, sports institutes, defense institutes, educational institutions, corporate institutions, individuals, and others. Region wise, it is analyzed across North America, Europe, Asia-Pacific, and LAMEA.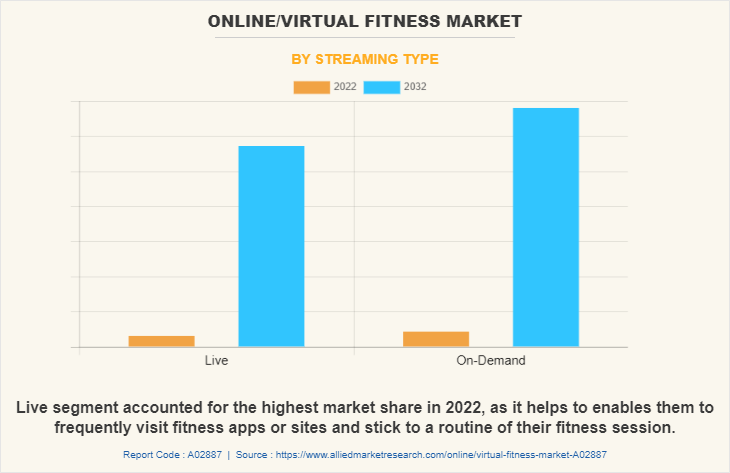 In terms of streaming type, the live segment holds the highest online/virtual fitness market share, as it provides convenience & comfort along with minimal pressure to do correct exercises. However, the on-demand segment is expected to grow at the highest rate during the forecast period, owing to, growing number of people are choosing on-demand streaming workouts instead of live gym as it enables them to choose an exercise style as well as an intensity level that fits into their specific needs irrespective of the class schedules.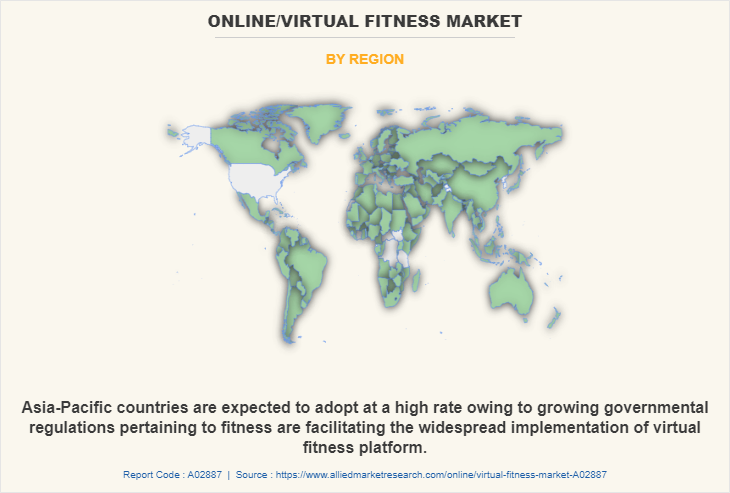 Region-wise, the online/virtual fitness market size was dominated by North America in 2022. The region is expected to retain its position during the forecast period, owing to significant presence of numerous health and wellness organizations. Asia-Pacific is expected to witness significant growth during the forecast period owing to a rise in adoption of various technological advancements such as AR & VR and bio-sensing wearable devices to make exercise less boring & effective. 
The key players that operate in the online/virtual fitness industry are ClassPass Inc., Fitbit, Inc., FitnessOnDemand, Les Mills International Ltd., Navigate Wellbeing Solutions, Peerfit, Inc., Reh-Fit Centre, Sworkit, Viva Leisure, and Wellbeats, Inc. These players have adopted various strategies to increase their market penetration and strengthen their position in the online/virtual fitness industry. 
Key Benefits: 
Virtual fitness trainers encourage people of all ages, including the elderly, to exercise regularly to stay healthy and prevent various health problems. The millennial generation is increasingly turning to healthier lifestyles and various exercises and nutrition regimes, by seeking advice from qualified professionals. Moreover, opting for virtual fitness has several benefits. Such benefits include convenience, flexibility, motivation, proper attention, confidence, multiple options, cost-effectiveness, and comfort. Furthermore, fitness apps are designed to help with exercise, other types of physical training, nutrition & diet, and other ways to get fit. 
Digital Capabilities: 
Physical activity is an essential need of the human body that helps improve the physical fitness of an individual and creates a positive impact on overall wellbeing. Smartphone applications play an essential role in providing several benefits to consumers by offering various capabilities in terms of health and fitness. In addition, fitness tech companies have adopted digital capabilities such as smart home gym equipment, wearable devices, smart scales, and apps. Furthermore, fitness technology is being heavily influenced by the sports industry. Technological advancements that were previously only available to professional athletes through AI development services are now available in commercial fitness apps. This creates plenty of opportunities for sports amateurs, such as gaining access to personalized training recommendations and exercise instructions, without the need to cooperate with a trainer at a brick-and-mortar gym. 
End-user Adoption: 
With an increase in competition, major market players have started partnering with companies to expand their market penetration and reach. For instance, in January 2022, Wexer partnered with Pure Fitness to create a program of instructor-led group fitness classes for its first U.S. gyms. Moreover, for instance, in February 2022, EoS Fitness partnered with Less Mills to provide accessible fitness solutions with options that meet the needs of all its members. Furthermore, the expanded partnership provides increased flexibility to EoS members as they navigate their fitness journeys, providing new options that meet people exactly where they are to make it easier than ever to incorporate new health and wellness activities. 
Owing to technological advancements across the world and the rise in demand for online or virtual fitness, various companies have expanded their current product portfolios and innovations with increased diversification among customers. For instance, in September 2020, Fitness Plus a subscription service for online fitness classes that works with iPad, iPhones, Apple Tv, and Apple watch, was launched by Apple Inc. On the Apple devices, customers can track a range of stats for activities like jogging, cycling, swimming, or rowing. 
For instance, in July 2020, Twenty Billion Neurons GmbH, an innovative AI startup, made an announcement to launch 'Fitness Ally', an integrated workout virtual experience app powered by AI. The app provides a broad range of features including virtual fitness coach, Allie, that uses the front-facing camera to guide the users in real-time. Moreover, in September 2020, Apple introduced Fitness+, the new, advanced virtual fitness platform. The app intelligently incorporates with products including Apple TV, iPad, and iPhone to offer a first-of-its-kind virtual personalized workout experience. Such technological breakthroughs are further expected to capture the maximum share in the global virtual fitness market in the forecast years. 
Moreover, with an increase in competition, major market players have started acquiring companies to expand their market penetration and reach. For instance, in October 2021, LifeSpeak Inc acquired LIFT digital Inc to provide easily accessible, proactive, and engaging wellness services via on-demand, automated and live sessions in areas including general fitness, mindfulness, cardio, strength, yoga, pre-natal, Pilates, and many more. 
Top Impacting Factors 
Increase in need for advanced fitness sessions to achieve physical fitness     
The focus of consumers toward healthier lifestyle is increasing exponentially and the popularity of flexible workouts, balanced diets, and improved healthcare is continuously increasing. There is considerable need for advanced fitness programs across the globe to achieve a healthy lifestyle. Adoption of the individually tailored advanced virtual fitness program has become one of the crucial steps to attend general physical as well as psychological well-being. Virtual fitness providers are launching more advanced fitness apps to attract more customers, which again drives the growth of the market. For instance, in January 2023, Impakt launched virtual world of fitness with AI coaches by allowing avatars to mirror human movements in virtual worlds and simultaneously analyze exercises performed in real-time through a webcam or smartphone. Moreover, the increased health care expenses and limited access to costlier health treatments further enable growth in need for cost effective fitness apps & websites that are easily accessible and affordable. For instance, in October 2022, Fitness technology startup Insane AI launched AI-powered training app, the app's AI-powered Workout Tracking technology enables precise movement monitoring with any smartphone, allowing it to assess how well the user does each exercise and provide real-time posture and form correction. 
Growing interest of health insurance providers in online/virtual fitness services to reduce health insurances costs 
For the health insurance services providers, it is less costly to insure the individuals with good health. Insurers and employers have realized that they are able to trim costs for the health insurance services by incentivizing healthy lifestyles. Some of the health insurance policies even offer a discount or rebate on various gym membership as well as virtual fitness subscriptions. Growing awareness about fitness along with the strategic health & wellness moves by health insurance providers is boosting adoption of fitness subscriptions amongst the individuals. For instance, In September 2020, Insurance Regulatory and Development Authority of India (IRDAI) announced, insurers to provide wellness and preventive features by offering discount coupons and vouchers for health supplements and memberships of yoga centers, gymnasium, sports clubs and fitness centers.  
KEY BENEFITS FOR STAKEHOLDERS  
The study provides an in-depth analysis of online/virtual fitness market forecast along with current trends and future estimations to explain the imminent investment pockets. 

Information about key drivers, restraints, and opportunities and their impact analysis on online/virtual fitness market trends is provided in the report. 

Porter's five forces analysis illustrates the potency of the buyers and suppliers operating in the industry. 

The online/virtual fitness market analysis from 2023 to 2032 is provided to determine the market potential. 
 Online/Virtual Fitness Market Report Highlights
Aspects
Details
Market Size By 2032
USD 250.7 billion
Growth Rate
CAGR of 32.7%
Forecast period
2022 - 2032
Report Pages
294
By Streaming Type
By Device Type

Smart TV
Smartphone
Laptops Desktops and Tablets
Others

By Session Type
By Revenue Model

Subscription
Advertisement
Hybrid

By End User

Professional Gyms
Sports Institutes
Defense Institute
Educational Institutes
Corporate Institution
Individuals
Others

By Region

North America (U.S., Canada)
Europe (UK, Germany, France, Italy, Spain, Rest of Europe)
Asia-Pacific (China, India, Japan, Australia, Rest of Asia-Pacific)
LAMEA (Latin America, Middle East, Africa)

Key Market Players
FitnessOnDemand, Navigate Wellbeing Solutions, ClassPass, Wellbeats, Inc., LES MILLS INTERNATIONAL LTD, Viva Leisure, Sworkit, Fitbit, MINDBODY, inc., REH-FIT
Analyst Review
According to the CXOs of leading companies, the online or virtual fitness players are offering better quality content to bring virtual fitness into the mainstream, creating various opportunities for health club operators to delight their members.  
The convenient access to the workouts at almost any place or any time, seems to be encouraging people across the globe to attain virtual fitness sessions to get fit and healthy. With the advent of the digital revolution, social media is playing a pivotal role in businesses' and people's outlook & acceptance towards virtual fitness. Moreover, the people who are above the age of 40 years are realizing necessity of health & wellness, as staying fit enable them to keep various diseases away and allow healthy ageing. On the other hand, the fitness industry is witnessing boom in the number of digital fitness tools available to support health club operators to monetize and deliver digital fitness content. On-demand programming, live streaming, and one-on-one personalized coaching are the three core categories of content that are being flourished in fitness oriented world.  
Furthermore, individuals are adopting community-driven virtual fitness services to stick with a workout plan. This services includes rising live-streamed fitness classes, social media challenges, and online chats within the virtual fitness offerings enabling people to easily connect with each other. Moreover, number of workout equipment & services providers, including Peloton, iFit, and Zwift are introducing home workout equipment such as the treadmill with various tech enhanced upgrades. These vendors are launching at home exercise bikes that enable individuals to stream live or on-demand workout classes that include running, cycling, walking, and boot camp style sessions on its screens. The technological upgrades of workout equipment is providing growth opportunities for the market.  
The Online/Virtual Fitness Market is highly competitive and comprises number of local, regional, and global vendors competing based on factors such as subscription cost, reliability, and content quality. The growth of the market is impacted by intense competition, favorable changes in government initiatives, and rapid change in lifestyle of the people due to erratic work hours and jammed schedules. The competition among the vendors operating in the market is intense due to exponential rise in demand for online/virtual fitness videos mainly due to lockdown scenarios and COVID situation. Owing to which, key players of the market have launched advanced efficient online/virtual fitness services along with the new features to attract the users and meet the fitness demands of the user with seamless experience.