Water Softening Systems Market Research, 2031
The global water softening systems market size was valued at $2.6 billion in 2021, and is projected to reach $4.6 billion by 2031, growing at a CAGR of 5.7% from 2022 to 2031.
Water softening is the process of eliminating metal particles such as magnesium, calcium, and other metals from hard water. A water softening system is any instrument, container, material, or chemical facility used to remove magnesium ions, calcium ions, and other forms of metal cations from hard water to obtain soft water. It is typically used to lessen the hardness of water, which is mostly performed by precipitating or absorbing pollutants from water using lime softening or ion-exchange resins or nanofiltration or reverse osmosis membranes.  Hard water is a dangerous problem as the deposit of hard water minerals can interfere with heat transfer and potentially lead to boiler tube failure. Soft water cuts down the number of extra soaps and detergents required for laundry and cleaning, and extends life of appliances such as water heaters, dishwashers, and washing machines.
The COVID-19 pandemic has drastically altered the status of the water softeners market and has adversely impacted its growth. The disruptions in the value chain have restricted the supply of raw materials, resulting in hindered growth of the market and affecting the development of the end-use markets. Moreover, companies had stopped manufacturing water softeners and water filtration systems due to the pandemic.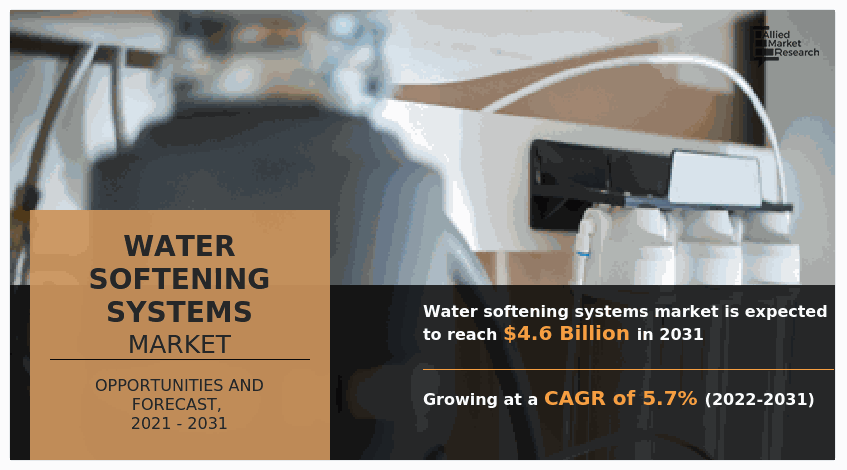 Latest developments in water treatment technology and a push toward sustainability are expected to create significant growth opportunities for the market during the forecast period. Furthermore, variations in industrial filtration, equipment, and water treatment procedures, mostly driven by the water treatment sector and increase in  automation are expected to promote the market expansion. For instance, a few developments, such as salt-free water softeners, are currently making their way in the  market. Continuous testing is being  carried out to develop these devices to achieve a better and more secure result. For instance, in January 2021, Xylem launched a new technology called pollution dilution to enhance wastewater treatment technology by enhancing the process on the basis of salt-free water softener, which propels the market growth.
Water Softening Systems Market

---
By Region
Europe garnered the largest Water softening systems market in 2021.
Get more information on this report :
Request Sample Pages
On the basis of region, Europe registered the largest water softening systems market share in 2021, owing to increase in demand generated by foods & beverages, offices, residential flats, pharmaceutical, universities, and water treatment facilities. Furthermore, initiatives taken by the government of Germany and France to increase investments in chemical, pharmaceutical, foods & beverages, and automobile industries is expected to propel the water softening systems market growth.
Water Softening Systems Market

---
By Softener Type
The salt-based ion exchange softener segment was the highest revenue contributor in 2021
Get more information on this report :
Request Sample Pages
By softener type, the salt-based ion exchange softener segment registered highest revenue in 2021, owing to its simple design, high efficiency, and its smooth flow. Furthermore, these softeners can remove calcium and magnesium ions from hard water by replacing calcium and magnesium ions with sodium ions. An ion exchange happens within the resin tank of salt-based water softeners, lowering the mineral count while raising the total salt content of the water.
The novel coronavirus (COVID-19) has spread rapidly across various countries and regions in 2019, causing an enormous impact on lives of people and the overall community. It began as a human health condition and later become a significant threat to the global trade, economy, and finance. The COVID-19 pandemic had halted production of many products in the water softening system market, owing to the lockdown. However, owing to introduction of various vaccines, severity of the COVID-19 pandemic has significantly reduced.. As of mid-2022, the market is expected to recover. This has led to reopening of water softener companies at their full-scale capacities. After COVID-19 infection cases begin to decline, equipment & machinery producers must focus on protecting their staff, operations, and supply networks to respond to urgent emergencies and establish new methods of working.
The water softening systems market is segmented into Softener Type, Type and End Use. On the basis of softener type, the market is segregated into salt-based ion exchange softener and salt-free water softener. Depending on type, it is divided into twin cylinder and mono cylinder. On the basis of end user, it segregated into residential and non-residential. Region wise, the global market analysis is conducted across North America (the U.S., Canada, and Mexico), Europe (the UK, France, Germany, Italy, and rest of Europe), Asia-Pacific (China, Japan, India, South Korea, and rest of Asia-Pacific), and LAMEA (Latin America, the Middle East, and Africa).
Competition Analysis
The key players that operating in the Water Softening Systems industry are BWT AG, Culligan International Company, Dwater Limited., EcoWater Systems LLC, Harvey Water Softeners Ltd., Atlas Filtri, Envicare Technologies Pvt. Ltd., Kinetico Incorporated, Marlo Incorporated, Monarch Water Ltd.
Key Benefits For Stakeholders
This report provides a quantitative analysis of the market segments, current trends, estimations, and dynamics of the water softening systems market analysis from 2021 to 2031 to identify the prevailing water softening systems market opportunity.
The market research is offered along with information related to key drivers, restraints, and opportunities.
Porter's five forces analysis highlights the potency of buyers and suppliers to enable stakeholders make profit-oriented business decisions and strengthen their supplier-buyer network.
In-depth analysis of the water softening systems market forecast segmentation assists to determine the prevailing market opportunities.
Major countries in each region are mapped according to their revenue contribution to the global market.
Market player positioning facilitates benchmarking and provides a clear understanding of the present position of the market players.
The report includes the analysis of the regional as well as global water softening systems market trends, key players, market segments, application areas, and market growth strategies.
 Water Softening Systems Market Report Highlights
Aspects
Details
By Softener Type

Salt-based ion exchanged softeners
Salt-free water softener

By Type

Twin cylinder
Mono cylinder

By End Use

Residential
Non-residential

By Region

North America (U.S., Canada, Mexico)
Europe (France, Italy, U.K., Rest of Europe, Germany)
Asia-Pacific (China, India, Japan, South Korea, Rest of Asia-Pacific)
LAMEA (Latin America, Middle East, Africa)

Key Market Players
Culligan International, EcoWater Systems, Harvey Water Softeners, Kinetico, Marlo, atlas filtri s.r.l, Dwater Limited, Envicare Technologies Pvt. Ltd., Monarch Water Ltd, BWT AG