Wearable Sensor Market Oveview:
Wearable sensor is a technological device, which is worn by individuals for tracking information related to health and fitness. These sensors are integrated in cloth or other fashion accessories using wired or wireless devices for monitoring and diagnosing vital signs such as heart rate, blood pressure, and other metabolic activities.
Wearable sensors facilitate physiological and biological sensing. The former helps in diagnosis and monitoring of ongoing treatment for various neurological, cardiovascular, and pulmonary disease such as hypertension, asthma, and others. Motion sensors are being deployed at medical facilities in rural areas that are devoid of remote monitoring systems.
The wearable sensor market is growing at steady rate with the advancement in sensor technology, wireless communication devices/technology, power supply technology and others. Also. the wearable sensors market is driven by factors such as increase in adoption of home and remote patient monitoring, advancements in sensor technology, and augmenting use of wearable sensors for infants. In addition, the use of smart consumer electronic devices, such as tablets and smartphones, has enabled monitoring and gathering data, as these sensors can paired with other devices. Other factors include the advancement in technology which lead to introduction of various new devices like smart shirt, smart ring, eyewear and others; and expansion of Internet of things (IOT), and increasing demand in various applications such as healthcare, fitness, consumer electronics and others. However, high cost of wearable sensors, privacy concerns, and data integrity hamper the wearable sensors market growth. However, stringent regulations about data storage is expected to increase the popularity of wearable devices among the masses.
The wearable sensors market is segmented based on product type, application, and region. Based on product type, it is categorized motion sensor, medical sensor, image sensor, position sensor, pressure sensor and others. On the basis of application, the market is segmented into smart glasses, smart wrist wear, smart body wear, smart footwear, and other wearable devices. Based on region, the market is analyzed across North America (U.S., Canada, and Mexico), Europe (Germany, U.K., France, Italy and Rest of Europe), Asia-pacific (China, Japan, India and Rest of Asia-pacific) and LAMEA (Latin America, Middle East and Africa).
The wearable sensors market size for motion sensors is expected to be the ruling segment by 2022. Also, the image sensors would dominate the wearable sensors market in terms of growth during the forecast period. However, based on the application, the wrist wear is the highest revenue-generating segment and is expected to cover around 45% of the wearable sensors market share by 2022.
Based on geography, the wearable sensors market size for North America was the highest revenue-generating region in 2015. Whereas, Europe and Asia-pacific are the second and third leading region for wearable sensors market respectively.
The key players operating in the wearable sensors market are Panasonic Corporation, STMicroelectronics, Adidas, Texas Instruments Incorporated, Analog Devices, ZOLL Medical Corporation (Asahi Kasei Corporation), Infineon Technologies AG., InvenSense Inc., Intel Inc., and Google Inc.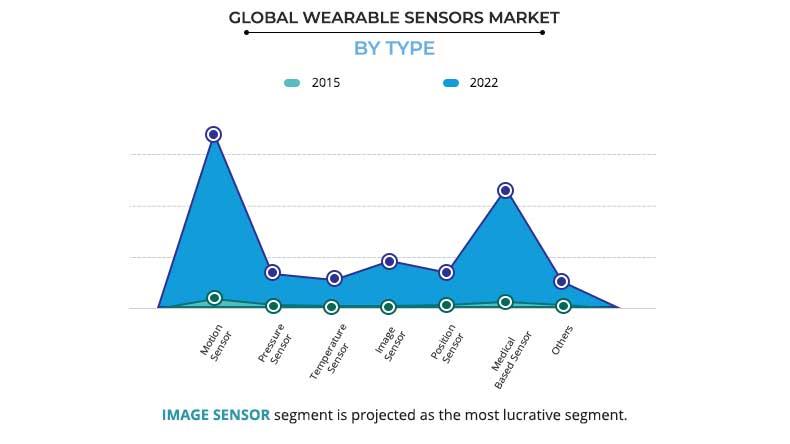 Top impacting factor
The significant impacting factors include increase use in the healthcare sector, increase awareness of fitness among consumer, increase use in sport sector and increase use of wearable sensor in the defense and security.  The above-mentioned factors collectively create opportunities for the wearable sensors market growth while factor such as high price of wearable sensor devices pose limitations in the market. However, each factor would have its definite impact on the wearable sensors market during the forecast period.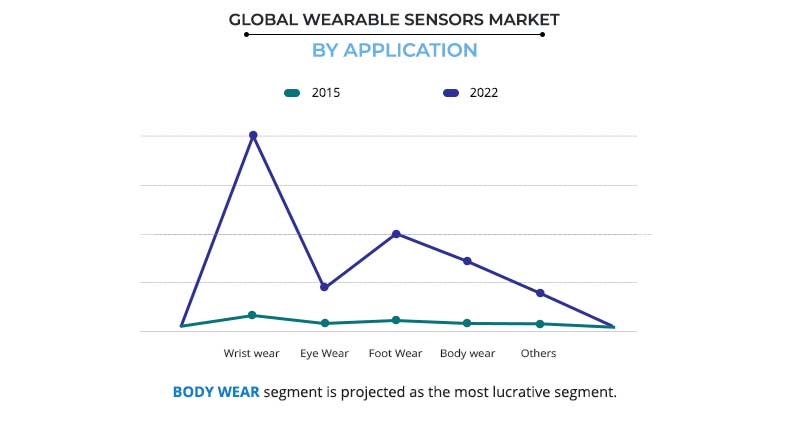 Increase in awareness of fitness among individuals boosts sales of wearable devices
The sales of wearable sensors are expected to increase on account of growing awareness regarding health and fitness among individuals. Companies such as Fitbit, Google, and others offer fitness bands that can record data related to metabolic activities such as walking, daily workout, and other fitness activities.
Cost constraint restraining adoption of wearable sensor
Price plays a vital role in the adoption of wearable devices. However, increase in production capacity of these gadgets is expected to reduce their prices by 15–20%. Moreover, technological advancements are expected to lead to the development of cost-effective technologies, which in turn could decrease the costs of these devices.
Top Winning Strategies
Product launch, acquisition, and partnership are some of the key strategies adopted by market players operating in the wearable sensors industry.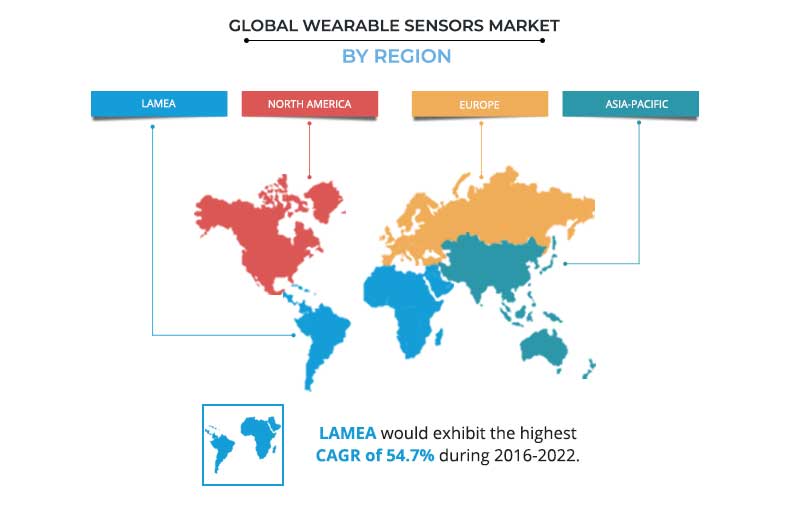 Key Benefits for Wearable Sensor Market :
This report provides extensive analyses of the current wearable sensors market trends and dynamics of the global wearable sensors market.
Competitive intelligence of leading manufacturers and distributors of wearable sensors helps in understanding the market scenario across geographies.
This report entails the detailed quantitative analysis of the current wearable sensors market and estimations for the period of 2014-2022 to identify the prevailing market opportunities.
Recent developments, key manufacturers, their market shares, and upcoming products have been enlisted in the report.
Exhaustive analysis of the global wearable sensors market by type helps in understanding the wearable sensors market trends.
Comprehensive analyses of factors that drive and restrict the growth of the global wearable sensors market are provided in the report.
 Global Wearable Sensors Market Report Highlights
Aspects
Details
By Product Type

Temperature Sensor
Image Sensor
Motion Sensor
Pressure Sensor
Position Sensor
MEDICAL BASED SENSORS
Others (Chemical, optical and stretch)

By Application

Foot Wear
Body Wear
Wrist Wear
Eye Wear
Others (finger, neck and head wear)

By Geography

North America
Europe

UK
France
Germany
Italy
Rest of Europe

ASIA-PACIFIC

India
China
Japan
Rest of Asia-Pacific

LAMEA

Latin America
Middle East
Africa

Key Market Players
ZOLL MEDICAL CORPORATION, INTEL, ADIDAS, GOOGLE, INVENSENSE INC., STMICROELECTRONICS, TEXAS INSTRUMENTS, ANALOG DEVICES, INFINEON TECHNOLOGIES AG, PANASONIC CORPORATION