WiGig Market Statistics: 2027
WiGig is a wireless standard designed to encourage high wireless speeds. It is designed to work with a very different frequency. While traditional wireless internet uses 2.4GHz and 5GHz bands, WiGig is designed to use  60Ghz band to transmit information. Developed by Wireless Gigabit Alliance, WiGig is a set of 60 GHz connectivity protocols, allowing data transfer at speeds of up to 7 Gbps.  In other words, WiGigisan alternative to the Wi-Fispecifically designed to encourage faster internet speeds.
WiGig is made to provide extremely fast, low-latency wireless internet connectivity by using beamforming technology for sending a signal up to 10 meters. The inbuilt low power technology is 5 times more energy efficient than Wi-Fi and can act as a connection layer for devices that expect to connect via USB, DisplayPort and HDMI. The current version of WiGi is working on the speeds of 5Gbps and new WiGi is expected to work to be even faster at around 10Gbps.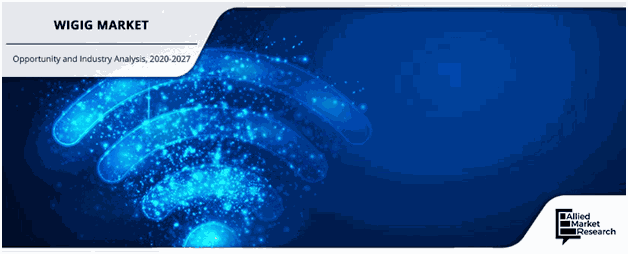 COVID-19 scenario Analysis:
1.The emergence of COVID-19 pandemic has severely affected almost all industries across the world. Further, lockdown enforcements and restrictions on movements of non-essential goods as well as resources in various countries has disrupted supply chain of electronic components & networking equipment. Thus, this has led to delay in supply of electronic components required in manufacturing of network equipment.
2. It is estimated that the U.S. and global tech market growth is slowing down to nearly 2% in 2020, owing to which ICT spending in major economies such as the U.S. have declined in the first half of 2020.
3. The recent COVID-19 outbreak has very badly hit growth of the global economies in every sector. Strict lockdown and social distancingare imposed in affected countries and supply chain and manufacturing operations have paused. As a result it has leadto shortage of raw materials and parts of electronic goods manufacturing and leads to impact ongrowth of the WiGig market globally.
Top impacting factors: Market Scenario Analysis, Trends, Drivers and Impact Analysis
Rise in the demand for high speed internet connectivity, massive growth in adoption of portable consumer goods, growth in use of smartphones, growth in demand for live multiplying gaming, and high definition content streaming, which drives growth of the market.In addition, increase in adoption of Wi-Fi enabled devices such as smartphones and laptops, along with increasein adoption of connected devices further fuels growth of this WiGigmarket. However, complex configuration, heavy cost installment, and high-power consumption aresome of the factors that hinder growth of this market.  Furthermore,ongoing advancements in new generation devices may create opportunity for the WiGig market globally.
Growth in demand for high definition experience
Due to technology advancements, consumer experience is also getting enhanced. Demand for ultra-high definition video, movies,and video on demand services has increased and virtual reality and augmented reality in the gaming industry are expected to boost growth of the WiGig market.
Short covering range
As compared to 2.4/5Ghz frequencies and with 60Ghz WiGigtravel directionally and hence is usedin beam forming techniques. However, range of WiGig is expected to be around 10meters, which is very short. In addition, WiGigtechnology has natural interference problems so data transfer requires devices to be close by and in line-of sight of each other, which hinders growth of theWiGigmarket.
Key benefits of the report:
This study presents the analytical depiction of the global WiGigmarketalong with the current trends and future estimations to determine the imminent investment pockets.
The report presents information related to key drivers, restraints, and opportunities along with detailed analysis ofglobal WiGigmarket share.
The current market is quantitatively analyzed from 2019 to 2027 to highlight the global WiGigmarketgrowth scenario.
Porter's five forces analysis illustrates the potency of buyers & suppliers in the market.
The report provides detailedWiGigmarketanalysis based on competitive intensity and how the competition will take shape in coming years.
 WiGig Market Report Highlights
Aspects
Details
  Industry vertical

IT & Telecom
Healthcare
BFSI
Automotive
Retail
Media & Entertainment
Others

By Product

Networking Infrastructure Devices
Display Devices

By Frequency
By Technology

System-on-Chip (SoC)
Integrated Circuit Chips (IC)

By End Use

Small & Medium Enterprise
Large Enterprise

By Region

North America (U.S., Canada)
Europe (Germany, UK, France, Rest of Europe)
Asia-Pacific (China, Japan, India, Rest of Asia-Pacific)
LAMEA (Latin America, Middle East, Africa)

Key Market Players
Intel Corp., Cisco Systems Inc., Samsung Electronics Inc., Qualcomm Inc., Panasonic Corp., Broadcom Inc., NEC Corp., Marvell Technology Group Ltd., NVIDIA Corp., Agilent Technologies, Silicon Image Inc., Blu Wireless Technologies