Wireless Testing Market Outlook – 2028 
The global wireless testing market size is expected to reach $16.80 billion by 2028 from $10.48 billion in 2019, growing at a CAGR of 6.9% from 2021 to 2028. Wireless testing values a device that has ability to connect with other devices and networks and perform operational tasks using connection technologies. Several wireless devices are tested by performing a series of tests to verify regulatory compliance, device interoperability, performance, and user safety. 
The automotive industry segment impacted negatively, due to COVID-19 Pandemic.
Nowadays, number of devices are connected to the internet than people and that number is expected to rise in coming years. In addition, increase in use of smart and wireless devices has also come with risks and many contain security vulnerabilities that can be exploited by hackers, while others may pose health and environmental dangers. As a smart and wireless device manufacturer, integrator or brand/retailer, which will need to bring the devices to market while addressing the several key risks, including cyber security, interoperability, interference, reliability, health & safety, and environmental performance.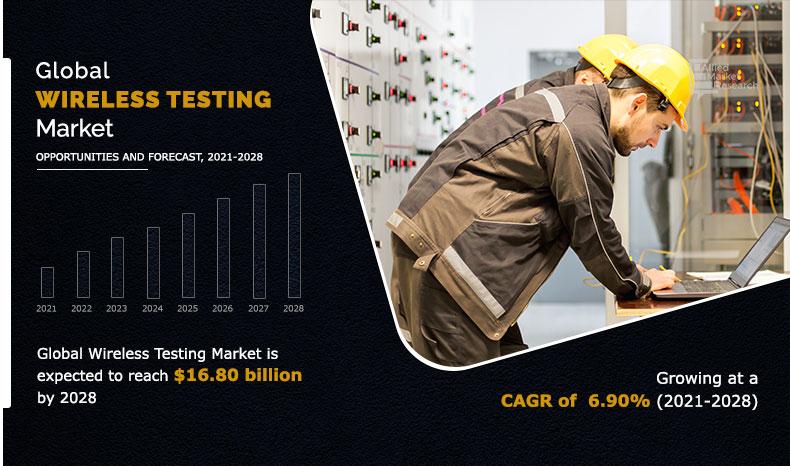 As organizations spend lot of time and investment on network resources to keep networks up all the time to deliver goods service at a higher speed. Also, wireless network testing is cheapest way to analyze the entire network system that provide bandwidth management to meet with the business application at higher speed. For instance, the collaboration between Bureau Veritas and Keysight enables to address radio frequency, radio resource management (RRM), and performance test cases validated by GCF and PTCRB. With its regulatory test and global market access services and a full suite of wireless conformance testing, module developers, device manufacturers, as well as 5G technology integrators can now access global market access services from Bureau Veritas' technical competence center. 
The prominent factors that drive the wireless testing market growth include increase in adoption of smart electronic appliances, rise in advancement in wireless technologies, and surge in usage of smart devices. Furthermore, rise in adoption of smart devices in emerging economies creates growth opportunities for wireless testing market. In addition, growth in population and surge in Internet penetration are some of the key factors boosting the demand for smart devices. However, lack of skilled workforce and high cost is expected to hamper the market growth. On the contrary, high adoption of Internet of Things (IoT) technologies are anticipated to provide lucrative opportunities for the expansion of the wireless testing industry during the forecast period. 
Segment Overview
The global wireless testing market is segmented into offering, technology, application, and region. On the basis of offering, the market is classified into equipment and services. By technology, it is categorized into WI-FI, Bluetooth, 2G/3G, 4G/LTE, and 5G. The applications covered in the market include consumer electronics, IT & telecommunication, automotive, energy & power, healthcare, and other.      
Region wise, the wireless testing market trends are analyzed across North America (the U.S., Canada, and Mexico), Europe (the UK, Germany, France, Italy, and rest of Europe), Asia-Pacific (China, Japan, India, South Korea, and rest of Asia-Pacific), and LAMEA (Latin America, Middle East, and Africa). North America accounted for the highest share, owing to the expansion of the telecom and consumer electronics market.   
COVID-19 Impact Analysis
COVID-19 is having a large impact on both consumer and the economy. Several sectors have been temporarily working at low efficiency to contain the COVID-19 spread. This has majorly affected the supply chain of the market by creating shortages of materials, components, and finished goods. Lack of business continuity has ensured significant negative impacts on shareholder returns, and revenue, which are expected to create financial disruptions in the market.
North America is one of the key regions for the adoption and growth of advance technologies. Hence, any impact on the growth of industries is expected to affect the economic growth of the region in a negative manner. This pandemic and situation in the worlds impact the wireless testing market size with the China and U.S. being one of the important markets for wireless testing growth.  
Top Impacting Factors
The prominent factors that drive the growth of the wireless testing market include increase in adoption of smart electronic appliances, rise in advancement in wireless technologies, and surge in usage of smart devices. However, lack of skilled workforce and high cost restrict the market growth. Conversely, high adoption of Internet of Things (IoT) technologies creates lucrative opportunities for the industry.       
Competitive Analysis
Competitive analysis and profiles of the major SGS Group, Anritsu Corporation, Bureau Veritas, DEKRA SE, Rohde & Schwarz GmbH & Co., Intertek Group Plc., TUV Rheinland, Viavi Solutions Inc., Electro Magnetic Test, Inc., and EXFO Inc. are provided in wireless testing market report. These key players have adopted various strategies, such as product portfolio expansion, mergers & acquisitions, agreements, geographical expansion, and collaborations, to increase their market penetration and strengthen their foothold in the industry.
Key Benefits For Stakeholders
This study comprises analytical depiction of the global wireless testing market size along with the current trends and future estimations to depict the imminent investment pockets. 
The overall wireless testing market analysis is determined to understand the profitable trends to gain a stronger foothold. 
The report presents information related to key drivers, restraints, and wireless testing market opportunities with a detailed impact analysis.
The current wireless testing market forecast is quantitatively analyzed from 2019 to 2028 to benchmark the financial competency.  
Porter's five forces analysis illustrates the potency of the buyers and the wireless testing market share of key vendors.  
The report includes the market trends and the market share of key vendors.
Wireless Testing Market Key Segments
By Offering
By Technology
Wi-Fi 
Bluetooth
2G/3G
4G/LTE
5G
By Application
Consumer Electronics
IT & Telecommunication
Automotive
Energy & Power
Healthcare
Others 
By Region
North America
Europe

Germany
UK
France    
Italy
Rest of Europe

Asia-Pacific

China 
Japan
South Korea
India
Rest of Asia-Pacific

LAMEA

Latin America
Middle East 
Africa
Key Market Players
SGS Group
Anritsu Corporation
Bureau Veritas
DEKRA SE
Rohde & Schwarz GmbH & Co
Intertek Group Plc
TUV Rheinland
Viavi Solutions Inc.
Electro Magnetic Test Inc.
EXFO Inc.