Women's Activewear Market Overview:
The global women's activewear market was valued at $119,078 million in 2017, and is expected to reach $216,868 million by 2025, registering a CAGR of 7.7% from 2018 to 2025. Activewear is a utility clothing for athletes engaged in sports and fitness activities. It helps enhance the performance of athletes, owing to its various advantages such as enhanced grip, wicking function, and bi-stretchable characteristics.
Extensive and unique advantages offered by activewear such as breathability, quick drying, static resistance, thermal resistance, and chemical resistance majorly drive the growth of the global women's activewear market. In addition, rise in health consciousness among consumers and increase in sports & fitness enthusiasm among female consumers boost the demand for women's activewear. Moreover, rise in participation of female consumers in sports activities fuels the sales of activewear, which positively impacts the market growth. For instance, increase in participation of female consumers in walking for fitness leads to surge in sales of sport shoes and activewear shorts & t-shirts. Moreover, holistic approach of female consumers toward athleisure wear positively impacts the growth of the overall market. Furthermore, increase in fitness and sports consciousness among young generation and upsurge in disposable income are some of the notable factors that support the market growth. However, volatile cost of raw materials and high cost of designing result in excessive cost of the final product, thereby declining sales of activewear among price-sensitive consumers.
Similarly, availability of counterfeit brands causes inconvenience & safety issues for consumers, which adversely impact the market growth. On the contrary, growth in number of promotional activities is anticipated to create product & brand awareness, which accelerates the market growth. In addition, initiatives by various organizations such as rise in number of activewear-related campaigns and programs are presumed to expand the consumer base. Moreover, development of green textile and its use in formulation of activewear are expected to attract green consumers, which is anticipated to provide lucrative opportunities for the market expansion.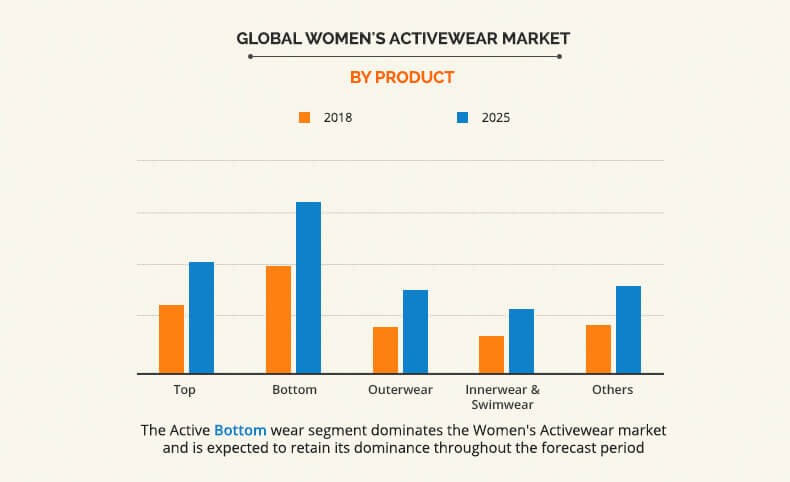 Women's activewear has witnessed widespread adoption among consumers, as they are casual and comfortable apparel suitable for purposes other than gym or practice/fitness sessions such as at work, shopping, and others. Increase in trend of activewear as regular or fashion wear boosts manufacturers to expand their product offerings in various categories, including top, bottom, outerwear, innerwear & swimwear, and others.
Yoga pants and leggings are the flagship apparels of athleisure trend. The leading five brands for yoga pants & leggings are Victoria's Secret, Aeropostale, ALO, Forever 21, and Electric. Some of the key brands catering the premium price range in segment are The Upside, Beyond Yoga, lululemon, ALO, and Electric.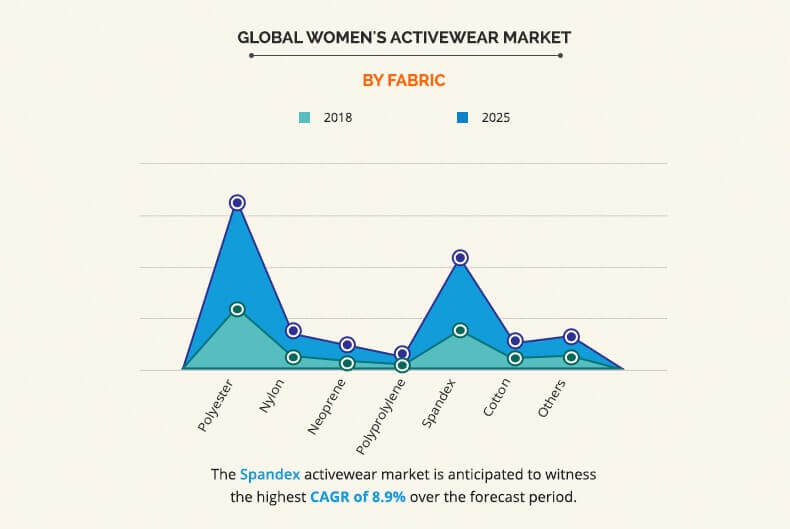 Activewear is manufactured from natural & artificial fabrics such as polyester, cotton, spandex, and others. Some activewear products are made from single type of fabric, while others are prepared from mixture of fabrics. The fabric is selected based on its attributes as well as the usage of the apparel. Fabrics offering high comfort during activities can be easily designed with numerous graphics and gain high popularity over others.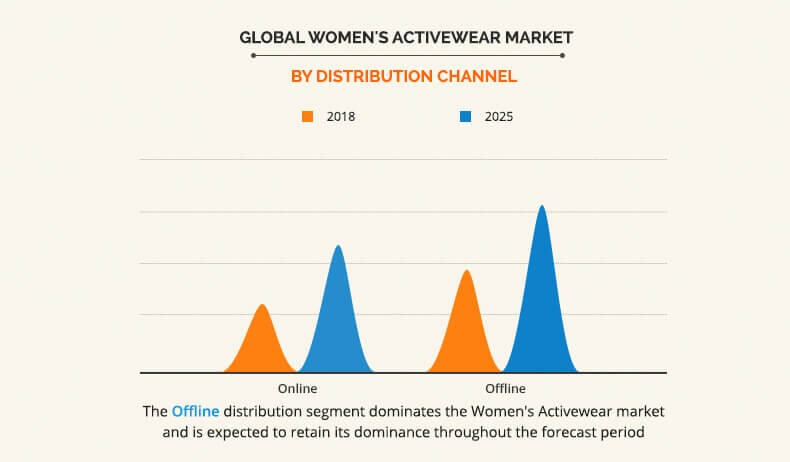 The women's activewear market by distribution channel is categorized into online and offline. Rise in popularity of activewear significantly supports expansion & opening of new outlets, which includes, hypermarket, specialized stores, mono brand stores, and others. Shift in purchasing habits and high penetration & acceptance of e-commerce boosts the growth of the online women's activewear market.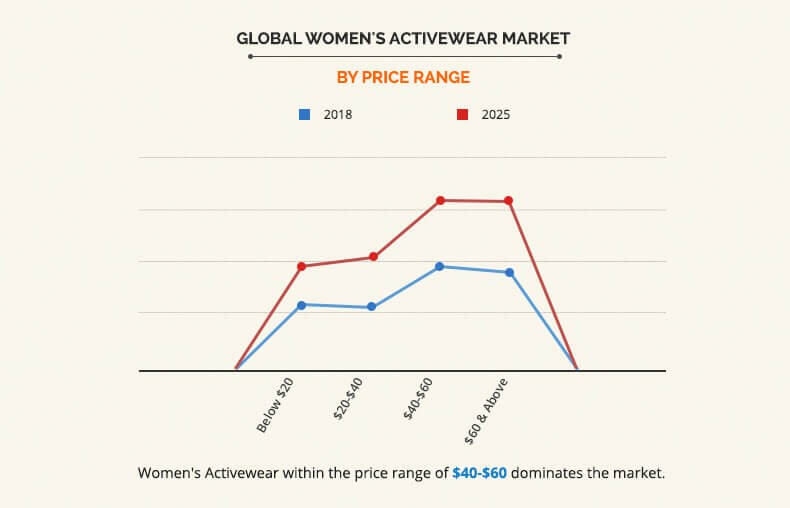 The women's activewear market by price range has been analyzed across four categories, which include below $20, $20–$40, $40–$60, and $60 & above. The market is dominated by products falling in $40–$60 price range; however, the market for products within the price of $20–$40 is anticipated to witness the highest growth rate during the forecast period.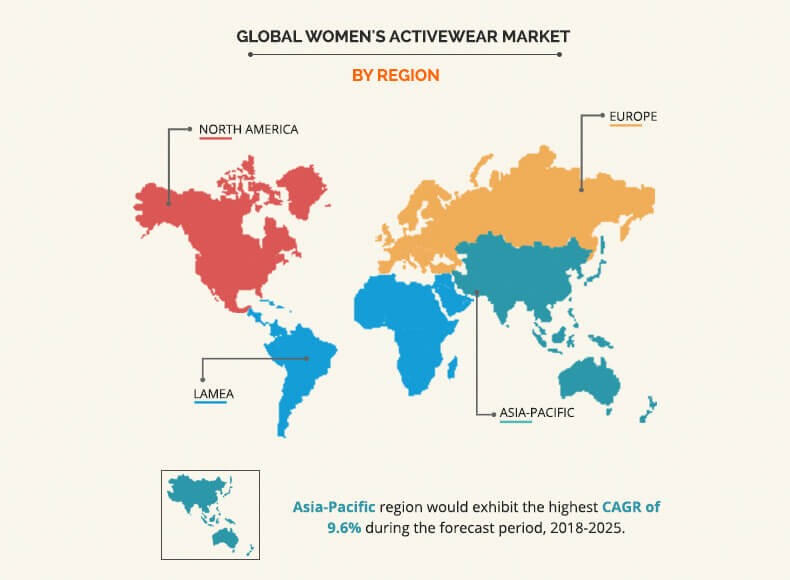 Crossovers between sportswear and leisurewear have led to the formulation of athleisure, which is widely adopted as a casual as well as a sportswear in the developed regions such as North America and Europe. Ongoing trend of pursuing a fit body and maintaining healthy lifestyle is one of the major factors that drive the growth of North America. The growth of the activewear market in Asia-Pacific is driven by upsurge in disposable income, change in lifestyles, and increase in urbanization in various countries of this region. In addition, the Indian customer base has become increasingly health conscious, which fuels the adoption of women's activewear.
The major players operating in the women's activewear market include Hanesbrands Inc., Mizuno Corporation, Adidas AG, ASICS Corporation, Columbia Sportswear Company, NIKE, Inc., V.F. Corporation, PUMA SE, Under Armour, Inc., and Gap, Inc.
The other prominent players in the market include 2XU, Marmot, Patagonia, Mountain Hardwear, Vie Active, LLC, Mountain Khakis, Forever 21, Jordan, Gramicci, Filas, Prana, Aeropostale, Ralph Lauren, Victoria's Secret, Jockey, Beyond Yoga, Lycra, and Lululemon.
Key Benefits for Women's Activewear Market:
The report provides an extensive analysis of the current & emerging market trends and opportunities in the global women's activewear market.

The report provides detailed qualitative and quantitative analysis of current trends and future estimations that assists to evaluate the prevailing market opportunities.

Comprehensive analysis of factors that drive and restrict the growth of the market is provided.

Extensive analysis of the market is conducted by following key product positioning and monitoring the top competitors within the market framework.

The report provides extensive qualitative insights on the potential and niche segments or regions exhibiting favorable growth.
 Womens Activewear Market Report Highlights
Aspects
Details
By Product Type

Top
Bottom
Sweatpants
Shorts
Skirts & Skorts
Yoga Pants & Leggings
Outerwear
Jackets
Hoodies & Sweatshirts
Innerwear & Swimwear
Others

By Fabric

Polyester
Nylon
Neoprene
Polypropylene
Spandex
Cotton
Others
By Distribution Channel
Online
Offline
By Price Range
Below $20
$20?$40
$40?$60
$60 & Above

By Distribution Channel

ONLINE
MARKET ANALYSIS
BY COUNTRY
OFFLINE
MARKET ANALYSIS
BY COUNTRY

By Price

BELOW $
MARKET ANALYSIS
BY COUNTRY
$$
MARKET ANALYSIS
BY COUNTRY
$$
MARKET ANALYSIS
BY COUNTRY
$ & ABOVE
MARKET ANALYSIS
BY COUNTRY

By Region

North America (U.S., Canada, Mexico)
Europe (UK, Germany, France, Spain, Italy, Rest of Europe)
Asia-Pacific (China, Japan, India, Australia, South Korea, Rest of Asia-Pacific)
LAMEA (Brazil, Saudi Arabia, South Africa, Rest of LAMEA)

Key Market Players
HANESBRANDS INC., MIZUNO CORPORATION, ADIDAS AG, ASICS CORPORATION, COLUMBIA SPORTSWEAR COMPANY, NIKE, INC, V.F. CORPORATION, PUMA SE, UNDER ARMOUR, INC., GAP, INC