Lawful Interception Market Statistics: 2030
The global lawful interception market size was valued at $2.69 billion in 2020, and is projected to reach $22.64 billion by 2030, growing at a CAGR of 23.7% from 2021 to 2030. Lawful interception is a procedure for gaining access to a private communication network that is  allowed by the courts. This service is used by a variety of government agencies and network providers to hunt down criminals and prevent crimes.
The evolution of 5G technology during the COVID-19 pandemic boosted the demand for lawful interception, owing to rise in criminal elements such as terrorism, drug & human trafficking, and cybercrimes. To help catch these criminals, law enforcement requires access to upgraded monitoring capabilities within the 5G networks. This aggressive digital surveillance has been justified by governments across the globe in the name of public health crises during the pandemic.
The income in this report is derived from the selling of hardware, software, and lawful interception services for the implementation of lawful interception. Revenues from unlawful interception operations were not taken into account in this report. Various communication modalities, including audio–video calls, text messages, fax, digital images, downloaded data, and files sent over the internet are intercepted via lawful interception.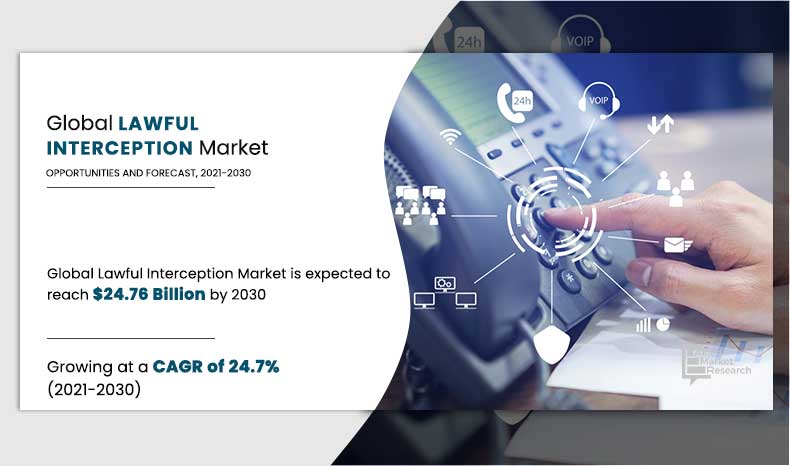 Increase in demand for monitoring, tracking data of players, surge in demand for chatbots& virtual assistants to interact with followers boost the growth of the global lawful interception market. In addition, increase in demand for real-time data analytics positively impacts the growth of the market. However, lack of trained & skilled professionals and high implementation & maintenance cost hamper the market growth. On the contrary, increase in demand for AI for making future predictions is expected to offer remunerative opportunities for expansion of the market during the forecast period.
In terms of solution, the devices segment holds the largest share of the lawful interception market. This is atributed to the rise in data traffic across telecommunication networks worldwide. However, the service segment is expected to grow at the highest rate during the forecast period, owing to increase in number of skilled workforce and need of maintaining the security and working of the software. 
Region wise, the lawful interception market was dominated by North America in 2020, and is expected to retain its position during the forecast period, owing to abundance of lawful interception solutions vendors such as Cisco, FireEye, thus aiding the growth of the lawful interception market. However, Asia-Pacific is expected to witness significant growth during the forecast period, owing to increase in adoption of efficient telecommunication technologies in countries such as Japan, Korea, and China that has led to an upsurge in data-based communication.
The report focuses on growth prospects, restraints, and analysis of the global lawful interception market trends. The study provides Porter's five forces analysis to understand the impact of various factors, such as bargaining power of suppliers, competitive intensity of competitors, threat of new entrants, threat of substitutes, and bargaining power of buyers on the global lawful interception market share.
Segment Review
The global lawful interception industry is segmented into solution, component, network technology, communication technology, end user, and region. Depending on solution, the market is segmented into devices, software, and services. The component segment is categorized into mediation devices, routers, intercept access point (IAP), gateways, switch, handover interface, and management server. Depending on network technology, the market is fragmented into VoIP, WLAN, WiMAX, DSL, PSTN, ISDN, mobile voice telephony, and mobile data. By communication technology, it is segregated into voice communication, video, text messaging, facsimile, digital pictures, data downloads, and file transfer. As per end user, it is divided into government and enterprises. Region wise, it is analyzed across North America, Europe, Asia-Pacific, and LAMEA. Some of the key players operating in the global lawful interception market analysis include AQSACOM Innovating Intelligence, BAE Systems, Cisco Systems, Inc., Fire Eye, Incognito software system Inc., JSI Telecom, NICE Systems, SS8 Incorporation, Siemens AG, and Utimaco GmbH. These players have adopted various strategies to increase their market penetration and strengthen their position in the lawful interception industry.
Lawful Interception Market

---
By Solutions
Devices is projected as one of the most lucrative segments.
Covid-19 Impact Analysis
The novel coronavirus pandemic is not only causing deaths globally, damaging economies and disrupting normal lifestyles of people, but also posing several legal challenges. Aggressive and intrusive contact-tracing mechanisms of governments worldwide during this acute public health emergency are causing certain privacy concerns among civil liberties defenders. The collection and sharing of biomedical data is necessary for containing the infectious diseases to identify point of contact. The pandemic has further escalated the need for collecting & sharing data, as well as for tracking  movements of individuals. For instance, China's Government used CCTV footage to retrace interactions among disease carriers. Alipay Health Code System in China automatically assigns each user a color-coded infectious threat level. South Korea used credit card transactions as information for the same. The Israeli Government disclosed the existence of a large cache of cellphone data to track the movements and social contacts of infected people.
Top Impacting Factors
Rise In Number Of Criminal Activities
The necessity for technologically sophisticated crime detection technologies and favourable lawful interception legislation has grown as the number of criminal and terrorist activities throughout the world have increased. Law enforcement and intelligence organisations employ lawful interception to study suspects' communication data to combat and control crimes such as terrorism, domestic crimes, and cybercrime.
Lawful Interception Market

---
By Network Technology
VOIP segment is projected as one of the most lucrative segments.
Network operators and service providers transfer the suspect's intercepted data to intelligence agencies and further, the legal authority issues a warrant. To track and monitor illegal actions, the monitoring centres evaluate forensic telecommunication data collected from service providers (SPs) and internet service providers (ISPs) to extract general information for law enforcement authorities regarding the suspect's groups, activities, and associations. 
Rise In Volume Of Data Traffic And Security Threats
Communication channel traffic has increased at an exponential rate. The expansion of data traffic will be fueled by increasing use of smartphones, particularly in Asian countries. Voice over Internet Protocol (VoIP) is now able to allow voice calls in offices. Individual consumers prefer data-based services to traditional phone or mobile voice calls for communication. The exponential expansion in packet data volume has resulted in an increase in the frequency of cybercrimes and data breaches. To protect national security, the government and other organisations use cyber data interception. As a result, increase in data traffic and security concerns are two main drivers propelling the lawful interception market industry.
Lawful Interception Market

---
By Region
Asia-Pacific would exhibit the highest CAGR of 24.5% during 2019-2026.
Key Benefits For Stakeholders     
The study provides an in-depth analysis of the global lawful interception market forecast along with current & future trends to explain the imminent investment pockets.
Information about key drivers, restraints, & opportunities and their impact analysis on global lawful interception market trends is provided in the report.
The Porter's five forces analysis illustrates the potency of the buyers and suppliers operating in the industry.
The quantitative forecast analysis of the lawful interception market size from 2021 to 2030 is provided to determine the market potential.
 Lawful Interception Market Report Highlights
Aspects
Details
By Solution

Devices
Software
Services

By Component

Mediation Devices
Routers
Intercept Access Point (IAP)
Gateways
Switch
Handover Interface
Management Server

By Network Technology

VoIP
WLAN
WiMAX
DSL
PSTN
ISDN
Mobile Voice Telephony
Mobile data

By Communication Technology

Voice Communication
Video
Text Messaging
Facsimile
Digital Pictures
Data downloads
File Transfer

By End User
By Region

North America (U.S., Canada)
Europe (UK, Germany, France, Italy, Rest of Europe)
Asia-Pacific (China, Japan, India, South Korea, Rest of Asia-Pacific)
LAMEA (Latin America, Middle East, Africa)

By Key Market Players

AQSACOM Innovating Intelligence
BAE Systems
Cisco Systems, Inc.
Fire Eye
Incognito software system Inc.
JSI Telecom
NICE Systems
SS8 Incorporation
Siemens AG
Utimaco GmbH