The global yeast flakes market size was valued at $610.2 million in 2020, and is projected to reach $1,451.2 million by 2030, registering a CAGR of 9.1%.    
The corona virus outbreak in all over the globe has created medical emergency. Due to which there is an increase for the demand of food items, hygiene products, and medical products. COVID-19 has increased the sales of traditional, healthy, and staple food items. However, foods & beverages, dietary supplements have experienced a decline in its sale due to which there is a decline for the demand of yeast flakes in these industries.
The yeast flakes market is experiencing a significant growth, and will grow considerably in next few years. Yeast refers to single-celled and eukaryotic microorganisms from the fungus kingdom. Yeasts flakes are gaining traction across the globe, as they are plant-based source of protein. Thus, their increased use in vegan cooking is estimated to fuel the growth of the global yeast flakes market during the coming years.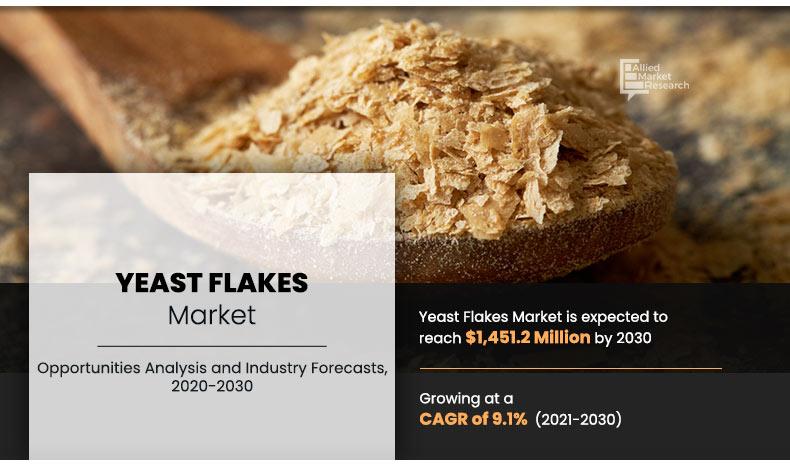 Awareness among consumers regarding health benefits associated with functional food is expected to boost the demand for such products during the forecast period. Scientific studies showing multiple benefits in the consumption of yeast flakes have raised awareness among consumers. Hence, a substantial change in diet of the consumers and their lifestyles is observed. Hence, owing to these health benefits, the demand for functional food is accelerating globally, which propels the yeast flakes market growth.
Moreover, health benefits associated with gluten free products are also attracting the population to avoid gluten from their diets. Hence, demand for gluten free products is growing rapidly, owing to its beneficial properties such as diagnosis of food allergies and helping individuals to lose their weight. Such factors, in turn, propel the market growth.
Moreover, the yeast flakes market demand for products with a large number of substitutes is very responsive to price changes; even a minor increase in price of a product encourages consumers to purchase its substitutes. Hence, availability of healthier substitutes is expected to affect the market growth.
Yeast flakes market is segmented into form, application and region. Based on type, the market is fragmented into flakes, powders, and others, which include tablets and capsules. On the basis of application, it is categorized into foods & beverages, dietary supplements, animal feed, and others. Regionally, the market is segmented into North America, Europe, Asia-Pacific, and LAMEA.
Yeast Flakes Market

---
By Form
Others segment would witness the fastest growth, registering a CAGR of 10.5% during the forecast period.
Based on form, powder segment held the major share in the market, and it is likely to remain same throughout the forecast period. It is rich in protein, calcium, iron, and vitamin B. It may aid in the prevention of oxidative damage, reduction of cholesterol, and enhancement of immunity. Owing to its wide range of application of yeast flake and health benefits, it is expected to increase the market.
Based on application, the food & beverages segment was the highest contributor to the market, and is estimated to reach $835.8 million by 2030, at a CAGR of 8.8% during the forecast period. Yeast flakes have been gaining significant traction in food & beverages, owing to increasing demand for functional foods and high nutritional food products. It has a nutty, cheesy taste and is commonly used in foods and beverages. Moreover, it is used in bread items as a meat alternative, salt replacer, and non-GMO L-Cysteine replacer, as well as beverages, dairy products, and functional foods.
Yeast Flakes Market

---
By Application
Others segment would witness the fastest growth, registering a CAGR of 9.8% during the forecast period.
By region, North America has the highest yeast flakes market share in 2020.  The North America yeast flakes market is expected to grow significantly, owing to inclination toward yeast flake products. The market in North America leading, owing to growing number of vegetarians and vegans in the region. Consumers are favoring nutritious yeast products, which help the industry grow even more. Moreover, consumers are inclined toward yeast flakes as it is chemical free with no additives. Hence, the region is expected to grow more during the forecast period. The players in the yeast flakes market have adopted acquisition as their key development strategy to increase profitability and improve their position in the yeast flakes market.
The key players profiled in the report include Alla's Posh Flavors, Anthony's Goods, Hoosier Hill Farm LLC, Lesaffre, Now Foods, Nunaturals, Sari Foods, Sattvic foods, Urban Platter, and Vvegano.  
Yeast Flakes Market

---
By Region
North America would witness the largest segment registering a major share of 45.6% during the forecast period.
Key Benefits For Stakeholders
This report presents a quantitative analysis of the current yeast flakes market trends, estimations, and dynamics of the global yeast flakes market from 2020 to 2030 to identify the prevailing yeast flakes market opportunity.
The key countries in all the major regions are mapped based on their market share.
Porter's five forces analysis highlights the potency of buyers and suppliers to enable stakeholders to make profit-oriented business decisions and strengthen their supplier–buyer network.
In-depth yeast flakes market analysis of the market segmentation assists in determining the prevailing market opportunities.    
Major countries in each region are mapped according to their revenue contribution to the global yeast flakes industry. Market player positioning segment facilitates benchmarking and provides a clear understanding of the present position of the market players.
The report includes the analysis of regional as well as global market, key players, market segments, application areas, and growth strategies.
 Yeast Flakes Market Report Highlights
Aspects
Details
By Form
By Application

Food & Beverages
Dietary Supplements
Animal Feed
Others

By Region

North America (U.S., Canada, Mexico)
Europe (Germany, France, UK, Italy, Spain, Russia, Rest of Europe)
Asia-Pacific (China, Japan, India, Australia, South Korea, Indonesia, Sri Lanka, Rest of Asia-Pacific)
LAMEA (Brazil, Argentina, United Arab Emirates, South Africa, Nigeria, Turkey, Rest of LAMEA)