The global agricultural tractors market was valued at $59.1 billion in 2021, and is projected to reach $97.8 billion by 2031, growing at a CAGR of 5.6% from 2022 to 2031.
Tractors are utilized as agricultural vehicles to provide power for several agricultural activities such as harrowing, tilling, plowing, and planting. They are available in various power ranges, including less than 20 HP to more than 60 HP. It is used in applications such as row crop, orchard, and gardening. Moreover, growth in agricultural sector is one of the important businesses of the population in various developing countries such as India, China, Brazil, and others increases the demand for tractor for cultivation and plating applications. This, in turn, drives the growth of the global tractor market. For instance, according to India Brand Equity Foundation, 58% of the total population in India are farmers. Furthermore, governments in these nations offer incentives and loans to farmers to motivate the use of agricultural equipment, which increases the cultivation of crops. These factors collectively are anticipated to create lucrative growth opportunities for the global agricultural tractor market during the forecast period.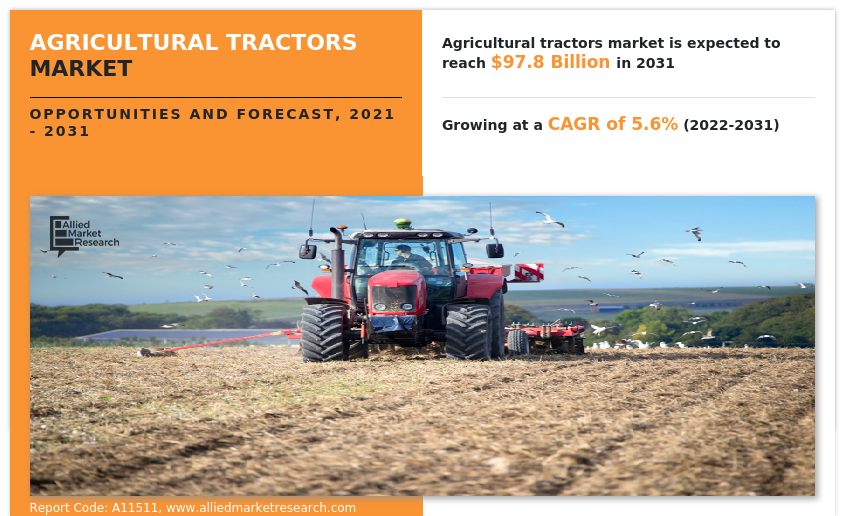 The agricultural tractors market is segmented into Power Output, Drive Type, Propulsion and Operation.
Factors such as government support for development of agricultural activities, increase in adoption of precision farming, and advancements in tractor technology are anticipated to boost growth of the global agricultural tractors market during the forecast period. However, lack of awareness about efficient agriculture tractor among farmers, and high costs of agricultural tractors are expected to hinder growth of the global agricultural tractors industry during the forecast period. Moreover, increase in demand for fuel efficient tractors, and growth in mechanization in agriculture activities are expected to create opportunities for the agricultural tractors market in the future.
The agricultural tractors market is segmented on the basis of power output, drive type, propulsion, operation, and region. By power output, it is divided into less than 30 HP, 30 to 50 HP, 51 to 100 HP, and more than 100HP. By drive type, it is segmented into 2 wheel drive, and 4 wheel drive. By propulsion, it is divided into ICE, and electric and hybrid. By operation, the market is divided into manual, and autonomous. By region, the market is analyzed across North America, Europe, Asia-Pacific and LAMEA. 
Farmers in the North American countries own large farms, which fuel the need for tractor and related equipment to conduct activities efficiently in minimal time. The countries such as the U.S. and Canada are economically developed, and thus the penetration of automated tractor is high in these countries as compared to other developing and underdeveloped countries. In addition, the trends such as organic farming and food processing are anticipated to create potential opportunities for the utilization of tractor to cultivate better quality crops using less artificial fertilizers and pesticides. All such instances drive the growth of the agricultural tractors market in North America region.
The U.S. tractor industry is saturated, as the farming activities in this country are limited. However, dearth of human labor in the country for tractor boosts the need for autonomous equipment. For instance, according to the California Farm Bureau in 2019, California is witnessing major shortage of human labor on farms. More than 40% farm owners were unable to obtain necessary human labor within 2013 to 2018. Moreover, it suggests that nearly 56% of the farmers have started using mechanization techniques in agricultural activities during this period, owing to the unavailability of labor. All these factors fuel the use of tractor market in the U.S.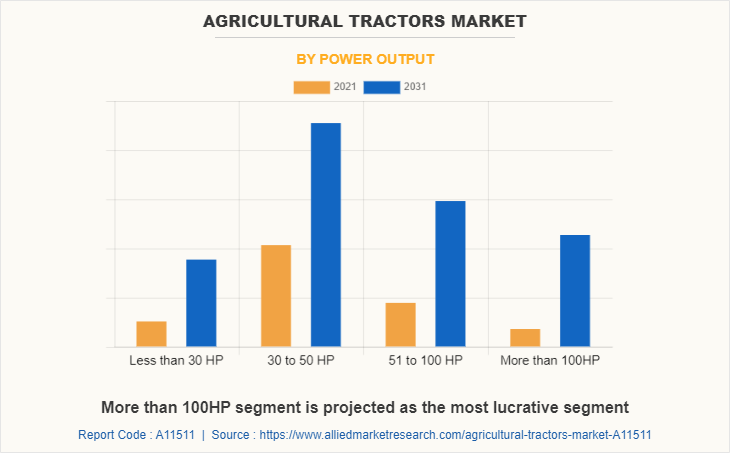 Key players that operate in agricultural tractors market includes Captain Tractors Pvt. Ltd, CNH Industrial N.V., Deere & Company, Eicher Tractors, Escorts Limited, Fendt (AGCO GmbH), Force Motors Limited, Gromax Agri Equipment Limited, J C Bamford Excavators Ltd., KUBOTA Corporation, Mahindra & Mahindra Ltd., Monarch Tractor, SDF Group, SOLECTRAC, Sonalika International Tractors Ltd, Standard Corporation India Limited, and Yanmar Co., Ltd. 
Key Developments:
In September 2022,

Fendt, a subsidiary of AGCO Corporation launched 700 Vario Series to North America. For farmers needing more horsepower, it's the Fendt DynamicPerformance (DP) extra power concept releases up to 20 extra HP in the Fendt 728 Vario DP via a demand-dependent control system precisely when needed.

In July 2022

, Solectrac, makers of electric tractors, entered into a partnership with Nolan Manufacturing to establish an East Coast production facility to meet increased demand for electric tractors.

In June 2022,

Captain Tractors Pvt. Ltd. announced to set up a mini tractors & agriculture equipment manufacturing unit in Rajkot district of Gujarat.

In May 2022,

Eicher Tractors launched the Eicher Prima G3 Series – a premium range of tractors targeted at the newage farmer, in the 40-60 HP range.
Government support for development of agricultural activities
Various governments such as India, China, the U.S., and others offer support for the development of agricultural activities, including subsidies for acquiring equipment and seeds. The subsidies assist in ensuring sufficient food production, decrease food commodity inflation, safeguard farmer incomes, and strengthen the agricultural sector. Developing nations, such as India, Brazil, and Africa offer various subsidies, loan waiver schemes, and other such facilities to improve agriculture production.
For instance, the government of India offers various schemes for agricultural equipment such as loan-cum-subsidy for purchase of tractors. In addition, as per NABARD norms, any farmer with land of 8 acres can take a tractor loan with a period of 9 years, with 12.5% rate of interest. In addition, according to the Brazilian Confederation of Agriculture and Livestock, the Brazil government increased subsidies by 20% on purchase agricultural tractors. Thus, all these factors are collectively anticipated to offer remunerative opportunities for the expansion of the global tractor market, which, in turn, is expected to create an opportunity for the agricultural tractors market during the forecast period.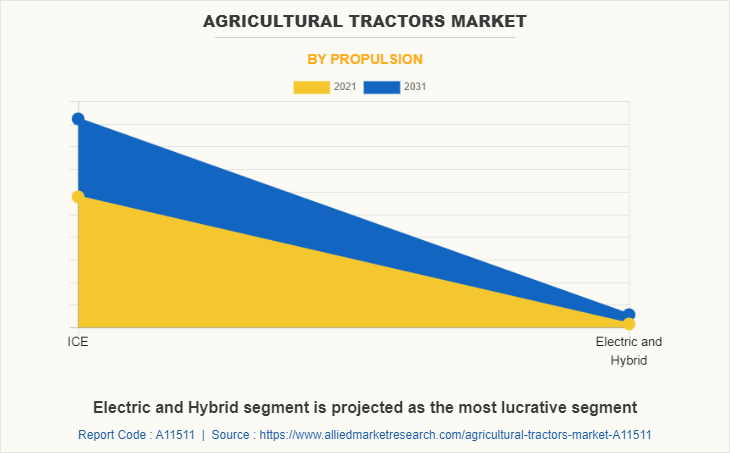 Increase in adoption of precision farming
Precision farming includes information- & technology-based farm management, which identifies, analyzes, and manages crop production activities. Furthermore, the implementation of precision farming enables sustainability, profitability, and protection of land resources. Technologies such as high-precision positioning systems, including GPS & GNSS, automated steering systems, geo-mapping, sensors & remote sensing, variable rate technology (VRT), and integrated electronic communications can be adopted in agricultural equipment to achieve improved results from machine operations. For instance, Deere & Company, offers Precision AG technology for its agricultural equipment such as tractor and others. It offers display systems, receivers, for field preparation & tillage equipment, seed placement & planting, and harvesting equipment. Thus, introduction of such products significantly contributes toward the growth of the global agricultural tractors market.
Lack of awareness about efficient agriculture tractor among farmers
Agricultural activities are most widely conducted in developing countries such as India, Brazil, and Africa. Farmers in these countries are majorly illiterate and unaware of benefits of employing agricultural tractors for improving crop productions. Illiteracy causes continuation of traditional farming practices, which are unsustainable and degrade soil quality, thereby reducing crop bearing efficiency of soil. Furthermore, rural areas do not have digital facilities such as resources, skills, and networks, which limits penetration of advanced agricultural equipment in these areas. Small scale farmers have a low income and often live precarious lives, which is why they are not able to afford technologically advanced agricultural machines and other inputs. In addition, farmers lack enhanced skills required to efficiently utilize advanced agricultural tractors.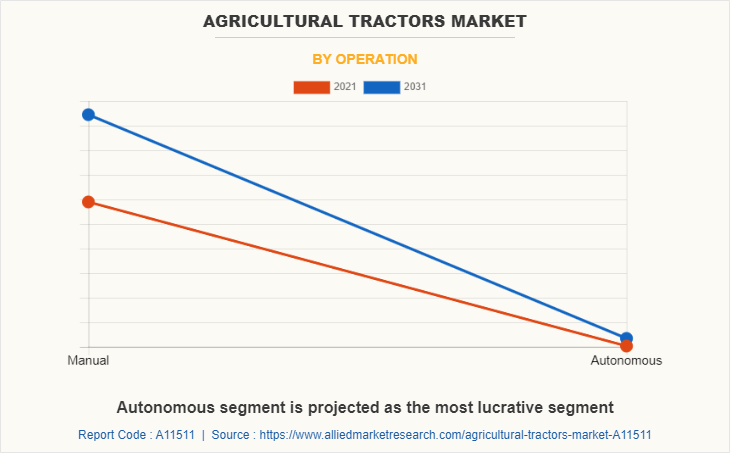 Population in developing countries such as Argentina, Guyana, and Saint Lucia are not aware about subsidies provided by governments for purchasing agricultural and farm equipment. All such instances are anticipated to restrain growth of the global tractor market, which is expected to hinder the market for agricultural tractors during the forecast period.
Increase in demand for fuel efficient tractors
Agricultural equipment such as tractors uses diesel as a fuel for operation, and release large volume of carbon footprints, which is dangerous for the environment. The increase in level of carbon emissions poses a challenge to the market. Governments across the world have imposed strict regulations for agricultural equipment machines to reduce carbon emissions. Owing to this, companies are focusing on finding sources of alternate energy with an objective to reduce carbon emissions. The agricultural tractor manufacturing companies are coming up with fuel and carbon efficient tractors such as electric and hydrogen fueled tractors. Using alternate energy tractors, as compared with traditional fuel (diesel) and sustainable fuels (advanced biofuel types and flex fuel) reduces greenhouse gases (GHG) emissions. Moreover, some countries announced policies banning and phasing out gasoline and diesel vehicles. Such measures taken by various governments also encourage automakers and other market players to adopt new electric tractors. Owing to this, growth in the fuel-efficient tractors is expected to propel the market for agricultural tractors during the forecast period.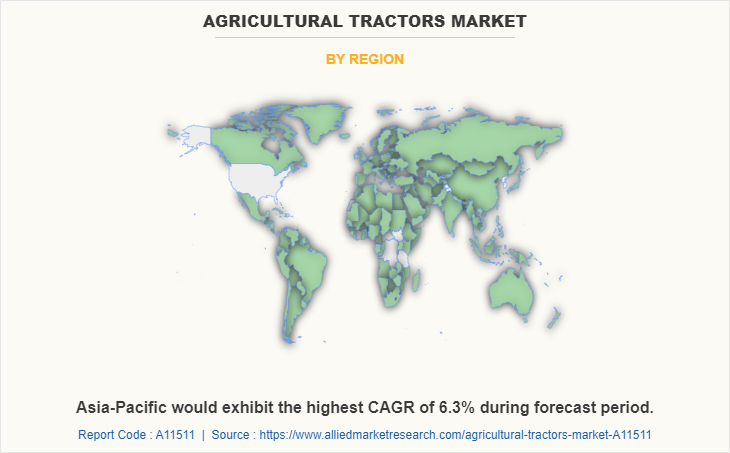 As a result of interrupted supply chains and production schedules caused by the COVID-19 pandemic, automotive production and sales suffered severely, which, in turn, negatively impacted the market for agricultural tractors market in 2020. The spread of COVID-19 has already negatively influenced the global tractor market in the, which impacted the growth of the tractor industry globally. For instance, the net sales of Mahindra & Mahindra Ltd., declined by 5.8% from March 2020 to March 2021 due to several causes such as transportation bans or the disruption in the supply chain. The agriculture and automotive industry also registered a decline in the business due to the closure of national & international borders, which has halted the movement of components that are manufactured in other countries and are transported to different manufacturer's locations. This halted movement affected the component delivery process to such an extent that most of the companies had to do a cost-cutting so as to incur the losses. The COVID-19 pandemic not only affected operations of the agriculture industry, but the economic crisis also led to reduction in expenditure on next-generation technologies, for instance, hydrogen-powered tractors. Many governments trimmed their spending on other sectors and poured a hefty amount of investment in improving healthcare facilities to lessen dangers pertaining to the pandemic.
Key Benefits For Stakeholders
This report provides a quantitative analysis of the market segments, current trends, estimations, and dynamics of the agricultural tractors market analysis from 2021 to 2031 to identify the prevailing agricultural tractors market opportunities.
The market research is offered along with information related to key drivers, restraints, and opportunities.
Porter's five forces analysis highlights the potency of buyers and suppliers to enable stakeholders make profit-oriented business decisions and strengthen their supplier-buyer network.
In-depth analysis of the agricultural tractors market segmentation assists to determine the prevailing market opportunities.
Major countries in each region are mapped according to their revenue contribution to the global market.
Market player positioning facilitates benchmarking and provides a clear understanding of the present position of the market players.
The report includes the analysis of the regional as well as global agricultural tractors market trends, key players, market segments, application areas, and market growth strategies.
 Agricultural Tractors Market Report Highlights
Aspects
Details
Market Size By 2031
USD 97.8 billion
Growth Rate
CAGR of 5.6%
Forecast period
2021 - 2031
Report Pages
353
By Power Output

Less than 30 HP
30 to 50 HP
51 to 100 HP
More than 100HP

By Drive Type

4 Wheel Drive
2 Wheel Drive

By Propulsion
By Operation
By Region

North America (U.S., Canada, Mexico)
Europe (Germany, France, Russia, Netherlands, UK, Poland, Spain, Rest Of Europe)
Asia-Pacific (China, India, Japan, South Korea, Asean, Rest Of Asia-Pacific)
LAMEA (Brazil, UAE, Saudi Arabia, South Africa, Rest Of LAMEA)

Key Market Players
SDF, John Deere Tractors, Standard Tractors, JCB, SOLECTRAC, Mahindra Tractors, New Holland Tractors, Force Tractors, Gromax Agri Equipment Limited, Captain Tractors, Agco Tracto (Fendt), Escorts Tractors, Monarch Tractor Electric Tractor, Kubota Tractor, Eicher Tractors, Swaraj Tractors, Sonalika Tractors