The global hydrogen powered tractor market was valued at $1.57 billion in 2025, and is projected to reach $4.54 billion by 2035, growing at a CAGR of 12.1% from 2026 to 2035.
The COVID-19 impact on the agriculture and automotive industry is unpredictable, and is expected to remain in force for a few years. The COVID-19 outbreak forced governments across the globe to implement stringent lockdown and ban import–export of essential raw material items for most of 2020, and few months in 2021. This led to sudden decline in availability of important raw materials for vehicle components. The COVID-19 pandemic not only affected operations of the automotive and agriculture industry, but the economic crisis also led to reduction in expenditure on next-generation technologies, for instance, hydrogen-powered tractors. Many governments trimmed their spending on other sectors and poured a hefty amount of investment in improving healthcare facilities to lessen dangers pertaining to the pandemic. Before COVID-19, the agriculture industry witnessed continuous growth. Governments all around the globe were focusing on investing huge amount for hydrogen-based vehicles and related technologies. However, adverse impacts of the COVID-19 pandemic have resulted in interruption in activities and initiatives regarding development of hydrogen powered tractors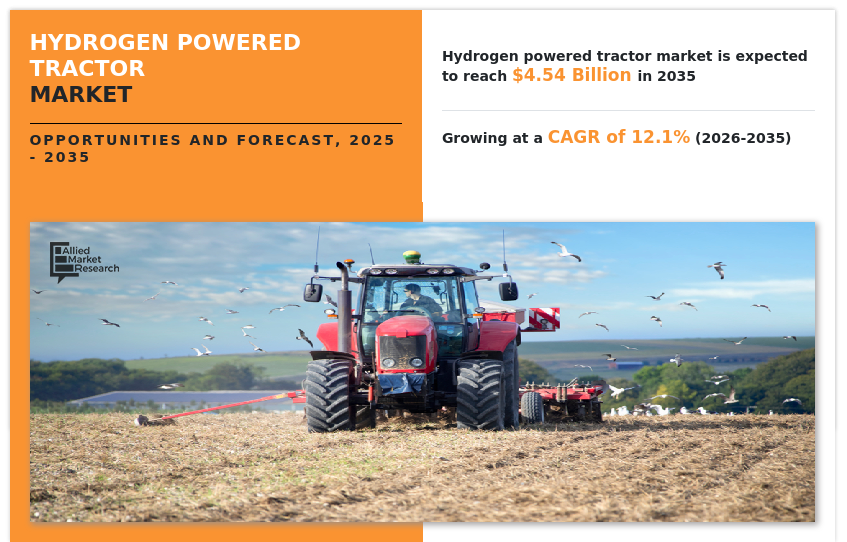 The hydrogen powered tractor market is segmented into Installation, Product, Application and Capacity.
Tractors are utilized as agricultural vehicles to provide power for several agricultural activities such as harrowing, tilling, plowing, and planting. They are available in various power ranges, including less than 20 HP to more than 60 HP. It is used in applications such as row crop, orchard, and gardening. A hydrogen tractor is a vehicle that makes use of hydrogen as a power source. Research on hydrogen as a potential fuel to power zero-emission tractors has been on rise in recent years. The agriculture equipment sector is working to develop technologies to tackle challenges associated with hydrogen storage infrastructure.
Factors such as growth in mechanization in agriculture activities, high suitability of hydrogen as fuel, and reduced greenhouse gas emissions are anticipated to boost growth of the global hydrogen powered tractor market during the forecast period. However, high costs associated with production and handling of hydrogen and lack of awareness regarding efficient agriculture tractors among farmers are expected to hinder growth of the global hydrogen fuel cell tractor market during the forecast period. Moreover, technological advancements, future potential in the hydrogen fuel cell vehicle market, and government support for the development of agricultural activities is expected to create opportunities for the hydrogen powered tractor industry in the future.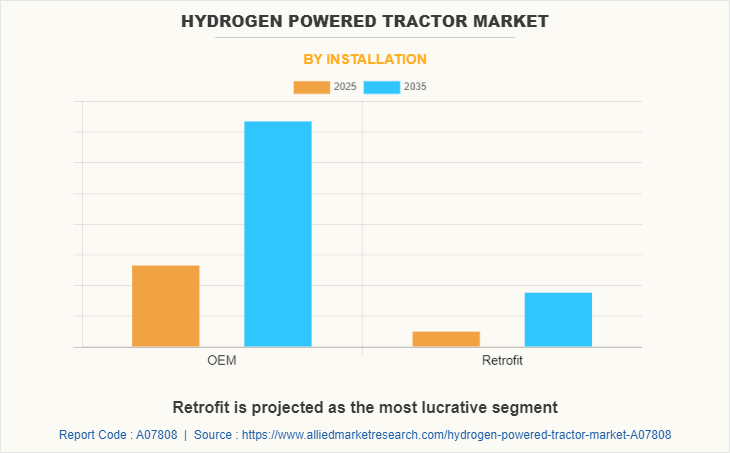 The hydrogen powered tractor market is segmented on the basis of installation, product, application, capacity, and region. By installation, it is divided into OEM and retrofit. By product, it is segmented into proton exchange, membrane fuel cell, phosphoric acid fuel cell, solid oxide fuel cell, and others. By application, it is divided into agriculture, industries, mining, and others. By capacity, the market is divided into less than 25 tons and more than 25 tons. By region, the market is analyzed across North America, Europe, Asia-Pacific and LAMEA.
Key players that operate in this hydrogen powered tractor market include Allis-Chalmers, Amogy, Inc., Ballard Power Systems, Blue Fuel Solutions (CMB. TECH), BMW, CNH Industrial N.V., Cummins Inc., Deere & Company, Fendt, H2Trac B.V., Honda Motor Co., Ltd., Hyster-Yale Group Inc., Hyundai Motor Company, Kubota Corporation, SDF Group, Terberg Special Vehicles, and Toyota Motor Corporation.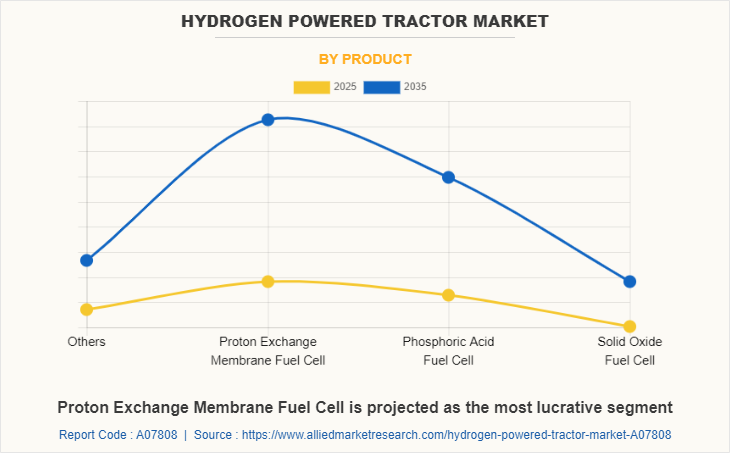 Growth in mechanization in agriculture activities
Increase in mechanization of agricultural activities allows reduction of drudgery contributed by labor-intensive farming techniques. Thus, involvement of sustainable mechanization can increase land productivity by improving quality of cultivation and reducing operational times. Problems such as dearth in labor can be resolved using mechanization techniques during agricultural operations. Overall mechanization in the agricultural industry in India registered 40-45% in 2020, whereas overall mechanization in the U.S., China, and Brazil were 95%, 57%, and 75%, respectively. In addition, it contributes toward reducing poverty and provides food security, which, in turn, improves lifestyles and livelihoods of majority of population in the agricultural industry. Thus, increase in mechanization of agricultural activities drives adoption of tractors in the agricultural sector, which, in turn, is expected to fuel growth of the hydrogen powered tractor market.
High suitability of hydrogen as fuel
To support the ever-rising vehicle-traffic, industrial & mining applications, and agricultural activities, a fuel must be found to replace petroleum-based fuels. New fuels should be accessible at a global level without causing any hazard of control by a cartel (for instance, Organization of the Petroleum Exporting Countries (OPEC)) and must meet fundamental requirements of safety performance, environment, and economic considerations. Hydrogen has the potential to substitute currently used fuel. Hydrogen as an energy carrier for usage in a vehicle has some exceptional qualities such as minimum pollution and lightweight, global availability, and safety, thus making it a suitable fuel. In comparison with li-ion batteries, hydrogen has a greater energy density, both in terms of gravimetric and volumetric measures. Furthermore, hydrogen is expected to enter into usage in several industries, which could quicken advancements of fuel cells and storage systems, push downstream infrastructure, and drive down supply chain costs. Hence, all such factors are expected to propel the hydrogen powered tractor industry growth.
Hydrogen Powered Tractor Market

---

By Application
Agriculture is projected as the most lucrative segment
Get more information on this report :
Request Sample Pages
High costs associated with production and handling of hydrogen
Hydrogen (in gaseous form) is usually extracted from water by electrolysis process, which includes passing a high electric current through water to isolate oxygen and hydrogen atoms. Electrolysis process is quite expensive as it includes high expenditure on energy requirements. Furthermore, hydrogen poses challenges for designers, in terms of mass and volume requirements, as well as for fuel management and storage onboard vehicle. High volume-to-energy property of liquid hydrogen (LH2) requires hydrogen powered tractor to contain a huge quantity of fuel compared to legacy diesel-fueled tractors. A typical property of hydrogen is that it has a lower density. Its density is quite lower than gasoline. For this reason, it has to be compressed and brought to a liquid state and stocked in the same manner at lower temperatures to sustain its effectiveness and efficiency as a power source. This is the reason why hydrogen must necessarily be transported and stored in high-pressure conditions, which makes the application of hydrogen for transportation and common use difficult presently. Above mentioned factors are anticipated to obstruct the market growth of the hydrogen powered tractor market during the forecast period.
Technological advancements and future potential in the hydrogen fuel cell vehicle market
Increase in R&D activities related to hydrogen fuel cell technology has led to rise in joint developments and partnerships regarding adoption of the HFCV market. Moreover, governments across the globe are promoting use of hydrogen powered vehicles. For instance, in 2019, European Union (EU) started H2Haul project which will run for five years. This EU-funded project aims to deploy 16 zero-emission fuel cell vehicles at four sites i.e., Germany, Belgium, Switzerland, and France by 2024. Moreover, the California Air Resources Board (CARB), Toyota, Shell, and Kenworth started $82 million Zero-Emission and Near Zero-Emission Freight Facilities (ZANZEFF) project. With the use of this project Port of Los Angeles (POLA) is expected to establish a fuel-cell technology network for freight transport to move goods from "Shore to Store".  In addition to this, partnerships among OEMs to develop hydrogen powered tractors and technological advances regarding HFCV provide a major growth opportunity for the hydrogen fuel cell tractor market. For instance, in December 2020, Hyster-Yale Group and Capacity Trucks announced partnership to jointly develop a hydrogen powered terminal tractors with automation-ready capabilities. Hence, these factors are expected to propel growth of the market during the forecast period.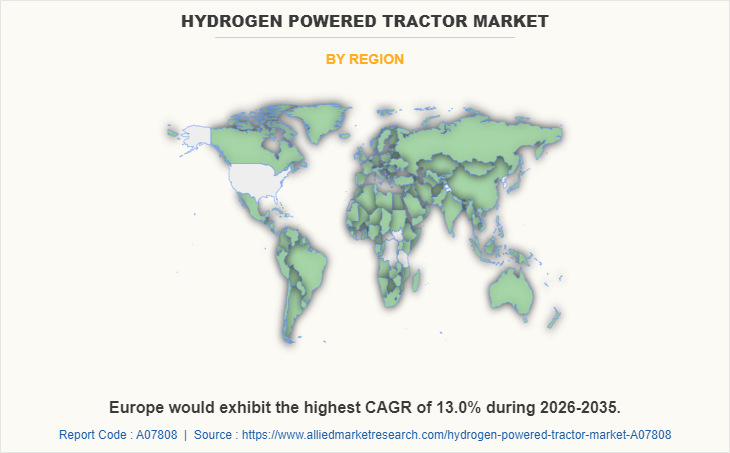 Key Benefits For Stakeholders
This report provides a quantitative analysis of the market segments, current trends, estimations, and dynamics of the hydrogen powered tractor market analysis from 2025 to 2035 to identify the prevailing hydrogen powered tractor market opportunities.
The market research is offered along with information related to key drivers, restraints, and opportunities.
Porter's five forces analysis highlights the potency of buyers and suppliers to enable stakeholders make profit-oriented business decisions and strengthen their supplier-buyer network.
In-depth analysis of the hydrogen powered tractor market segmentation assists to determine the prevailing market opportunities.
Major countries in each region are mapped according to their revenue contribution to the global market.
Market player positioning facilitates benchmarking and provides a clear understanding of the present position of the market players.
The report includes the analysis of the regional as well as global hydrogen powered tractor market trends, key players, market segments, application areas, and market growth strategies.
 Hydrogen Powered Tractor Market Report Highlights
Aspects
Details
By Installation
By Product

Proton Exchange Membrane Fuel Cell
Phosphoric Acid Fuel Cell
Solid Oxide Fuel Cell
Others

By Application

Agriculture
Industries
Mining
Others

By Capacity

Less Than 25 tonnes
More Than 25 tonnes

By Region

North America (U.S., Canada, Mexico)
Europe (Germany, France, Netherlands, U.K., Poland, Spain, Russia, Rest of Europe)
Asia-Pacific (China, India, Japan, South Korea, Asean, Rest of Asia-Pacific)
LAMEA (Brazil, UAE, Saudi Arabia, South Africa, Rest of LAMEA)

Key Market Players
Toyota, Cummins Inc., CNH Industrial N.V., Blue Fuel Solutions, Terberg, Hyster Yale Group, New Holland, Deutz Fahr group, H2Trac B.V., Kubota Corporation, Allis Chalmers, Ballard Power Systems, Amogy, Inc, Fendt, Hyundai Motor Company, BMW, Deere Company