AI Training Dataset Market Research, 2031
The global ai training dataset market was valued at $1.4 billion in 2021, and is projected to reach $9.3 billion by 2031, growing at a CAGR of 21.6% from 2022 to 2031.
The pandemic has increased the pace at which AI is being used in fields like healthcare. All sectors now face difficulties in operating their businesses as a result of the crisis. AI-based tools and solutions have been widely adopted in all industries as a response to this scenario. The market's major players are concentrating on transforming their operations to be more digital, which has led to an enormous demand for AI solutions. Therefore, these variables are responsible for the COVID-19 pandemic's favorable impact on the market for AI training datasets.
In a number of industrial uses, including manufacturing, IT, BFSI, retail & e-commerce, and healthcare, AI is indeed extremely relevant. Opportunities for new candidates are also emerging due to the rising demand for application-specific training data. Big data is increasingly dependent on artificial intelligence (AI), as the technology enables the extraction of highly complicated abstractions through a hierarchical learning process, necessitating the mining and extraction of meaningful patterns from vast amounts of data. Furthermore, AI gives machines the ability to execute human-like tasks, learn from experience, and adapt to new inputs. These machines are taught to analyze vast amounts of data and find patterns in order to carry out a specific job. Specific datasets are needed to teach these machines. To meet this need, there is a rising demand for AI training databases.
Furthermore, factors such as machine learning and Intelligence are expanding quickly, and the production of large amounts of data and technological advancements primarily drive the growth of the AI training dataset market growth. However, poor expertise of technology in developing areas hampers market growth to some extent. Moreover, widening functionality of training data sets in multiple business verticals is expected to provide lucrative opportunities for the market growth during the forecast period.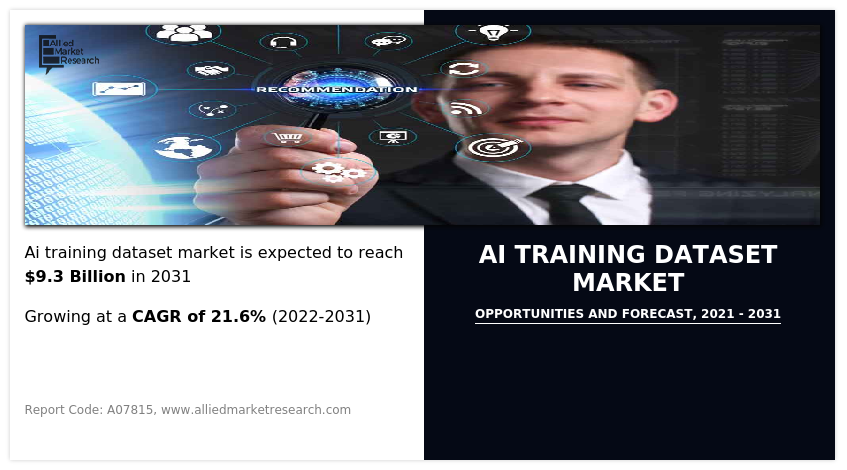 The ai training dataset market is segmented into Type and End User.
The AI training dataset market is segmented on the basis of type, industry vertical and region. On the basis of type, it is segregated into Text, Audio, and Image/Video. On the basis industry vertical, it is classified into IT and telecom, BFSI, automotive, healthcare, government and defense, retail, and others. On the basis of region, it is analyzed across North America, Europe, Asia-Pacific, and LAMEA.
The global AI training dataset industry is dominated by key players such as Google LLC, Amazon Web Services Inc., Microsoft Corporation, SCALE AI, INC., APPEN LIMITED, Cogito Tech LLC, Lionbridge Technologies, Inc., Alegion, Deep Vision Data, and Samasource Inc. These players have adopted various strategies to increase their market penetration and strengthen their position in AI training dataset industry.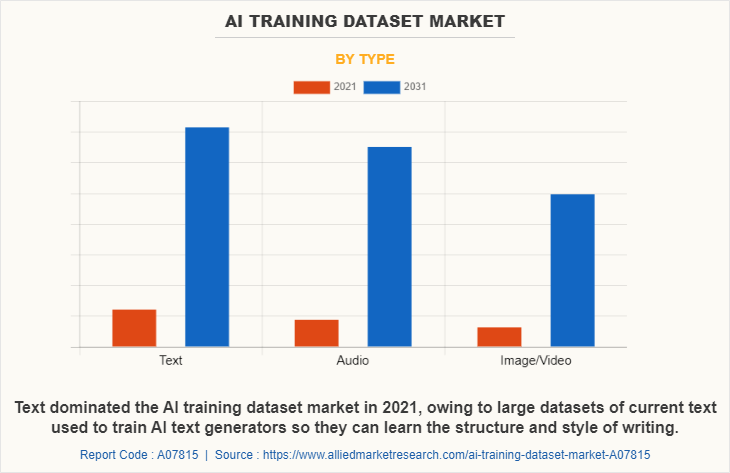 Depending on the type, the text segment dominated the AI training dataset market share in 2021 and is expected to continue this dominance during the forecast period, owing to train AI text generators so they can learn the structure and style of writing. It may be used to automatically compose articles, blog posts, product descriptions, and other sorts of content after they have mastered the ability to produce writing that sounds human. However, the image/video segment is expected to witness the highest growth in the upcoming years, owing to creates its own parameters for how to represent or model those patterns in order to forecast fresh data (such to identify objects in a video) or create entirely new content that closely resembles the training data (such as synthesize images from a collection of paintings).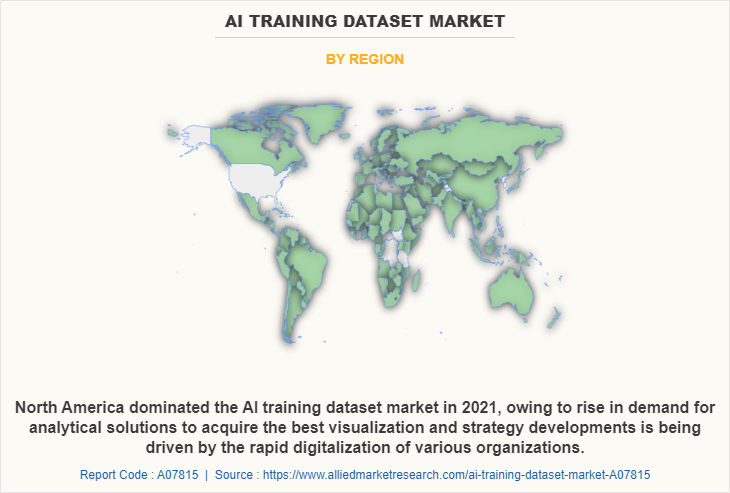 Region wise, the AI training dataset market size was dominated by North America in 2021 and is expected to retain its position during the forecast period, owing to industries moving towards automation, there is a higher demand for AI and machine learning tools. The demand for analytical solutions to acquire the best visualization and strategy developments is being driven by the rapid digitalization of company. However, Asia-Pacific is expected to witness the highest growth in the upcoming years, owing to the widespread release of new datasets to speed up the usage of artificial intelligence technology in developing sectors. Emerging technologies are being quickly embraced by businesses in developing nations like India in order to modernize their operations. Other important players are also focusing their efforts in the area.
Top impacting factors
Quick expansion of Machine learning (ML) and Artificial Intelligence (AI)
Since big data requires the recording, storing, and analysis of a sizable quantity of data, its emergence is expected to fuel the growth of the artificial intelligence market. End users are more concerned with the necessity of maintaining and improving the big data-related analytical models. They are adopting artificial intelligence solutions more rapidly as a result of this focus. The adoption of artificial intelligence is anticipated to significantly increase demand for AI training datasets because annotated data stimulates training AI models and machine learning systems in crucial areas like speech recognition and image identification. By clearly providing the data needed for decision-making and future prediction, data annotation strengthens AI. Many public and private organizations gather domain-specific data, including data from numerous applications like national espionage, fraud detection, marketing, medical informatics, and cyber security. Data annotation makes it possible to label such unstructured and unsupervised data by constantly increasing the accuracy of each individual piece of information.
Production of large amounts of data and technological advancements
Big data is used by businesses to enhance operations, deliver better customer service, develop individualized marketing campaigns, and carry out other tasks that can eventually boost sales and profits. Because they can act more quickly and with greater knowledge, businesses that use it successfully may have a competitive advantage over those that don't. Moreover, big data, for instance, offers insightful information about consumers that businesses can use to improve their marketing, advertising, and promotions and boost customer engagement and conversion rates. Furthermore, businesses can become more responsive to customer desires and requirements by analyzing historical and real-time data to evaluate the changing preferences of consumers or corporate buyers. Therefore, the demand for AI training datasets has grown as a result of the enormous volume of data generated by numerous technologies such as machine learning, big data, and artificial intelligence. These technologies generate a significant amount of unstructured and irrelevant data; as a result, it is crucial to feed a machine learning model accurate and pertinent data when training it.
Government Initiatives:
Government agencies are becoming truly data-driven by enhancing AI training dataset services to transform their data, which may contain inconsistencies or errors from manual inputs, into accurate and complete data that can be trusted. Government agencies in the market introduced various initiatives to adapt AI training dataset by enhancing their productivity. For instance, in June 2021, The Union government made AI datasets available for the larger research community. Open government data (OGD) is one of their foremost efforts to make data from ministries and government organizations readily available. Such factors lead to the growth of AI training dataset market.
Key Benefits For Stakeholders
This report provides a quantitative analysis of the market segments, current trends, estimations, and dynamics of the ai training dataset market analysis from 2021 to 2031 to identify the prevailing ai training dataset market opportunities.
The market research is offered along with information related to key drivers, restraints, and opportunities.
Porter's five forces analysis highlights the potency of buyers and suppliers to enable stakeholders make profit-oriented business decisions and strengthen their supplier-buyer network.
In-depth analysis of the ai training dataset market forecast assists to determine the prevailing market opportunities.
Major countries in each region are mapped according to their revenue contribution to the global market.
Market player positioning facilitates benchmarking and provides a clear understanding of the present position of the market players.
The report includes the analysis of the regional as well as global ai training dataset market trends, key players, market segments, application areas, and market growth strategies.
 AI Training Dataset Market Report Highlights
Aspects
Details
Market Size By 2031
USD 9.3 billion
Growth Rate
CAGR of 21.6%
Forecast period
2021 - 2031
Report Pages
353
By Type
By End User

IT and Telecom
BFSI
Automotive
Healthcare
Government and Defense
Retail
Others

By Region

North America (U.S., Canada)
Europe (UK, Germany, France, Italy, Spain, Rest of Europe)
Asia-Pacific (China, India, Japan, Australia, South Korea, Rest of Asia-Pacific)
LAMEA (Latin America, Middle East, Africa)

Key Market Players
Samasource Inc., APPEN LIMITED, Microsoft Corporation, SCALE AI, INC., Deep Vision Data, Google LLC, Amazon Web Services Inc., Alegion, Lionbridge Technologies, Inc, Cogito Tech LLC
Analyst Review
According to CXOs of leading market players, the use of artificial intelligence technology is expanding. The need for technology is growing as companies move towards automation. Various business sectors, including marketing, healthcare, logistics, transportation, and many others, have seen technological advancements like never before. The adoption of the technology has been fueled by the fact that the advantages of integrating it into various organizational processes outweigh the costs. The demand for training datasets is increasing rapidly as a result of the quick uptake of artificial intelligence technology. Many businesses are joining the market by releasing various datasets operating across different use cases to train the machine learning algorithm, making the technology more adaptable and accurate with its predictions. These elements have a significant impact on industry expansion. Leading industry players like Google, Microsoft, Apple Inc., and Amazon have been concentrating on creating different artificial intelligence training databases. The rise of the market is being fueled by elements like the creation of fresh, high-quality datasets that will hasten the development of AI technology and produce accurate results. 
For instance, in December 2020, Amazon Web Services (AWS) launched nine key updates for its cloud-based machine learning platform, SageMaker. These updates make it easier for developers to make end-to-end machine learning pipelines to create, build, explain, train, inspect, debug, monitor, and run custom machine learning models with more visibility, explainability, and automation at scale.