The global air powered vehicle market was valued at $339.4 million in 2025, and is projected to reach $8,692.47 million by 2035, registering a CAGR of 38.3% from 2025 to 2035.
An air powered vehicle, also known as air compressed vehicle, is a green vehicle that uses a compressed air engine, an alternative of the internal combustion (IC) engine and works on the principle of compressed air technology (CAT). It utilizes compressed air, a non-polluting fuel, as a power source in order to run the vehicle. The air is pushed down into small chamber which further moves the crankshaft and powers the vehicle. The air inside air powered vehicle is fed through air injector to the engine. As the vehicle runs on compressed air instead of gasoline, the vehicle is considered into environmentally friendly vehicle. It is primarily designed to replace conventional ways of travel as they lead to environmental pollution. It has gained popularity owing to numerous technological advancements. Furthermore, the air powered vehicle offers long life of the vehicle, high energy density of compressed air, and low toxicity as compared to other alternatives of the IC engine vehicle.
Oregon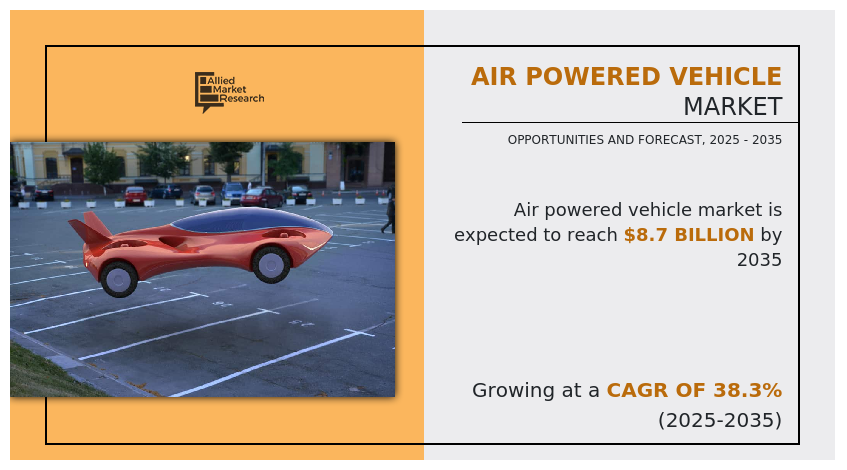 The factors such as increasing awareness of environment friendly vehicles, stringent government norms and emission standards to reduce carbon footprints, and rising fuel prices supplement the growth of the air powered vehicle market. However, low speed of air powered vehicles and increasing adoption of battery electric vehicles (BEVs) & hybrid electric vehicles (HEVs) are the factors expected to hamper the growth of the market. In addition, increasing research and development in air powered vehicles and rise in demand for air hybrid vehicles creates market opportunities for the key players operating in the air powered vehicle market.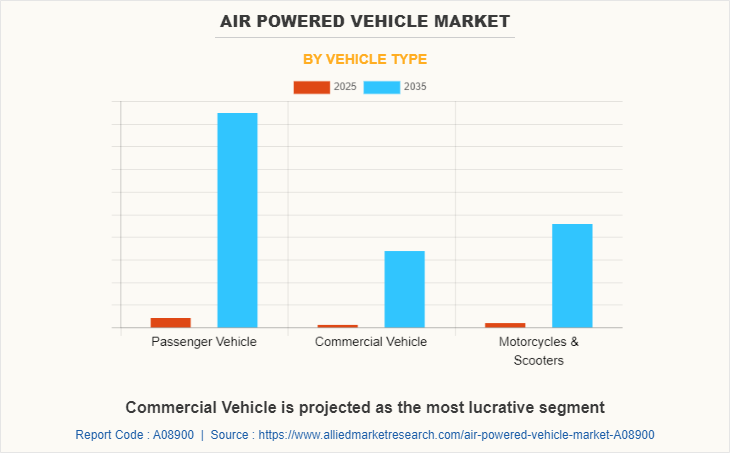 The air powered vehicle market is segmented into product type, vehicle type, range, and top speed. By product type, the market is divided into single energy mode and dual energy mode. By vehicle type, it is fragmented into passenger cars, commercial vehicles, and motorcycles & scooters. By range, it is categorized into less than 100 KM, 100-200 KM, and more than 200 KM. By top speed, it is categorized into up to 100 kmph and more than 100 kmph. By region, it is analyzed across North America, Europe, Asia-Pacific, and LAMEA..
The leading players operating in the air powered vehicle market are AB Volvo, Audi AG, Ballard Power Systems, BMW AG, Engineair Pty Ltd, General Motors, Honda Motor Co., Ltd., Hyundai Motor Company, Man SE, Mercedes-Benz Group AG, Motor Development International SA, Peugeot S.A., Phinergy, Suzuki Motor Corporation, Tata Motors, Toyota Motor Corporation, and Volkswagen AG.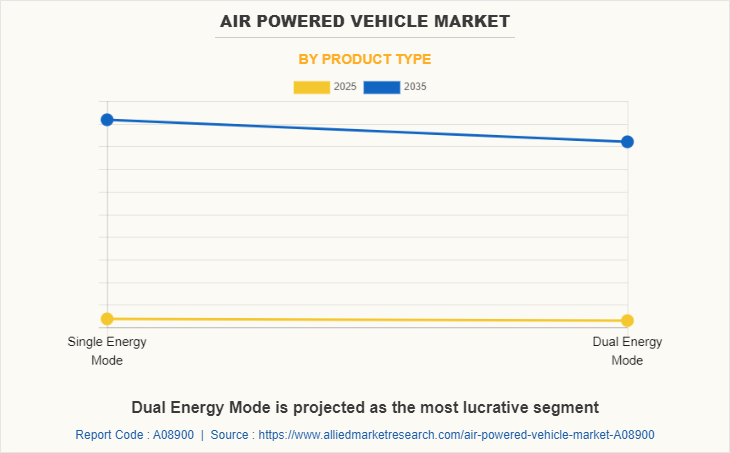 Increasing awareness of environment friendly vehicles
Gasoline being a fossil fuel is not a renewable source of energy and is anticipated to get exhausted in the future. Meanwhile, to support sustainable development, it is important to develop and use alternative sources of fuel. This involves use of environment friendly vehicles such as electric mobility & air powered vehicles, which do not use gas and are more economical than conventional vehicles. Also, emissions caused due to internal combustion engines of the vehicles degrades the environment to a much larger extent, as the tailpipe of the vehicle emits chlorofluorocarbons and other harmful gases, which lead to environment pollution. Meanwhile, air powered vehicles are the solution to these issues, as these vehicles emit no pollutants as exhaust gas. Hence, using more energy-efficient vehicles like air hybrid and plug-in electric vehicles has become an essential part of continuing the booming trend of minimizing imported petroleum globally.  This is attributed to depleting fossil fuel reserves and growth in tendency of companies to gain maximum profit from these oil reserves. Thus, these factors give rise to the need for advanced air powered vehicle technologies, thereby propels the market growth.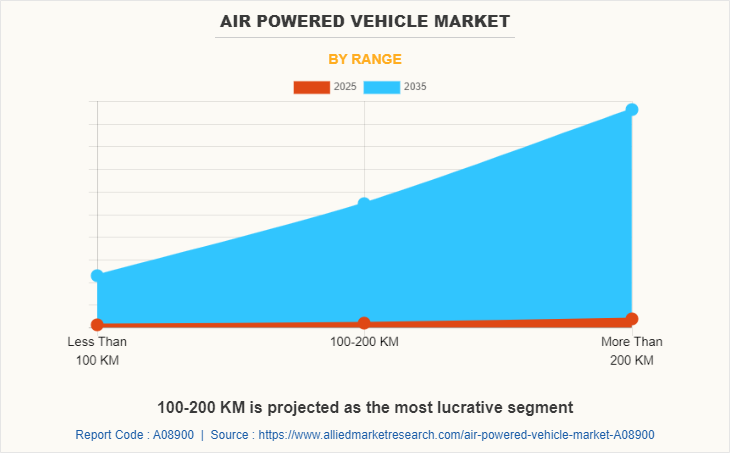 Stringent government norms and emission standards to reduce carbon footprints
With the growing environmental concerns, governments and environmental agencies across the world are enacting stringent emission norms and laws to reduce vehicle emission. Major regulatory measures are stringent emissions targets for the reduction of nitrogen oxides (NOx) and carbon dioxide (CO2) in air. High amounts of greenhouse gases being emitted from vehicles and federal and state governments in the U.S. are stepping up efforts to make transportation cleaner. For instance, the U.S. Environmental Protection Agency (EPA) announced that they are working on new rules to decrease emissions of nitrogen oxide (NOx) and other pollutants from heavy-duty trucks. Also, the agency finalized federal greenhouse gas (GHG) emissions standards for passenger cars and light trucks in the US through 2026. The final standards leverage advances in clean car technology to unlock $190 billion in net benefits to Americans, including reducing climate pollution, improving public health, and saving drivers money at the pump. Therefore, with enactment of the emission regulations for fossil fuel-powered vehicle, the burden on vehicle manufacturers, especially on commercial vehicle manufacturers, has further increased. This, in turn, is expected to drive the demand for air powered vehicle market in the forecast period.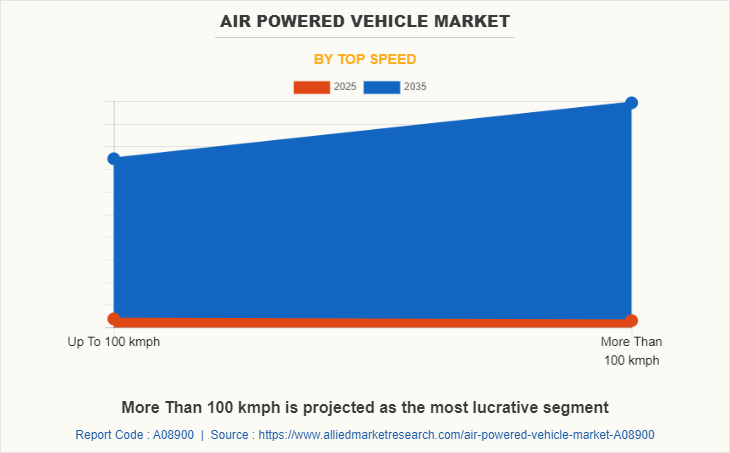 Increasing adoption of battery electric vehicles (BEVs) & hybrid electric vehicles (HEVs)
Electric vehicles (EVs) are experiencing a rise in popularity over the past few years as the technology has matured & costs have declined, and support for clean transportation has promoted awareness, increased charging opportunities, and facilitated EV adoption. According to European Environment Agency, in 2020, electric car registrations surged, accounting for 11% of newly registered passenger cars in which battery electric vehicles (BEVs) accounted for 6% of total new car registrations, while plug-in hybrid electric vehicles (PHEVs) represented 5%. Even subsidies for purchasing electric cars have led consumers to adopt EVs. Hence, rise in adoption of electric vehicles such as battery electric vehicle (BEV) and hybrid electric vehicle (HEV), owing to emission concerns and government subsidies and incentives being offered on purchase on electric vehicles, is another factor that is projected to hamper the air powered vehicle market during the forecast period.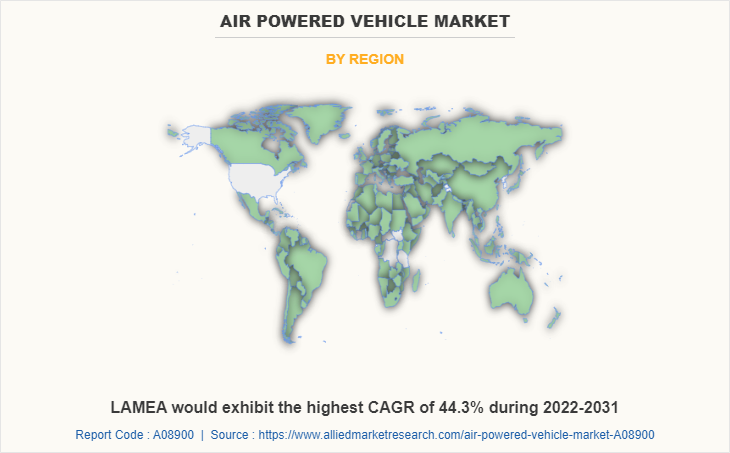 Increasing research and development in air powered vehicles
Various companies are investing in the research and development of the air powered vehicle owing to its advantages. Besides, companies are planning strategically for deployment of air powered vehicles. Additionally, the manufacturers are developing to increase the range and performance of vehicle. Although, the production vehicle is yet to be revealed, companies have launched various concept vehicles. Also, companies are working actively on launch of production vehicles. For instance, the Luxembourg-based company MDI has come a long way in its development and pledges to launch the zero-emission AirPod 2.0 soon. Researchers at the University of Ontario Institute of Technology have taken a closer look at the air pressure concept for passenger cars and come to a surprising result. Also, scientists are working on improvements in the new system design of air powered vehicles including weight and volume reduction to reduce the space demand in the vehicle, which enhances the vehicle's driving range with lowering emissions. All such factors are estimated to ultimately propel the air powered vehicle market opportunity during the forecast period.
Key Benefits For Stakeholders
This study presents analytical depiction of the global air powered vehicle market analysis along with current trends and future estimations to depict imminent investment pockets.

The overall air powered vehicle market opportunity is determined by understanding profitable trends to gain a stronger foothold.

The report presents information related to the key drivers, restraints, and opportunities of

the global air powered vehicle market with a detailed impact analysis.

The current air powered vehicle market is quantitatively analyzed from 2025 to 2035 to benchmark the financial competency.

Porter's five forces analysis illustrates the potency of the buyers and suppliers in the industry.
 Air Powered Vehicle Market Report Highlights
Aspects
Details
By Vehicle Type

Passenger Vehicle
Commercial Vehicle
Motorcycles & Scooters

By Product Type

Single Energy Mode
Dual Energy Mode

By Range

Less Than 100 KM
100-200 KM
More Than 200 KM

By Top Speed

Up To 100 kmph
More Than 100 kmph

By Region

North America (U.S., Canada, Mexico)
Europe (U.K., Germany, France, Spain, Netherlands, Norway, Rest of Europe)
Asia-Pacific (Rest of Asia-Pacific, China, Japan, India, Australia, South Korea, Singapore)
LAMEA (Latin America, Middle East, Africa)

Key Market Players
Magnetic Air Car, Inc., Tata Motors Limited, Motor development international SA, AUDI AG, GENERAL MOTORS COMPANY, Peugeot S.A., BMW GROUP, TOYOTA MOTOR CORPORATION, HYUNDAI MOTOR GROUP, VOLVO GROUP, Honda Motor Company, Ltd., Matrix Comsec, Engineair Pty Ltd, Phinergy, DAIMLER AG, MAN SE, BALLARD POWER SYSTEMS INC