Airsoft Guns Market Research, 2031
The global Airsoft Guns Market Size was valued at $1.89 billion in 2021, and is projected to reach $4.13 billion by 2031, growing at a CAGR of 8.3% from 2022 to 2031.
The COVID-19 pandemic had a minimal effect on the worldwide airsoft guns market. However, trade and lockout limitations disrupted the supply chain, which hampered the market. Instead, the increased use of internet among consumers has positive impact on online sales channels thus driving the airsoft guns market.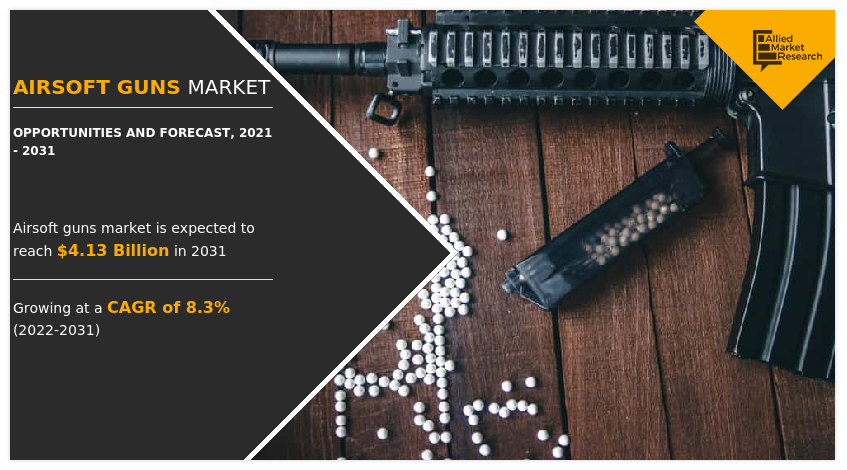 The airsoft guns market is segmented into Product, Mechanism, Price Range and Dirstribution channel.
In airsoft sports, replica toy weapons are called airsoft guns. They are a particular kind of low-power smoothbore air cannon with a unique barrel for shooting "BBs," which are round projectiles that aren't made of metal and are frequently made of plastic or biodegradable resin. Airsoft guns are generally safe for competitive sporting and recreational activities if the proper protective gear is worn because the airsoft guns powerplants are designed to have low muzzle energy ratings (typically less than 1.5 J, or 1.1 ftlb), and the pellets have significantly less penetrative and stopping powers than conventional airguns. These Airsoft Guns are generally used in sports, police and military trainings. Airsoft guns owners and enthusiasts in several countries are required to belong to an official group or federation.
Increasing women participants in various sports such as Tennis, boxing, cricket, shooting and others, is likely to augment the airsoft gun market value during the forecast period. Gender equality and increased social status of women, especially in emerging economies such as China, India, and others, are likely to propel the growth of the sports gun market. For instance, according to International Olympic Committee, in 1992, women's events were 86 and are increased to 145 in 2016 and women participants reached 47,00 in 2016 from 2,704 in 1992.Increasing participation of school in shooting is encouraging the students for shooting, which is expected to propel the growth of the market. For instance, in the U.S. most of the schools are sanctioning shooting squads as an extracurricular activity. In 2015, 9,245 students for 317 schools across three states were participated in the USA High School Clay Target League. Since then participation has increased by 137%. In 2018, the number of students participated was 21,917, from 804 schools across 20 states (including New York and California and Texas).
One major aspect driving the rise in Airsoft Guns Market Share usage is the growing popularity and involvement of adventure sports. They are a great tool for practice because they are simple to use. These are some of the key elements that are anticipated to boost this product's demand in the Airsoft Guns Market Forecast. A small number of groups have been holding airsoft gun tournaments in nations including the US, UK, Italy, France, and Germany. These gatherings draw a sizable number of people, which in turn raises the demand for goods like these. However, people are increasingly becoming more conscious of the damage caused by the abuse of these gadgets, and it is things like this that might limit the Airsoft Guns Market Growth.
The global airsoft guns market segmented into type, mechanism, price range, distribution channel, and region. On the basis of type, the market is classified into Handgun, Rifle, Shotgun, Muzzle Loading. By Mechanism, Spring-Powered, Electric-Powered, Gas-Powered. Depending on price range, it is bifurcated into (Low (Below $100), Medium ($100-$500), High (Above $500). As per distribution channel, it is segregated into supermarkets & hypermarkets, specialty stores, online sales channel. Region wise, the market is analyzed across North America, Europe, Asia-Pacific, and LAMEA.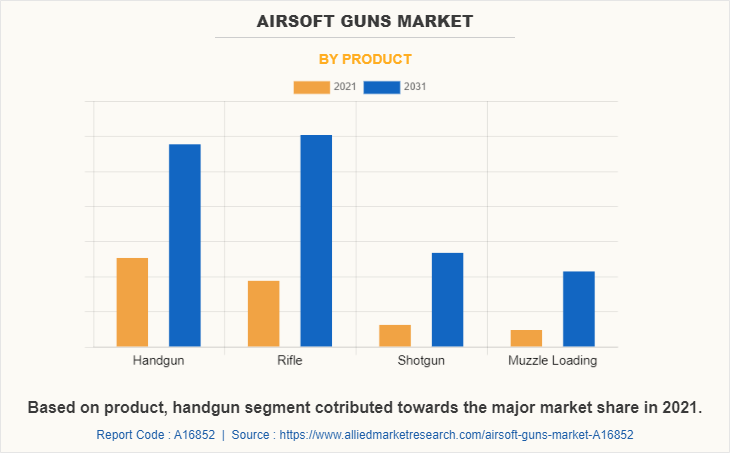 In the worldwide airsoft guns market, the handgun category is becoming more and more popular. As a result of the numerous advantages, the conversion of airsoft pistols into genuine firearms is rising quickly around the world. As a result, low-cost converted handguns are an essential component in rising demand for handguns. Since they may be converted at a lower cost than real pistols, airsoft handguns are in higher demand than other types of airsoft weapons.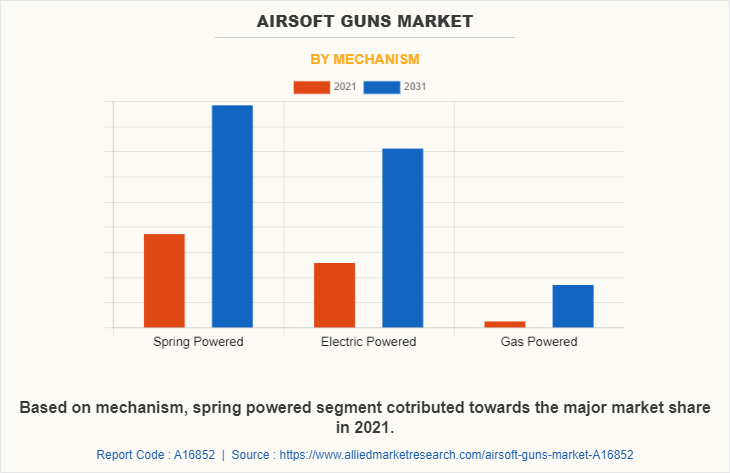 Spring-Powered segment exhibits the fastest growing market, because of its reliability and cost factor as Spring pistols are more dependable in colder weather than gas-powered handguns or even the batteries on automated electric pistols (AEPs), both of which are susceptible to extreme cold and Spring guns are generally inexpensive (with the exception of high-powered sniper rifles and shotguns).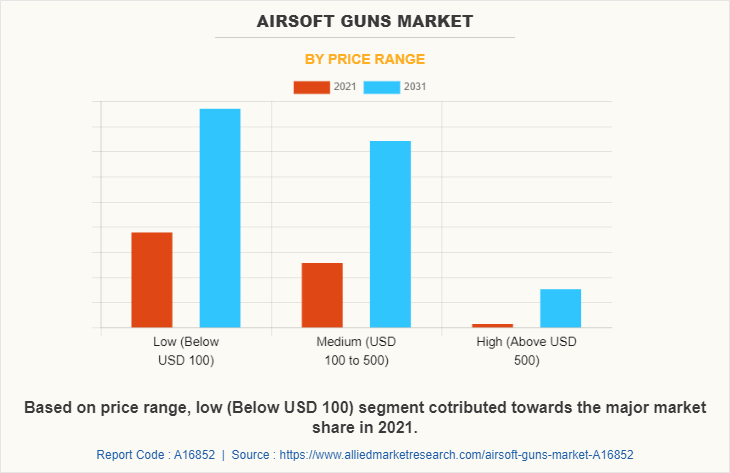 Low (Below USD 100) segment holds the major market share. In this price range customers can easily find a high-tech and high-quality air soft guns in a variety of power sources, including battery, gas, and spring. A variety of sizes and product types are available, allowing players to select the one that best suits their needs and preferences.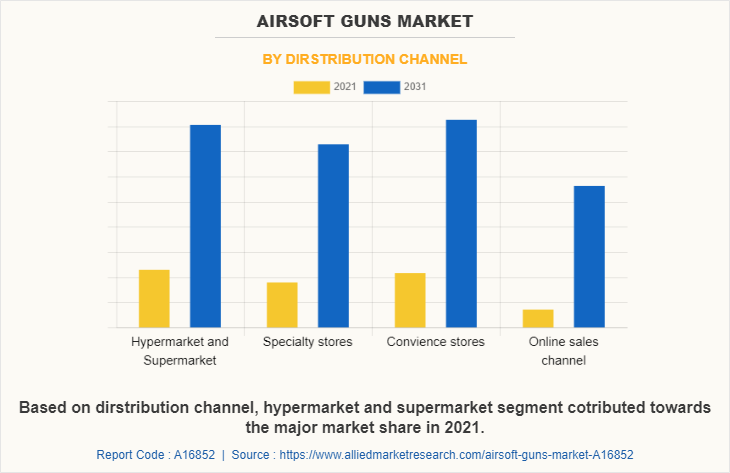 Hypermarket and Supermarket segment holds the major market share. Hypermarket and Supermarket segment is gaining popularity due to the availability of broad range of consumer goods under a single roof, in addition to ample parking space and convenient operation timings. Consumers prefer to buy products that are on sale. Moreover, products are arranged nearby, which aids buyers for easy comparison among similar products, thereby helping consumers to decide which product to buy.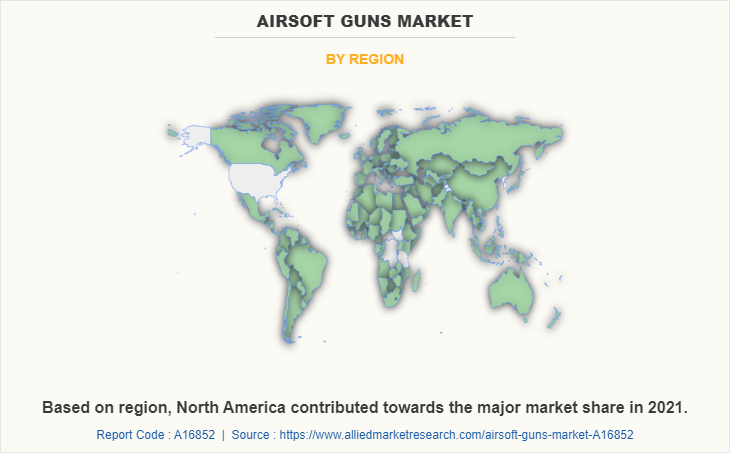 Region wise, North America dominated the market with largest share during the forecast period. Airsoft Gun's and their different varieties are the mostly bought in North America. The preference for Airsoft guns with different types and mechanism changes with different geographical locations. Thus, the growing preference for growing popularity and involvement of people in these adventure sports are driving the growth of the Airsoft guns market in North America.
The major players analyzed for the airsoft guns industry are Valken Sports, Colt's Manufacturing Company, Crosman Corporation, Lancer Tactical, Tokyo Marui, Kriss USA, G&G Armament Taiwan Ltd, Ballistic Breakthru Gunnery Corporation, A&K Airsoft, ICS Airsoft, Inc.
Key Benefits For Stakeholders
This report provides a quantitative analysis of the market segments, current trends, estimations, and dynamics of the airsoft guns market analysis from 2021 to 2031 to identify the prevailing airsoft guns market opportunities.
The market research is offered along with information related to key drivers, restraints, and opportunities.
Porter's five forces analysis highlights the potency of buyers and suppliers to enable stakeholders make profit-oriented business decisions and strengthen their supplier-buyer network.
In-depth analysis of the airsoft guns market segmentation assists to determine the prevailing market opportunities.
Major countries in each region are mapped according to their revenue contribution to the global market.
Market player positioning facilitates benchmarking and provides a clear understanding of the present position of the market players.
The report includes the analysis of the regional as well as global airsoft guns market trends, key players, market segments, application areas, and market growth strategies.
 Airsoft Guns Market Report Highlights
Aspects
Details
By Product

Handgun
Rifle
Shotgun
Muzzle Loading

By Mechanism

Spring Powered
Electric Powered
Gas Powered

By Price Range

Low (Below USD 100)
Medium (USD 100 to 500)
High (Above USD 500)

By Dirstribution channel

Hypermarket and Supermarket
Specialty stores
Convience stores
Online sales channel

By Region

North America (U.S., Canada, Mexico)
Europe (U.K., Italy, Germany, France, Spain, The Netherlands, Switzerland, Rest of Europe)
Asia-Pacific (China, Japan, India, South Korea, Australia, Thailand , Indonesia, Rest of Asia-Pacific)
LAMEA (Latin America, Middle East, Africa)

Key Market Players
Cyma International Limited, Cybergun, Lancer Tactical, Angry Gun, A and K Airsoft, ICS Airsoft Inc, G and G ARMAMENT TAIWAN LTD, Colts Manufacturing Company, Umarex USA, VALKEN SPORTS, Ballistic Breakthru Gunnery Corporation, Tokyo Marui,  APS Airgun Ltd, Kriss USA, Crosman Corporation