Bioimplants Market Overview:
The Global Bioimplants Market was valued at $77,738 million in 2016, and is estimated to reach $124,154 million by 2023, with a CAGR of 6.9% from 2017 to 2023. Bioimplants are surgically implanted to replace or support any damaged body organs to enhance function of any body organ. The major factors that drive the growth of the global bioimplants market include rise in prevalence of chronic diseases coupled with the rapidly aging population. Furthermore, increased awareness and technological advancements in bioimplant further propel the market growth. However, high implantation cost and lack of expertise are some of the factors restrict the market growth.
High Incidence of Chronic Conditions with Increasing Age
According to the National Institutes of Health report, it is estimated that 27% of the Japanese, 16% of the U.S., 24% of the UK, 17% of the Russian, and 14% of Chinese the population will be above 65 years of age by 2020. With age there is an increase in incidence of chronic diseases such as cardiovascular disease, neuropathic disorders, old age-related trauma, and osteoarthritis. For instance, according to the American Heart Association, in 2013 in the U.S., 70.2% of men and 70.9% of women in the range of age 60-79 years have cardiovascular disorders. Moreover, it is been predicted by World Health Organization that there will be an increase of 50% in cardiovascular disorders in China between 2010 and 2030 based on an increase in aging population.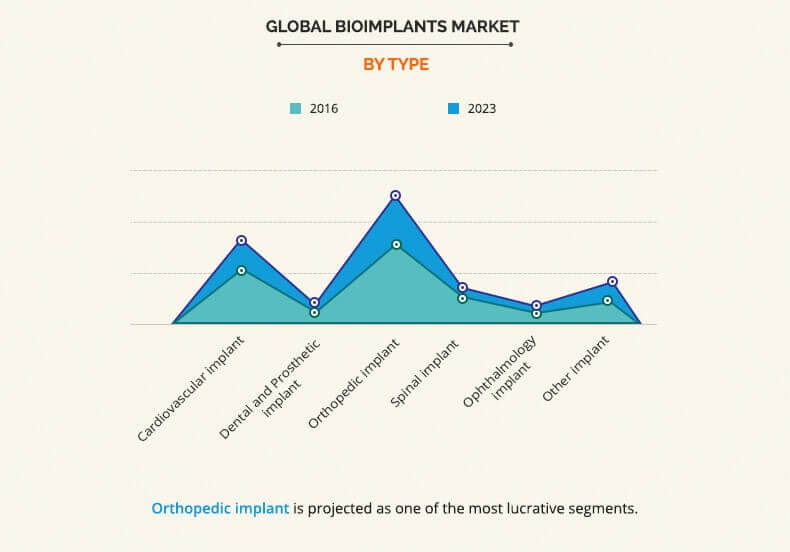 Emerging Technological Advanced Products
Continuous technological innovations in the field of implantable devices is set to drive the market for bioimplant. In addition, end companies spend a lot into R&D to create innovative products, for instance, Medtronic invested $2.2 billion for R&D in 2017, according to its annual report. Scientists are working on developing bioimplant with improved attributes, such as, new generation of drug-eluting stent, bioabsorbable stent, and customized orthopedic implantsMoreover, a biosynthetic alternative to the human cornea bioimplant is developed, which mimics the structure of cornea.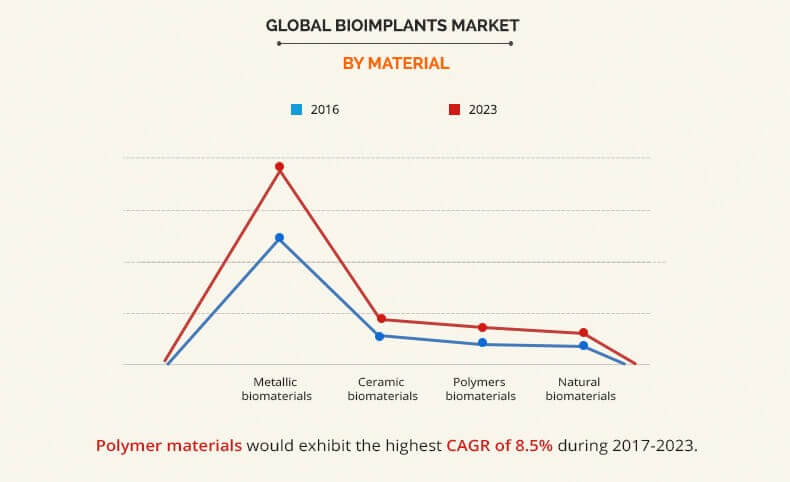 The global bioimplant market is segmented based on product type, material, and region. Based on product type, the market is categorized into cardiovascular implant, dental implant, orthopedic implant, spinal implant, ophthalmic implant, and others. By material type, it is divided into metallic biomaterial, ceramic biomaterial, polymer biomaterial, and natural biomaterials. Based on region, the market is analyzed across North America, Europe, Asia-Pacific, and LAMEA.
The key companies operating in the market include Abbott Laboratories (St. Jude Medical, Inc.), Boston Scientific Corporation, Dentsply Sirona Inc., Johnson & Johnson (Ethicon, Inc.), Medtronic Plc, Smith & Nephew plc, Stryker Corporation, Victrex plc. (Invibio Ltd.), Wright Medical Group N.V., Zimmer Biomet Holdings Inc.
Key Benefits
The study provides an in-depth analysis of the global bioimplants market, with current trends and future estimations to elucidate the imminent investment pockets.
Quantitative analysis from 2016 to 2023 is expected to enable the stakeholders to capitalize on prevailing market opportunities.
Comprehensive analysis of all geographical regions is provided to determine the prevailing opportunities.
Extensive analysis is conducted by closely following key product positioning and monitoring the top contenders within the market framework.
 Bioimplants Market Report Highlights
Aspects
Details
By Type

Cardiovascular bioimplant

Stent
Coronary stent
Drug-eluting stent
Bare-metal coronary stent
Bioabsorbable stent
Peripheral stent
Iliac stent
Femoral-popliteal stent
Renal stent
Carotid stent
Stent-related implant
Synthetic graft
Vena cava filter
Pacing device
Cardiac resynchronisation therapy (CRT)
Implantable cardioverter defibrillators (ICDs)
Implantable cardiac pacemaker (ICP)
Structural cardiac implant
Mechanical heart valve
Implantable ventricular-assist device (VAD)

Dental and prosthetic implant

Plate form dental implants
Root form dental implants

Orthopedic implant

Reconstructive joint replacements
Knee replacement implants
Hip replacement implants
Extremities
Orthobiologics
Trauma & craniomaxillofacial

Ophthalmic implants

Intraocular lens
Glaucoma implant

Spinal implants

Spinal fusion devices
Motion preservation device
Vertebral compression fracture (VCF) devices
Spinal bone stimulators
Spine biologics

Other implants

By Material

Metallic Biomaterials
Ceramic biomaterial
Polymers biomaterial
Natural biomaterial

By Region

North America (U.S, Canada, Mexico)
Europe (Germany, France, UK, Italy, Spain, Rest of Europe)
Asia-Pacific (Japan, China, India, Australia, Rest of Asia-Pacific)
LAMEA (Brazil, South Africa, Saudi Arabia, Rest of LAMEA)

Key Market Players
Johnson & Johnson (Ethicon, Inc.), Wright Medical Group N.V., Medtronic plc, Victrex Plc. (Invibio Ltd.), Stryker Corporation, Boston Scientific Corporation, Dentsply Sirona Inc, Zimmer Biomet Holdings Inc, Abbott Laboratories (St. Jude Medical, Inc.), Smith & Nephew plc