Bioplastics Market Outlook - 2022–2031
The global bioplastics market size was valued at $6.3 billion in 2021, and is projected to reach $18.7 billion by 2031, growing at a CAGR of 11.7% from 2022 to 2031.
Statement for COVID-19 banner: The COVID-19 pandemic led to irregular transport that caused a supply chain disruption of raw materials, which hampered the production of bioplastics.
Bioplastics are derived from renewable feedstocks such as corn, sugarcane, and cellulose. Factors such as eco-friendly properties, availability of renewable feedstocks, and favorable government policies related to manufacturing of sustainable products enable manufacturers to adopt bio-based plastics. Increase in adoption of biodegradable products and improvement in scope of bioplastic across end-user industries drive the growth of the bioplastics market. Furthermore, bioplastic has the potential to reduce carbon dioxide emission by 30-70%, as compared to conventional synthetic plastic.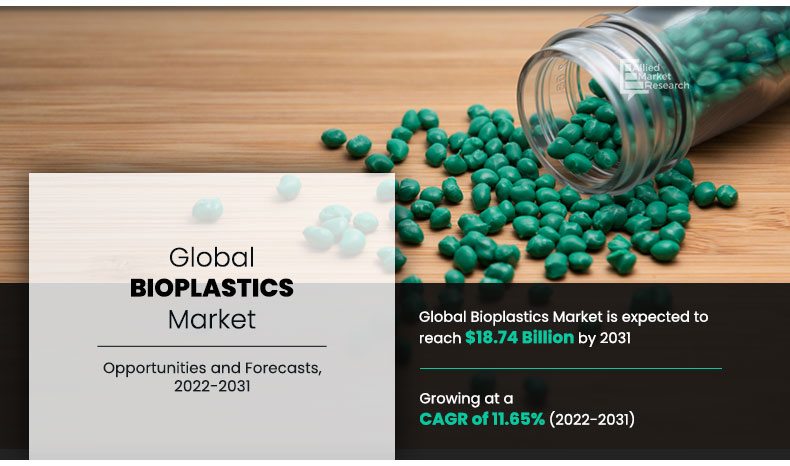 Bioplastic has the potential to reduce carbon dioxide emission. Its greenhouse gas emission is minimal during the time of degradation. These advanced environment-friendly properties and functionalities are anticipated to drive the bioplastics market growth during the forecast period. Furthermore, industry trends are shifting toward bio-based products to reduce the dependency over conventional plastics. These factors have increased the demand for bioplastics. In addition to this, bioplastic can be manufactured from renewable sources. The common feedstocks used for the production of bioplastics include corn, wheat, maze, and sugarcane. These are easily available in almost every geographical region across the globe. Hence, the crude oil price fluctuation in the global market does not affect the growth of the bioplastic industry. These factors may propel the growth of the bioplastics market.
However, high cost of product is one of the biggest issues associated with global bioplastics market. At present, bioplastics are more than twice expensive than the conventional petroleum plastics. This is mainly due to the high costs of R&D, polymer plant construction, & raw materials while the production scale remains low. This factor may restrain the growth of the bioplastics market.
On the contrary, companies are moving toward sustainable and eco-friendly alternatives for developing and strengthening their brand image with rise in environmental concerns among consumers. For instance, leading companies, such as Coca Cola and PepsiCo, focus on the use of bio-based polyethylene, nylon, and PET plastic bottles for beverage packaging. Moreover, companies such as NEC Corporation use bioplastics in their products, which include LCD projectors and POS terminals. Increase in Corporate Social Responsibility (CSR) activities of these companies is projected to fuel the bioplastic demand and promote the investor's interest toward the bioplastic industry. This is anticipated to increase the sales of bioplastics, thus creating lucrative opportunities for the market.
The global bioplastic market is segmented on the basis of type, application, and region. On the basis of type, it is divided into biodegradable plastic and nonbiodegradable plastic. On the basis of application, the market is classified into flexible packaging, rigid packaging, textiles, coating & adhesives, agriculture & horticulture, consumer goods, and others. Region wise, the market is studied across North America, Europe, Asia-Pacific, South America, Middle East, and Africa.
The major companies profiled in this report include BASF SE, Biome Technologies Plc., CJ CheilJedang Corp., Corbion N.V., Danimer Scientific, Dow Inc., Eastman Chemical Company, Kuraray Co. Ltd., LG Chem, Mitsubishi Chemical Holdings, Novamont S.P.A and SKC.
Bioplastics market, by region
The Asia-Pacific bioplastics market is projected to grow at the highest CAGR of 12.46% during the forecast period and accounted for 44.56% of market share in 2021. This is attributed to the fact that China is one of the biggest markets for biodegradable plastics, owing to abundant availability of bioplastics feedstock. Increase in oil prices and rapid change in climatic conditions encourage government, private companies, and customers towards using bioplastics products in this region. Furthermore, manufacturers across the globe find Asia-Pacific as an attractive market, owing to cheap labor cost, low cost of setting up manufacturing units, easy availability of feedstock, and low cost of bioplastics.
Bioplastics Market

---
By Region
Asia-Pacific would exhibit highest CAGR of 12.46% during 2022-2031.
Bioplastics market, by type
In 2021, the biodegradable plastics segment was the largest revenue generator, and is anticipated to grow at a CAGR of 12.2% during the forecast period. Increase in government initiatives such as ban of single-use plastics has promoted the utilization of biodegradable plastics in various end-use sectors. Furthermore, industry trends are shifting toward bio-based products to reduce the dependency over conventional plastics. These factors have increased the demand for biodegradable plastics; thus boosting the market growth. Moreover, high volatility in crude oil prices (major raw material for conventional plastics) has led the plastic manufacturers become more linear toward using biodegradable plastics made from plant-based materials such as corn, potato, and wheat starch. These factors are escalating the growth of biodegradable plastic segment in the global market.
Bioplastics Market

---
By Type
Biodegradable plastic is the most lucrative segment
Bioplastics market, by application
By application, the flexible packaging segment dominated the global market in 2021, and is anticipated to grow at a CAGR of 12.52% during forecast period. This is attributed to the fact that bioplastics protects products from moisture, UV rays, mold, dust, and other environmental contaminants that make it best-suited for flexible packaging applications. Rapid change in lifestyles has surged the demand for convenient products where bioplastics are widely used for flexible packaging applications. Moreover, increase in awareness for environment protection activities has made customers become more linear toward using bioplastics-based flexible packaging films in various end-use sectors including food & beverage, and agriculture. These factors are augmenting the growth of the flexible packaging segment in the global bioplastics market.
Bioplastics Market

---
By Application
Consumer Goods is projected as the fastest growing segment
Key benefits for stakeholders
The report outlines the current bioplastics market trends and future estimations from 2021 to 2031 to understand the prevailing opportunities and potential investment pockets
Porter's five forces analysis helps analyze the potential of buyers & suppliers and the competitive scenario of the industry for strategy building.
The major countries in the region have been mapped according to their individual revenue contribution to the regional market.
The key drivers, restraints, opportunities, and their detailed impact analysis are explained in the study.
The profiles of key players and their key strategic developments are enlisted in the report.
Impact Of Covid-19 On The Global Bioplastics Market
The rapid spread of coronavirus pandemic reduced the application of any new plastic bags including biodegradable bags. Consumers are bringing their old fabric and plastic bags, and retail shops and small stores are not providing new plastic bags to prevent further spread of the coronavirus.
Prior to COVID-19 outbreak, a large number of multinationals such as Danone, Coca-Cola, and Nestlé promised to adopt biodegradable plastics under pressure from activists and consumers. However, after COVID-19 outbreak governments across different countries made several changes in their regulations regarding disposable and single-use plastics to prevent further spread of the virus. For instance, the State of Maine postponed its ban on plastic bags until January 2021, thus negatively impacting the market growth.
In addition, supply chain disruptions due to irregular transport led to increase in lead time of raw materials, such as corn starch, thus delaying the entire product process. For instance, according to a report by Business Standard, the corn starch consumption reduced by 50% from 400,000 tons to 200,000 tons. Moreover, more than 100 countries have locked their international borders for transportation and nonessential trade activities, which hampered the supply–demand chain of the bioplastics market during the COVID-19 scenario.  
In 2020, bioplastics prices were high in the Asia-Pacific due to continued regional demand trends and tight product availability. Firm downstream demand for bioplastics in packaging, agriculture, and other sectors and stronger upstream costs are expected to sustain the price gain. Furthermore, import dependency on China for various raw materials for the production of biodegradable plastics may change market scenario.    
As China started production in limited capacity, the material price for biodegradable plastic is expected to increase. Industry players are focusing to extend the lead time to avoid such high material price. This is predicted to enhance the performance of the bioplastics market post COVID-19 period.
 Bioplastics Market Report Highlights
Aspects
Details
By Type

Biodegradable Plastic
Non-biodegradable Plastic

By Application

Flexible Packaging
Rigid Packaging
Textiles
Coating & Adhesives
Agriculture & Horticulture
Consumer Goods
Others

By Region

North America (U.S., Canada, Mexico)
Europe (Germany, UK, France, Italy, Rest of Europe)
Asia-Pacific (China, Japan, India, South Korea, Rest of Asia-Pacific)
South America (Brazil, Argentina, Rest of South America)
Middle East and Africa (Saudi Arabia, South Africa, Rest of Middle East and Africa)

Key players in the global bioplastics market are:

BASF SE
Biome Technologies Plc.
CJ CheilJedang Corp.
Corbion N.V.
Danimer Scientific
Dow Inc.
Eastman Chemical Company
LG Chem
Kuraray Co. Ltd.
Mitsubishi Chemical Holdings
Novamont S.P.A
SKC