Bioprocess Validation Market Overview:
The global bioprocess validation market size was valued at $265.15 million in 2019 and is projected to reach $410.80 million by 2027, registering a CAGR of 5.5% from 2020 to 2027. 
Bioprocess validation involves a series of activities taking place over the entire production cycle of a bio-product. An important part of bioprocess validation requires the evaluation of active pharmaceutical ingredients (APIs) and possible contaminants, such as mycoplasma, bacteria, endotoxin, and others, during the development and manufacture processes of animal drugs or other biological products. Precisely, data are collected, evaluated, and documented from every stage of a specific project at all desired levels. In this way, bioprocess validation establishes the scientific evidence that a process is capable of consistently delivering quality product. As a result, effective process validation contributes significantly to assure drug quality, safety, and efficacy.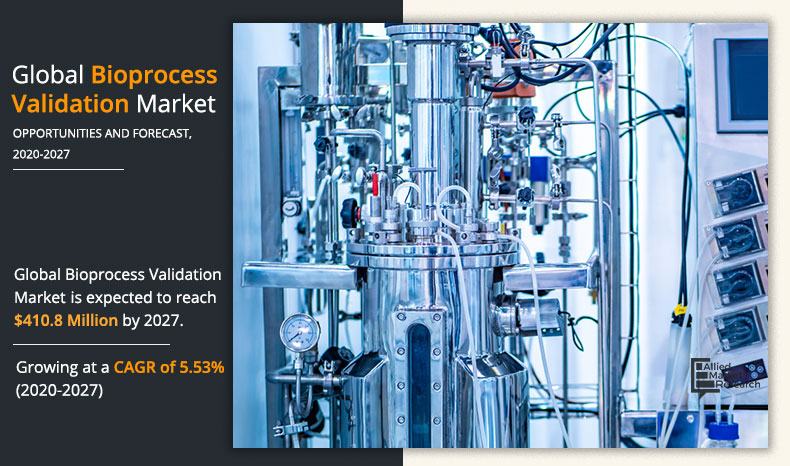 The bioprocess validation market is positively impacted by the pandemic as many pharmaceutical and biotechnological companies use validation services for at least some of their bioprocessing. The bioprocessing sector is experiencing operational and personnel-related problems, but often these are related to increased activity. Essentially, all bioprocessing-related industrial activities are continuing largely unaffected in terms of operations and output. Many bioprocessing processes are being leveraged for the development of vaccines against coronaviruses. For instance, many companies, including developers and suppliers of services are increasing their pandemic-related R&D and manufacturing. Single-use bioreactors and other disposable components along with process automation should facilitate and optimize quality control and validation of bioprocessed vaccines and therapies. Suppliers are anticipating and planning for increased business as companies and governments start to rapidly develop and test pandemic-related vaccines. Moreover, service providers are witnessing an upsurge in inquiries and orders mostly related to pandemic vaccine or therapeutics. Many suppliers of both equipment and services have begun increasing their activities in response to this increase and projected demand. The coronavirus pandemic has affected the global economy through three channels, direct impact on production, supply chain & market disruption, and financial impact on firms & financial markets. In addition, this pandemic has affected the production and import & export of finished goods due to shutdown in various COVID-19-affected countries. Moreover, delayed shipments & production schedules may create financial problems for companies with heavy debts.
The growth of the global bioprocess validation market is driven by stringent safety & quality regulations, increase in demand for biopharmaceuticals, and surge in demand for outsourcing bioprocess validation. In addition, increase in life science R&D expenditure is expected to fuel the market growth. However, issues related to extractables are expected to impede the market growth. On the contrary, patent expiry of bio-product is expected to present various opportunities for the market expansion.
Bioprocess validation market segmentation
The global bioprocess validation market is segmented on the basis of test type, process component, end user, and region. Based on test type, the market is segmented into extractables testing services, microbiological testing services, physiochemical testing services, integrity testing services, compatibility testing services, and other testing services. By process component, it is further classified into filter elements, bioreactors, and others. On the basis of end user, it is divided into contract development & manufacturing organizations and pharmaceutical & biotechnology companies. Region-wise, the market is analyzed across North America, Europe, Asia-Pacific, and LAMEA.
Bioprocess Validation Market

---
By Test Type
Extractables Testing Services segment holds a dominant position in 2019 and would continue to maintain the lead over the forecast period.
Test Type Segment Review
In terms of test type, the extractables testing services segment dominated the bioprocess validation market in 2019. The large share of this segment can be attributed to the presence of regulatory mandates & guidelines regarding the testing of extractables. Moreover, increase in outsourcing of testing services by biopharmaceutical manufacturers; rise in requirement for product safety, identity, purity, and quality; and the increase in risk of product adulteration are expected to boost the bioprocess validation market growth.
Bioprocess Validation Market

---
By End User
Pharmaceutical & Biotechnology Companies Segment is projected as one of the most lucrative segment.
End User Segment Review
By end user, the pharmaceutical & biotechnology companies segment is projected to grow at the highest CAGR of 5.8% during the forecast period, owing to increase in production of biopharmaceuticals, consistent increase in the number of impurities to be checked, stringency of standards & regulations regarding the quality, and validity of bioprocesses involved in the production.
Bioprocess Validation Market

---
By Region
Asia Pacific region would exhibit the highest CAGR of 8.3% during 2020-2027.
Region Segment Review
Asia-Pacific held the major share of the bioprocess validation market in 2019, and is expected to continue its dominance during the forecast period, owing to increase in biopharmaceutical manufacturing capabilities in Asia-Pacific countries, increase in demand for outsourcing bioprocess validation, rise in life science research specific to biologics, and surge in investments by pharmaceutical & biotechnology companies. Additionally, there is rise in awareness about the advantages of biopharmaceutical drugs, increase in number of CROs and Contract Development & Manufacturing Organizations, and favorable government initiatives to promote the growth of the pharmaceutical & biotechnology industries in several APAC countries.
Comprehensive competitive analysis and profiles of the major market players, such as Cobetter Filtration Equipment Co., Ltd, Danher Corporation, Merck KGaA, Porvair Plc, Sartorius, Thermo Fisher Scientific, Inc., Meissner Filtration Products, Inc, Toxikon Corporation, Almac Group, and Biozeen, are provided in this report.
Key benefits for stakeholders
The study provides in-depth analysis of the global bioprocess validation market along with the current trends and future estimations to explain the imminent investment pockets.
The report offers a quantitative analysis from 2019 to 2027, which is expected to enable the stakeholders to capitalize on the prevailing bioprocess validation market opportunities. 
A comprehensive analysis of all the regions is provided to determine the existing opportunities.
The profiles and growth strategies of the key players are thoroughly analyzed to understand the competitive outlook of the global bioprocess validation market.
 Bioprocess Validation Market Report Highlights
Aspects
Details
By Test Type

Extractables Testing Services
Microbiological Testing Services
Physiochemical Testing Services
Integrity Testing Services
Compatibility Testing Services
Other Testing Services

By Process Component

Filter Elements
Bioreactors
Other Process
Component

By End User

Pharmaceutical & Biotechnology Companies
Contract Development & Manufacturing Organizations

By Region

North America (U.S., Canada, Mexico)
Europe (UK, Germany, France, Italy, Spain, Rest of Europe)
Asia-Pacific (Japan, China, Australia, South Korea, India, Rest of Asia-Pacific)
LAMEA (Latin America, Middle East and Africa)

Key Market Players
Bangalore Biotech Labs Pvt Ltd (Biozeen), Thermo Fisher Scientific, Inc., Almac Group, Cobetter Filtration Equipment Co., Ltd, Meissner Filtration Products, Inc., Danher Corporation., Porvair Plc, Merck KGaA, Toxikon Corporation, Sartorius Ag